Exclusive Charging Break
The dream of greater comfort, speed, and safety when traveling in an all-electric sports car is now a reality – thanks to the new Porsche charging lounges.
When the smartphone app informs you that the charging process is complete, you've had just enough time to finish your coffee. But there's still the rest of your snack and plenty of inspiration to discover in the book Travel by Design. The drive can continue sooner than expected – thanks to high-power charging (HPC). The HPC charging stations at the Porsche charging lounge in Bingen am Rhein live up to their name, as each of the six connections delivers up to 300 kW of power. Even when six vehicles are charging at full capacity at the same time, the power won't decrease, as is often the case with other suppliers. "Up to 400 kW will be available in 2024," says Kevin Giek, Head of the Taycan Series at Porsche. With its maximum charging capacity of 270 kW, it now takes a Porsche Taycan just under 23 minutes to charge from five to 80 percent.
Bingen am Rhein in southwestern Germany is the first location for the new Porsche charging lounges, which are powered 100 percent with certified green energy. "According to customer surveys, one of the main reasons people are hesitant to buy an electric car is an insufficient or overloaded charging infrastructure," says Martin Urschel, Head of Products and Services. If you want to be successful in electric mobility as a luxury brand, you need to offer your own solutions, which is why Porsche will initially set up seven charging lounges in Germany, Austria, and Switzerland by the end of 2024. If customers respond favorably, the network will be expanded gradually throughout all of Europe. There are multiple location variants in the pipeline. Charging stations installed at Porsche dealerships will offer four charging points. Bingen will be the only location with six.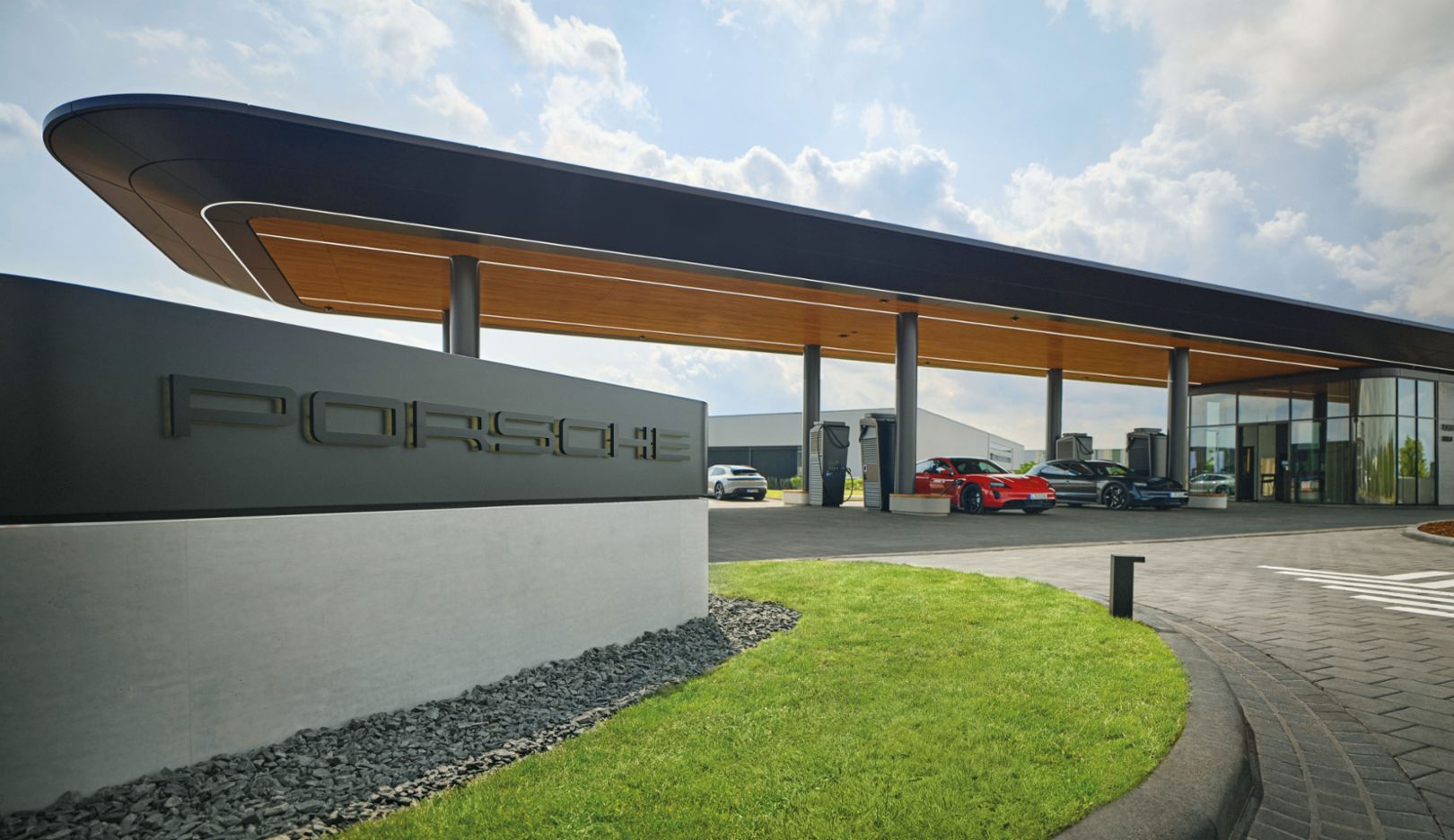 Locations were selected on the basis of the properties available and the number of potential users. "We analyze the swarm data in anonymized form and determine where our customers are going," explains Urschel. Important European travel routes are a key focus. Located along a busy autobahn interchange, Bingen in greater Mainz, for example, is relevant for Porsche customers coming from northern Germany, the Netherlands, and Belgium. The distance to the nearest autobahn exit also plays a role. "It should take three minutes or less to get to our location from there," explains Urschel.
As a complement to other charging options – for example, the ever-growing IONITY network, which Porsche and Volkswagen participate in – the charging lounges offer a charging experience typical of the brand. "Access is currently restricted to Porsche customers," says Urschel. "That allows us to meet their requirements." The barriers at the entrance open automatically when the camera identifies the license plate entered into the My Porsche app. Another option would be to scan the QR code with the app or hold the Porsche charging card up to the reader – exclusive access options that can also be used to open the doors to the lounge building. The locations are also taken into account by the Porsche Charging Planner – the intelligent route planner in the sports car brand's electric vehicles – for pleasant and effective routing.
If you take a step back and view the charging lounge as a whole, you'll discover plenty of open space and the brand's typical design style, which also dominates buildings such as the Porsche Design Tower and newer Porsche centers. In addition to a rounded window front, the lounge also has a large rounded roof that extends out over the charging stations like an airplane wing. There are plenty of inviting seats available outside for a warm and friendly ambience that also extends into the lounge building itself, which is dominated by natural materials. Beverages and snacks are simply the icing on the cake, with most of the regional products coming from fair and sustainable sources.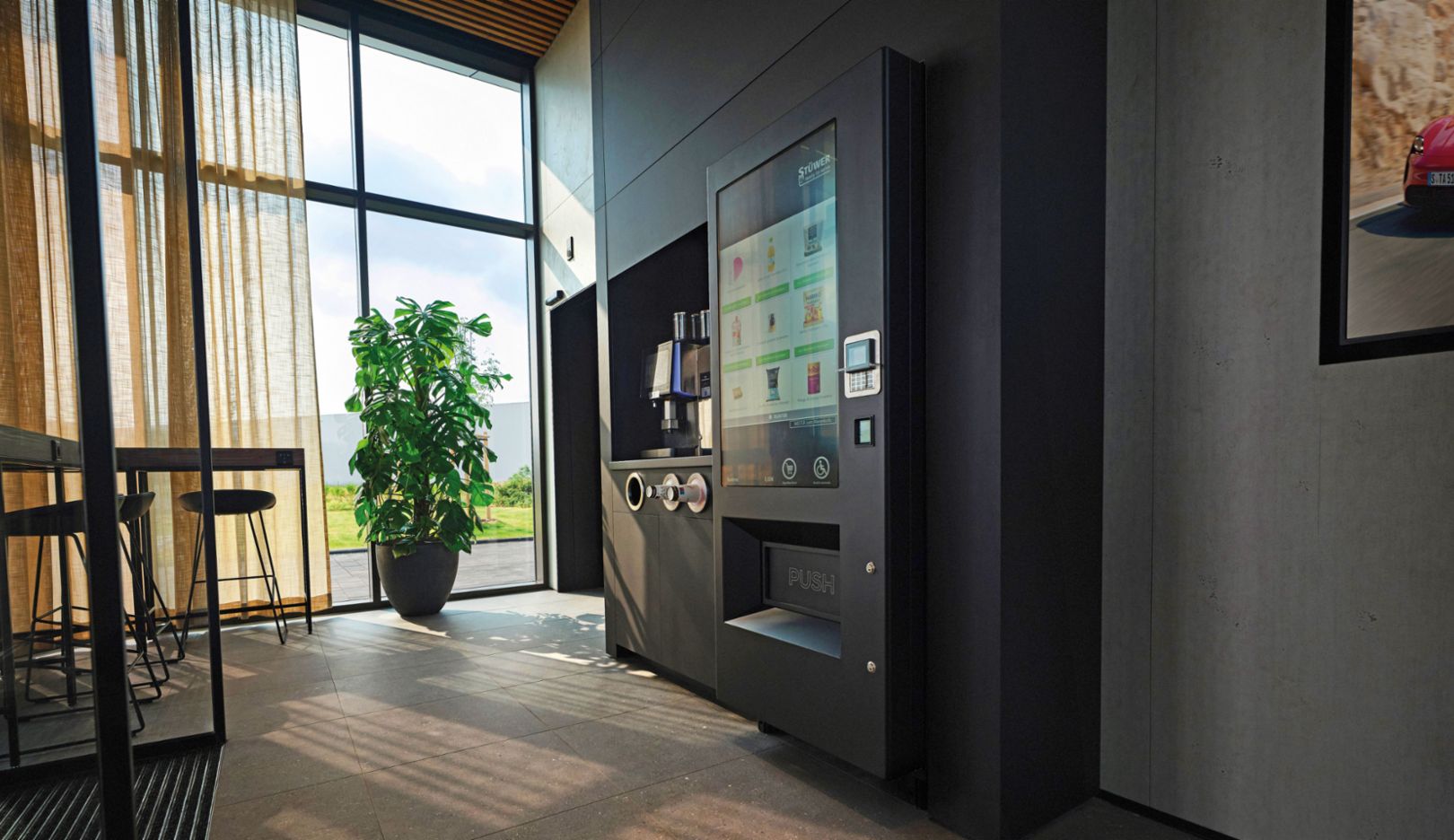 Nothing has been left to chance at the lounge, whether you choose to work, relax, or recharge your batteries while you wait. The tables are equipped with electrical sockets and USB ports as well as a variety of coffee-table books to browse through. Monitors provide customers with a wealth of relevant information about Porsche electric mobility. There's also a Sensing Experience, which is a display case featuring a variety of fragrances, from stimulating to calming. You'll also find a fitness mirror on the interactive glass wall, which provides instructions for relaxation and stretching exercises.
But if the weather's nice and you'd prefer to spend your time outdoors, you can scan a QR code below the charging station monitor, which will take you to a website with additional exercises, whether it's meditation in the vehicle or stretching your lumbar vertebrae and legs. Night owls will also feel right at home, as the lounge is open 24 hours a day, and a great deal of attention went into ensuring a comprehensive safety concept with plenty of lighting, fixed cameras, and connected systems. "Working with our security partners, we ensure the safety of our customers at all times," says Urschel. There are also emergency and panic buttons installed on the inside.
It goes without saying that green electricity is used for both charging and the power supply in Bingen and at all of the other locations. The lounge roof features solar cells that supply the energy necessary to power the monitors, the lighting, and the heating. Two heat pumps ensure cozy temperatures inside, while rainwater is captured and used to water plants and the lawn. Each of the charging cables is connected to a swiveling arm that carries a majority of the weight, making the system easier to use and allowing customers to reach the charging socket at any position.
The charging lounges offer an exclusive, premium experience.
Despite a key focus on fast-charging stations, it will eventually be worthwhile for customers with a plug-in hybrid to take a charging break, with charging points that offer up to 22 kW also available. The charging process with alternating or direct-current charger can be initiated with the charging card, or you'll be able to store a payment method after scanning a QR code. Plug and charge is available for Taycan customers, meaning all you have to do is connect to the charging station. The charging process starts automatically.
Comfort meets practicality. With the new charging lounges, Porsche is taking everyday life with an electric car to a whole new level. And Bingen am Rhein is only the beginning – for an innovative concept and an all-around typical Porsche experience.
Consumption data
Panamera Turbo S E-Hybrid
WLTP*
2.9 – 2.7 l/100 km

66 – 62 g/km

24.6 – 24.0 kWh/100 km

48 – 50 km
Taycan Cross Turismo Models
WLTP*
24.8 – 21.3 kWh/100 km

0 g/km

415 – 488 km
Taycan Sports Sedan Models
WLTP*
24.1 – 19.6 kWh/100 km

0 g/km

370 – 510 km