Driving dreams
Porsche Australia & New Zealand – History: The celebrations of 75 years of Porsche remind us that the dreams of great visionaries move us forward. They have the power to change the world. Read here about some of their stories, their passions, and their drive.
A genesis takes many forms. In the case of Porsche, it can be traced back to a single sentence: "In the beginning, I looked around and could not find quite the car I dreamed of, so I decided to build it myself."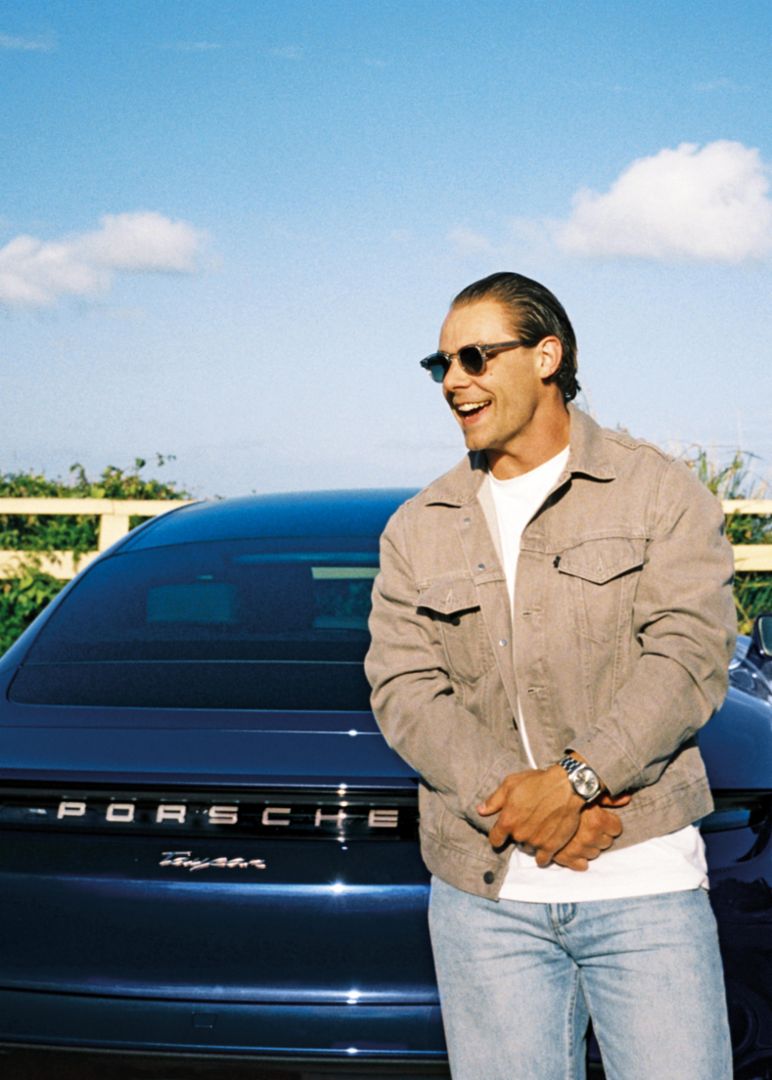 Ferry Porsche's now-famous words awaken our memories of what dreamers can achieve. When their high-octane fusion of ambition and creativity is lit by the spark of action, they show us anything is possible. It's a fact embodied by many of Australia's high achievers, some of whom recently experienced the latest in the long line of Porsche dream sportscars: the all‑electric Taycan.
Jack Vanzet is one. The Melbourne-based multidisciplinary artist keeps three vehicles in his personal garage: painting, music and design. He uses them to create enjoyable emotions for people, which he achieves by converting his creative dreams into sensory realities.
"A key part of my practice is the marriage of traditional methods of creation with new-age technologies," he says. "My music almost always starts at the piano before it ends up being treated inside the computer. Similarly, my visual work starts with pencil and paint before being transformed and expanded upon digitally."
The diversity of his works reflects the variety of topics he actively seeks out.
"One of the things that drew me to the arts was the diversity of projects that artists and creatives can work on. This not only expands my knowledge and skills but also allows me to develop a broader perspective, and pushes me to innovate."
Jack imbues his works with utility and meaning so they contribute positively to the lives of others. For example, his mesmerising visual series Abstract comprises a collection of floating colour-rich streaks that replicate and synthesise movements and forms found in nature. Their properties are calming. They evoke the desire to reach out and embrace them.
Jack's success took more than time and effort. "I've found that my work ethic and values around craftsmanship and creativity have been valuable assets in my career."
It's a similar story with trailblazing professional surfer Nikki van Dijk. The Phillip Island native has long aspired to reach the peak of surfing, a dream that started two decades ago.
"When I was eight years old, I surfed in my first contest," she says. "It was a little later that an all-women's surfing event took place on Phillip Island. I saw all these female pro surfers come to town and that's when I realised surfing was a potential career, one with longevity."
It was a powerful spark. Nikki then mixed her talent on the board with her intense work ethic and it drove her all the way to the World Surf League Tour.
Achieving her dreams to become a pro surfer has also driven her towards new quests.
"Long ago, I realised the impact of climate change and the impact our choices have on our environment. I'm passionate about being a voice for Mother Nature. I owe my life to the ocean and I hold a huge responsibility here."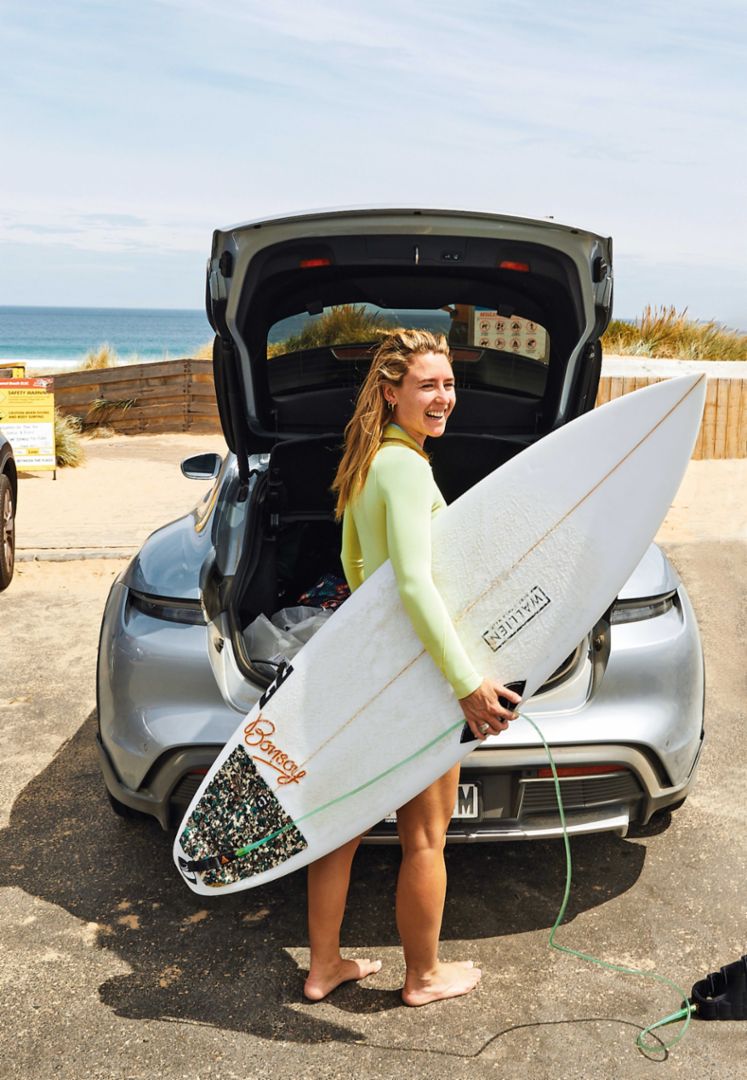 It's a duty she has woven into her daily life; from the establishment of her yoga retreats, where she shares her knowledge of the ocean, to the sustainable lifestyle choices she makes.
"Having driven hybrid vehicles for many years, I have a deep appreciation for what Porsche has achieved with the Taycan. It's exactly what our world needs, both now and in the future."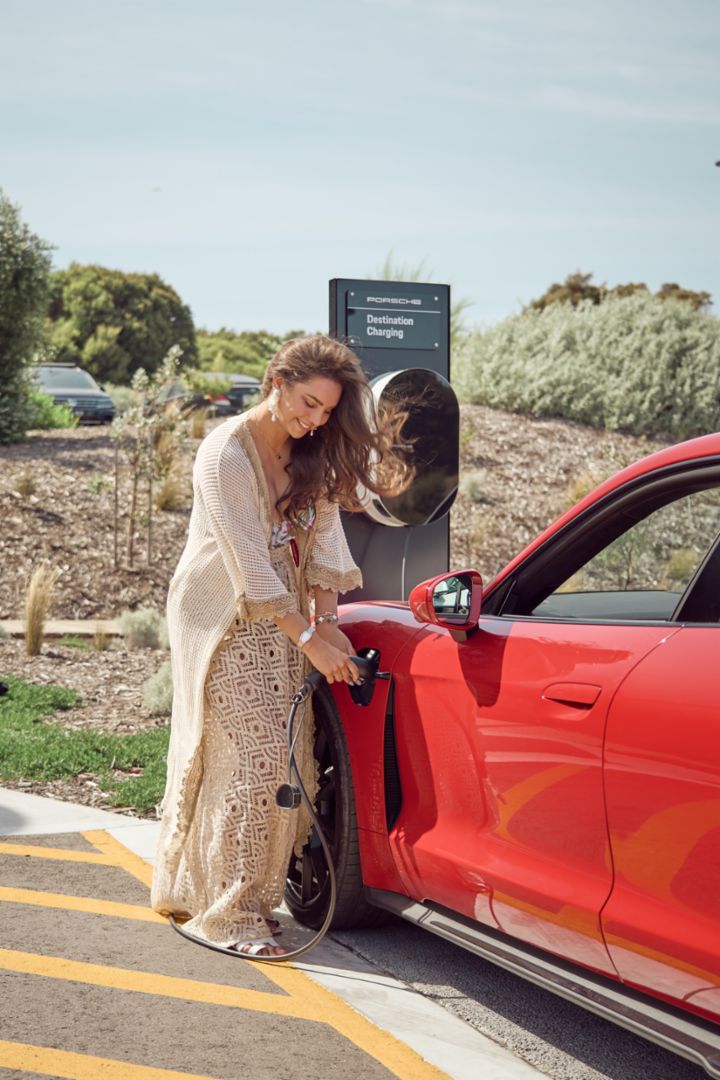 New quests are also Sarah Todd's focus. Her achievements as a chef, restaurateur, author and TV host are as inspiring as they are extraordinary. The former MasterChef star says that it was an unexpected visitor to her home town during her childhood who set her dreams in motion.
"When I was 12, I met the strongest woman in the world," she says. "She wrote an inspirational quote in my diary: 'You can achieve great things if you set your mind to it.' Not only was she physically strong, she also had a strong sense of purpose and determination."
It sparked her life's journey to date, a dedication to creating with food that saw her train as a chef at Le Cordon Bleu, open restaurants, author books, and collaborate with some of the world's greatest culinary leaders.
But it's her latest dream, her newest restaurant, that's driving her more than ever: it's all about giving to society and supporting women in business.
"Every woman deserves the opportunity to learn new skills and create an industry for herself. I want to empower these women by providing them with the necessary resources, training and education to start their own businesses so they can build a sustainable future for themselves and their families."
As with Jack Vanzet's art and Nikki van Dijk's wave-creating protection of nature, Sarah's bold, new venture has a distinctly Porsche flavour.
"Dreams can be compelling catalysts for action," she says. "The strongest woman in the world knew this, and so did Ferdinand Porsche."
Consumption data
Taycan GTS
WLTP*
0 g/km

23.3 – 20.4 kWh/100 km

439 – 502 km
Taycan Sports Sedan Models
WLTP*
24.1 – 19.6 kWh/100 km

0 g/km

370 – 510 km