Life in the fast lane
Porsche Australia & New Zealand – Lifestyle: Rachael Reid's life with cars has taken her many places, usually at high speed. Of all the fast machinery she's driven, one marque sits close to her heart. And she drives it every day.
"I have always gravitated towards Porsche. It's usually my daily driver, and always my family car."
I was exposed to cars and motorsports from a very young age. Growing up with two older brothers, it was inevitable I'd find myself helping them restore and tweak cars. Looking back at those fun times, I can see it opened the first of many doors.
I started racing go-karts when I could, which created the opportunity to get involved with Formula 440s. That's when I fell in love with the adrenaline rush of cars and motor racing, and it became a big part of my life.
In my mid twenties, I co-founded a go-kart complex. It attracted some of Australia's top racing drivers: Marcus Ambrose, Craig Baird, Jonathan Webb, Andy McElrea and Fabian Coulthard, to name a few. They all became friends. It was great fun. It was also a turning point. During this time, good friend and mentor Paul Morris took me under his wing. He and his amazing team from Norwell Motorplex in Queensland taught me everything about the craft of racing. It allowed me to develop new skills and hone them. It pushed me to new levels of driving ability. Most of all, it made everything click. I gave many of the fast boys a real run for their money after that point and it further cemented my passion for all things automotive and motorsport.
Having by this time developed a deep understanding of everything automotive, I found myself helping my girlfriends choose cars and answer car-related questions. Soon it grew to include their friends. And then their friends; and then anyone who would listen, really. I noticed I was always being asked by females. Her Supercar Life was born as a way to help women with common automotive questions, and to help them understand more about these investments – these incredible pieces of moving art – from a woman's perspective.
Along with helping others, my passion for cars has always remained strong. One thing I wanted to do was bring the local supercar community together. So, as my influence grew, I launched Exotics and Espresso, a bimonthly supercar meet. The event encourages owners to open up their rare and expensive vehicles to the public, especially children. Just watching the joy on children's faces as they interact with these incredible machines is truly priceless. It makes it all worthwhile. Last year I also launched a one-day charity drive day that unites supercar owners with the community to give a little back. I'm excited to say that to date we have raised close to 80,000 Australian dollars.
I have the great fortune to drive many cars. I love researching and discovering their rich histories and stories. Cars with a racing heritage are especially fascinating. But no other carmaker has resonated with me more than Porsche. Being a history buff, Porsche is a brand with soul, and it speaks to me.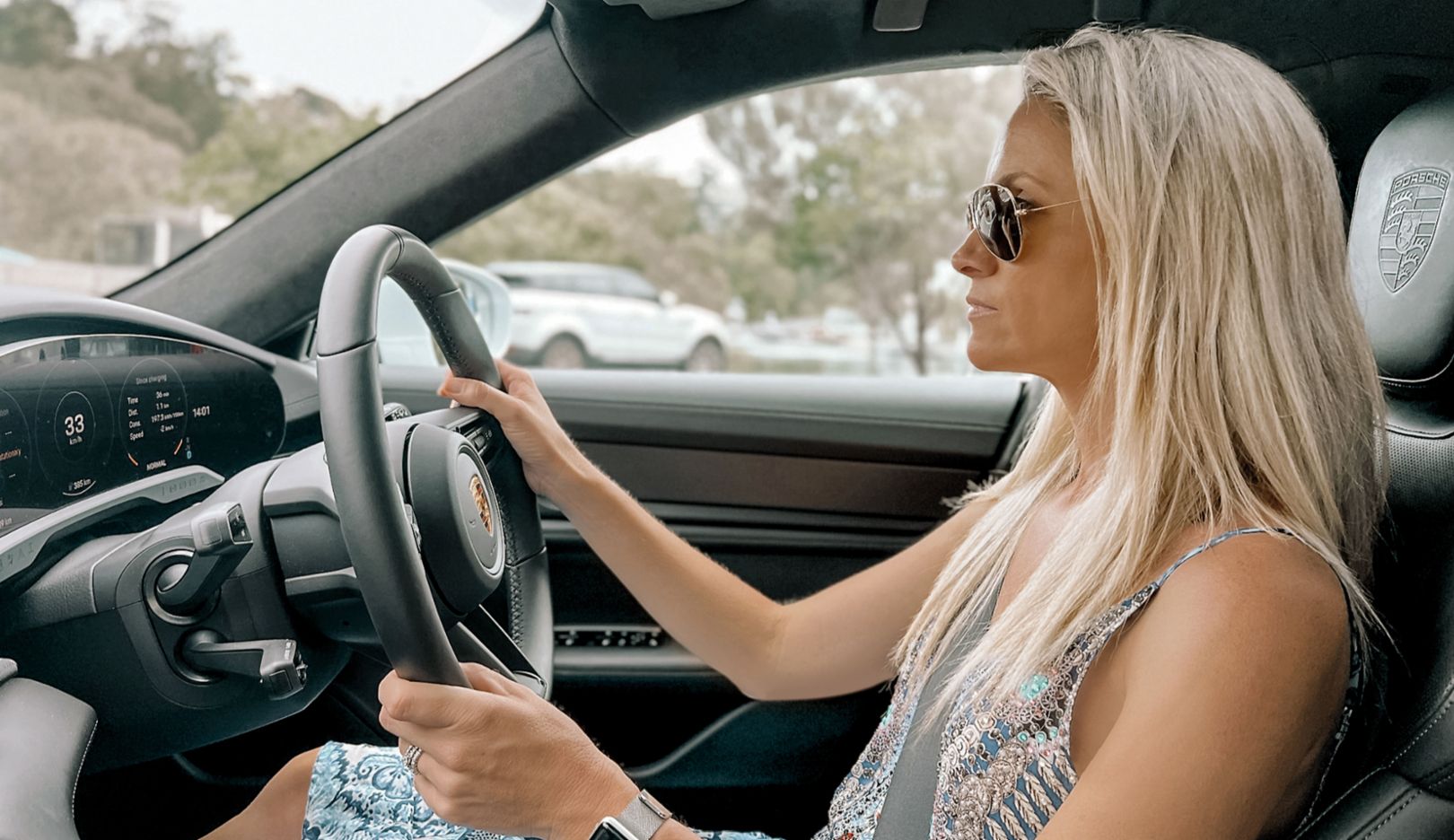 "The Taycan has shown me the possibilities of electrification. It's left an indelible impression."
I've owned a number of special cars and I have always gravitated towards Porsche. It's usually my daily driver, and always my family car.
As the automotive industry shifts towards sustainable technologies, electrification is becoming more mainstream. Some argue that electric cars lack the excitement of their combustion engine counterparts, but my experience with the Porsche Taycan proves otherwise.
As a car enthusiast and professional driver, many of the supercars I've driven have been hybrid or electric. Although I have always been a fan of combustion engines, the Taycan has shown me the possibilities of electrification. It's left an indelible impression.
The Taycan stands out not just because of its instant torque and smooth acceleration, which are common features in all electric cars, but because of the way Porsche delivers it. The company's focus on seamless power delivery as well as performance and handling creates a driving experience that's unique in this category. Porsche shows with the Taycan that electrification doesn't mean sacrificing the joy of driving.
Sure, electric vehicles continue to advance. Interestingly, the Taycan has a greater driving range than most people expect, and it already exceeds the needs of most drivers. The Porsche Destination Charging programme makes recharging quick and simple and it's made big strides in addressing range anxiety.
Electrification is revolutionising the automotive industry and my experience with the Porsche Taycan has given me a new appreciation for electric cars.
I'm excited to see where Porsche takes electric cars in the future. If the Taycan is any indication, the future of driving is bright.
Consumption data
Taycan Cross Turismo Models
WLTP*
24.8 – 21.3 kWh/100 km

0 g/km

415 – 488 km
Taycan GTS
WLTP*
0 g/km

23.3 – 20.4 kWh/100 km

439 – 502 km