Quiet, Please – the Calm before the Storm
The tennis world's female idols are happy to model for celebrity photographer Radka Leitmeritz, who poses in front of the camera herself exclusively for Christophorus.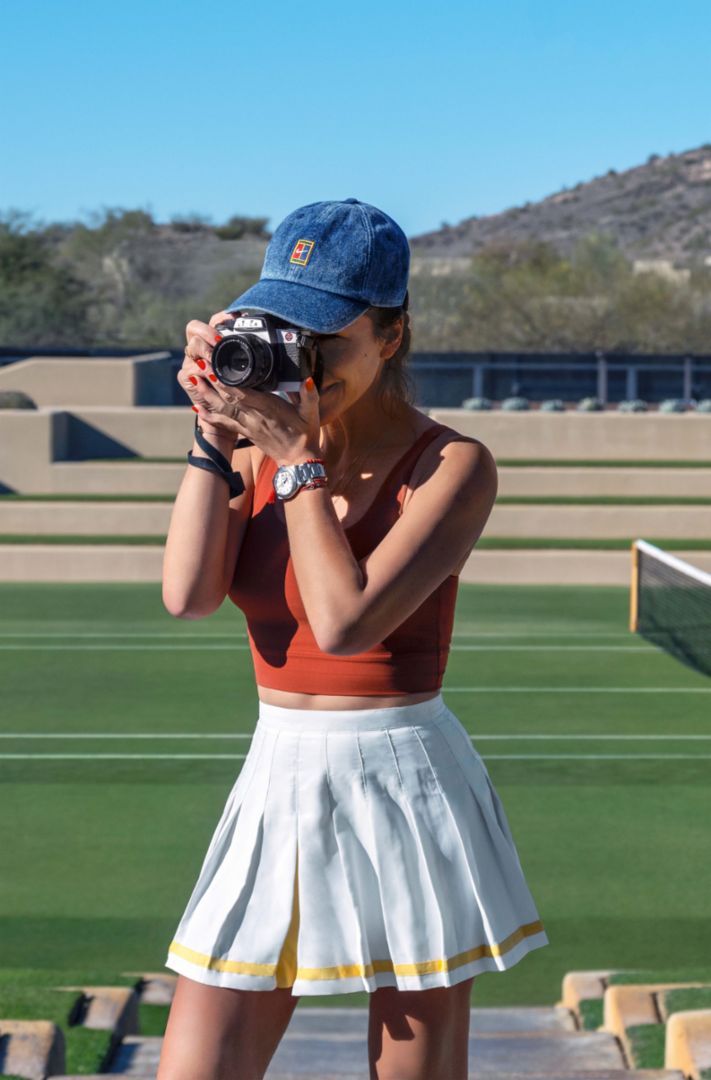 Radka Leitmeritz is impossible to miss at the quaint beach cafe on the Pacific coast. Of course, she came straight here from tennis practice, wearing an 80s jacket with a greenish-yellow pattern and the word "Tennis" embroidered on it a thousand times, a silver necklace with tennis racket pendant, and a white cap with mint-green tennis ball print. Sporting this outfit, she could easily appear in one of those unforgettable movies that romanticize tennis such as Woody Allen's Match Point. Leitmeritz likes the visual style of the 2005 melodramatic thriller.
"I grew up in a concrete block not too far from Prague," says the 47-year-old. "For me, tennis was an unattainable sport. I had a romantic idea of what it was: people go to the club, wear beautiful vintage clothing, and drink lemonade on the terrace." This world was far removed from her actual life in the Czech Republic. Leitmeritz went to Munich and worked as a photo assistant before moving on to Paris. As a trained photographer, she made the bold decision to try her luck in Los Angeles, where she has worked with stars such as Nicole Kidman.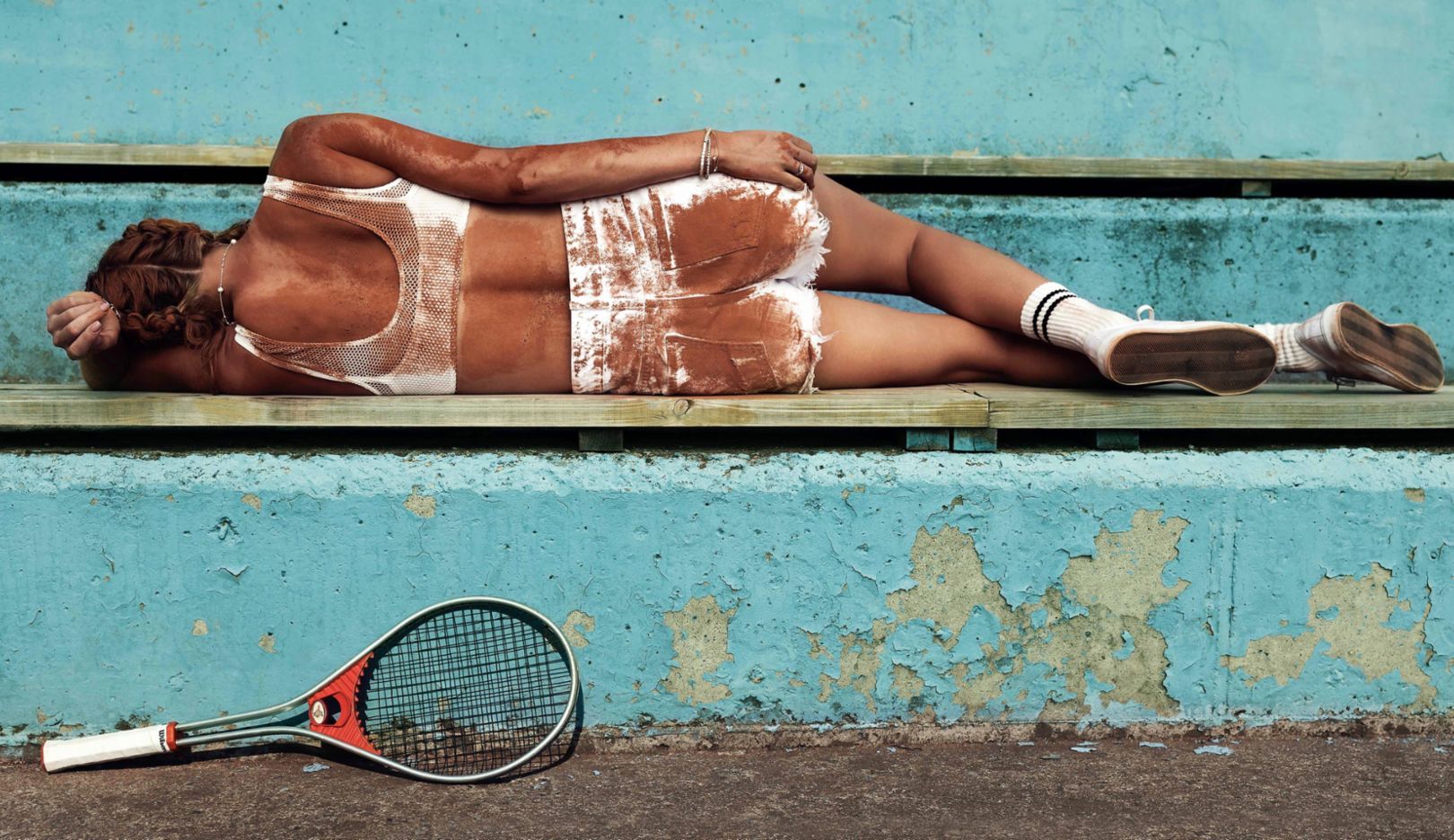 It was also there that she discovered her passion for tennis. She took her first lesson just four years ago: "I was immediately hooked and wanted to learn everything about the sport." What happened next is proof that pursuing your passion is often rewarded with success. "The editorial team of the Czech edition of ELLE magazine noticed that I was always posting tennis photos on social media, which ultimately led to a request to photograph Petra Kvitová." The famous photo showing the two-time Wimbledon champion on the steps of a dilapidated stand was captured during this 2018 shoot. Her back is turned toward the camera, and her clothes and body are covered in red sand. The tennis world had never seen anything like it. Players usually only appear in two types of photos: in action on the court and styled to the nines for fashion magazines. "Eventually that just gets boring," says Leitmeritz, who has a different vision: "I want to capture the moments that no one else photographs." There's always a photo of the winner – but at a Grand Slam tournament, 127 other female players leave with a loss: "I want to reveal the world of tennis behind the scenes – the loser's tears, her loneliness in her hotel room, moments in the locker room."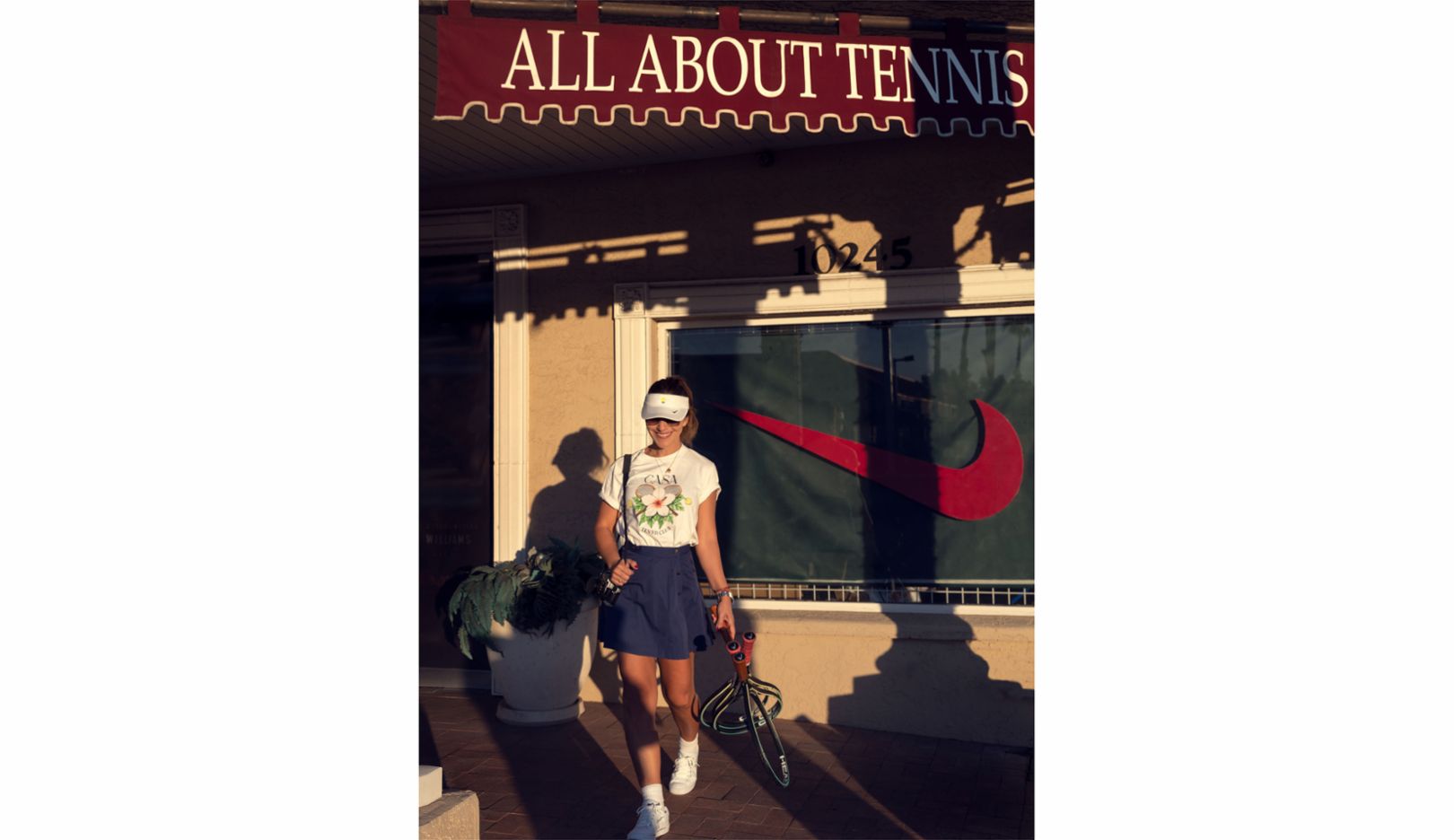 Radka Leitmeritz in front of her favorite tennis business in Scottsdale, Arizona. "I love to look around there. For example, when they're stringing rackets." She finds most of her outfits online, preferably vintage. The photographer thinks that female tennis players expressed their individuality more with their clothing in the 1980s and 90s, which is why she also collects tennis skirts from those two decades.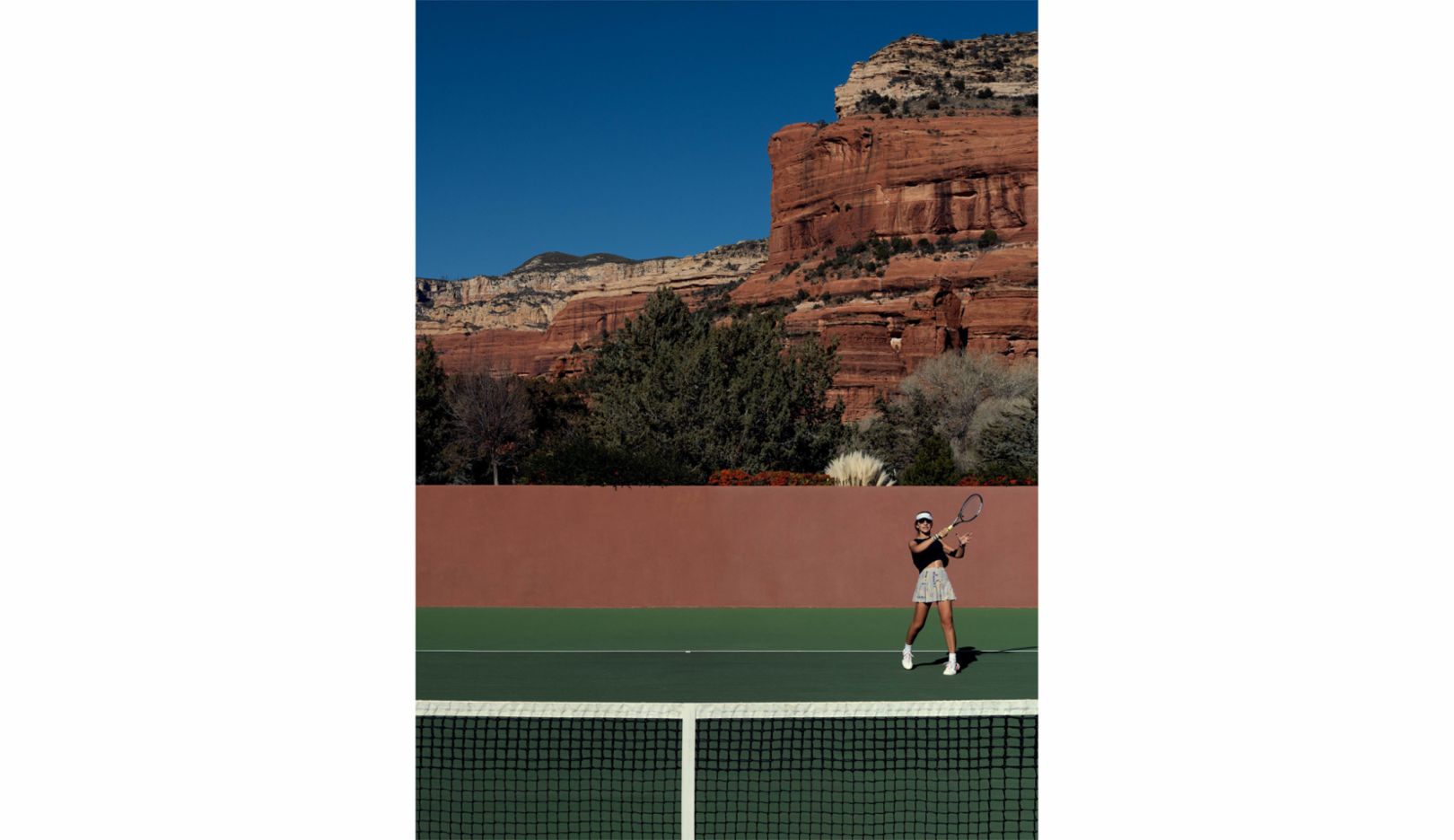 It's no wonder that professional tennis players like Olympic champion and nine-time Grand Slam winner Bethanie Mattek-Sands practices here. In the red rocks of Sedona, they find the peace and quiet they longed for on the hectic tennis tour. "This court in Arizona is a spiritual place," says Radka Leitmeritz. "You can feel a lot of energy in Sedona. The cliffs are amazing. The way the stars sparkle at night is indescribably beautiful."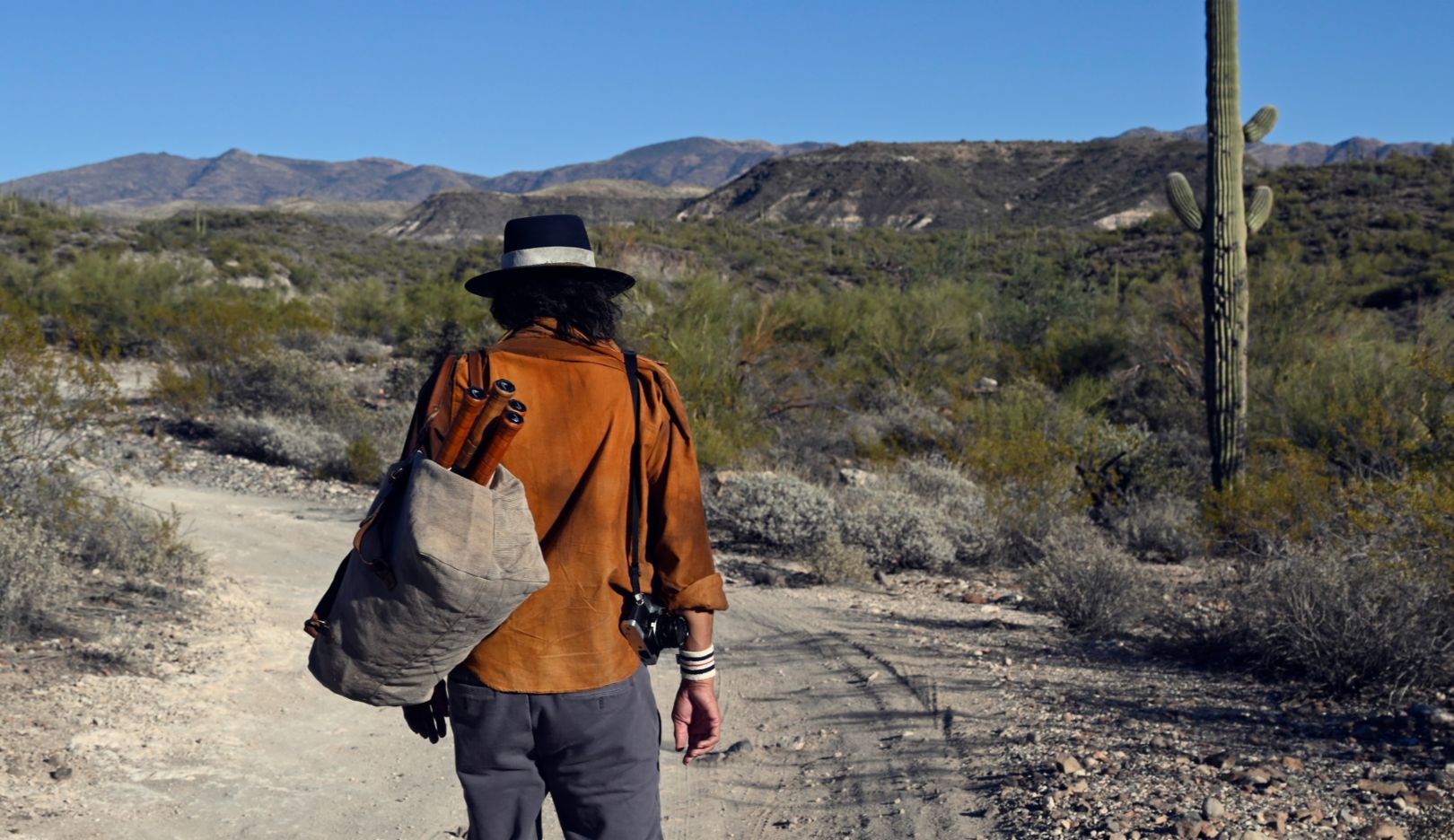 Leitmeritz photographed Jared Jacobs – the current coach of double and mixed specialist Bethanie Mattek-Sands – near the Desert Mountain Resort in Scottsdale. She has him walk through the desert like Johnny Depp. A tennis vagabond who has been on tour his entire life, whether as a player, hitting partner for Mary Pierce, or Natasha Zvereva's coach. "I like Jared's style because he always sticks out and adds a personal touch to his outfits," says the artist. "It can be a hat with tennis net band or a special grip tape that he wraps around his racket."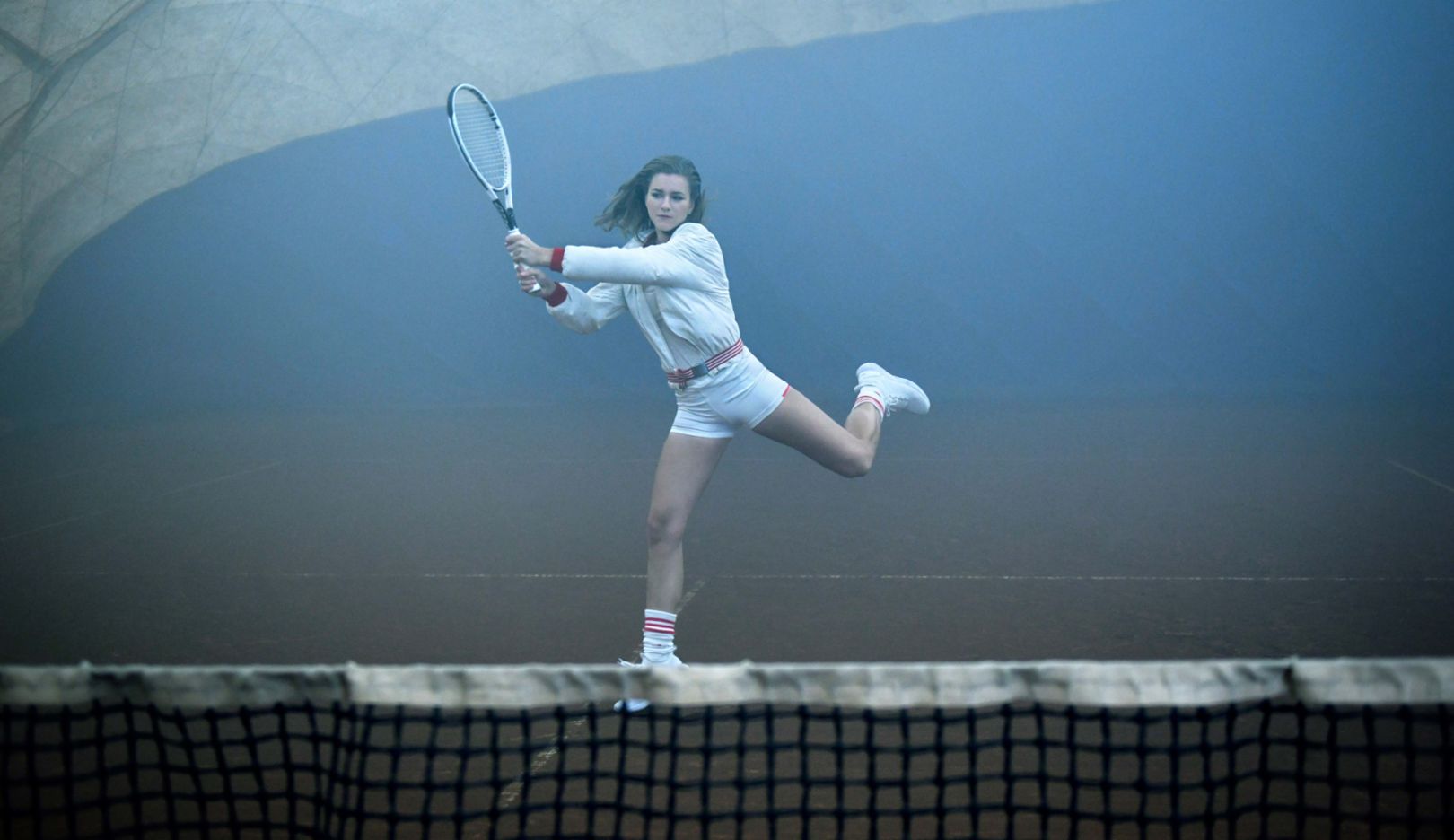 Karolína Muchová at the Tenis Cibulka club in Prague. "These old tennis bubbles have an almost futuristic feel about them. They look like space stations to me," says Radka Leitmeritz. "I had fog pumped into the bubble for this picture. It created a mysterious, cinematic atmosphere that makes it feel like you're all alone there – on a mission like David Bowie's Major Tom. Karolína looks like she's playing in her own dome in a different world."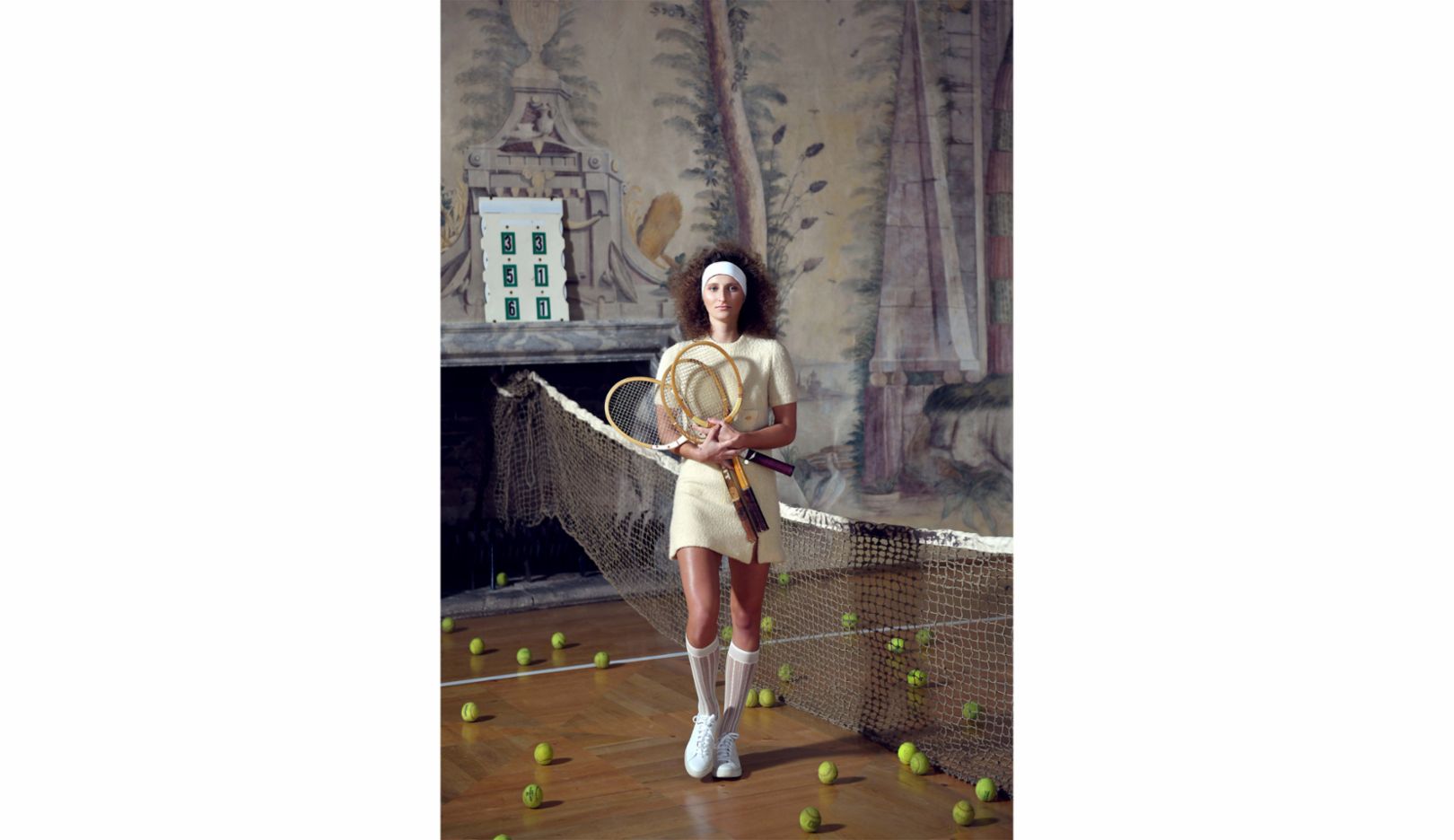 Castle fun. Due to the weather, it was clearly not a good day for an outdoor shoot. So Leitmeritz found Nebílovy Castle in the Czech Republic and transformed the ballroom into a tennis court for Markéta Vondroušová. "I imagined her living in the castle and wanted to capture a picture full of nostalgia. We had a lot of fun with Markéta hitting balls over the net on the parquet flooring. For me, her face is like a work of art by a Dutch painter."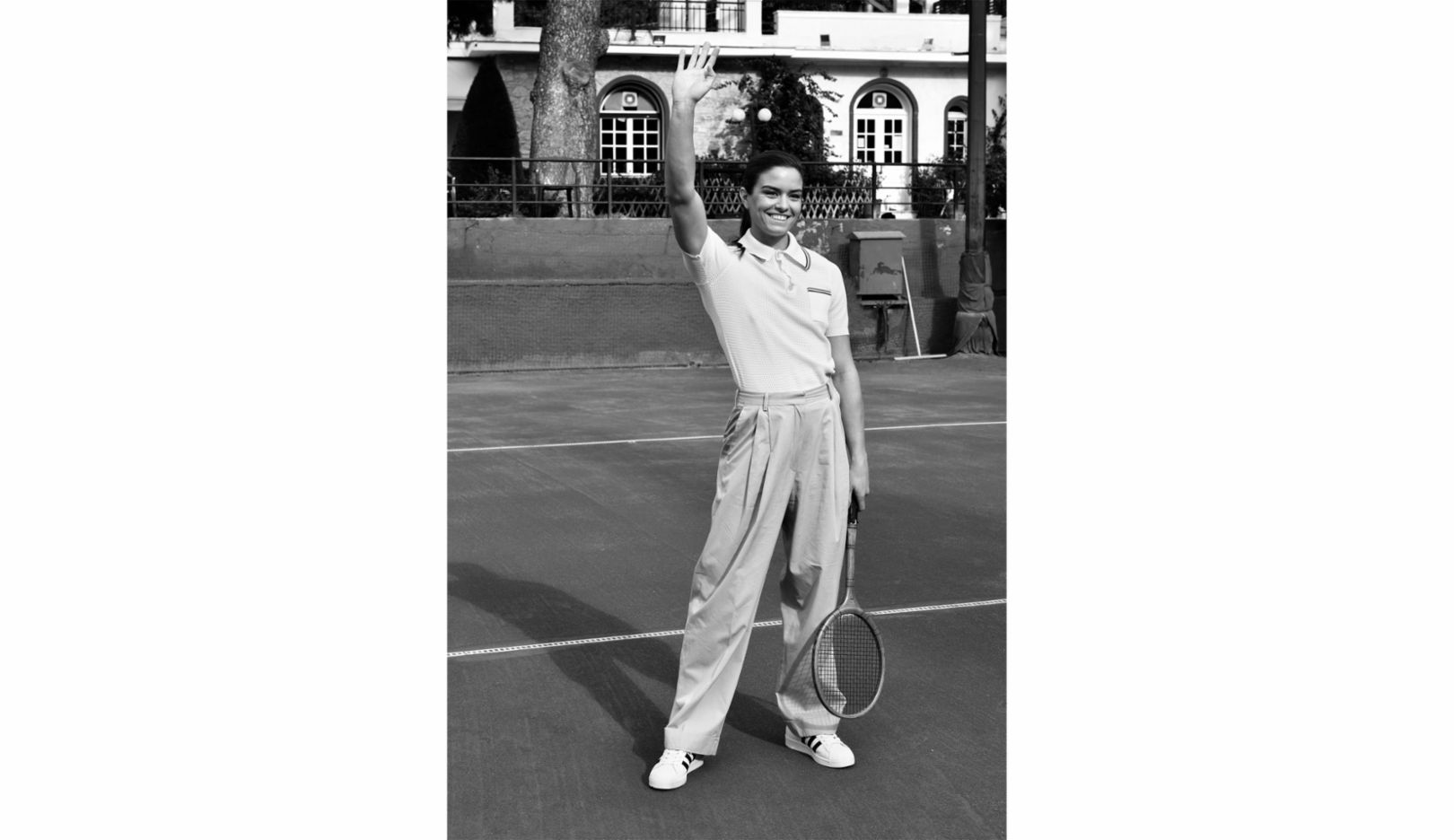 Maria Sakkari at the Athens Lawn Tennis Club. "The photo pays homage to the 1930s and 40s," explains Radka Leitmeritz. "Maria grew up in Athens. Even her grandparents and mother played at the old tennis club, which is why I wanted to capture her in this environment and look."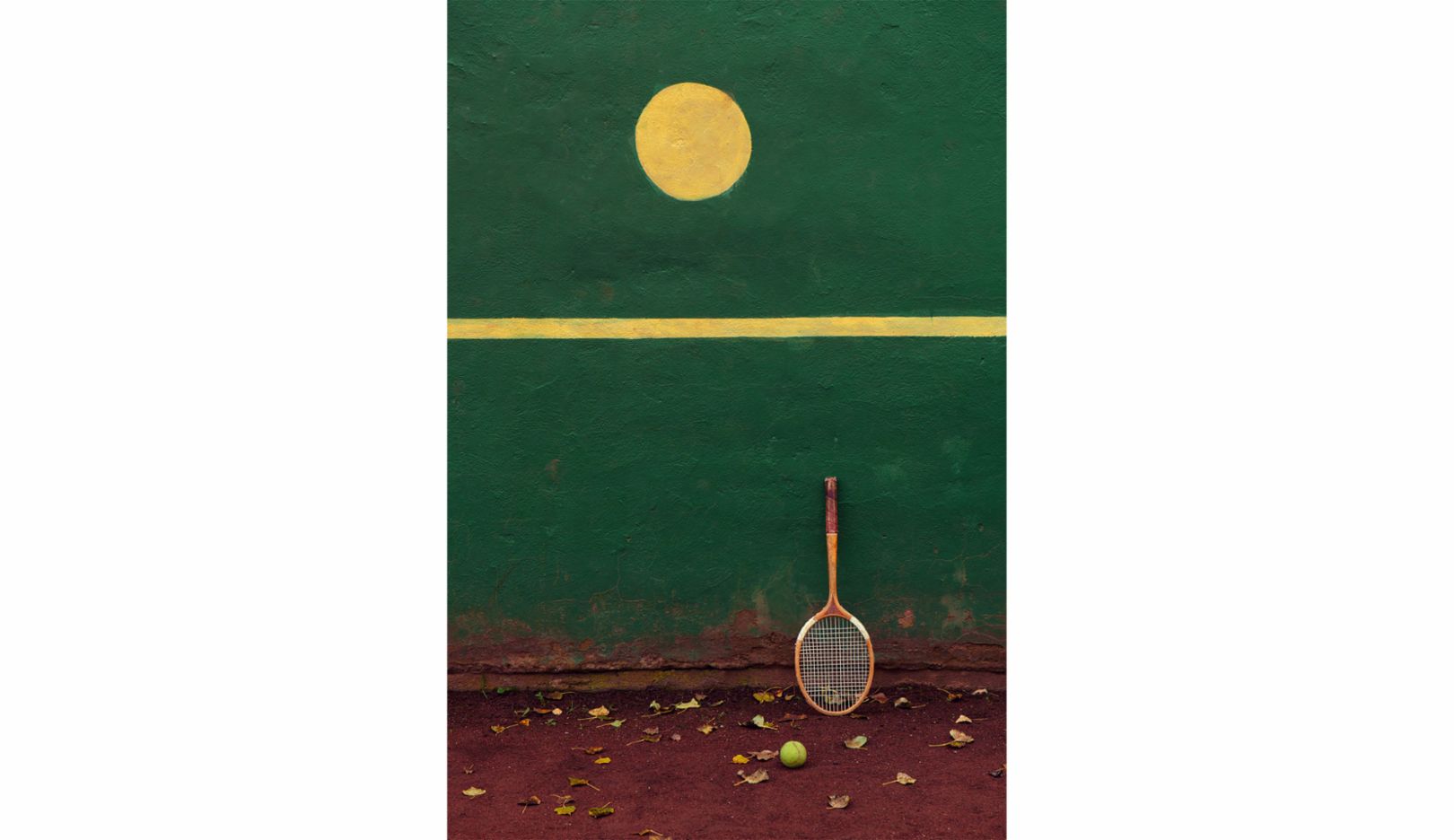 "When I was photographing Barbora Strýcová, she leaned her racket against the wall during a break," says Leitmeritz, recalling the shoot in Prague. "I really like those old training walls with their markings. For me, they have their very own aesthetics. And that's how this still life came about on a warm fall day."
/
Clarity packed with emotion.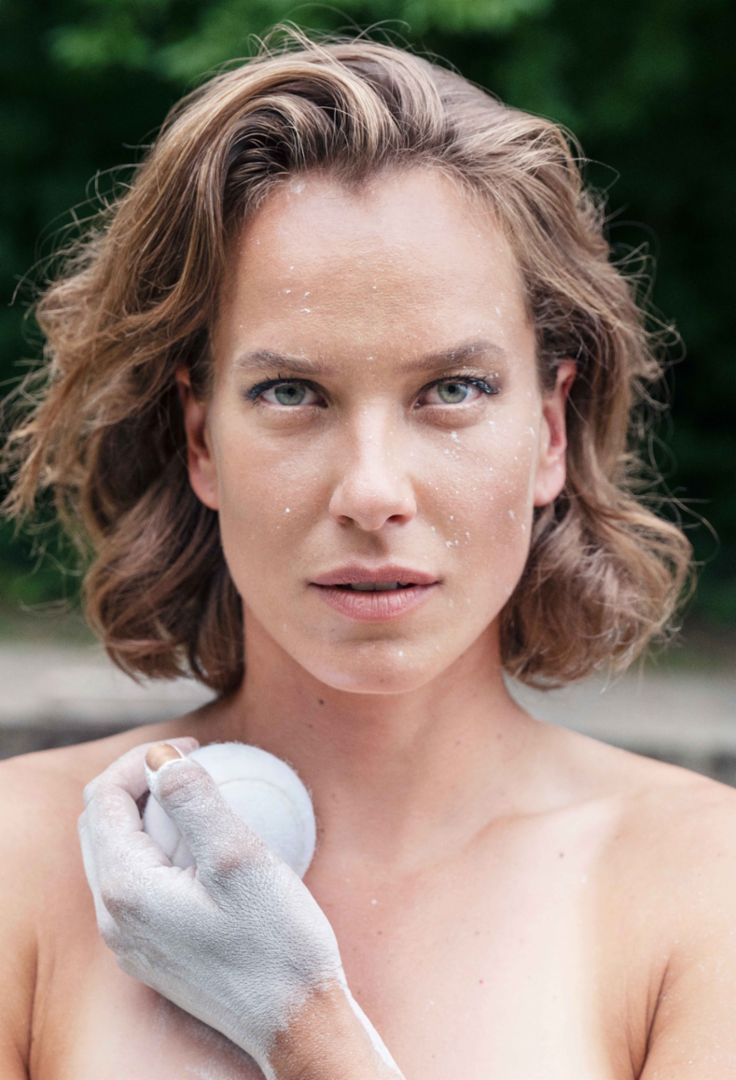 The photo of Kvitová opened the door to this often inaccessible world for her – and as it turns out, there are many female players who are eager to experiment. They wear the clothing of sponsors on the court and that of designers during fashion shoots. "They've noticed that I'm more interested in exploring their different personalities," says Leitmeritz. And that's why you'll find Bianca Andreescu in the shower, Barbora Strýcová as Eve with a tennis ball representing an apple, and Angelique Kerber in black and white in a seemingly endless corridor. The photographer manages to capture the essence of these individualists, while remaining true to her retro aesthetic.
Her photos blur the line between life and art. She appreciates scenes like the pantomime tennis game in the park at the end of the 1966 movie Blow Up. "I look for character – even at locations." Abandoned venues, swimming pools, and tennis courts fascinate her. "You never know what happened there, so you can let your imagination run wild."
Leitmeritz has actually given the sport that romantic quality she dreamed of as a child. And how does she view herself in this cosmos? As a Porsche fan, she agrees to conduct an experiment and photograph herself exclusively for Christophorus, which will be a challenge: "I don't like to have my picture taken, but I wanted to see what it was like. Me in the tennis world."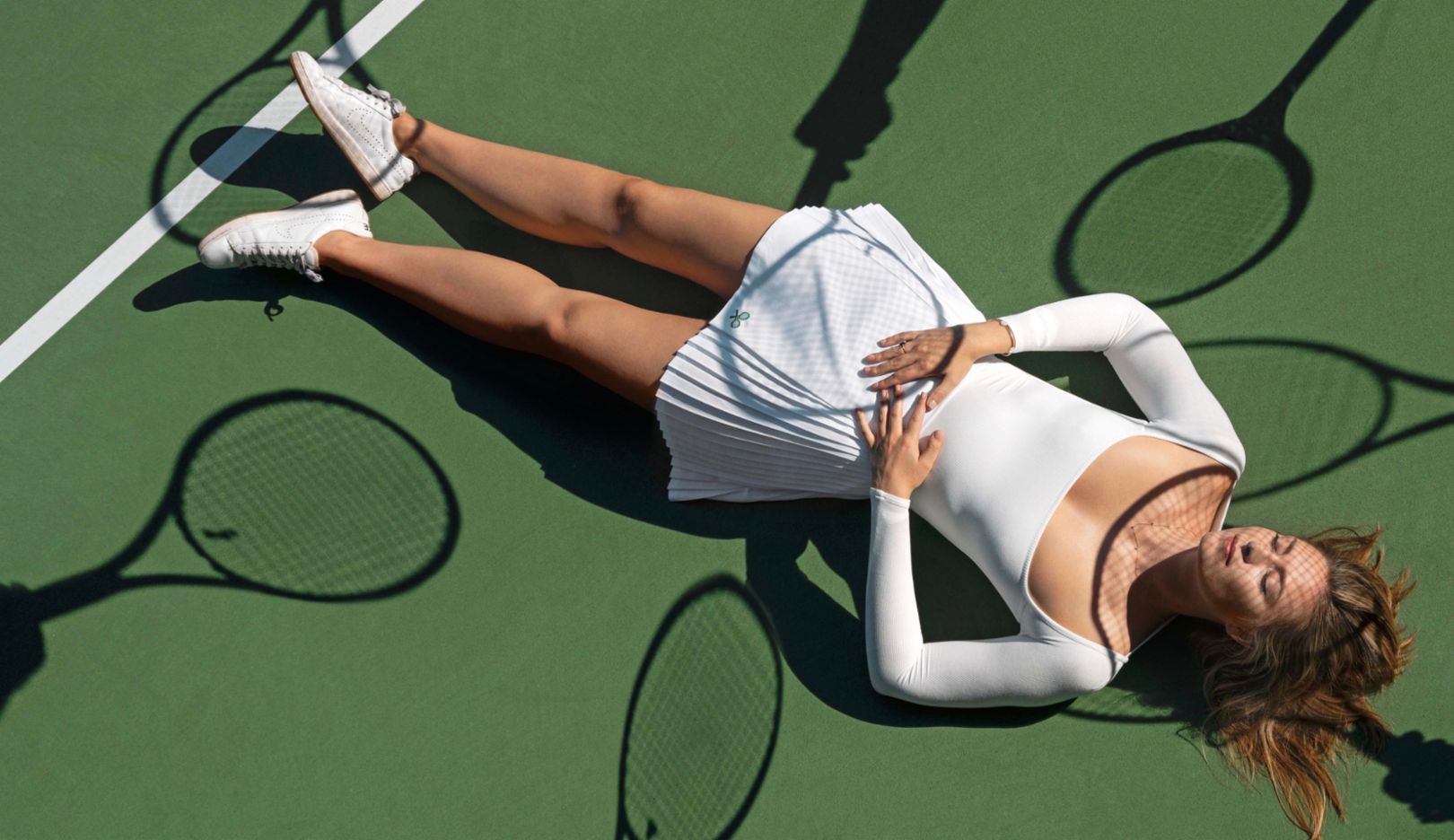 Court Supremes
The ongoing photo project of Porsche Central and Eastern Europe, Porsche AG, and Radka Leitmeritz is an artistic homage to the powerful women of tennis. World-class female players such as Petra Kvitová and Martina Navratilova as well as Porsche brand ambassadors Julia Görges, Angelique Kerber, and Maria Sharapova have already posed for the camera. As winners of the Stuttgart Porsche Tennis Grand Prix, all five of them have also driven away from the competition in a Porsche 911 as a prize. The 2022 tournament will be held from April 16 to 24. The sports car manufacturer has supported women's tennis since 1978 and has continuously expanded its activities on an international basis.