SCOPES Warszawa:

Tales of Tomorrow

Porsche Central & Eastern Europe – Just around the corner: For five days, a former high school building in the center of Warsaw, Poland, has been converted into a unique art, music, and discussion space offering a glimpse into the future.
The fall sun sets early over Warsaw in October. Late in the afternoon, the dusk encroaches on the capital of Poland, and by 7 p.m. the city is in full dark mode. But it does not go to sleep yet. Quite the contrary – one could argue that it is only just waking up. This is true at least for one part of its inhabitants, perhaps not the biggest one in numbers, but significant nevertheless, as they are highly influential for Warsaw's recent image as a dynamic city on the rise.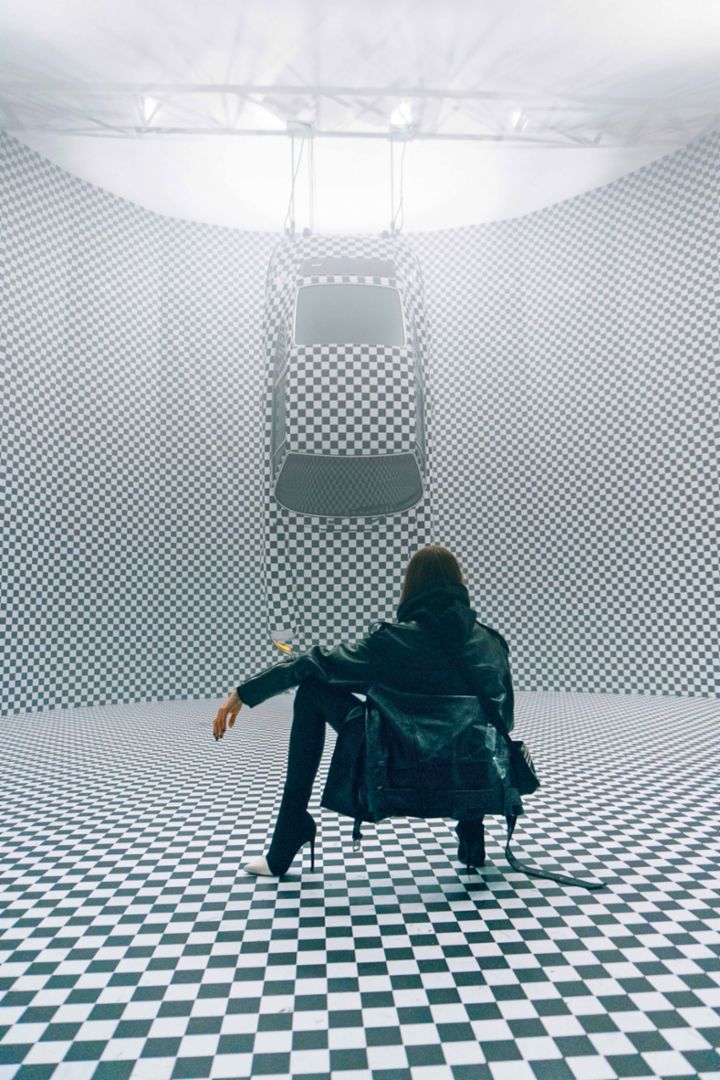 Poland's astonishing economic success over the last three decades has given birth to a new class of citizens – young urban creatives striving to break the formalities, to explore new ideas, to experiment, to push art, design, music, and technology over the stale limits. They are all across the country: in Bohemian Kraków, traditionally regarded as the artistic hub, in modest and unassuming Poznan, with its innovative and original culinary scene, in Lodz and Katowice, which are redefining their industrial past (cotton and coal mining, respectively) and trying to reinvent themselves for the future. But most importantly, they're in Warsaw, Poland's largest city, as well as its economic and political center. They defy the country's conservative politics and mainstream media. They are talented, they are creative, they are restless. And they are at Scopes driven by Porsche, a unique event organized for the first time in Warsaw – no mean distinction considering that previous editions of the event were held in Berlin, Amsterdam, and Tokyo.
Scopes is all about the future. As is Porsche – it doesn't evade its rich past, but it doesn't dwell on it either. The world around us is changing at a pace never experienced by humans before.
And we must change accordingly to avoid perils which sometimes haven't even been defined or identified yet, to improve the life of generations to come, and to make the world a better place. No point pondering too much on the has-beens; time to tell the tales of tomorrow.
The future is about progress and transformation. As is Porsche – it doesn't evade its rich past, but it doesn't dwell on it either.
The venue for the Scopes festival has been perfectly chosen then. Not only is it the very center of the city, just a short walk from the central train station, but also the new cultural heart of the capital. The building once housed the oldest high school in Warsaw, then – after the school had been moved to a new location – it was empty for many years, and today it is once again vibrant with life. The reason? It has been temporarily entrusted to the care of Komuna Warszawa, an avant-garde artistic group sprouting from a well-known independent theater, which has transformed the former school into a unique social cultural institution. Komuna Warszawa's openness to the most varied forms of expression ensured that the Warsaw Scopes program would not omit any of the most important directions indicating what the future holds.
Cybernetic fairies and the cloak of invisibility
And what kind of future is that? First of all, one filled with all kinds of diversity and technology. Queer, digital, multicultural, sustainable, and aware. Proof of this comes in the works of artists that are on display during Scopes. We meet Ada Sokół, a 3D artist who has shown her art all over the world and has worked with brands such as KENZO and Louis Vuitton. Here she presents unique creations in 3D – they can be viewed at the exhibition, but also downloaded onto a smartphone and then printed on a 3D printer.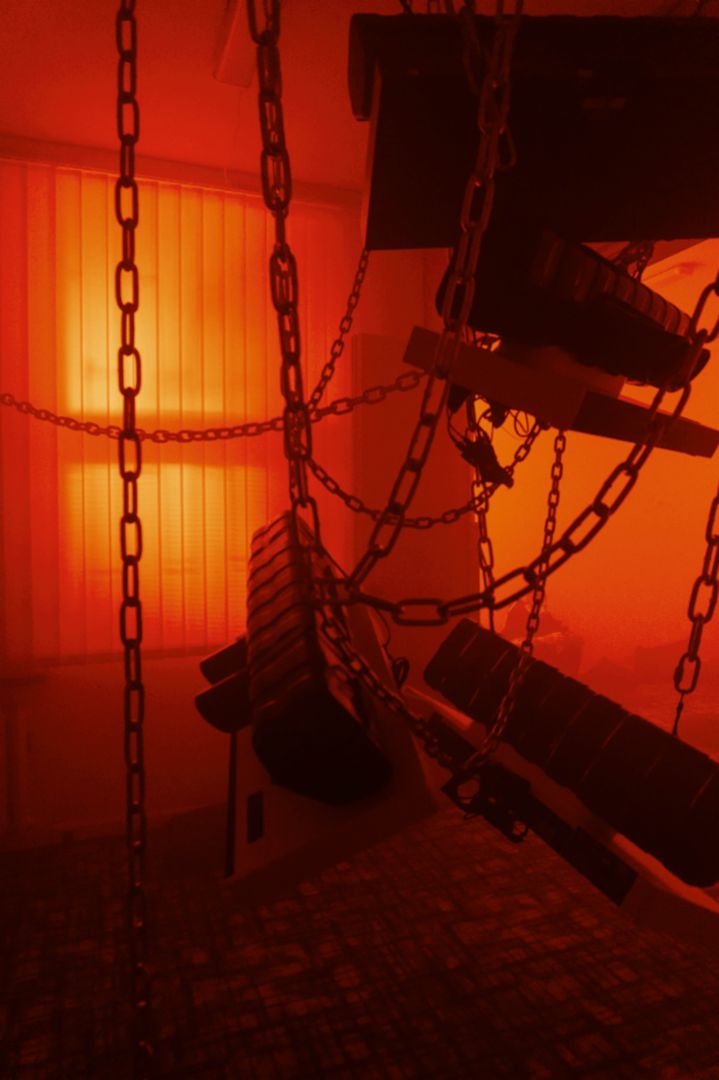 Ada Zielińska and Rafał Dominik's Hide and Seek installation is an Instagram hit – it plays with Porsche's instantly recognizable design even when it is supposed to be concealed by an elaborate camouflage. Taycan "hidden" in the green visual noise and organic-like gnarls is impressive, but it is the next hall that produces a real sense of awe in the participants. In the round room with walls and floor covered with checkered pattern reminiscent of Pepita (houndstooth) fabric, a classic 911 is seen hanging from the ceiling, painted in the same way. It looks stunning and intriguing, but we can't stay too long, as the myriad of black-and-white squares is dizzying after just a couple of minutes.
While we're on the subject of clothes and fabrics, let us check up on the designer Tomasz Armada – one of the world's hottest names in alternative fashion. Armada is a master of upcycling, the reprocessing of existing materials. This time he used recycled fabrics to create T-shirts inspired by the Baluty district, once a suburb of Lodz, which, at the time, was growing dynamically due to the textile industry and attracting scores of migrants from the countryside looking for a better life.
Before being "swallowed" by the city, Bałuty used to be – with its 100,000 inhabitants – the largest village in Europe. It still maintains its own identity and a sense of distinctiveness, and it is cherished by artists and other famous people born and raised here, like the NBA star Marcin Gortat. The T-shirts made by Armada were used to clothe the staff of the Warsaw edition of Scopes.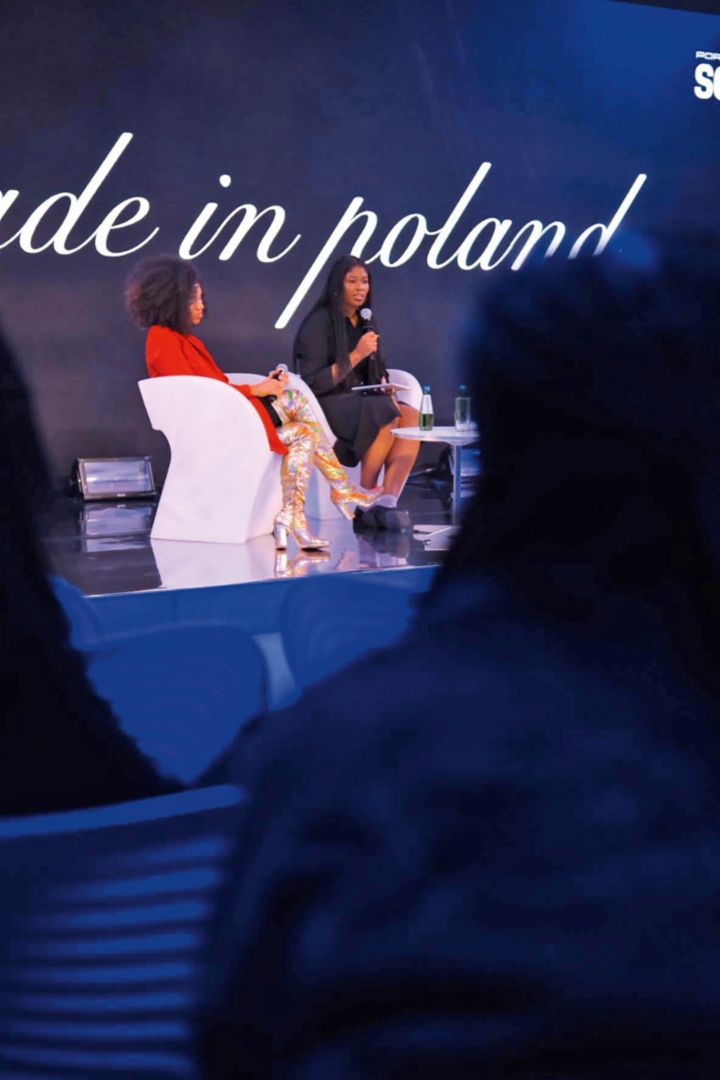 There are also cybernetic fairies of techno culture and glitchy Internet post-art. This is the work of Marta Nawrot and Jagoda Wójtowicz, acting as the Eternal Engine and calling themselves digital witches: "For the Scopes festival, we created a virtual space in a VR chat environment accessible to multiple users, at the same time inspired by the real space of the festival. ZONA was a virtual experience entered via VR goggles, but also a speculative theory/imagining of a game – a virus found in Komuna Warszawa on a floppy disk created by queer hackers in 1990. The main inspirations for the project were the aesthetics of early video games and the demo scene. It was a bit like trying to imagine what it would be like if the first Lara Croft had been created by a queer woman and Space Invaders by a nonbinary group of hacktivists," says Marta Nawrot.
In turn, musician Lubomir Grzelak, also known as Lutto Lento, presents – together with visual artist Jacqueline Sobiszewski – a microtonal sound installation Treasures of the Sesame, accompanied by a light show. Here the attendees immerse themselves in emotional, overpowering soundscapes and visual experiences.
Vogue, let your body move to the music
The musical part of the Warsaw edition of Scopes is equally dynamic. Suffice it to say that it kicks off with a Wixapol party, which is famous for promoting the most energetic and radical varieties of rave: gabber, trance, and pumping house. Delivering diversity on stage was crucial. "It was cool that local collectives were able to organize and curate events – it made it authentic. It was clear that the lineup wasn't just taken from a Spotify hit list," emphasizes DJ peploid. Many interesting rappers from Ukraine appeared: popular rapper Alyona, rapper Skofka, band Kalush, and KRUTЬ, a singer and songwriter who won third place at the 2020 Eurovision contest. Their performance is accompanied by A total burnout by the German conceptual artist Lena Marie Emrich.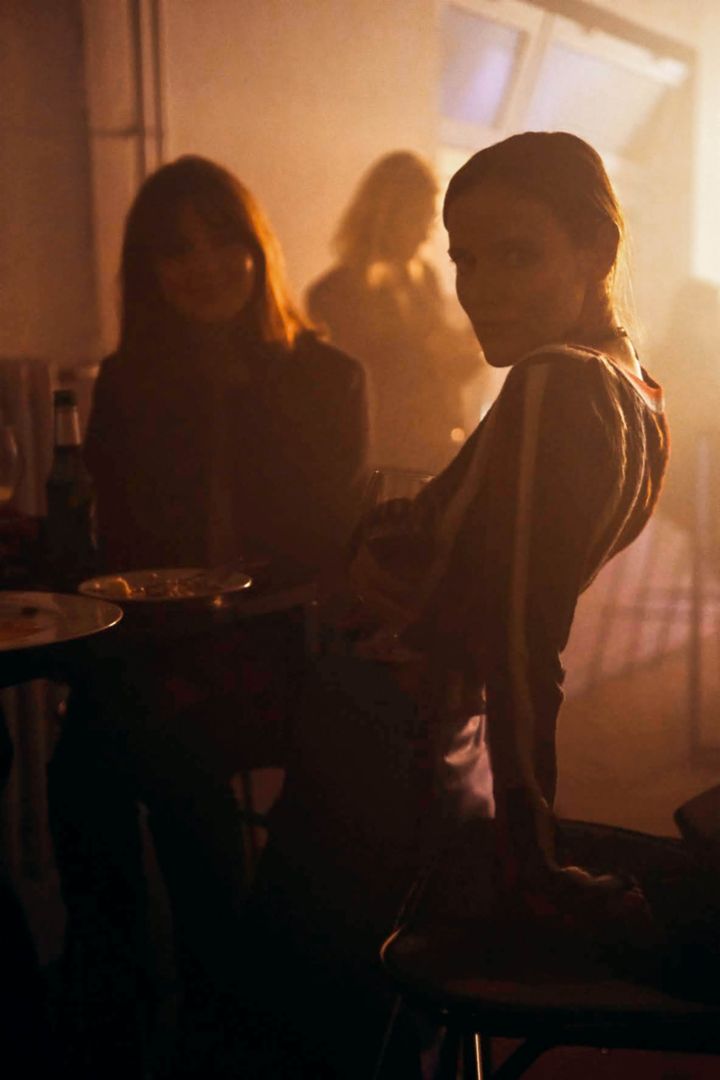 The lineup also includes the biggest export star of Polish techno, VTSS, who recently landed on the cover of the cult Mixmag, a British magazine about electronic music in print for nearly 40 years. VTSS is accompanied onstage by Lutto Lento and the voguing collective Bożna. Voguing is a dance style created in the queer ballroom culture of New York in the 1980s and based on exaggerating models' poses from photo shoots in colorful magazines. It gained prominence owing to Madonna's hit "Vogue" and the documentary Paris is Burning, and has recently penetrated the mainstream through productions such as the Ryan Murphy–created series Pose and the show RuPaul's Drag Race.
Queer heritage is also celebrated by the Girls* to the Front collective, an initiative of Ola Kamińska and Agata Wnuk inspired by the US punk-feminist Riot Grrrls movement from the 1990s. The girls organize concerts and events, publish a zine, and have recently started publishing poetry. "In the Girls* to the Front segment, we present concerts and DJ sets of young musicians (SVET, Mila Jasnic, DJ peploid V, Carolle Suss). Additionally, Katarzyna Olma prepared the scenography for us. We have worked with most of them before, or we had planned to, but couldn't put together the funds, so we are delighted that we managed to do it at Scopes," says Ola Kamińska.
Visions of the future
As we move through the Scopes program, plenty of space is dedicated to the hottest and most timely topics exploring what our future might look like. We take part in the "Generation of the future – what we want to change in the modern world" debate, moderated by Aleksandra Hirszfeld, philosopher, activist, and creator of the "Enthusiasts" initiative (hat tip to Poland's first-wave feminists of the 19th century, who also used this nickname). We try to find answers to the most important questions that permeate our everyday life together with the AI specialist Aleksandra Przegalińska – philosopher and creator of the Otherwise podcast and author of the book Escape from Helplessness – Tomasz Stawiszyński, Hubert Sobecki from Miłość Nie Wyklucza ("Love Does Not Exclude") association, and activist Janka Świerżawska.
As we try to peek into the future, there's also time for some introspection. The topic of mental health – always of great importance and all the more so in the context of the pandemic – is also discussed during the festival. Panelists include Cleo Ćwiek, a top model walking the catwalk for Paco Rabanne and Marc Jacobs and a mental health advocate (who suffers from bipolar disorder and runs the Można Zwariować – literally "one could go crazy" – Foundation), as well as Anna Cyklińska, a psychologist and psychotherapist. With the help of VR technology, we can see through one's eyes what a psychotic episode looks like, and we explore the topic of psychedelic therapy, which is slowly gaining recognition in the eyes of specialists and is being increasingly discussed and researched.
The skyscrapers, the financial district, the food scene: the drive brings out a vibrant city that gets going after dark.
Social media aficionados can meet Johanna Jaskowska, famous for her digital filters used by an alternative Canadian singer Grimes or by Lil Miquela, CGI-created star of Instagram with over three million followers. Especially for the Warsaw edition of Scopes, Johanna has designed a new filter, which makes faces appear as if they were under a stream of water. We play with it a little, after having stopped by a culinary pop-up by Maria Przybyszewska, known for her restaurant The Eatery. Small but delicious snacks play with typical Polish cuisine and reinvent culinary traditions in a new, creative way – an apt hors d'oeuvre for the Scopes program.
Porsche Macan by night
Warsaw is an energetic and developing city that continues to pulsate when darkness falls. This is the perfect setup for the new Porsche Macan, which shows up on the streets of Warsaw at night for intensive test drives. Journalists can see for themselves that the three new Macan versions offer significantly more power than their predecessors.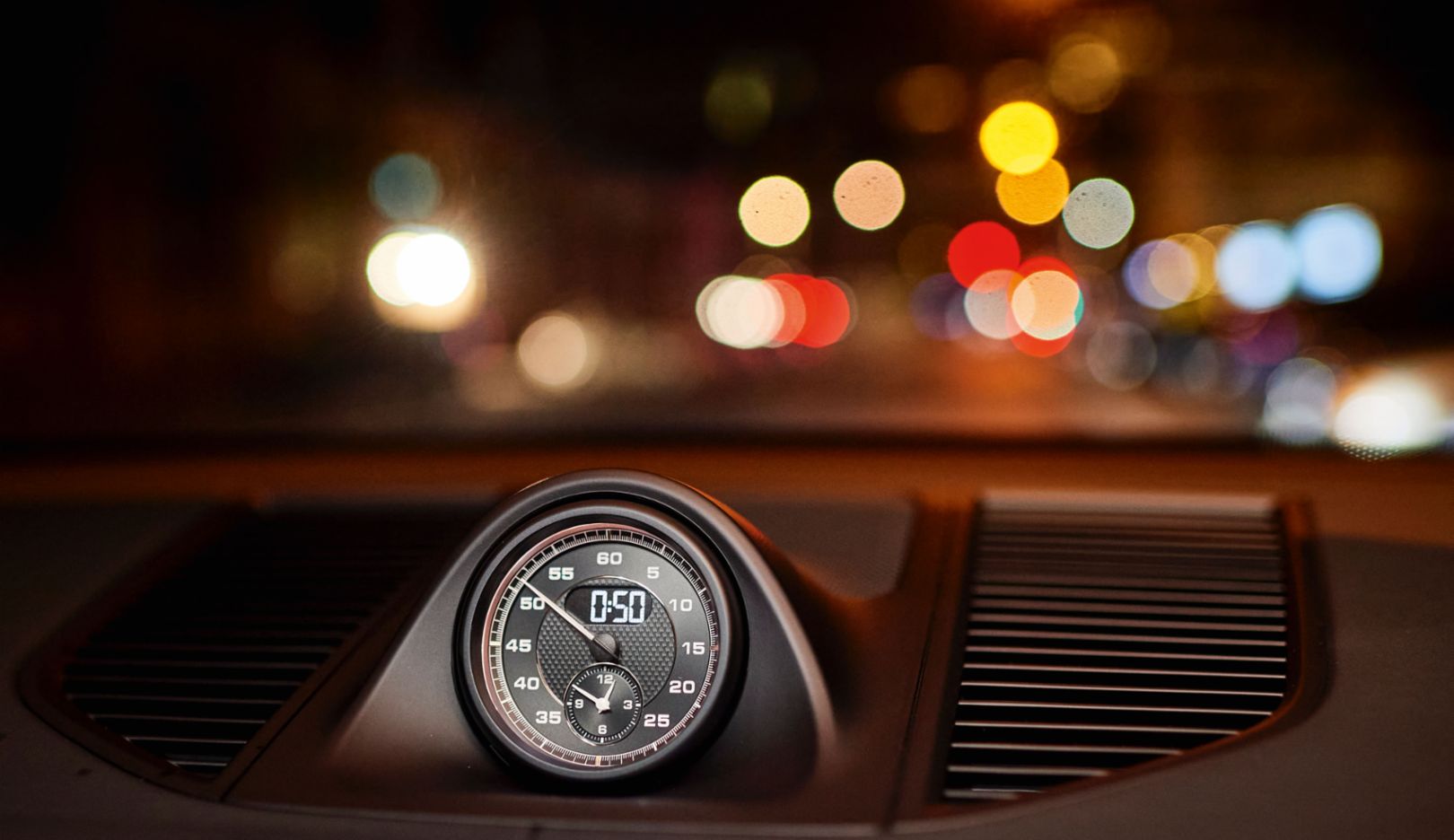 This makes the perfect setting for the launch of the SUV – it's dynamic, it's vibrant with colors, it's exciting. The nighttime drive through Warsaw not only highlights the refinements of the new Porsche Macan, but it also brings out fascinating aspects of the capital city that gets going when darkness falls, eager to see all the interesting things that keep appearing from around every corner.
Locality and authenticity
During the five October days at the school building, launch attendees can explore all the key trends permeating contemporary culture. Participants emphasize the uniqueness of the lineup, unprecedented in Poland's cultural history. Instead of a collection of well-known and well-worn names, there are plenty of artists you need to know if you're trying to keep your finger on the pulse. "I really appreciate the diversity of people who present at Scopes – there's a lot of talk about the fact that most festivals and such events are dominated by straight cis men. At Scopes, at least half, if not most, of the festival's contributors are women and queers. And it's great that they don't take the easy path of bringing in foreign 'stars', but rather showcase the local music and art scene," says Ola Kamińska of Girls* to the Front.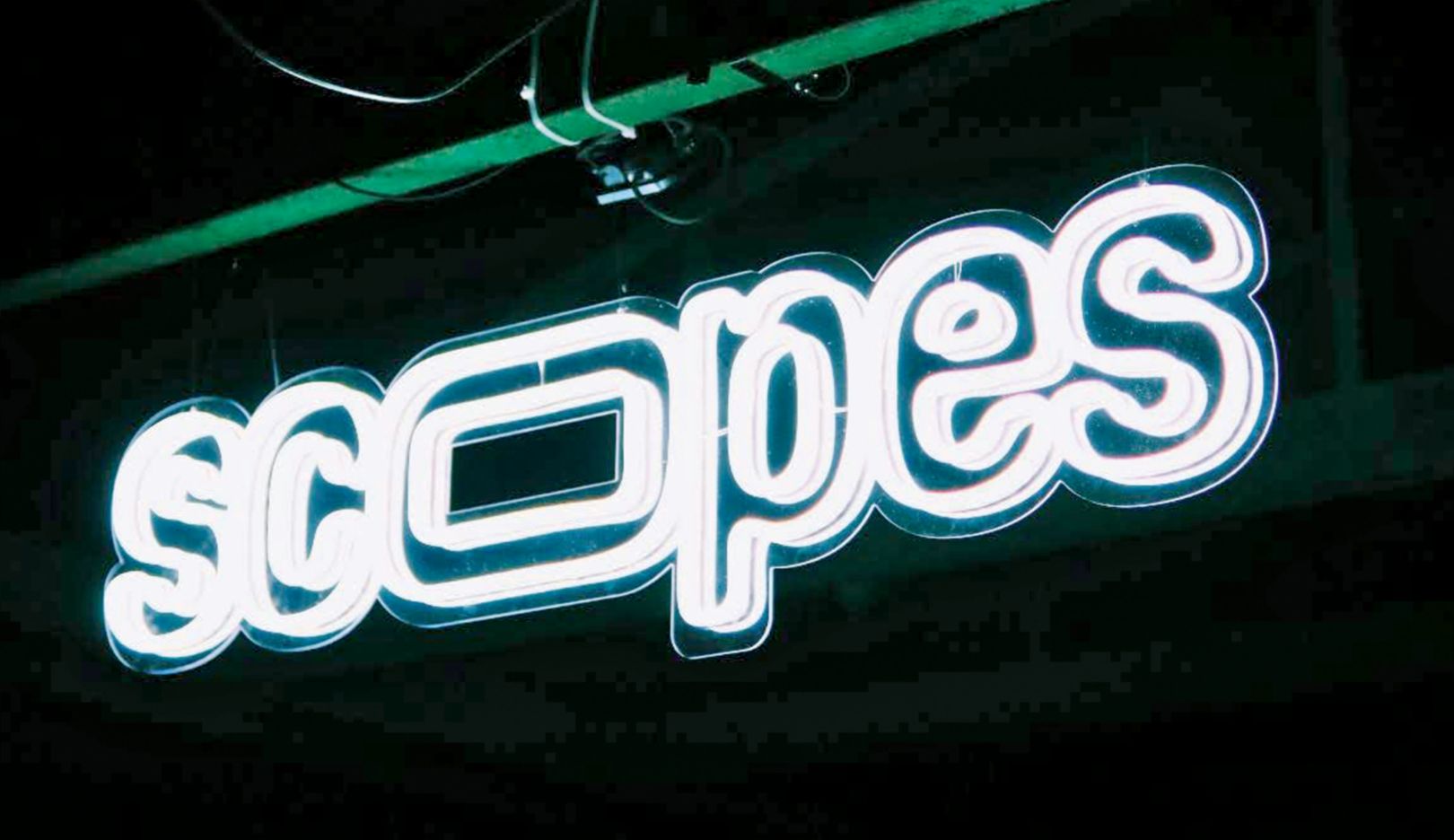 The organizers went out of their way to present club and gallery goers with more than just the same old, same old, giving them plenty of unique experiences. "I'm sure it's beneficial for Warsaw's image when word gets out that there are so many cool artists here," says DJ peploid, perfectly summing up the October edition of the event.
Consumption data
Taycan GTS
WLTP*
0 g/km

23.3 – 20.4 kWh/100 km

439 – 502 km