Into the Quarry:

Breaking New Paths

Porsche Central & Eastern Europe – Unforgettable ride: Just a short drive away from Prague, you can find a marvel of Czech nature, hidden away behind the steep roads of an abandoned stone quarry. By taking the Taycan out of its natural asphalt habitat, you can discover more than just new places. You discover that freedom has no limits.
My grandfather was a painter. He spent most of his time roaming the countryside of Czechoslovakia searching for the perfect spot. He wanted to capture sharp roofs of the village houses and pointed towers of churches slightly hidden behind the green hills and Bohemian forests. It wasn't easy in the times of industrial Communism when brown and gray seemed more predominant in poorly maintained towns and villages.
But oddly enough, he found not one but many spots just 20 kilometers outside of Prague – in the land so close to the Czech capital, yet far enough to be a completely different world. He fell in love with this region. So much that he purchased the old timbered house, saving it from becoming a ruin. I own this house to this day and continue his legacy of constant restoration which never ends. I don't mind because I love this piece of Bohemian landscape too.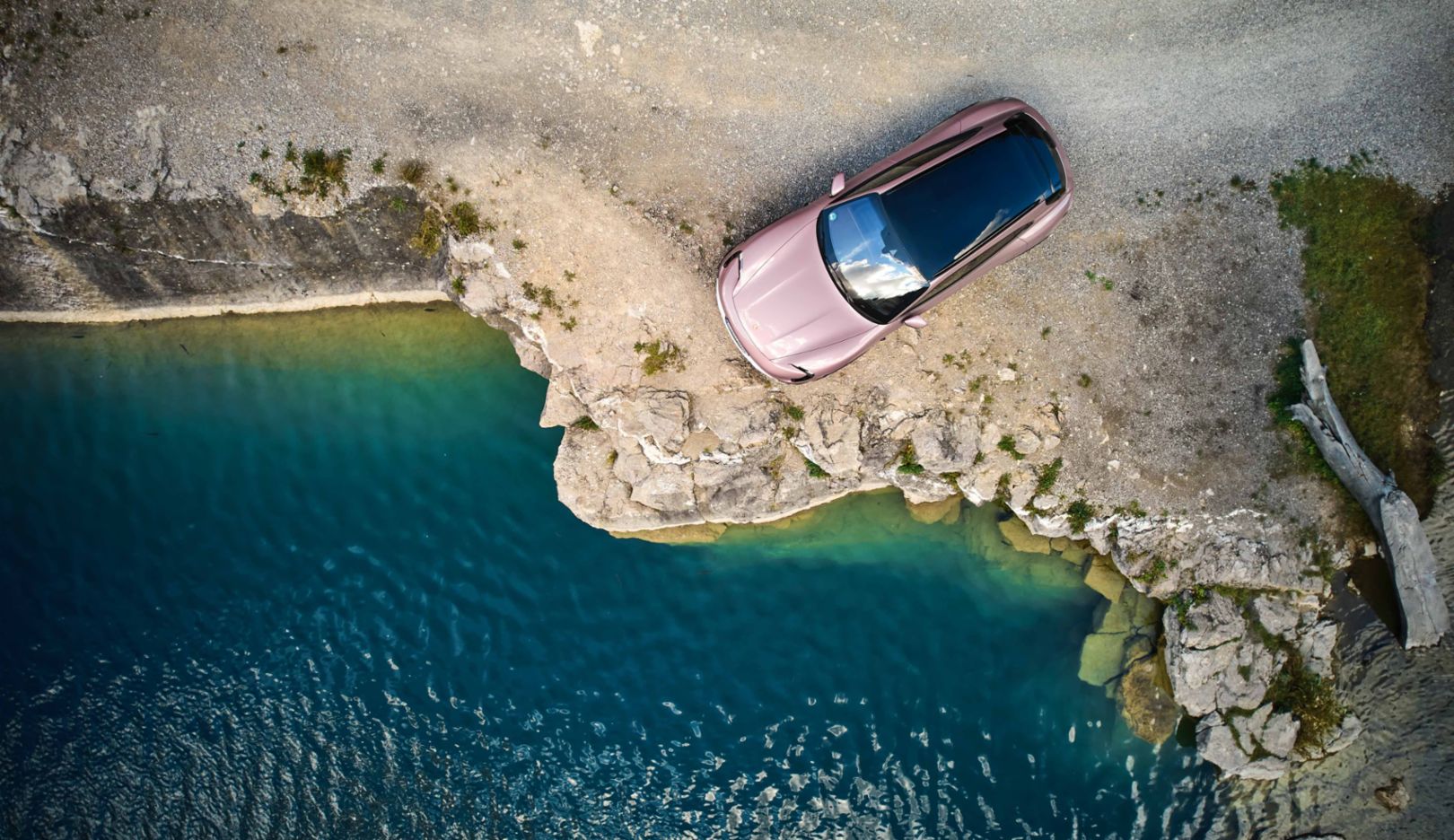 Since this cottage needs so much attention, I also spend a lot of time on lovely winding roads that connect all the villages in the vicinity. It takes roughly 25 minutes to get here from Prague, but you can take different roads that are particularly good for testing cars too. I can say that after the years I spent behind the wheel on these roads, I know them very well. I even named some of them. Just for myself, of course. I never thought someone would ask me to drive here. That would almost be like an invitation into my own house. But the invite came – surprisingly accompanied by the well-known logo of Porsche.
It started typically with a nice setting of a luxurious castle, press conference, lovely dinner, and a much-needed nightcap at the bar. This is what we car journalists do on almost every press trip taking us to Barcelona, Munich, or Bologna. But here I had this strange feeling that I was almost home right now and that I will be driving on the roads I know so well. So maybe it can work to my advantage. I can stretch the car to its limits if I know what kind of corner comes after the first one. Hmm …
And boy this knowledge paid off! I realized it right after getting the keys of a brand-new Porsche Taycan Cross Turismo. It's been two years since Porsche first came out with its electric beast. Now this Tesla beater has also changed clothes. From a stylish, well-fitting suit to a rougher but still luxurious jacket. I was never a big fan of outdoorsy styling on other cars partly because I didn't see the need for it, especially on the roads of central Europe. I was wrong, however, as I learned at this very press event. But we will get to that a bit later. Now I have some taming to do.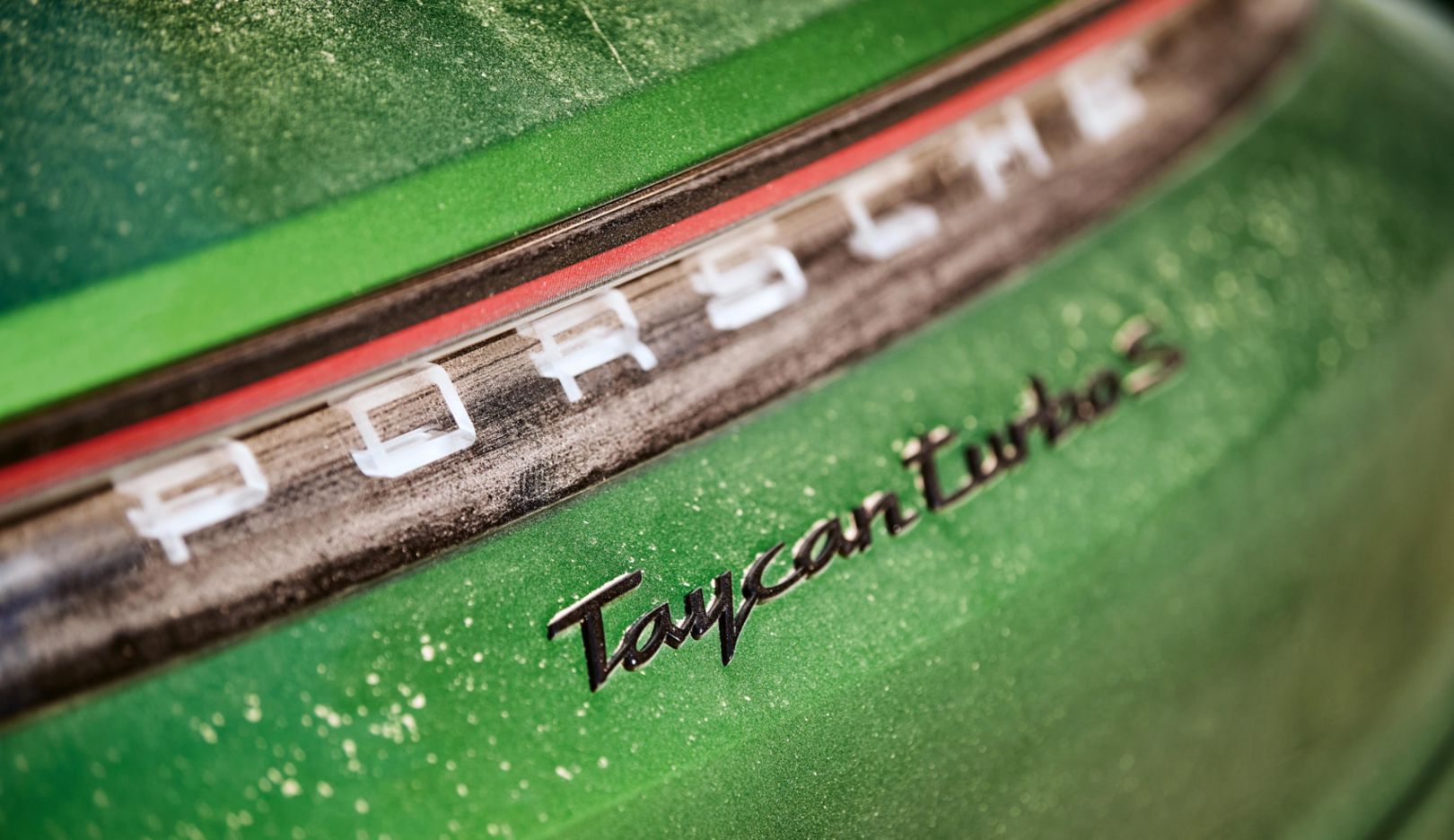 There are four engine options for the Taycan Cross Turismo labeled by very well-known letters: 4, 4S, Turbo, and Turbo S. That means I get all-wheel drive in every one of them and a lot of power too. My choice for today is the Taycan 4S Cross Turismo, which translates into physics like 490 PS in usual driving manner and 571 in overboost (420 kW; Taycan 4S Cross Turismo: Electric power consumption* combined (WLTP) 24.8 – 21.3 kWh/100 km, CO₂ emissions* combined (WLTP) 0 g/km, Electric range* combined (WLTP) 415 – 490 km, Electric range* in town (WLTP) 517 – 600 km, Electric power consumption* combined (NEDC) 26.2 kWh/100 km, CO₂ emissions* combined (NEDC) 0 g/km). Multiply by 650 Nm of torque and you get a proper warp drive known from sci-fi movies. Zero to one hundred in 4.1 seconds is quick yet it doesn't sound so exciting on paper. But now behind the wheel, the feeling of speed and acceleration is real and completely different. If you dare to pin the accelerator (don't call it a gas pedal anymore!) to the floor, especially in the Sport Plus mode, you don't actually accelerate. You are fired into hyperspace. Yes, it's like in those movies – everything goes from sharp to blurry in a fraction of a second because you get an instant kick. There is no friction lost thanks to the four-wheel drive; the car doesn't wiggle and is well controlled. Right in this very moment, the Taycan also plays for you. It's the sweet melody of acceleration, a rumble combined with thunder that comes out like one big satisfactory "whoosh!" Yes, maybe it's a bit artificial but I like it. It fits the whole atmosphere of a state-of-the-art electric Porsche.
If you really fall for a Taycan and accept its speed, you need to adapt to a completely different style of driving. You are not part of the regular traffic anymore. You just jump from one car to another that needs to be overtaken in a brisk moment for you to continue jumping more. Maybe I am a little bit excited right now, but the car literally feels like that. At least for a while before you really get used to it. But being quick in a straight line is not that hard. Being fast in the corners is what matters. The heavy weight of a sophisticated electric car raises concern that it could fail in a more demanding road scenario. The Taycan can prove all the doubters wrong, even in its outdoor garments. It's a large, heavy car but it doesn't feel like that when you sit behind the wheel. You don't get the precise feeling like in a 911, that's for sure. The steering feels more light, more electronic so to speak. Count this and also the huge battery that sits under the floor that makes the car's center of gravity extremely low, and you get a well-balanced machine that actually listens to your every command. The Taycan doesn't feel big or heavy under your palms; it's responsive and nimble. Being all-wheel driven means that you can put your foot down very early in the corner and the car carries its way out like you would carve a Christmas cookie out of the sheet of dough with a chirurgic scalpel. Beautiful!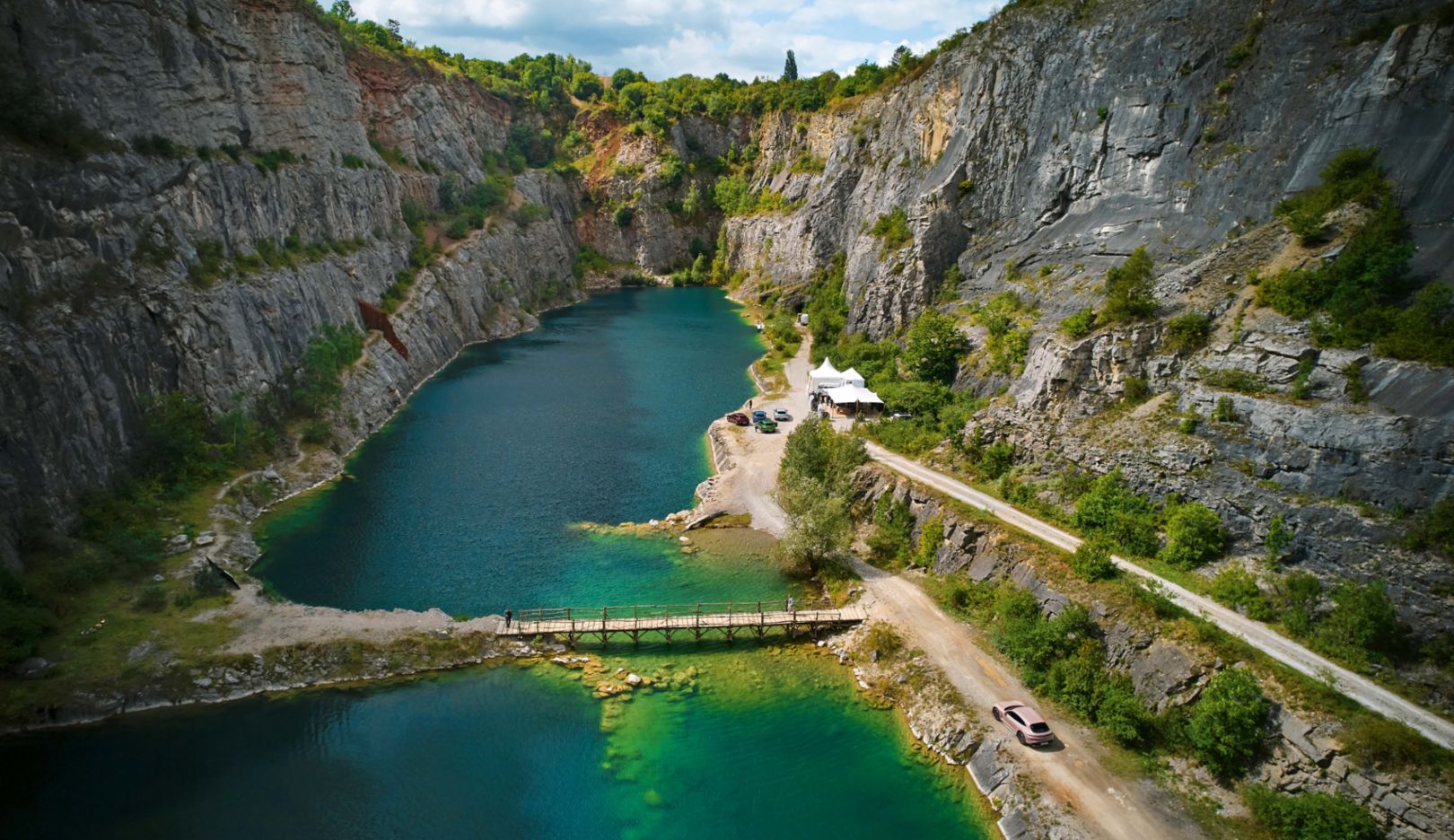 Now I am really glad that I know every single corner here and can be as quick as it gets. One of them reminds me of a famous part of Laguna Seca circuit called the Corkscrew. Turn sharp left and suddenly sharp right but also sharp down. Fly on a tilted asphalt and let the g-force push you into the seat like on a wild rollercoaster. Here the weight of an EV works for you like a safety feature that holds the car well mannered. The outcome is pure fun. When you drive on Czech B roads, you must be well aware of their surface. There are a lot of cuts, bumps, and even holes. Twenty-inch wheels on my car are not that great for this kind of torture, yet the air suspension which comes as standard in the Cross Turismo makes a big difference. It helps to calm the ride down and makes it more than acceptable. I am glad to say that the Zuffenhausen engineers didn't tune their car just for smooth German stretches of first-class asphalt, but also for those of us less lucky having to cope with the harsh reality of a not-so-well-maintained combat field.
I also have to mention the pretty nice interior. It has a very clean design with one screen simulating typical Porsche gauges but in a futuristic way. There are two additional displays in the middle of the dashboard for media, sat nav, or air con settings. There is one real gauge sitting at the top of the dashboard for a stop watch function or just like a clock, as you wish. It's not necessary but I like this small detail – a nice touch! I sit very low behind the sporty steering wheel and feel like I'm in a proper sports car, which is what the Taycan really is. I can change the driving modes here just by rotating the round selector under the right arm of the wheel. It means one important thing – I can keep my hands in the right place all the time. I am glad the Porsche designers managed to shift the whole interior into the future without losing touch with the heritage of Zuffenhausen legendary cars. But still, I don't feel the need to have a Cross Turismo over a standard Taycan that can be as comfy as this new toy – until I finish the first leg of today's journey, which leads me to an old rusty boom gate.
A humble feeling sinks in as the quiet electric car drives deeper into the stone quarry.
I am at the entrance of the forbidden piece of land. The Czech Grand Canyon called by some, with the official name being Big America quarry. It's just a five-minute drive from my timbered house but I have never been inside. As a regular person, you are only allowed to take a stroll around it and stare inside astonished by its incredible beauty. It's a hole that is 750 meters long, 100 meters wide, and 67 meters deep – with a pristine lake at the bottom that is about 15 meters deep. It reflects the clouds and changes color from blue to green. Clear water like that is very rare in the Czech Republic, so imagine how inviting this sight is in the summer heat. So much that some adventurers are willing to risk their lives and climb down. Some of them die doing that.
There are a lot of old decommissioned quarries around, because of a huge deposit of limestone in the area. Some of them are just holes; others are small ovals in the ground connected by tunnels. Big America is different. It always lured tramps, scouts, or just adventurers. People came here not only to enjoy the water, but to camp or to explore the caves spread around in the quarry walls. My grandfather told me that Communist police made raids to arrest these people who were usually not very tolerable for the regime. Nevertheless, it also attracted moviemakers who made their very famous movie classics there like Lemonade Joe (1964), the Czech comedy that makes fun of classic Western cinema. Yes, it looked like the set in Arizona.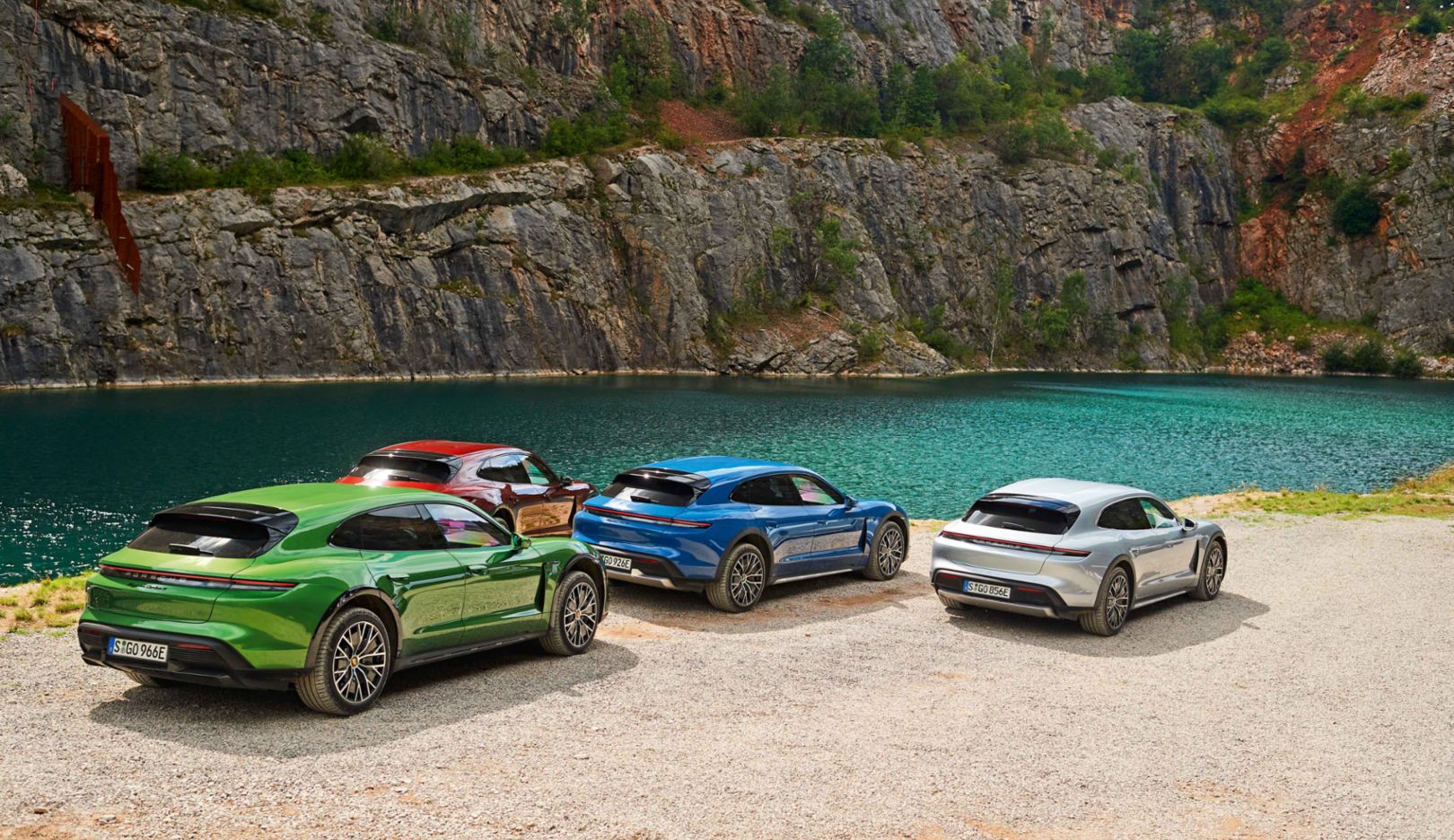 Now the gate is open, and I can slowly descend into the unknown territory. The asphalt changes to an unpaved road that goes from easy to hard off-roading very quickly. Luckily, the Cross Turismo does have a remedy for this type of situation called "Gravel mode." It raises the air suspension to the highest possible level and makes sure that torque is well distributed between front and rear axles. So even if I have a luxurious electric car, I can still try to find my way through demanding terrain. There is another open gate leading me into the deep tunnel that connects the inside of the quarry with the rest of the world. It's dark, moist, and a bit spooky. But after a hundred meters or so, I see the light at the end of the tunnel. The off-road section again changes to a pretty normal dirt road, and I can slowly descend to the beautiful lake. Porsche managed to prove me wrong here, and I have to say that outdoor styling and ability can sometimes be useful.
Today the sky is blue and so is the lake. It feels very surreal – not only to stand at the bottom of a forbidden marvel, but to come here so unusually. I would never imagine arriving here like this. Try asking someone where they would go with their powerful electric car. No one would say: into the quarry. That's for sure.
Consumption data
Taycan Cross Turismo Models
WLTP*
24.8 – 21.2 kWh/100 km

0 g/km

415 – 490 km
NEDC*
26.5 – 26.2 kWh/100 km

0 g/km