Precision Meets Poetry
Product designer Alfredo Häberli creates fascinating interiors, accessories, and scenography inspired by his Latin temperament and Swiss practicality.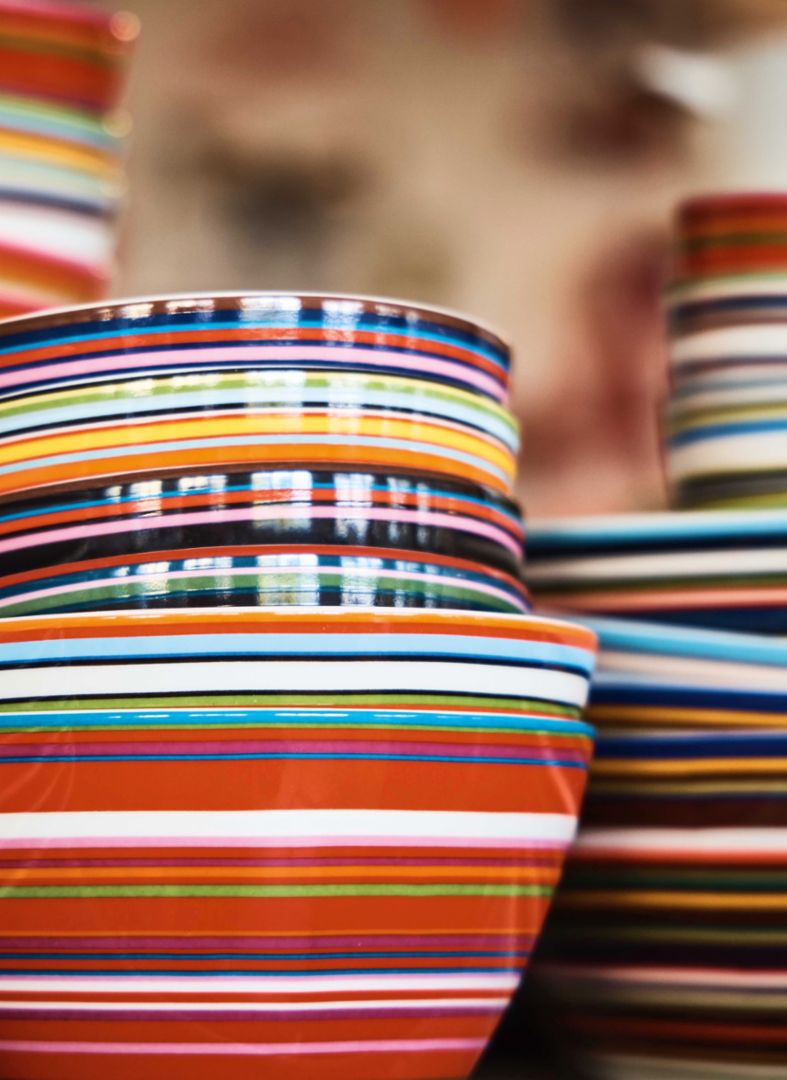 A feeling like Christmas: we can see numerous finely formed objects that we would love to have or give someone as a present. They all carry the signature of Alfredo Häberli – his passion and his inspiration. Even if you were to include only the most important pieces, it would be far too much. We approach the product designer by means of an object that's small, but also one of his greatest works, at least in terms of its presence: a bowl that belongs to the extensive Origo dish series of the Finnish brand Iittala. Häberli gave the unmistakable piece a cheerful, colorful striped design that brings festive dining tables to life all over the world. You could even imagine the bowl's stripes on a dress by British fashion designer Paul Smith. But there's so much more to Häberli's design: while the colorful pattern reflects his South American roots, the bowls, saucers, and plates can be stacked to save space and serve as sustainable containers for food storage, an example of Häberli's rational side. Swiss school of thought – practical is important.
A different product for the same customer was even more successful – the Essence set of glasses. Häberli suddenly sits down at his desk with paper and pencil and sketches the classic pieces in two or three perfect lines. As odd as it sounds, the glasses are both soft and angular. Developed 20 years ago, the design is still a best seller. Häberli, who is 57 years old, never stops drawing. In fact, he only recently designed a set of dishes to match the glasses. In 2021, the Finnish brand's design gallery showcased some of his pieces in a huge exhibition space in Helsinki, a sea of shapes and colors.
"For me, observation is the most beautiful form of thought."

Alfredo Häberli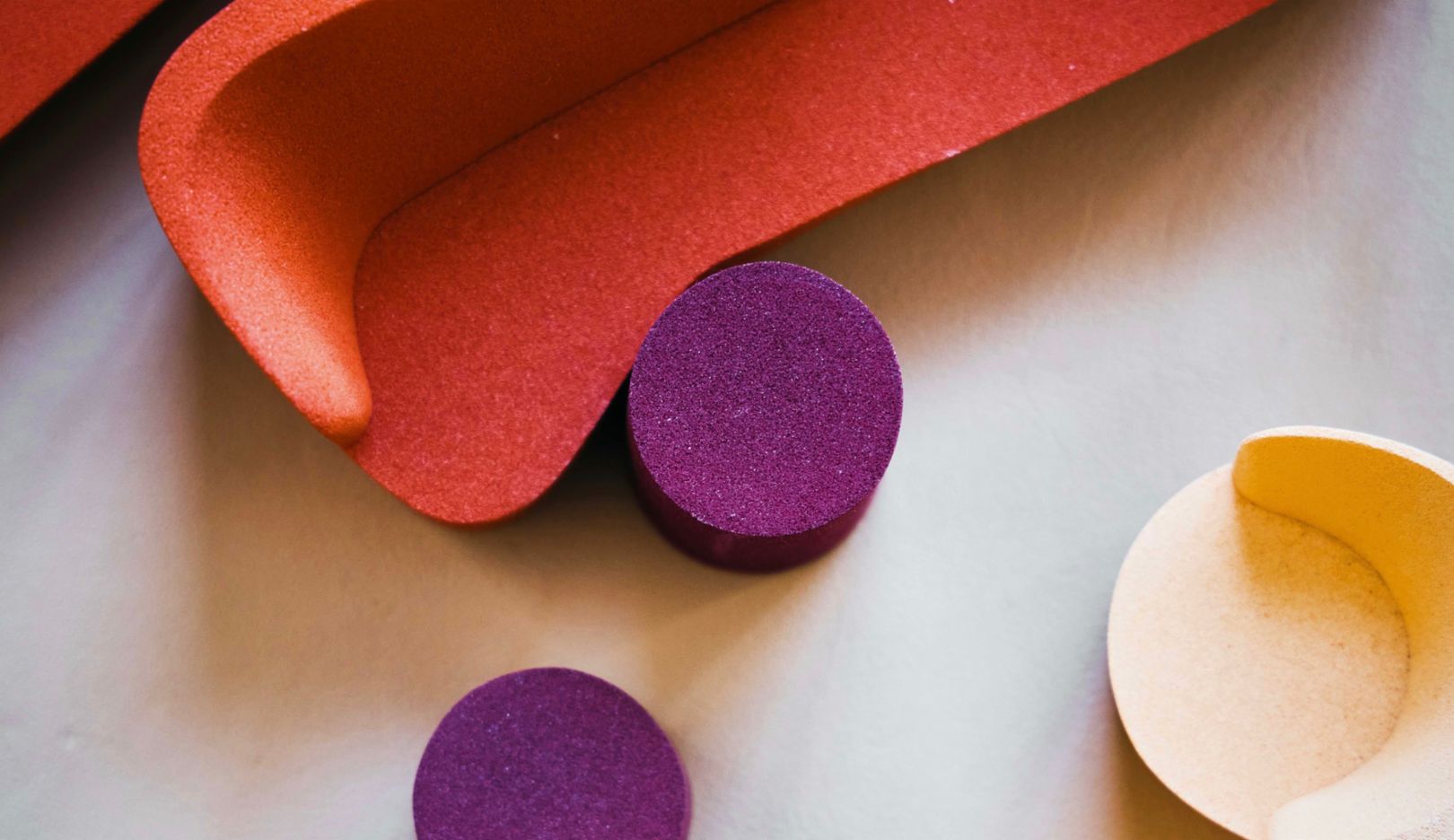 There was nothing to hint at the success story to come when the young Alfredo emigrated from Argentina to Switzerland with his parents in 1977. As you may have guessed from his last name, his ancestors stem from this Alpine region. The teenager had his favorite Matchbox car – the No. 14, an Iso Grifo – in his backpack. The stylish sports coupe from the late 1960s was designed by Giorgio Giugiaro for Bertone. "I think my fascination for the design of this toy is one of the reasons I became a designer myself," explains Häberli. He had had a special relationship with cars virtually from birth, having grown up in Córdoba, just a few miles from the Autódromo Oscar Cabalén racecourse.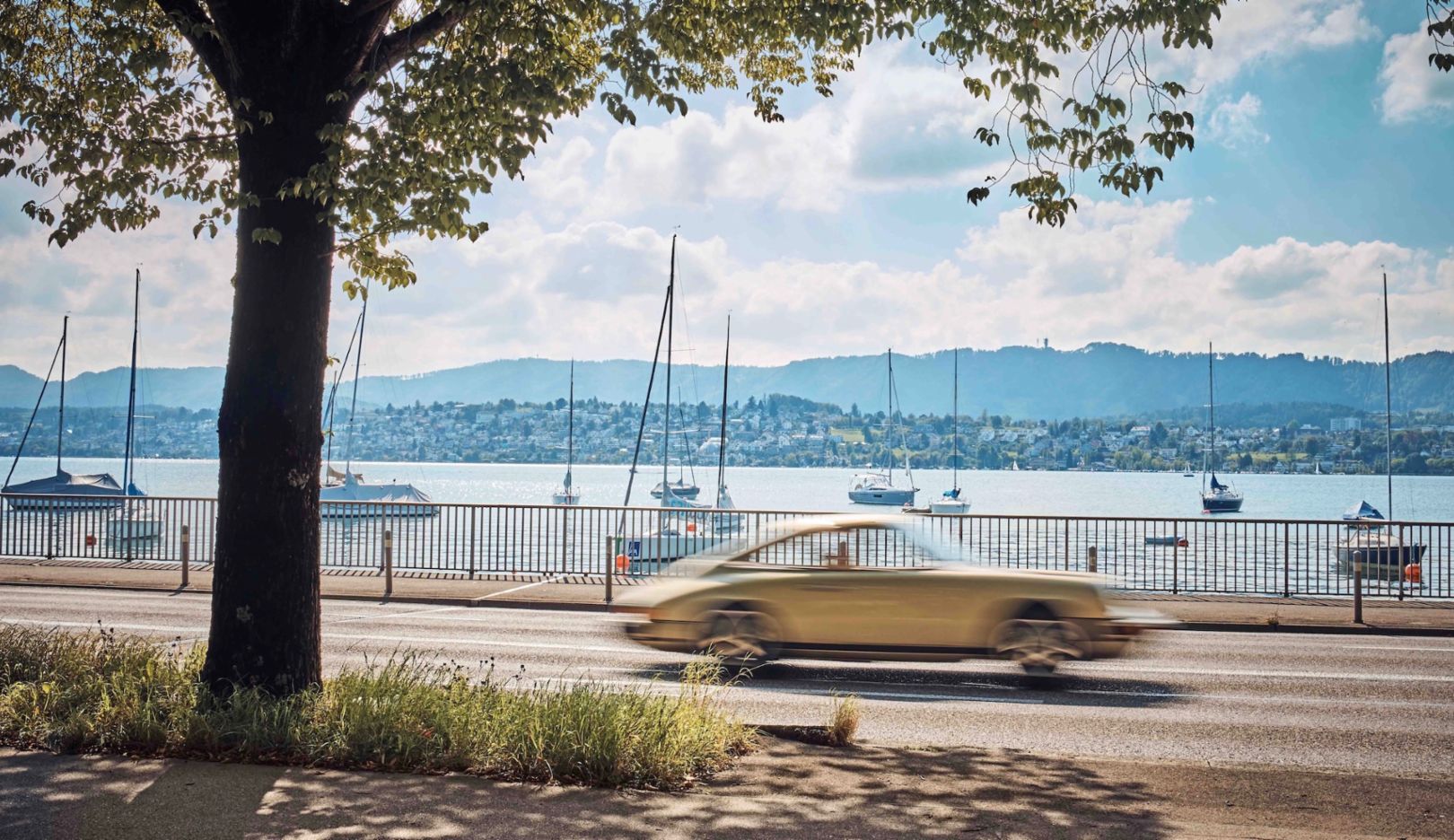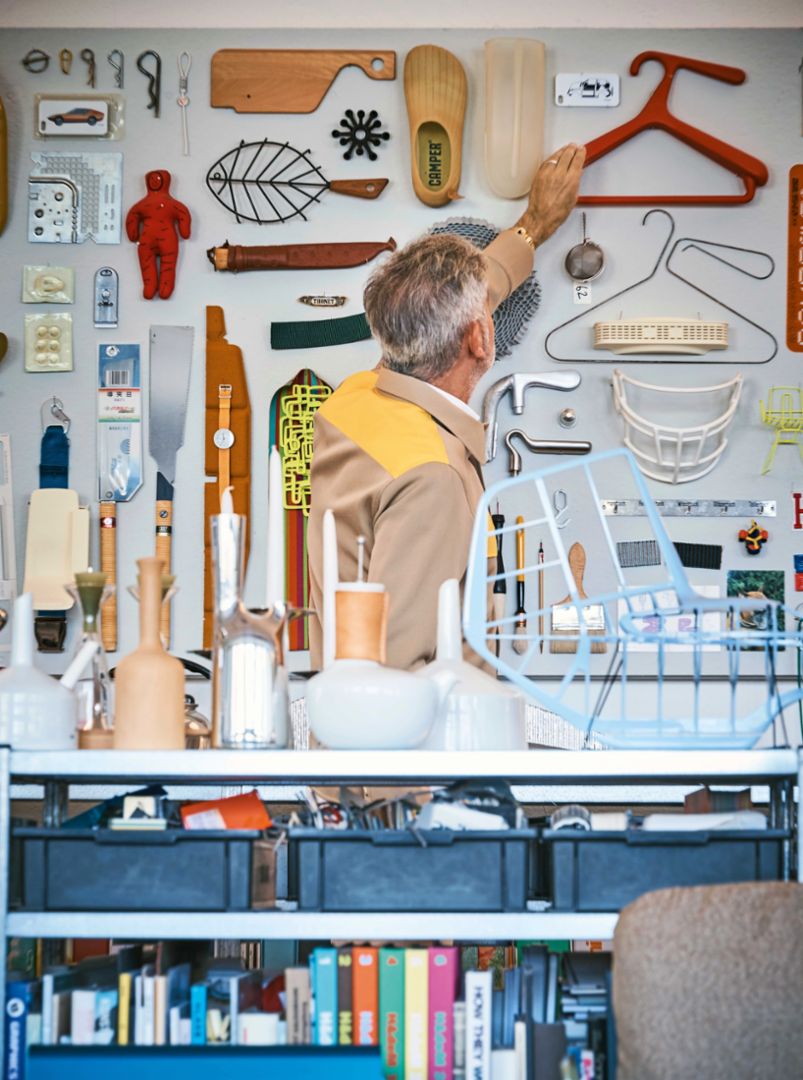 Much like a Swiss watch, Alfredo Häberli's career progressed in a straight line and with exceptional precision. He studied Industry Design at Höhere Schule für Gestaltung Zürich and graduated with honors. The way in which he was able to communicate his enthusiasm for design even back then promptly granted him access to the furniture industry and other sectors. His imposing appearance may have also played a role: Häberli could work as a model, and occasionally even does. "But more for fun and for good friends," he says, playing it down. This talent led to one of the most important turning points in his life: "In Zurich, we industry designers studied on the second floor. The fashion designers, who were on the fifth, never had budgets for their presentations. So we would build their stages, and that's how I ended up walking the runway for them," says Häberli, remembering back. "The Graphics program was located on the floors between us – and that's where I met my wife, Stefanie." That was 33 years ago, and both of their children are now grown. The couple has also implemented design projects together.
Cars have remained a constant source of inspiration in Häberli's work. He internalized the design principles of the Porsche 911, in particular, for his pieces: "Few joints, homogenous design, much like a sculpture," he says. "That's my design goal, too: eliciting strong emotions with very simple lines." Precision meets poetry – this sentiment gets straight to the heart of his Argentinean-Swiss nature.
"The 911 is simply unparalleled."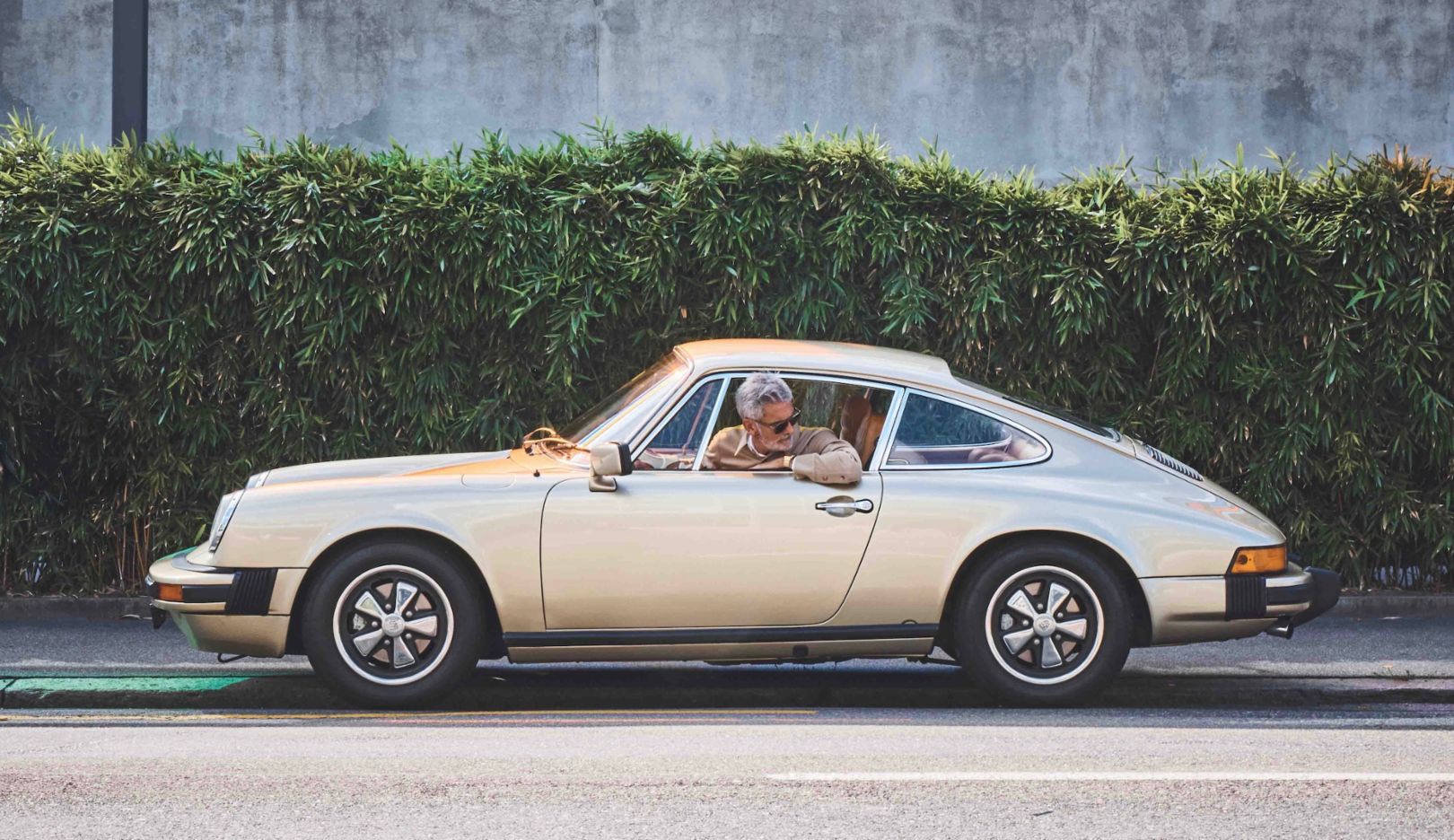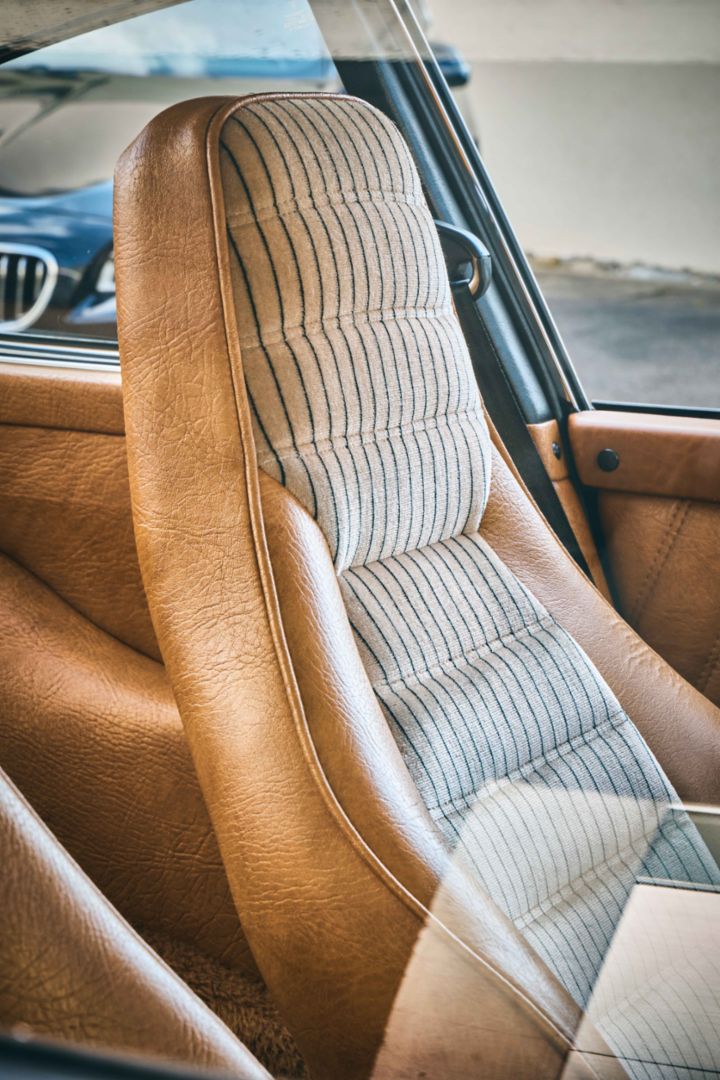 Häberli's 911 is an early coupe of the G series, built in 1976. "There's nothing there that isn't necessary!" he says, praising the lines of the car. "There's no other way to approach perfect design. The 911 is simply unparalleled." He's also fond of the combination of exterior color and interior: "The color of the paint is called Platinum Diamond. It's a golden hue that shimmers silver when the light hits it just right," he says delighted. In the interior, brown and beige imitation leather with contrasting tweed stripes. "Quite a unique mix!"
Whether it's vehicles, landscapes, or the ice hockey helmet on the shelf that he can't seem to take his eyes off of, Häberli tends to look very closely. That's always how new ideas materialize in his mind. "Observation is the most beautiful form of thought," he says. In the studio, he expands on these thoughts and transforms them into intelligent products with personality.
Some inspirations even manage to achieve immortality in a product name. Cubist painter Paul Klee came up with the bon mot: "A drawing is simply a line going for a walk." Roaming around like a dog or gliding like a bird, rather than simply moving from A to B.
This famous quote was the source of inspiration for Häberli's armchair entitled "Take a Line For a Walk," which he designed in 2003 for the Italian avant-garde label Moroso. And the comfortable armchair with eye-catching lines along the sides has long been considered a classic.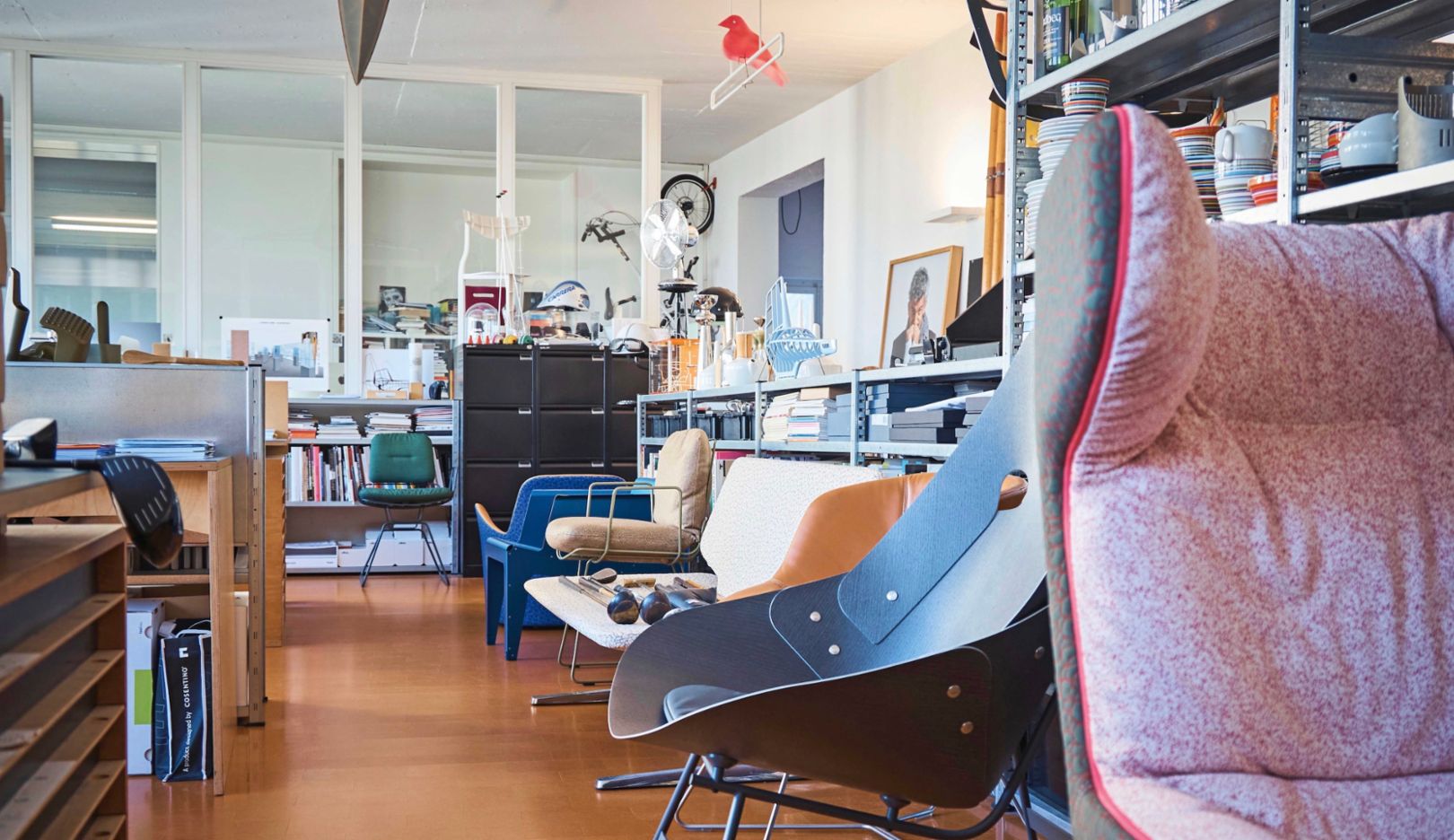 In his studio on the eastern banks of the Lake of Zurich, Häberli works in a small team. "There are only four of us." For larger projects like the interior of 25hours Hotel Zürich West, which he designed with his wife, or studies on electric mobility, freelance designers are hired on a temporary basis.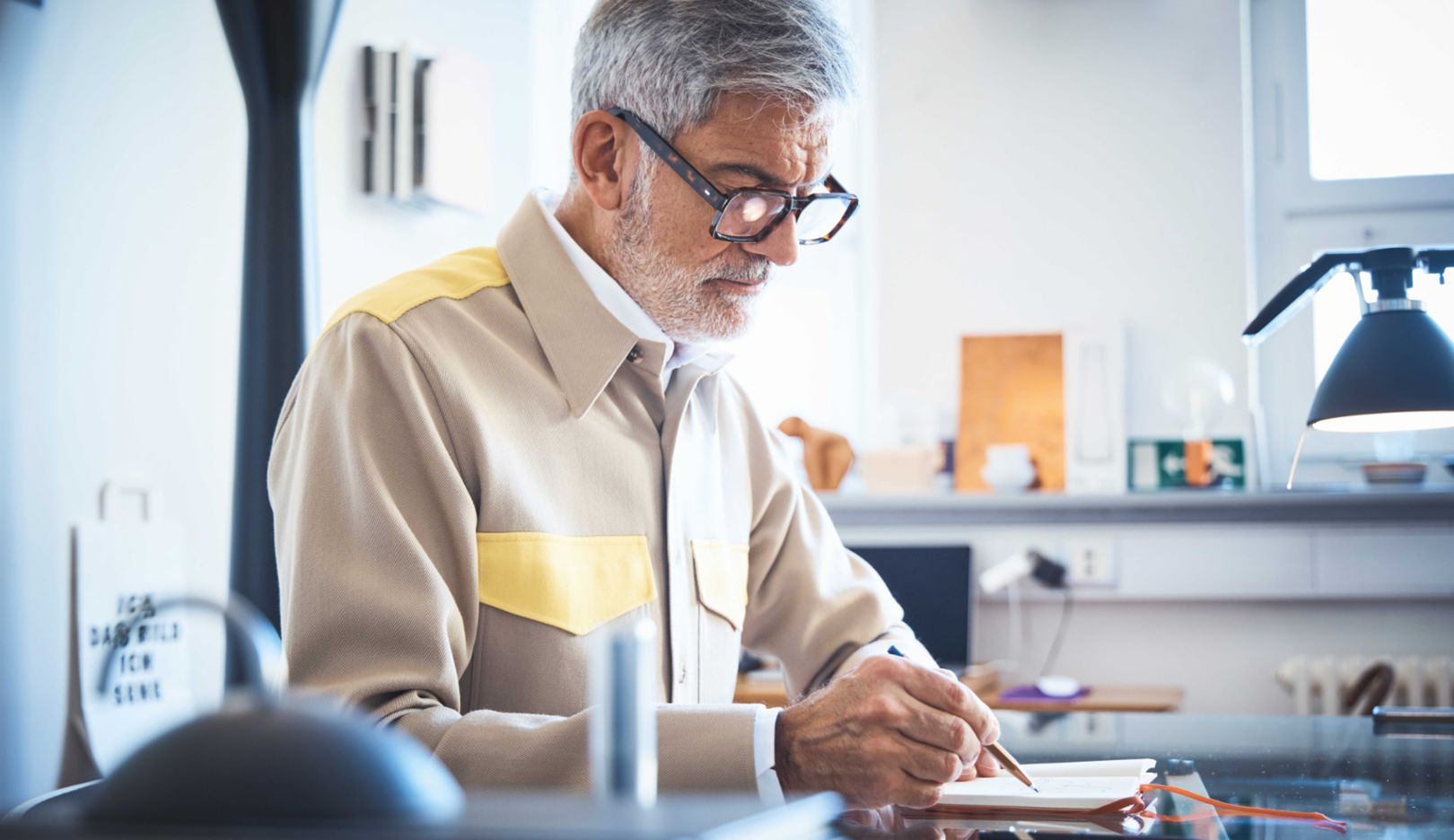 After a spin in the 911, it's time to take the line out for another walk. Alfredo Häberli takes a seat at his desk again. He even designed the pencil in his hand – the Fixpencil with colored leads is a new model of the Swiss brand Caran d'Ache, which he uses to roam around between the two continents of his life. He just might be creating a future classic.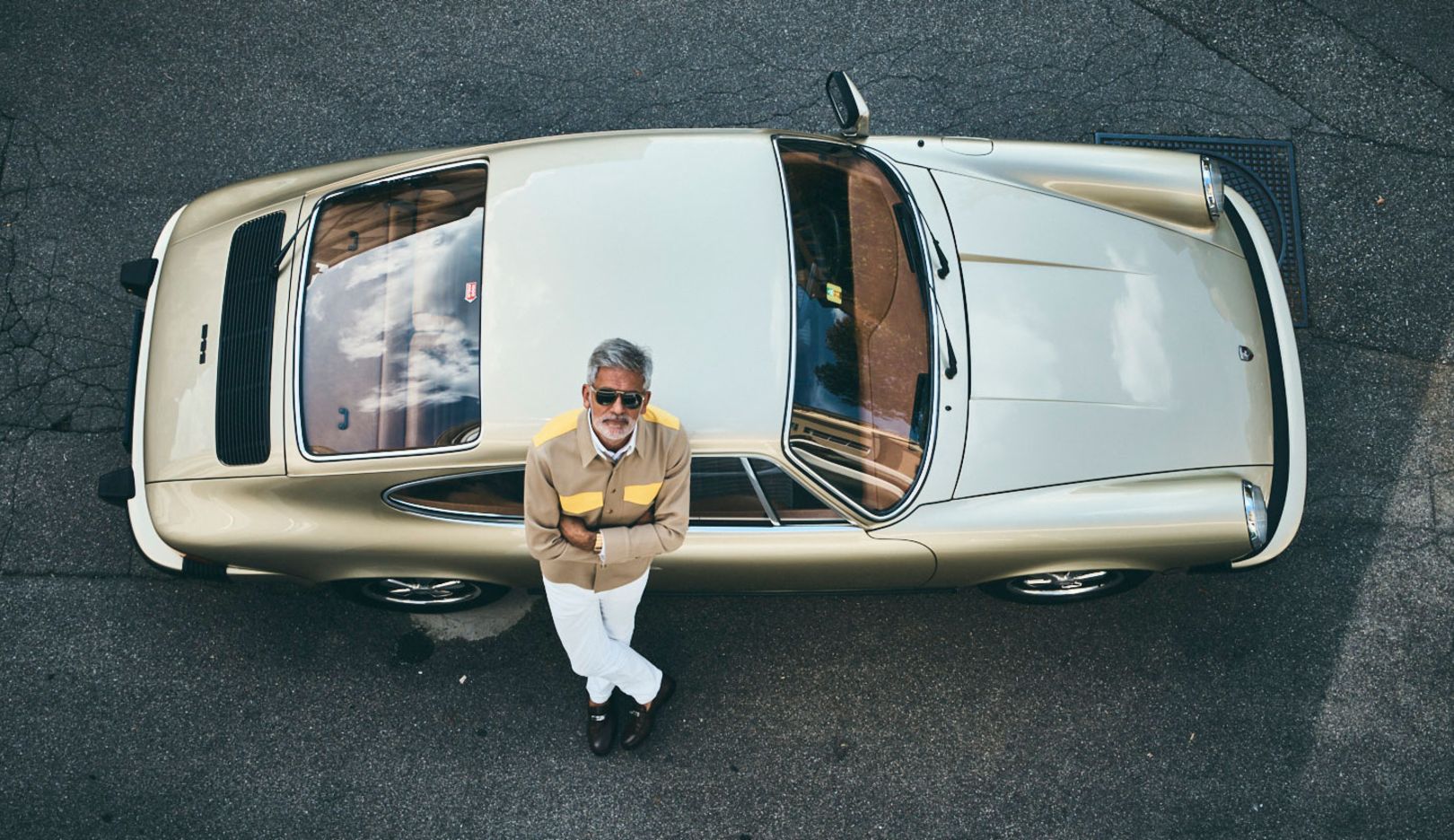 PORSCHE 911 G SERIES. Alfredo Häberli's designs combine tradition with innovation, and create clarity and emotionality in equal amounts. One of his sources of inspiration is his Porsche 911.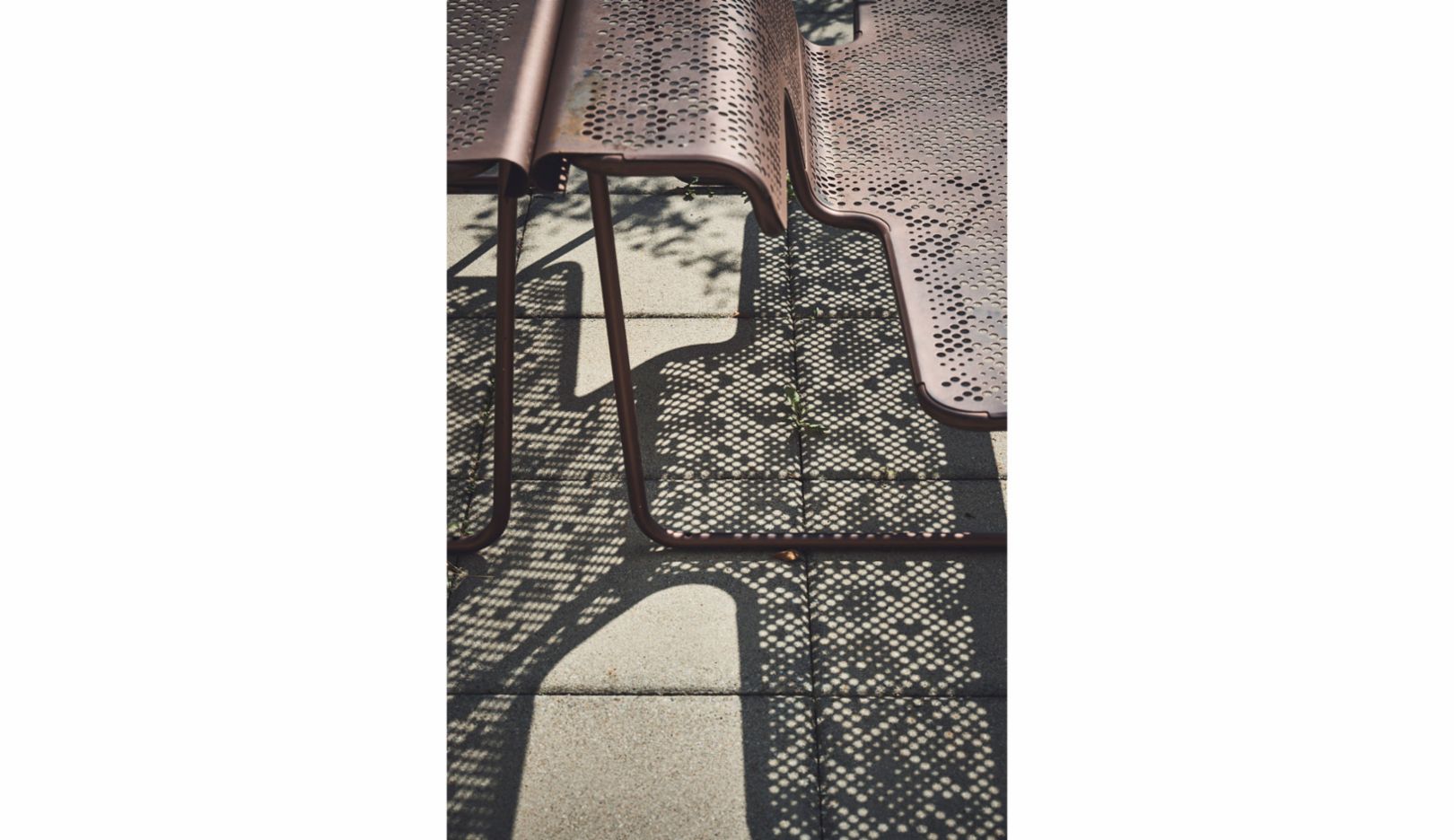 LOS BANCOS SUIZOS. In 2005, Alfredo Häberli designed a series of public benches with several functions – an additional value which the designer often achieves in his works. The furniture can be used for multiple purposes – as a bench, table, or seating for a group.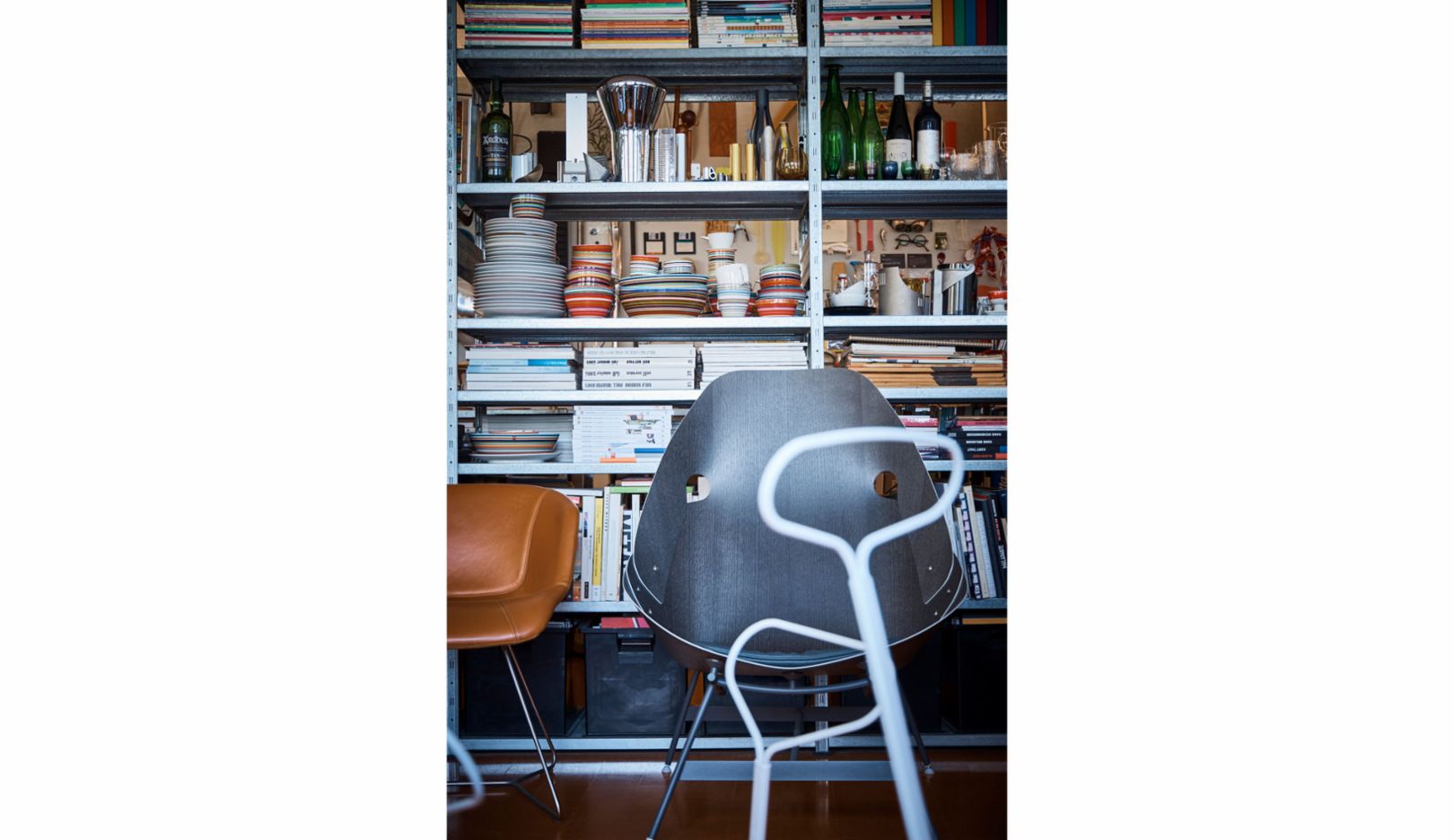 TIME. Origami, the ancient art of folding paper to form figures or shapes, served as the inspiration for the chair Time in 2019. "With the Time, I experimented with the latest production techniques," explains Alfredo Häberli. The stamping of the wooden panel and connecting materials makes it possible to join the parts seamlessly and creates a very ergonomic design.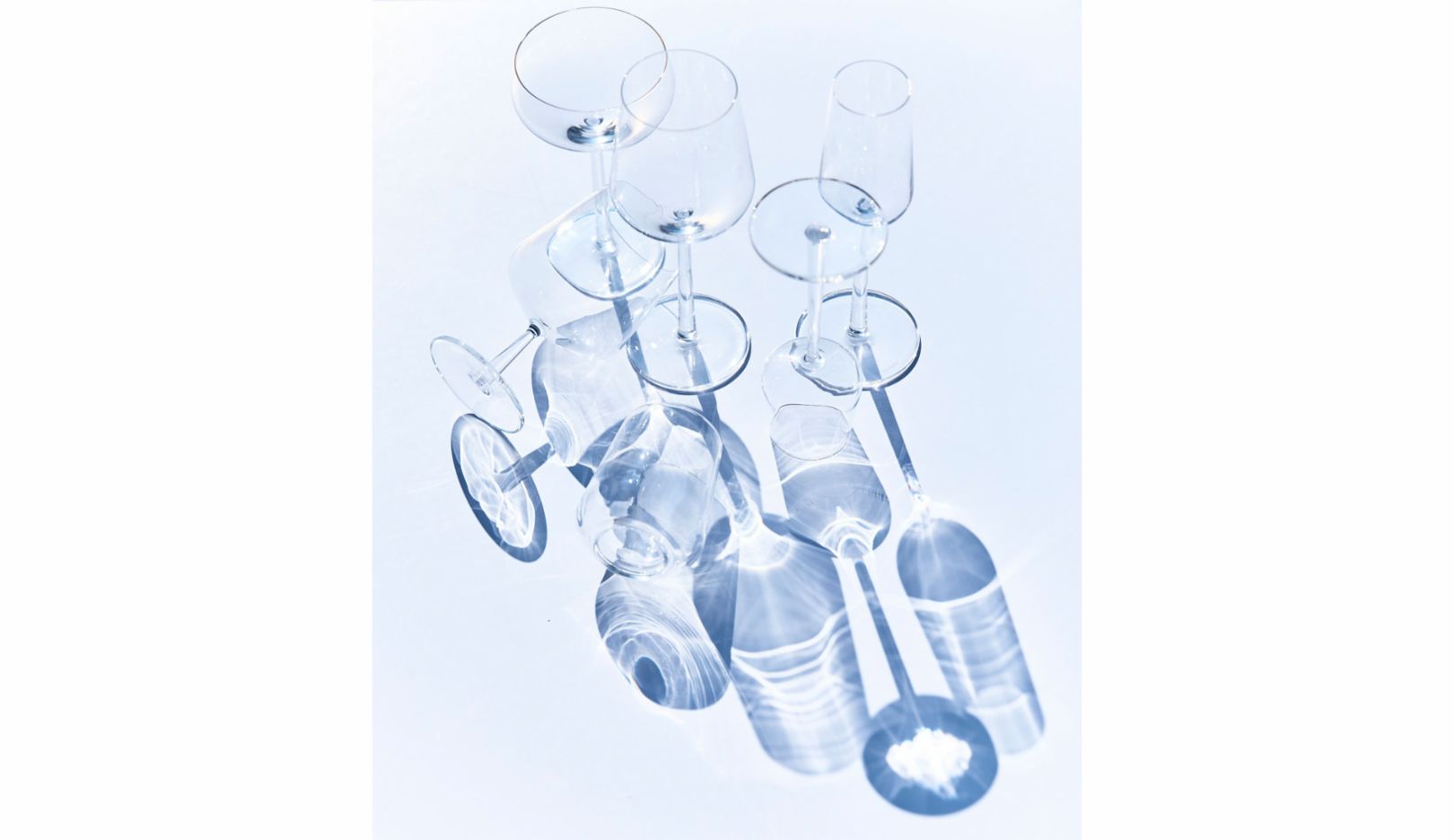 ESSENCE. Through his family, Alfredo Häberli knew something about the hospitality sector. The designer molded this knowledge into a modern form and, in 2001, created the Essence set of glasses. The idea was to achieve a balance between traditional and modern, between festivity and daily use. "In a sense, I tried to find the essence they share," says Häberli.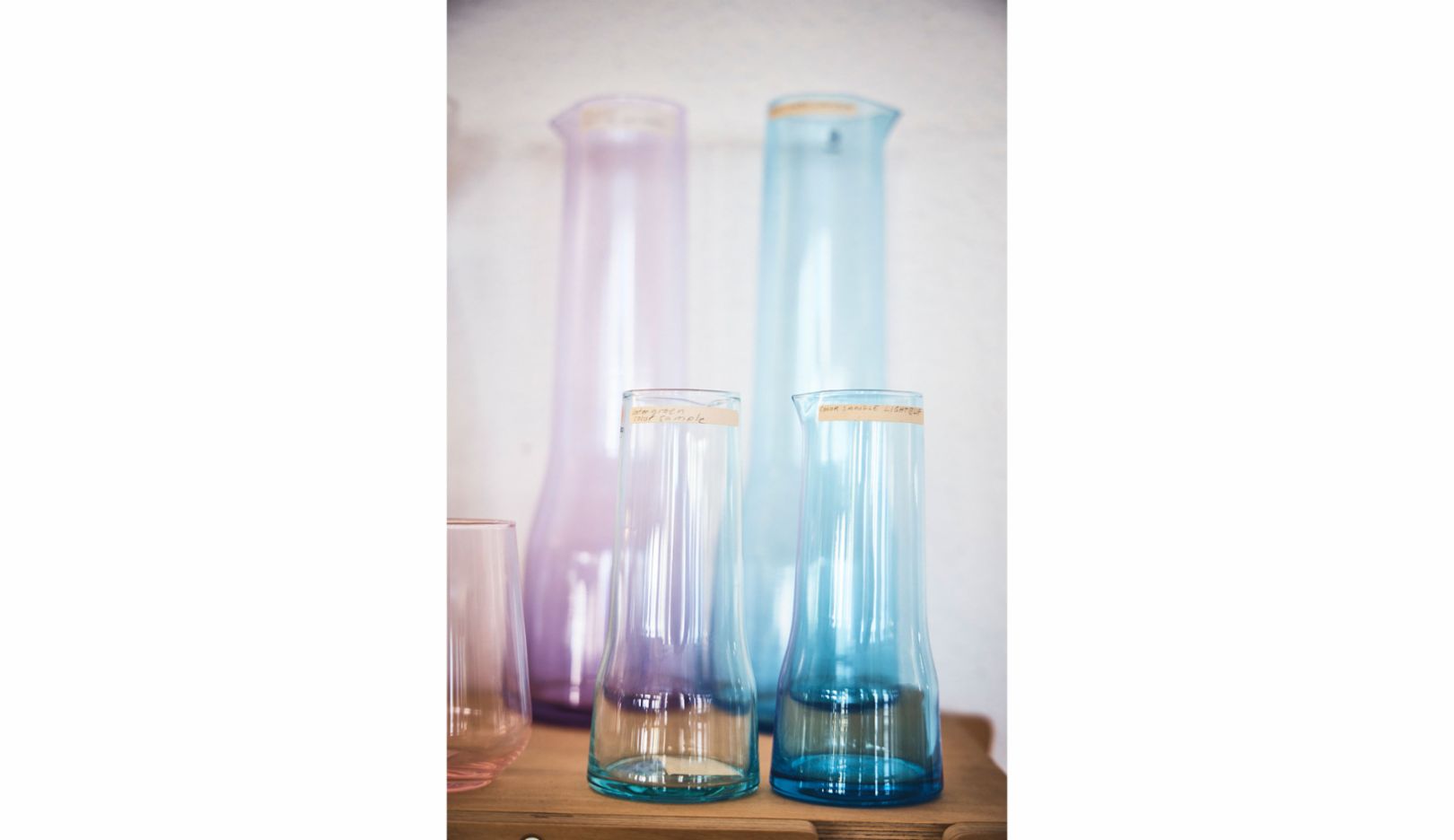 ESSENCE. The pink carafe from the Essence series was inspired by just a few remaining drops of red wine that are reflected all over the glass body. "Sometimes drops on a tablecloth leave the same color behind," remarks the designer.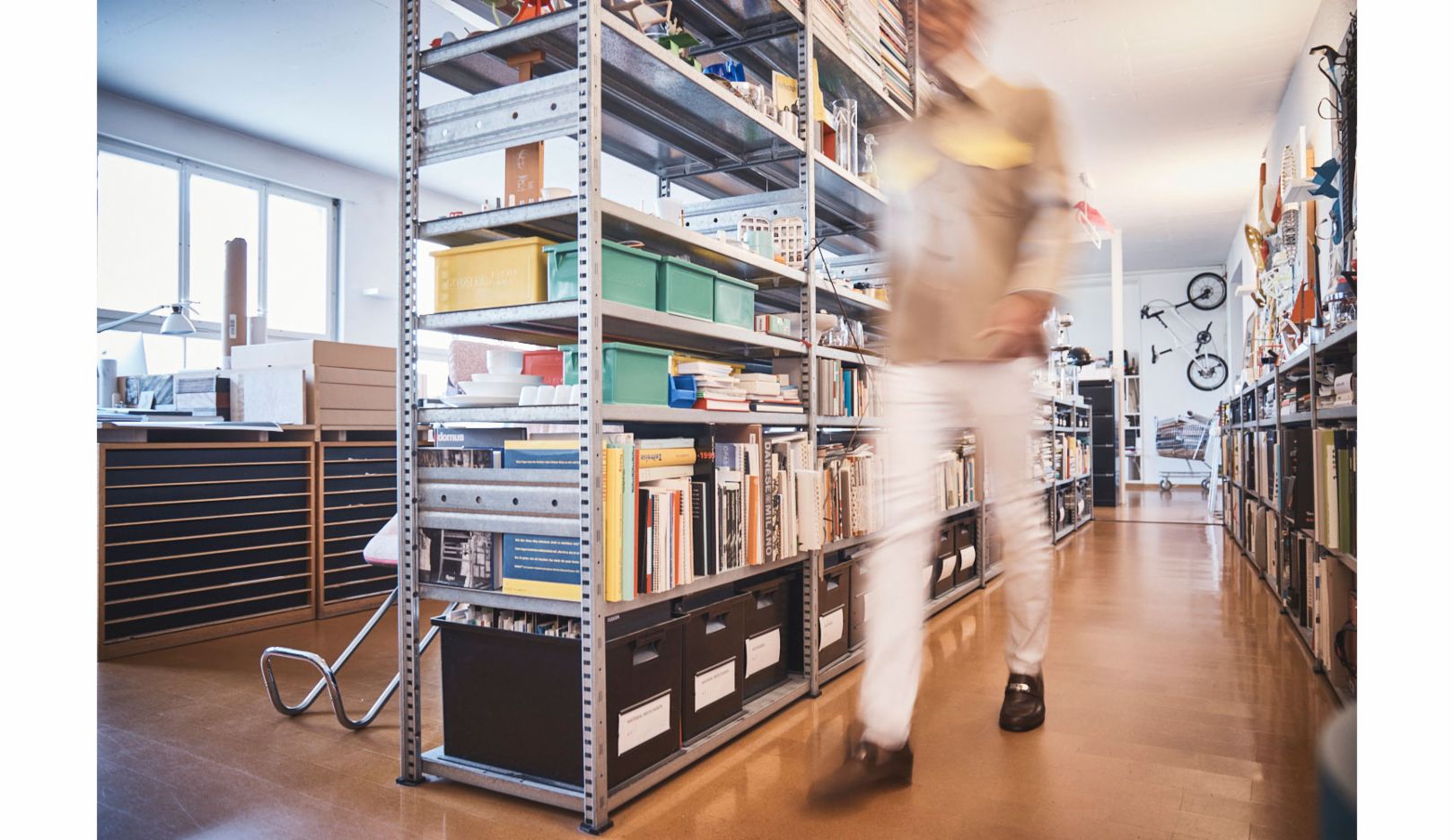 Over the course of the years, Alfredo Häberli has regularly changed the character of his studio. "Just as a child loves a dollhouse or a tree house, I am content in a room full of books, models, materials, or objects – either ordered or chaotic." Ideas and visions have their origin here.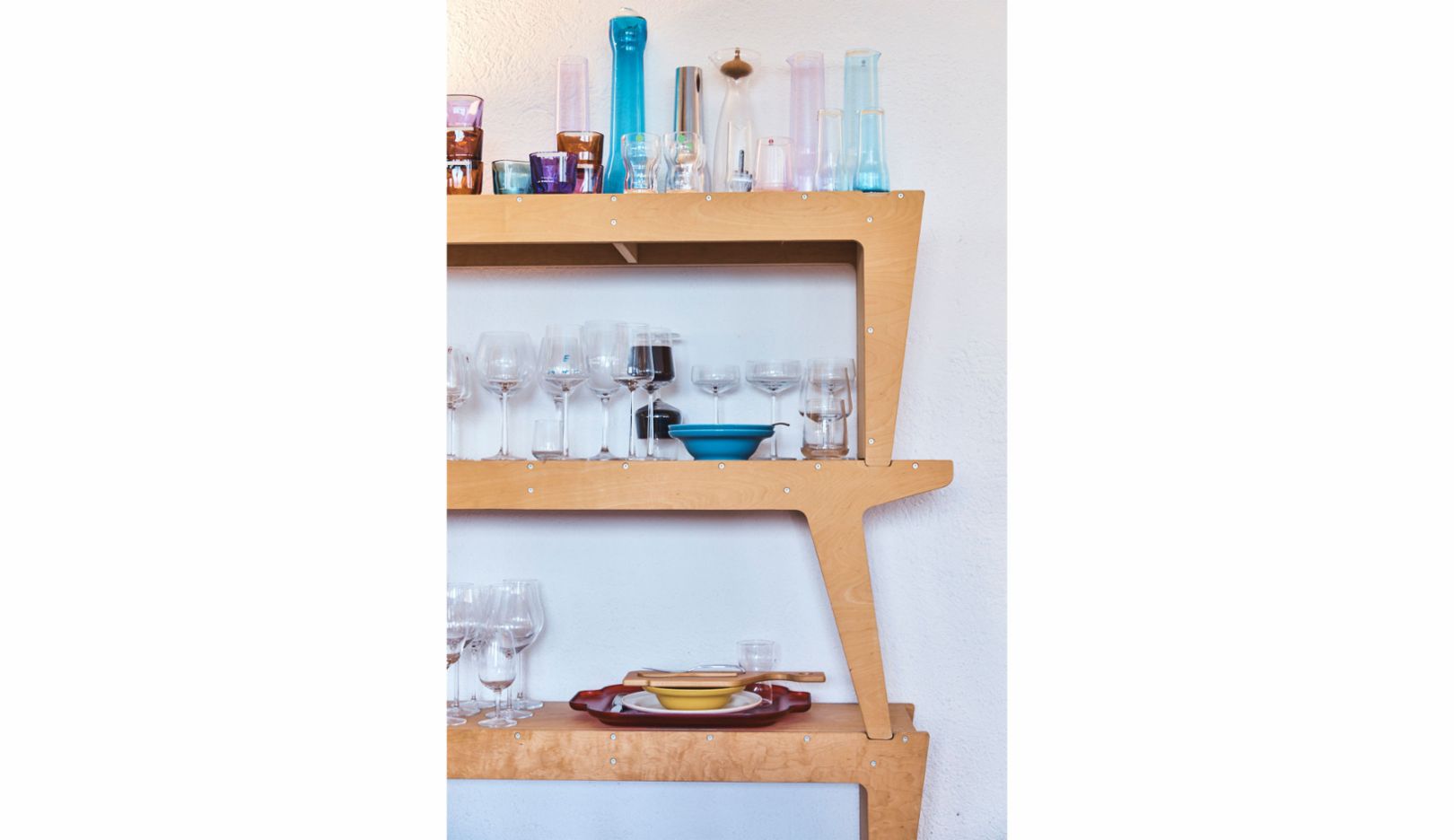 KIDS'STUFF. Kids'Stuff from the year 2003 – here on the bottom-right shelf – is one of Alfredo Häberli's favorite projects. With this design for children, consisting of plates, glasses and cutlery, Häberli was keen to find the playful element in each component and casually integrate it with a function: "I hope that one day a grown-up will come to me and say: 'Your Kids'Stuff set is one of my favorite childhood memories.'"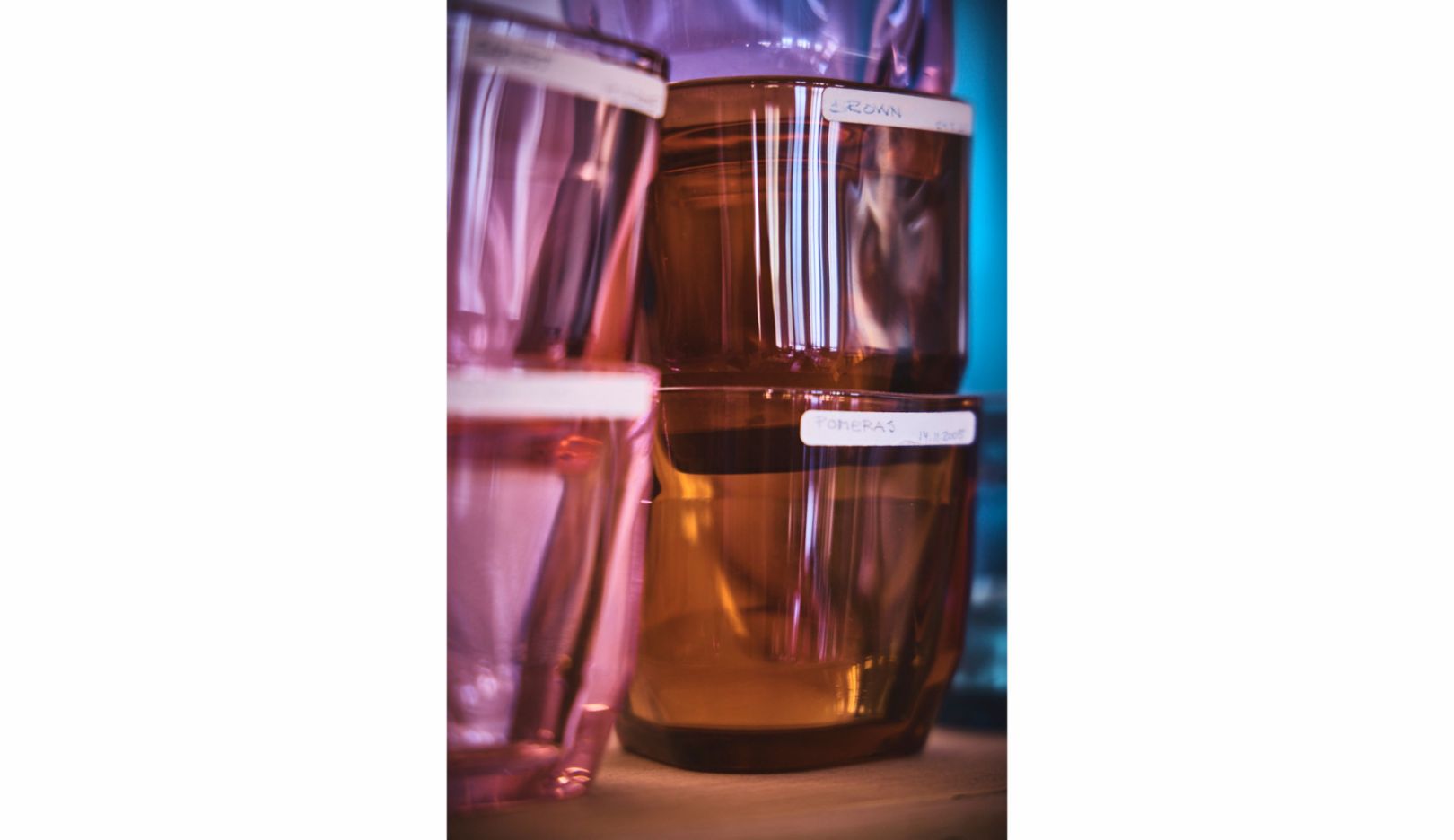 TRIS. The glass tea light holders in a soft triangular shape are not only decorative but also stackable – this is Swiss practicality. Their colorfulness is a reminder of Häberli's South American roots. Two worlds united in multicolored towers.
/