Hometown Inspiration
South African artist Nelson Makamo enjoys international acclaim. His striking works are shown in major museums and sought by prominent collectors. With his Porsche 911 he has now fulfilled a personal dream—and created a piece of art with a message.
"Every encounter leaves its mark." Nelson Makamo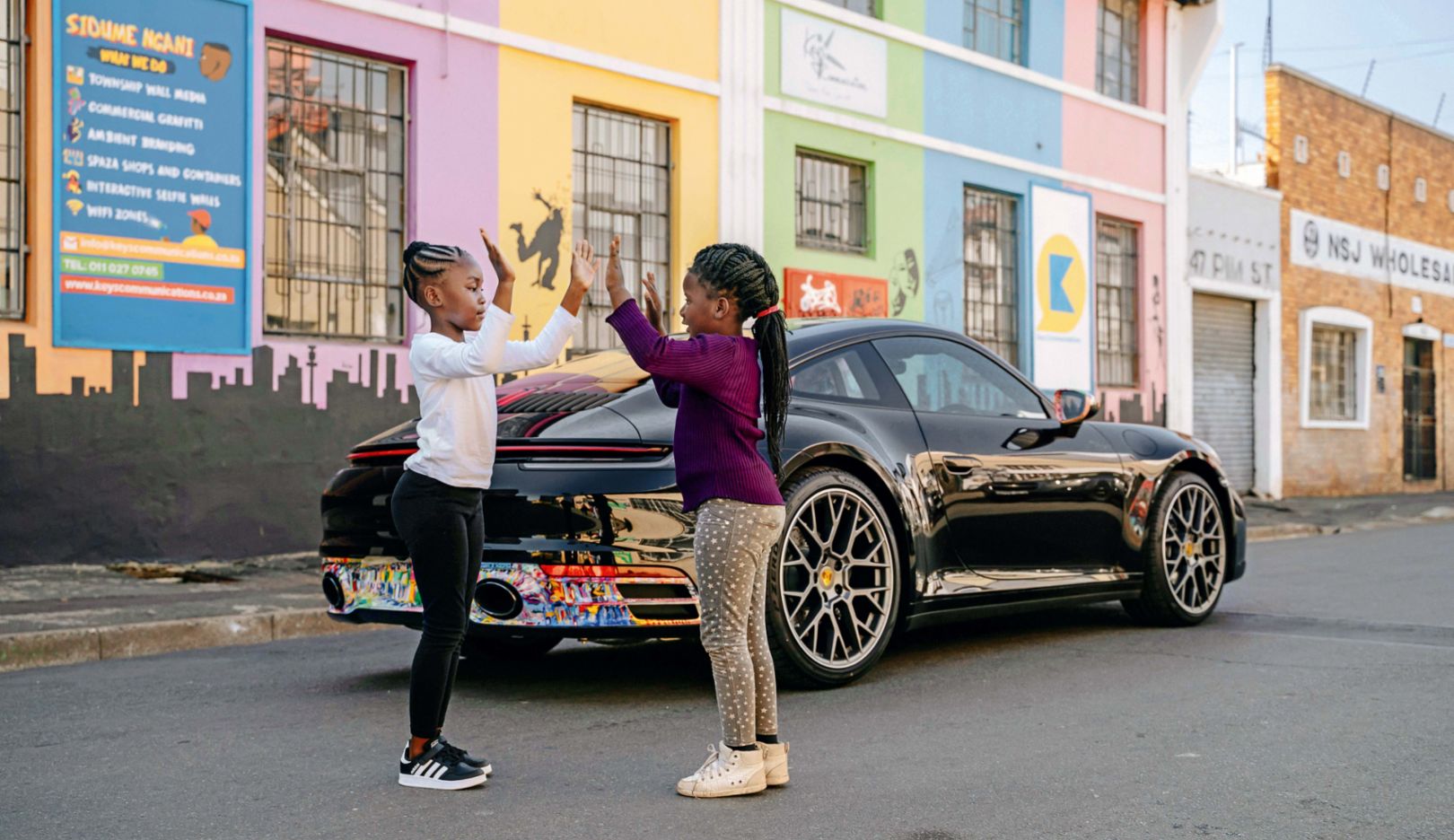 The journey to the roots of Nelson Makamo's poetic art takes us to the province of Limpopo in the north of South Africa. Nestled in the foothills of the Waterberg Massif lies the township of Modimolle. Makamo was born here in 1982. Full of anticipation he sits at the wheel of his new Porsche 911 Carrera, steering it carefully along the unpaved road.
Makamo will soon reach his home and greet his mother with a joyful embrace. "She should be the first one to join me for a drive," he says. It was Emily Mapula Maoto who fostered her son's creative talent early on. She bought him his first paint sets and encouraged him as much as their modest circumstances would allow.
"Children should understand that their dreams have a chance." Nelson Makamo

Makamo was able to study graphics at the renowned Artist Proof Studio in Johannesburg, which is around two hundred kilometers from Modimolle. He presented his work at regional exhibitions and then at international retrospectives in Europe and the United States. Well-known figures such as Oprah Winfrey, Annie Lennox, and Giorgio Armani proceeded to buy his paintings. In 2019, he created a moving image for the cover of Time magazine. Entitled The Art of Optimism, it shows his cousin Mapule Maoto, who was eleven at the time. Her gaze immediately draws viewers in, with eyes framed by stylized spectacles as a universal symbol of intelligence.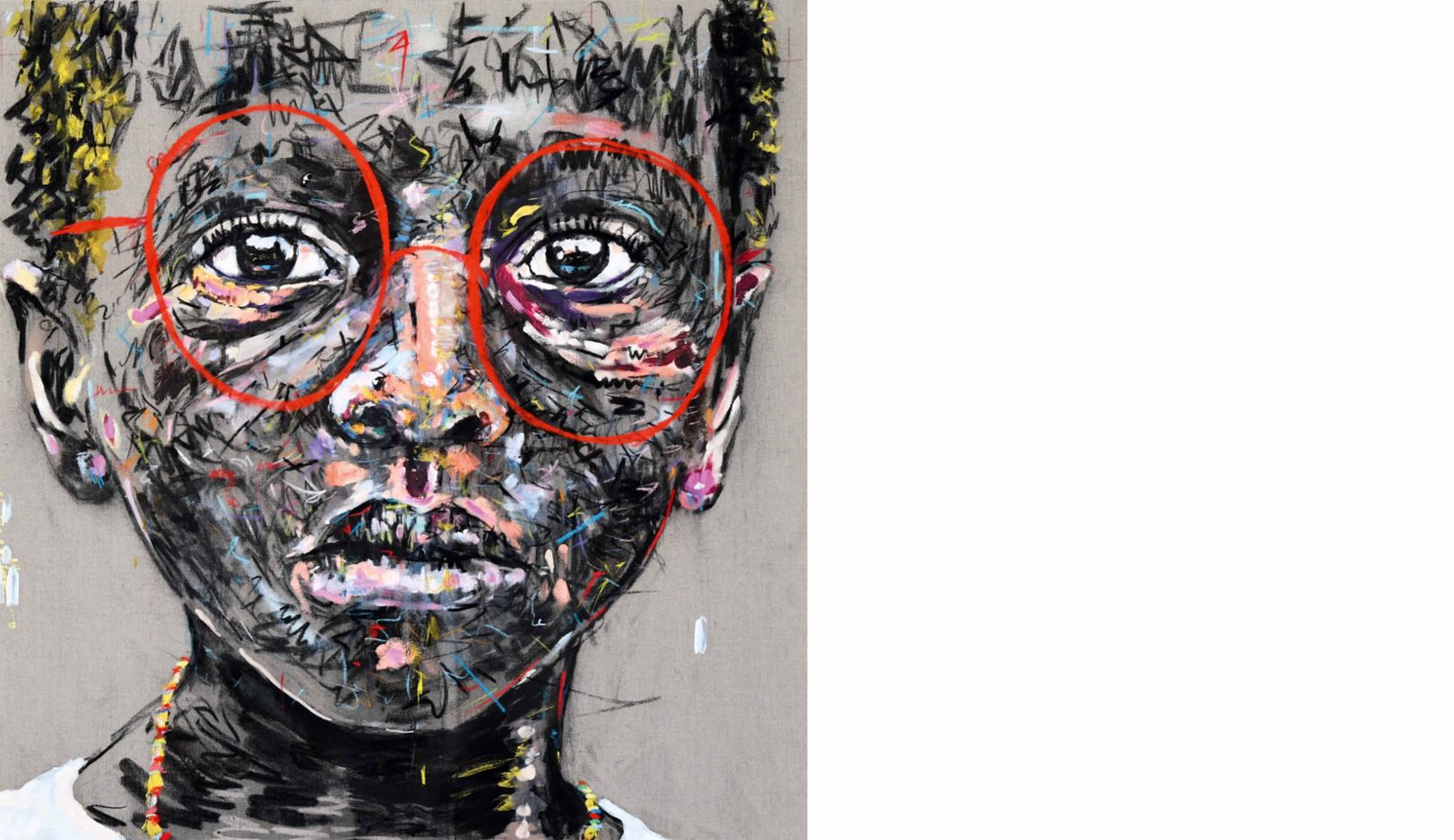 Makamo's work has long focused on children. He is a firm believer that every individual is born with the seeds of genius. And that individual development depends solely on the environment in which they grow up. "Later in life we sometimes lose the sense of wonder at being human," he says. "Children discover precisely that sense in completely unfiltered ways." When Makamo paints, he is not concerned with naturalistic representation. Instead, he seeks to capture the beauty inherent in initial encounters. Bespectacled children's countenances have made him famous. And just as their real-life models have grown up, he too has developed further. What remain are his intense observations of people along with his spontaneous approach. He does not plan his images. This enables him to convey emotionality in authentic ways.
The 911 is an eye-catcher not only in Modimolle. It's not just its sound and exclusive quality that attract attention, but also its art. Its rear panel sports a series of colorful figures, which Makamo created specifically for his treasure on wheels. "They are intended to greet everyone behind me and convey the message that 'life is beautiful!'" he says. "Life is a journey—and people stand for life."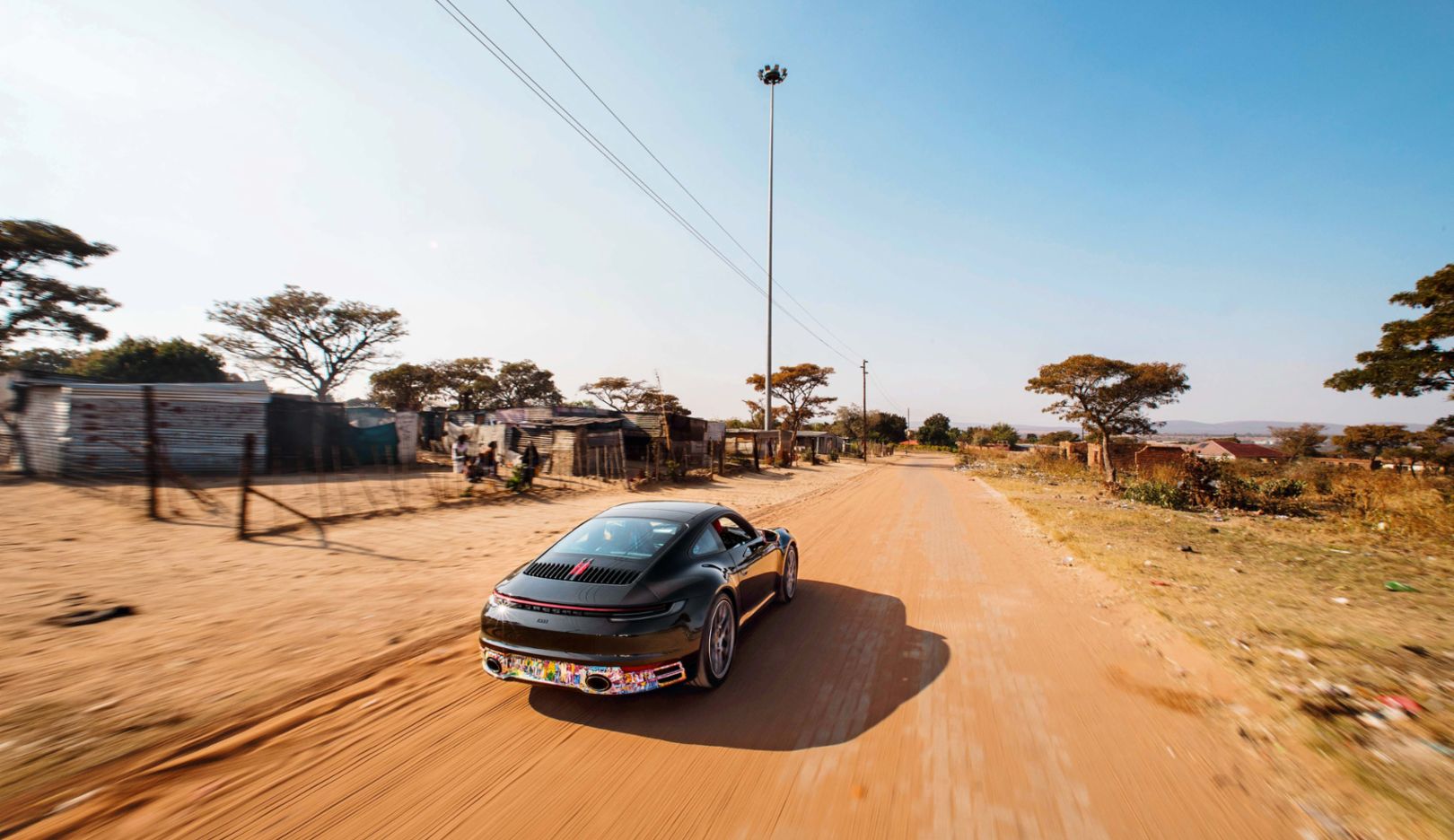 The artist had already fallen in love with the lines of a 911 as a child. "I knew that if I'd ever buy a sports car it would have to be a Porsche," he says. And that has now come to pass. His order far surpassed the options in the configurator. His dream car became the most valuable canvas he ever touched with a brush. When the Carrera arrived in Johannesburg, he had certain components removed in order to design them in his studio. The rear diffuser and the side mirrors are the decorated components visible from outside. In the interior he painted large scenes on the backs of the seats and placed works of art on the instrument panel, central console, and doors. The original idea of painting episodes from his life was quickly discarded. While celebrating his birthday with his mother in Modimolle, he realized that he wanted the most important people in his life to accompany him on his travels. The figures that he painted, therefore, are specific individuals in his mind. Yet their abstract depiction enables them to stand for all people. Everyone should be able to identify with them.
"When painting the individual parts I spent a lot of time with them and got to know them, which deepened my love for the car," he notes. He describes the unveiling of the reassembled automobile as one of the most beautiful moments of his life. "An incredible experience that money could never buy."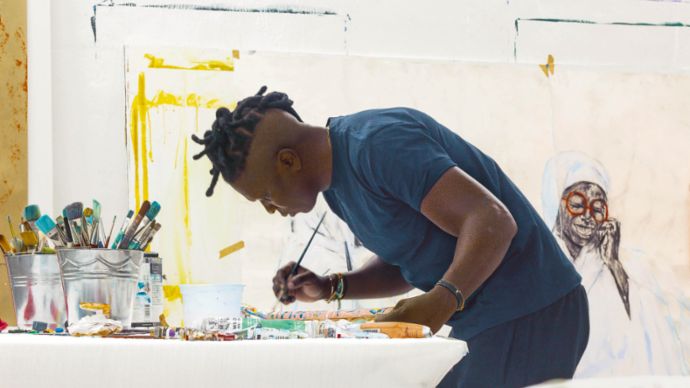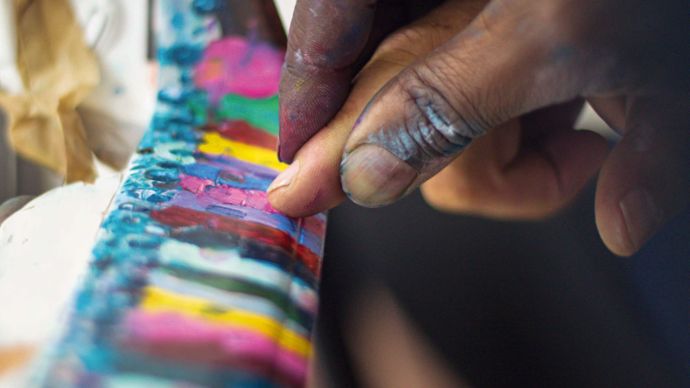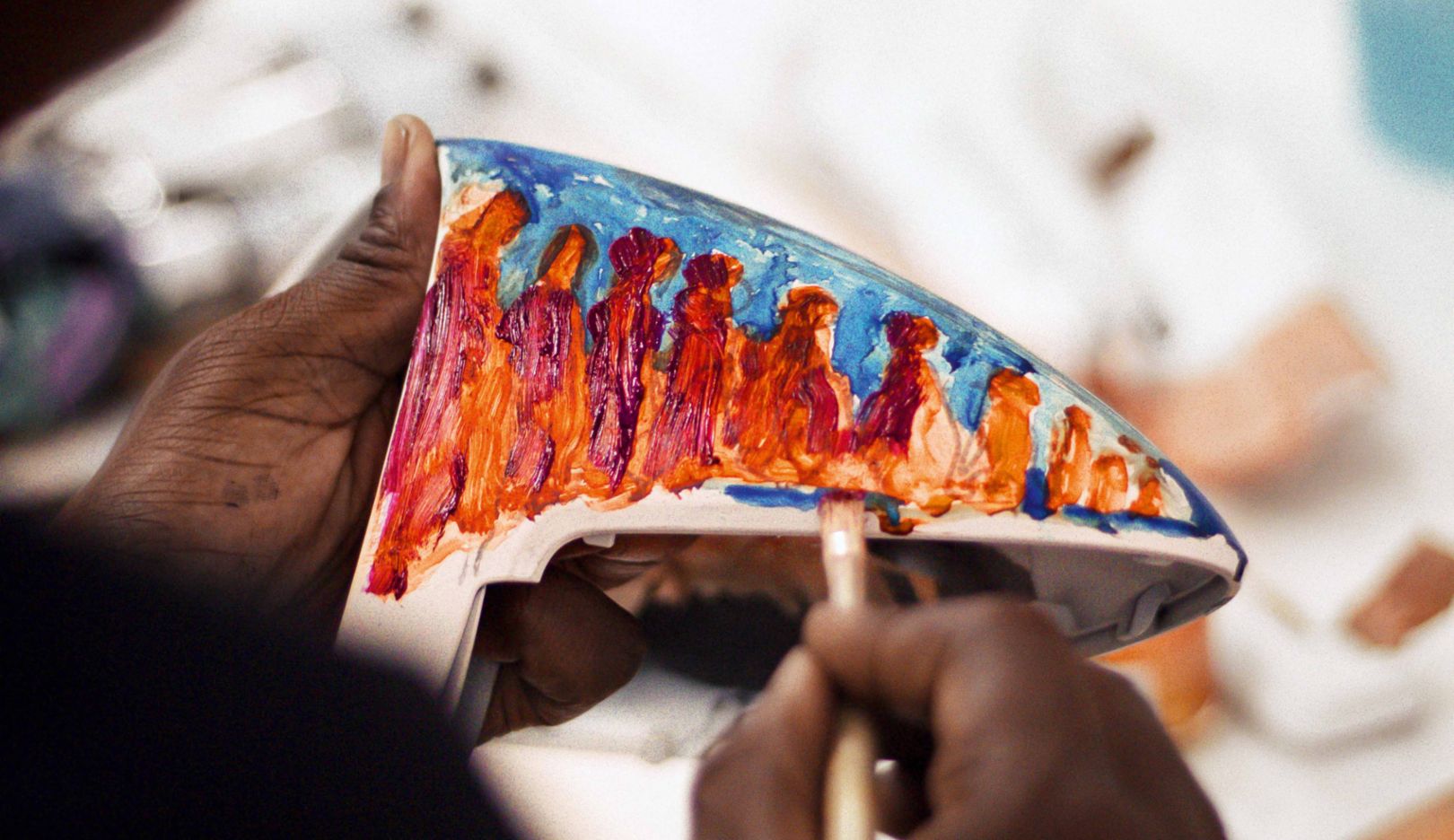 Right from the beginning, Makamo knew that his first trip in the newly created work of art would be to Modimolle. With good reason. "I don't have to prove to my mother or anyone else that I'm successful. But I would like to show everyone how much I've been inspired by my home. The township knows me, and I carry it within me. I want to show the children something beautiful with this spaceship of a car. They should know that I'm one of them, and understand that their dreams are valid and have a chance in life." My Life in Motion—that's the name Makamo has given to his 911 project. Porsche accompanies the artistic process under the title "Paint Your Passion."
"Life is a journey — and people stand for life." Nelson Makamo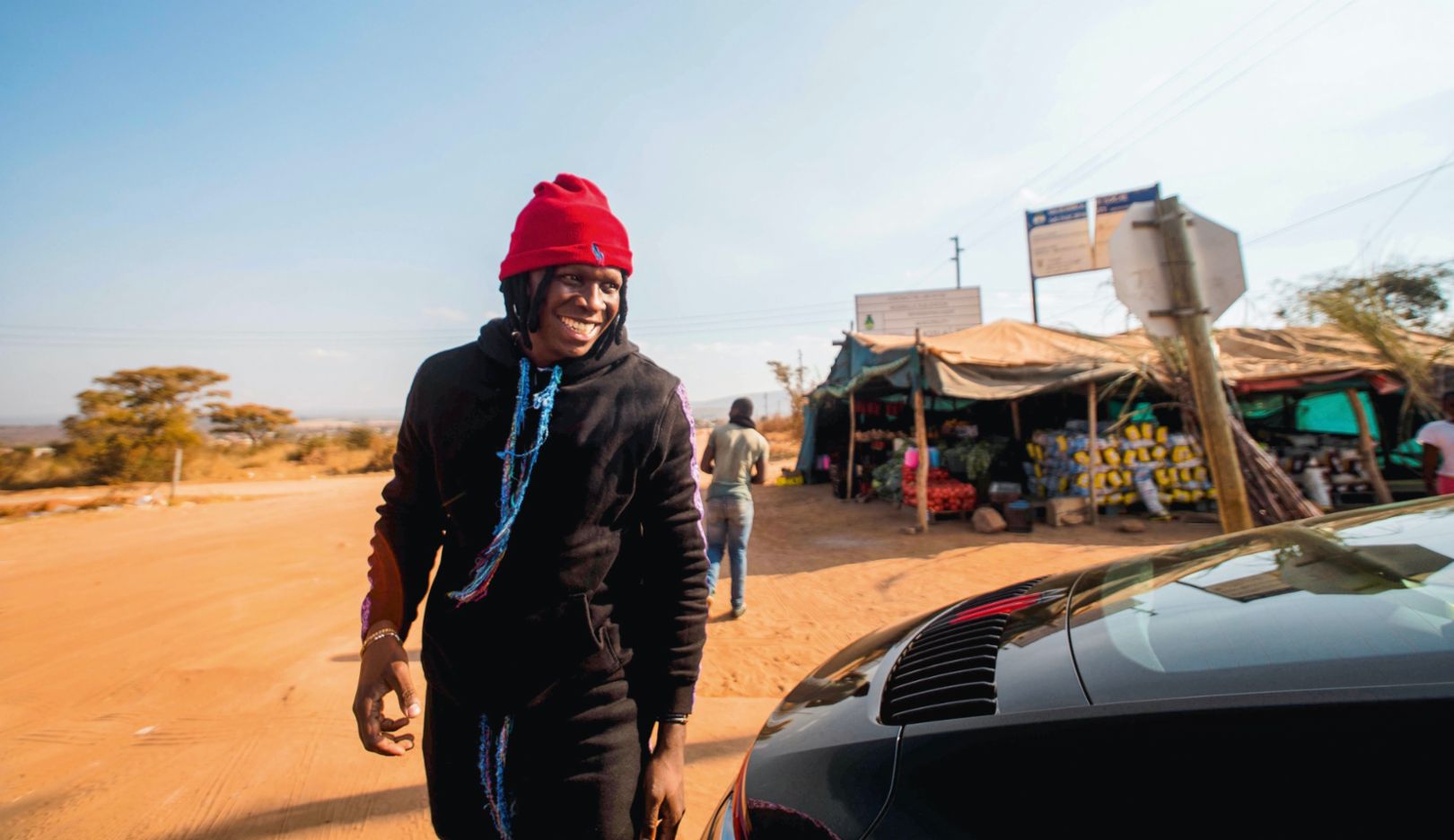 His message is by no means that everything will be easy if only you desire it. "Picasso, van Gogh, top athletes, famous musicians—they've all struggled and often had a rough time of it. I want to motivate children to learn, and to work on themselves." Not only at school. But also in life and powered by their own curiosity. "Every encounter we have leaves its mark, even if very small. It's our differences that make us interesting to others."
Nelson Makamo at work: The artist paints the side mirror of his Porsche 911 Carrera at his studio in Johannesburg. 911 Carrera: Fuel consumption* combined (WLTP) 10.8 – 10.3 l/100 km, CO₂ emissions* combined (WLTP) 245 – 233 g/km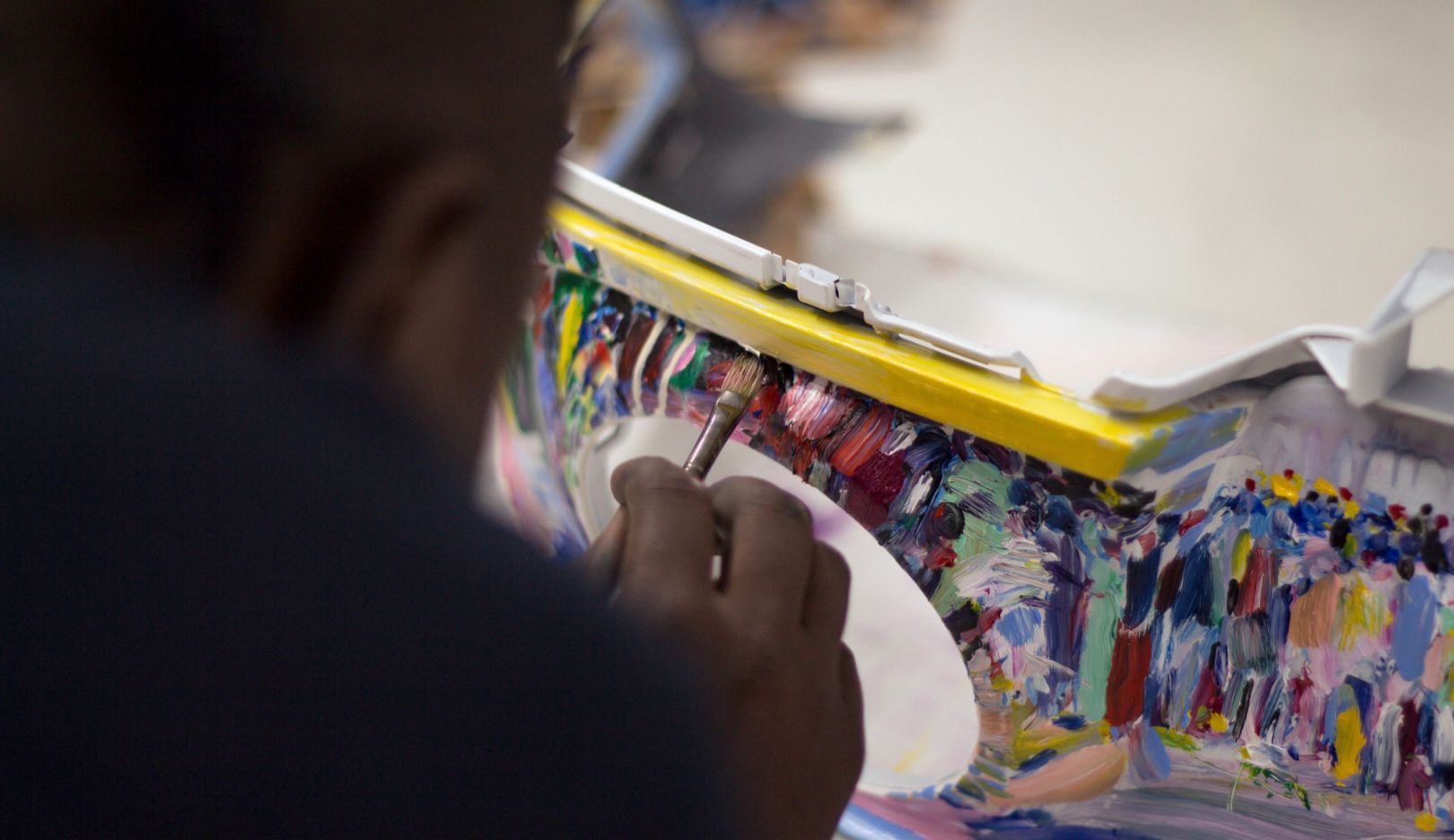 Rear panel with a message: Everyone who spots Makamo's 911 on the street should see themselves reflected in its many different human figures.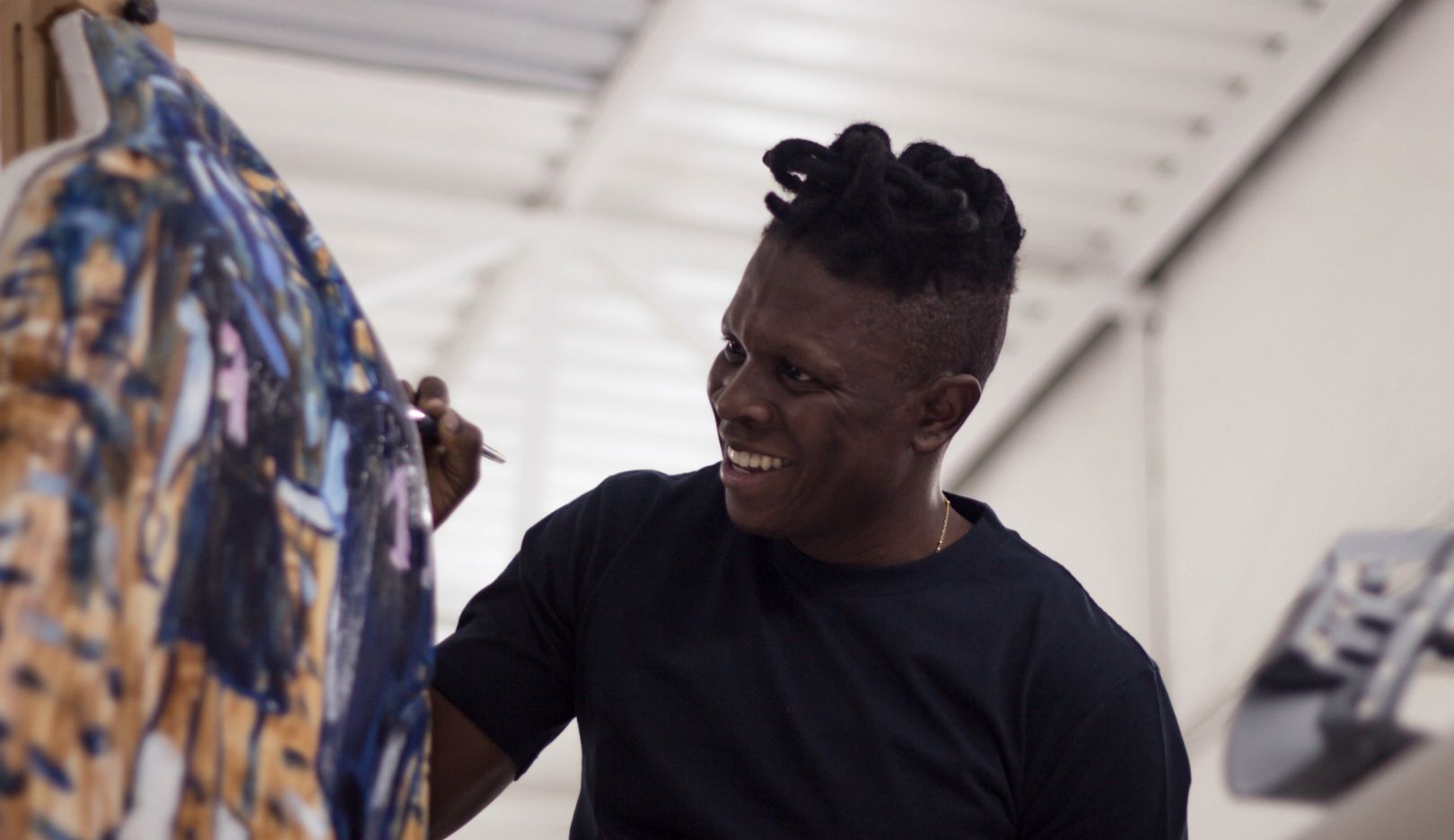 Pure inspiration: Nelson Makamo does not plan his works—his art arises from instantaneous intuition.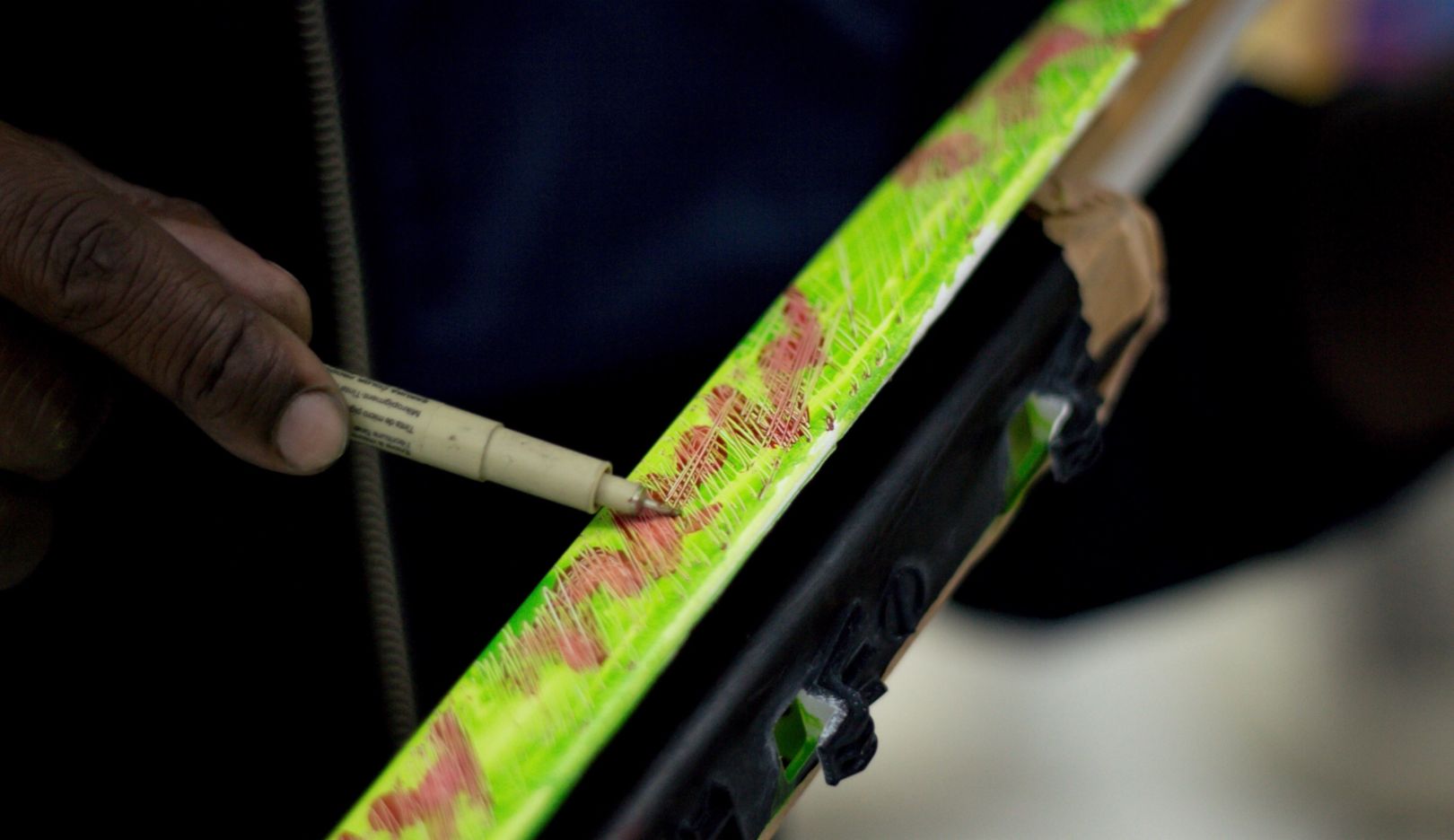 Mother on board: Makamo placed the word in Sepedi, his native language, on the door sill. Emily Mapula Maoto was his first and most important influence.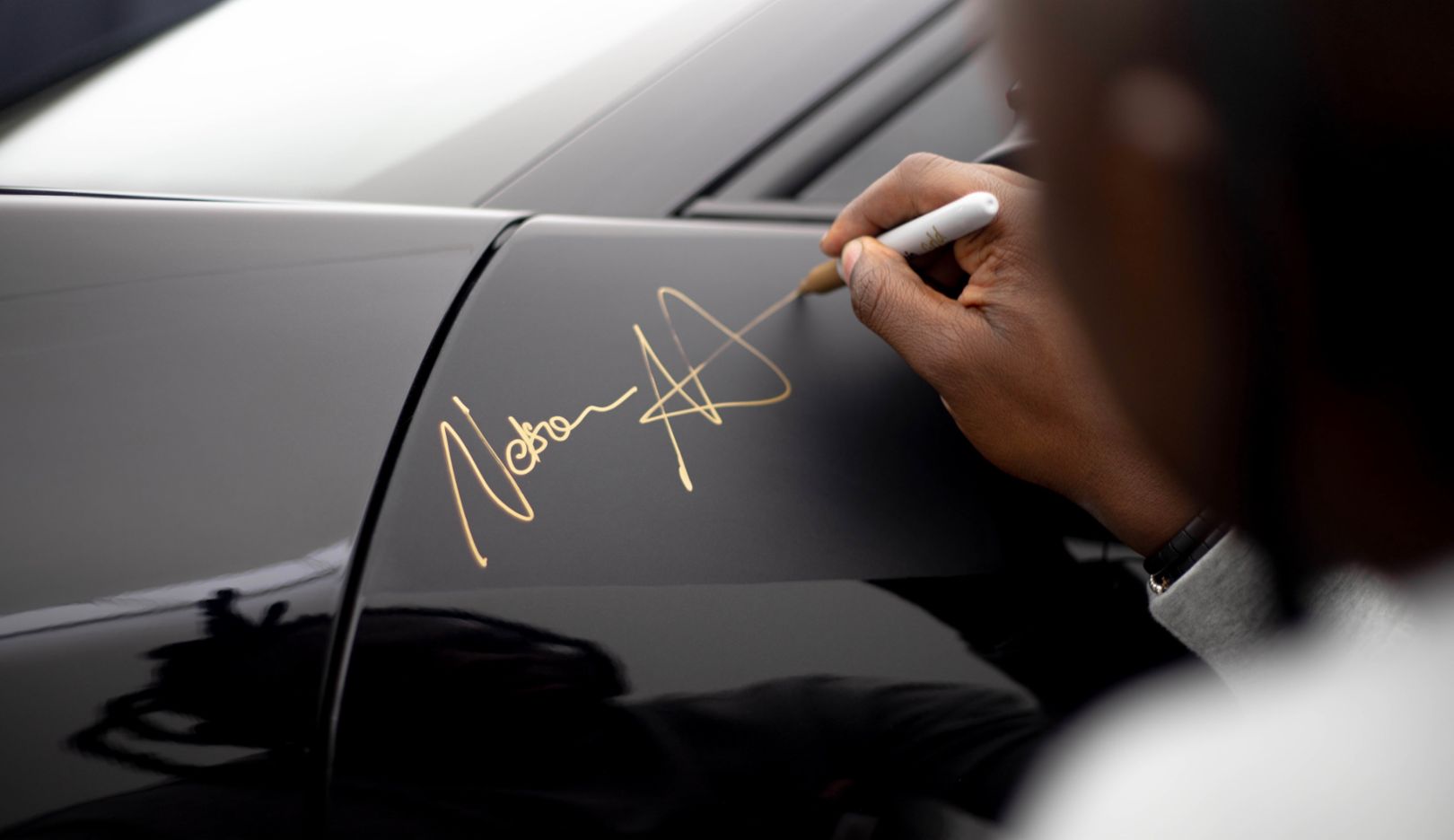 Signing a unique creation: The artist's final touch after his Porsche 911 is assembled. 911 Carrera: Fuel consumption* combined (WLTP) 10.8 – 10.3 l/100 km, CO₂ emissions* combined (WLTP) 245 – 233 g/km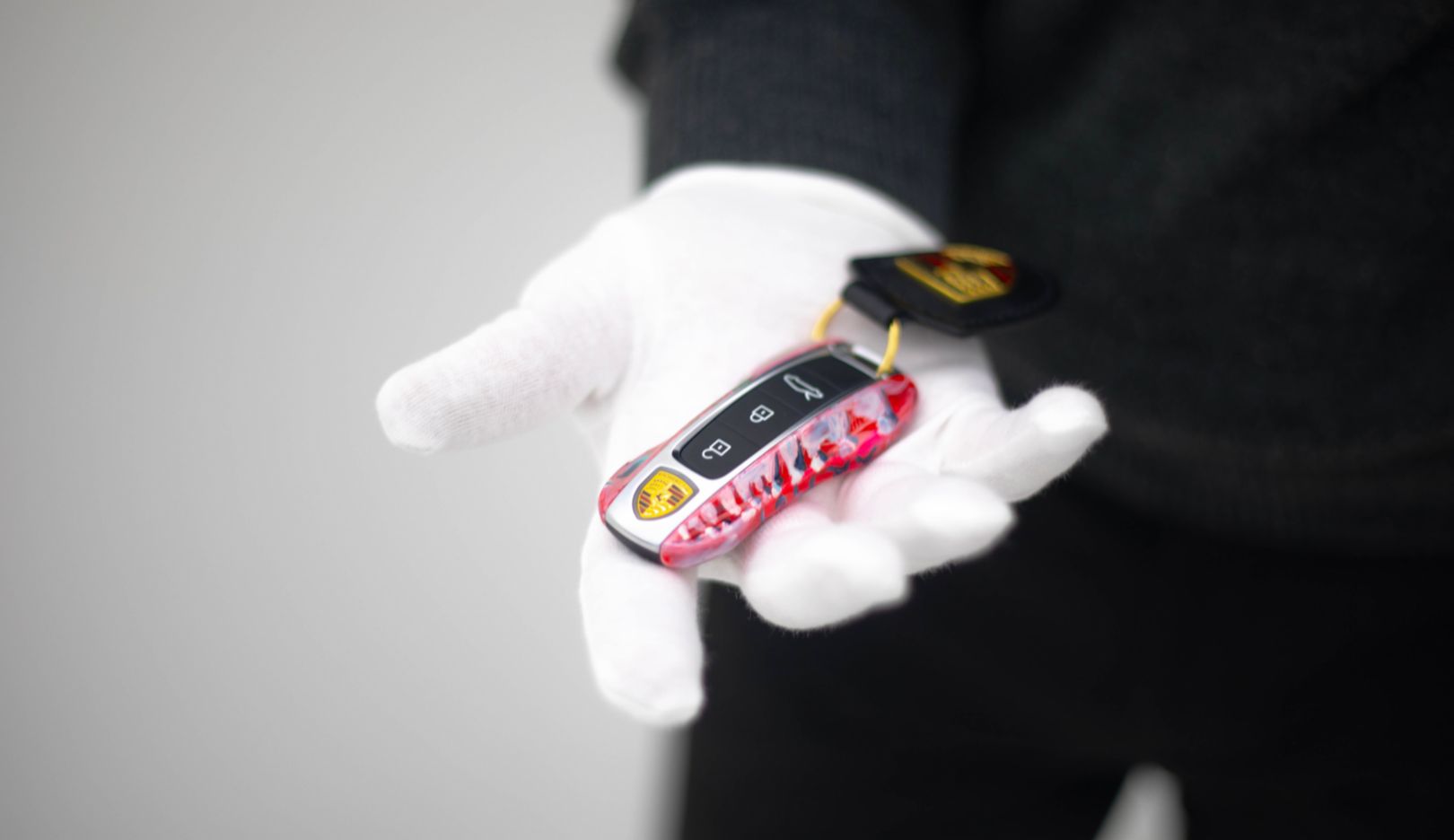 One of a kind: Makamo even designed miniature figures for the electronic key.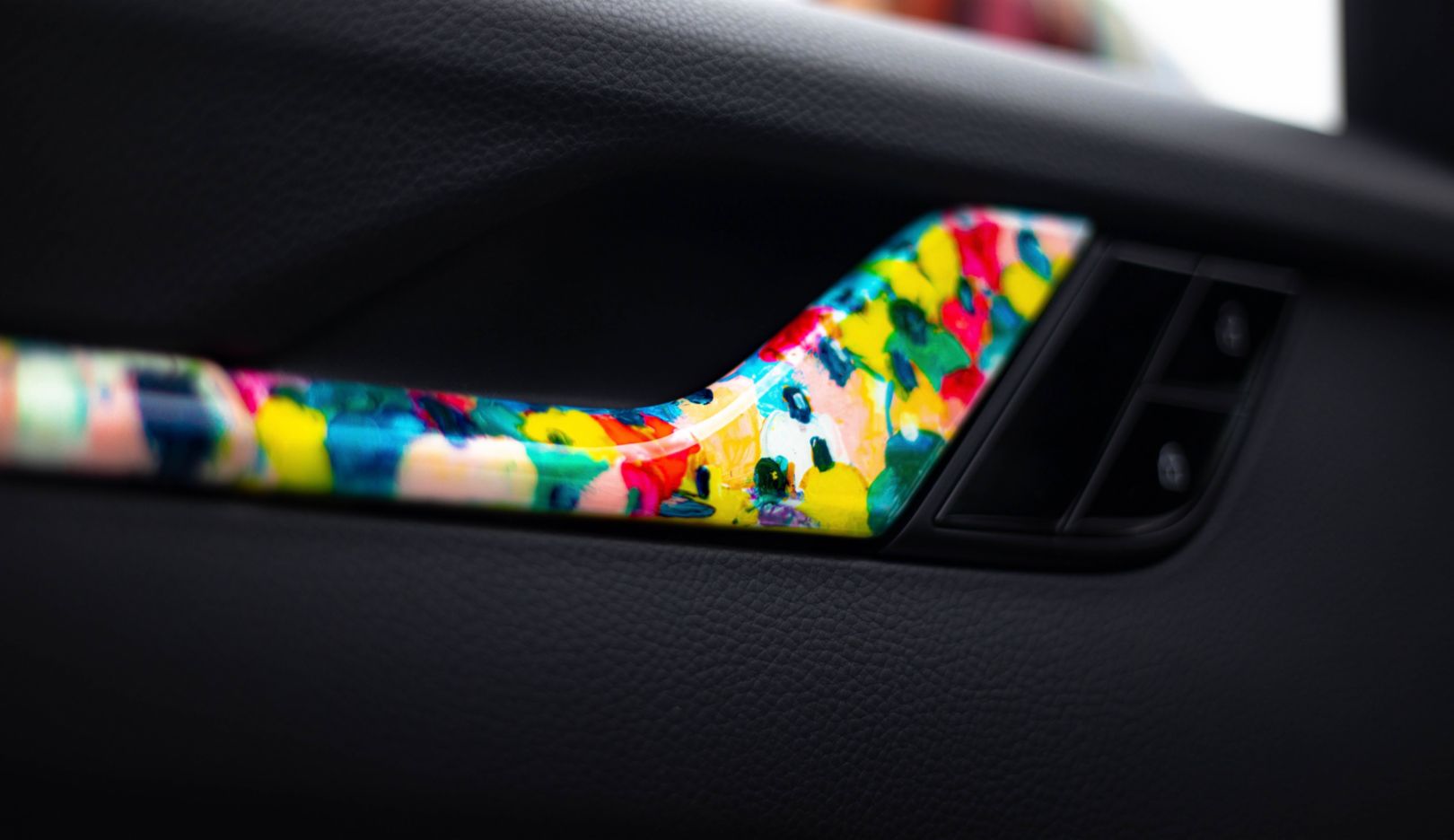 Hands-on art: The inside door handles reflect multicultural diversity. 911 Carrera: Fuel consumption* combined (WLTP) 10.8 – 10.3 l/100 km, CO₂ emissions* combined (WLTP) 245 – 233 g/km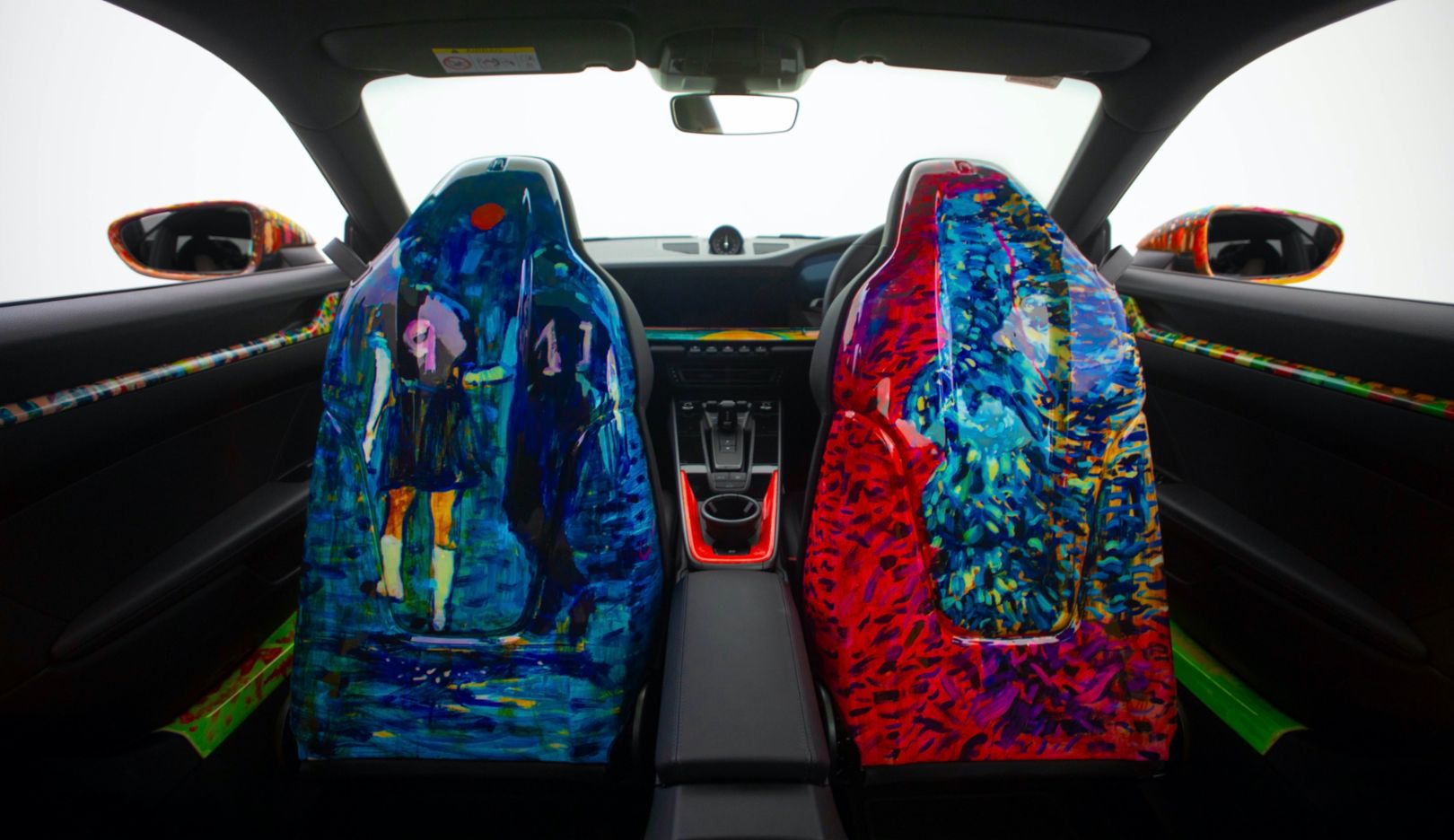 Rare viewing: The only way to see Nelson Makamo's art on the backs of the front seats is to be a passenger in his Porsche 911. 911 Carrera: Fuel consumption* combined (WLTP) 10.8 – 10.3 l/100 km, CO₂ emissions* combined (WLTP) 245 – 233 g/km
/
Makamo defines home as the place where one is free to learn and develop as an individual. That's how he grew up. "My mother was the one who taught me the most. She has a big heart—she never judged me but showed me what it means to value things." In a certain sense she is already on board his rolling work of art before actually getting into the car. When he opens the door in Modimolle, the word "Mma" painted on the frame becomes visible. It means "mother" in Sepedi, one of South Africa's eleven official languages and the voice of his homeland.
Consumption data
911 Turbo
WLTP*
12.3 – 12.0 l/100 km

279 – 271 g/km
911 Carrera
WLTP*
10.8 – 10.3 l/100 km

245 – 233 g/km