Team Ikuzawa
Mai Ikuzawa has lived in London for decades. But the designer maintains close ties to her native city of Tokyo. That is the home of her father, the legendary race-car driver Tetsu Ikuzawa. Both Ikuzawas pursue a distinctive passion for cars.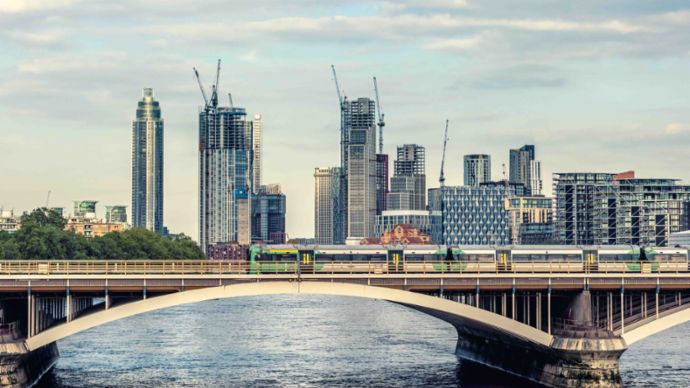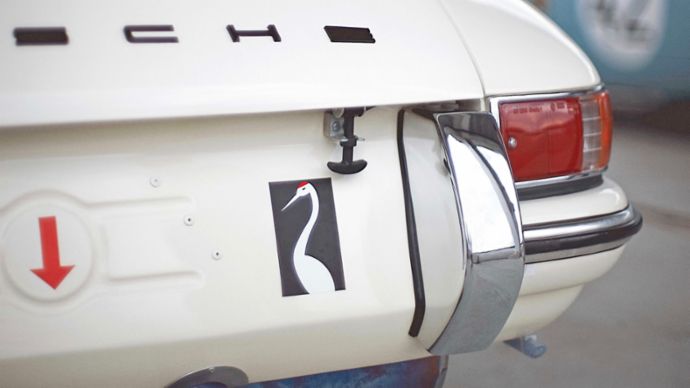 The red patch on the head of this beautiful bird is what gives it its name—the red-crowned crane. An animal with an affinity for water and a preference for swampy habitats with high reeds, it settles on the Japanese island of Hokkaido. Compared to other crane species, it tends not to migrate much. Yet the image of this bird was spotted far and wide around the globe in the 1960s and 1970s—on racecourses like Silverstone, Le Mans, and the Nürburgring, as the stylized trademark of Tetsu Ikuzawa.
The life of the former Formula One team owner and Porsche factory driver fills volumes and inspires films. His automotive collection contains famous vehicles, including a number of Porsche 911s of the 964 generation. They reside in a Tokyo warehouse along with carefully archived racing memorabilia, items that Tetsu Ikuzawa will one day give to his daughter Mai. She is already collecting stories about her father in order to preserve them for posterity: @teamikuzawa is her outlet on Instagram. The logo for Team Ikuzawa is red, of course. And the items in the shop sport the subtitle "Choice of Racing Enthusiasts."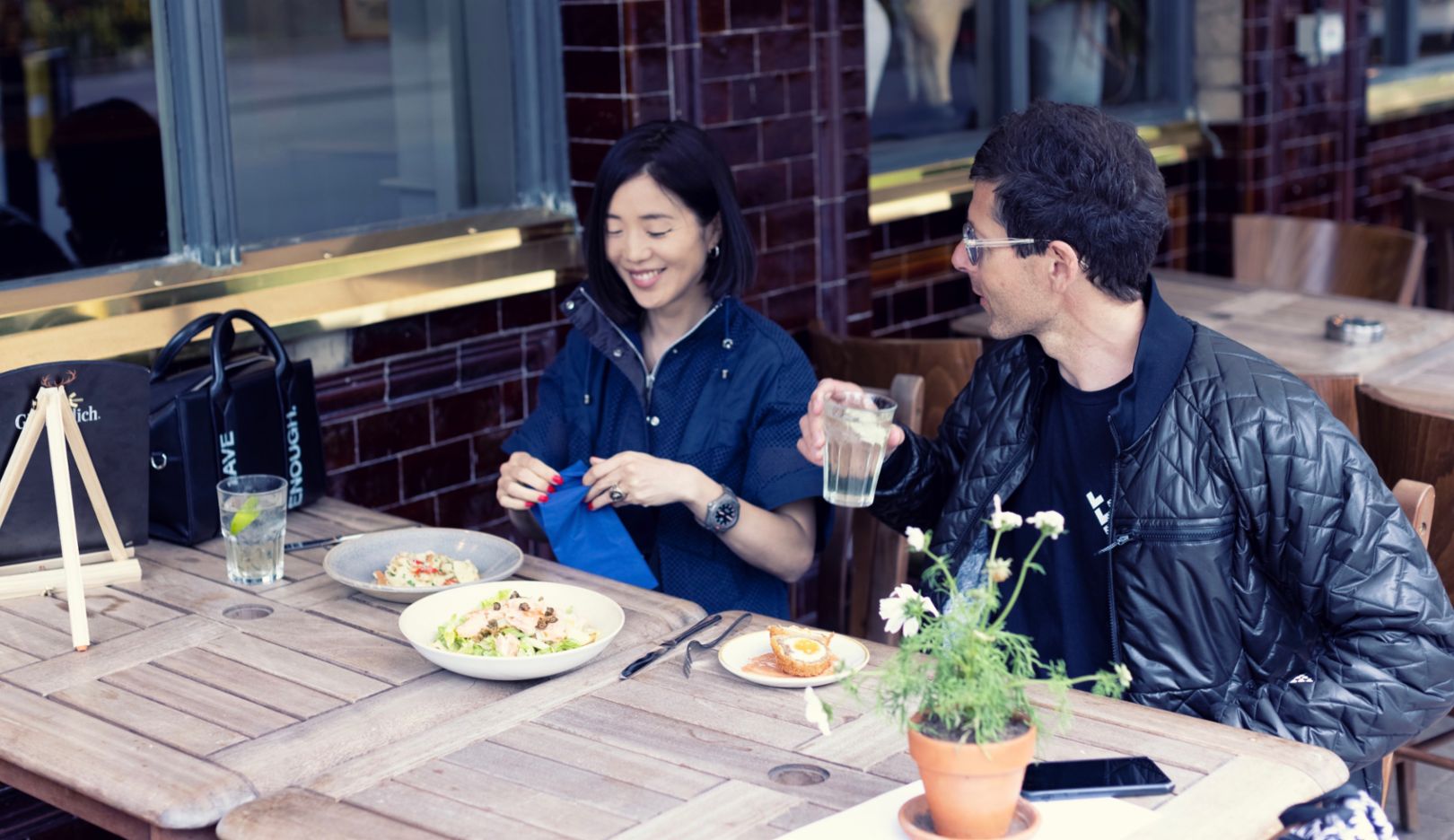 Power couple: Mai Ikuzawa and her husband Camille Jaccoux enjoy lunch at the Prince Albert pub. Jaccoux was a member of the French World Cup ski team and a James Bond stunt double before launching his own ski brand.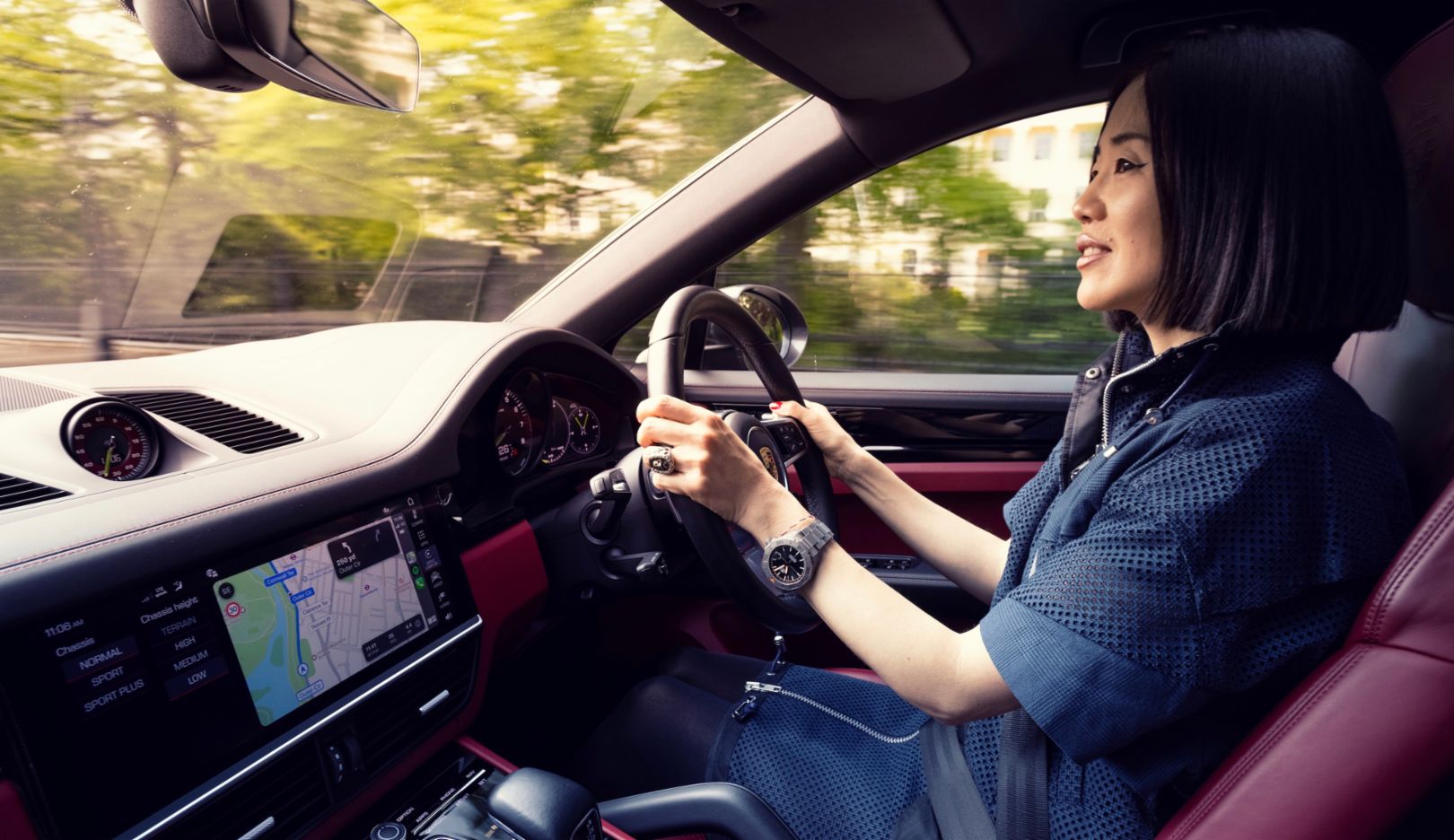 Part-time stunt driver at the wheel: Mai Ikuzawa drives a Cayenne E-Hybrid Coupé to visit Benedict Radcliffe – friend, artist, and car fanatic.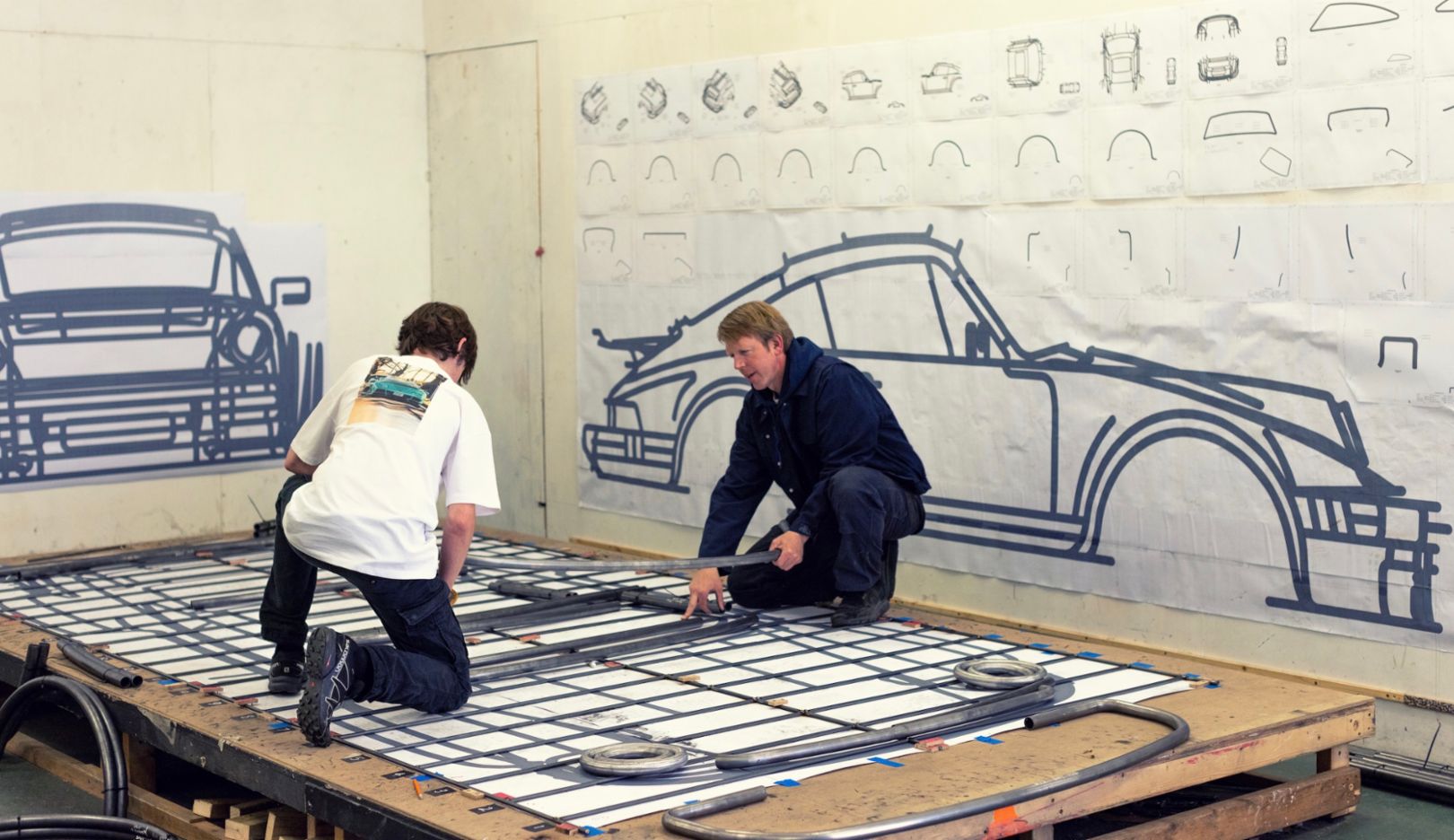 911 Love: Benedict Radcliffe works on his latest creation, a Porsche 934 in 1:1 scale, with assistant Jordan Wilkes-Siddeley at his studio in Shoreditch, East London.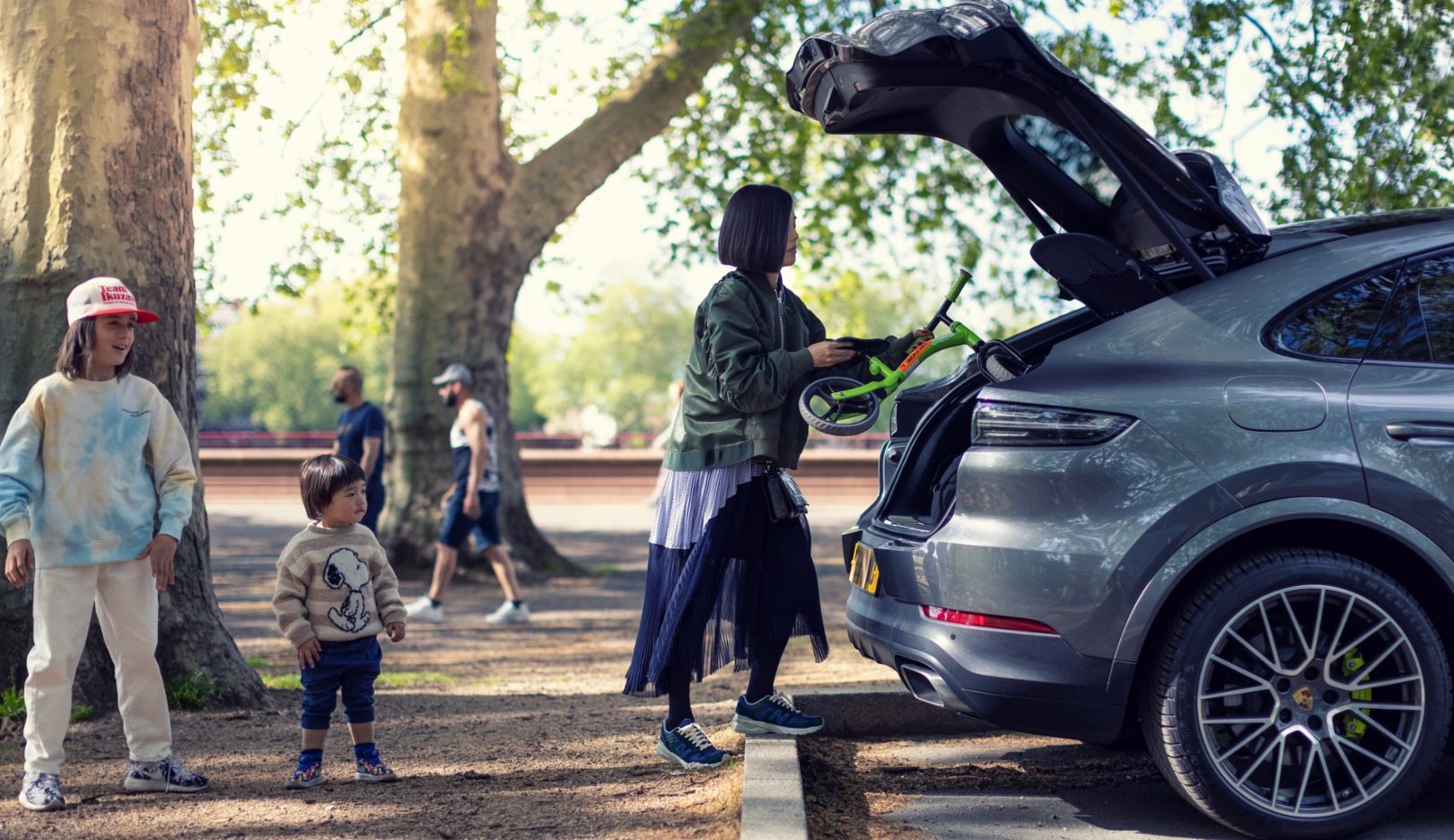 Room for the entire family: Bicycles fit into the trunk of the Porsche Cayenne E-Hybrid Coupé following an excursion to Battersea Park with sons Arto (10) and Milo (2).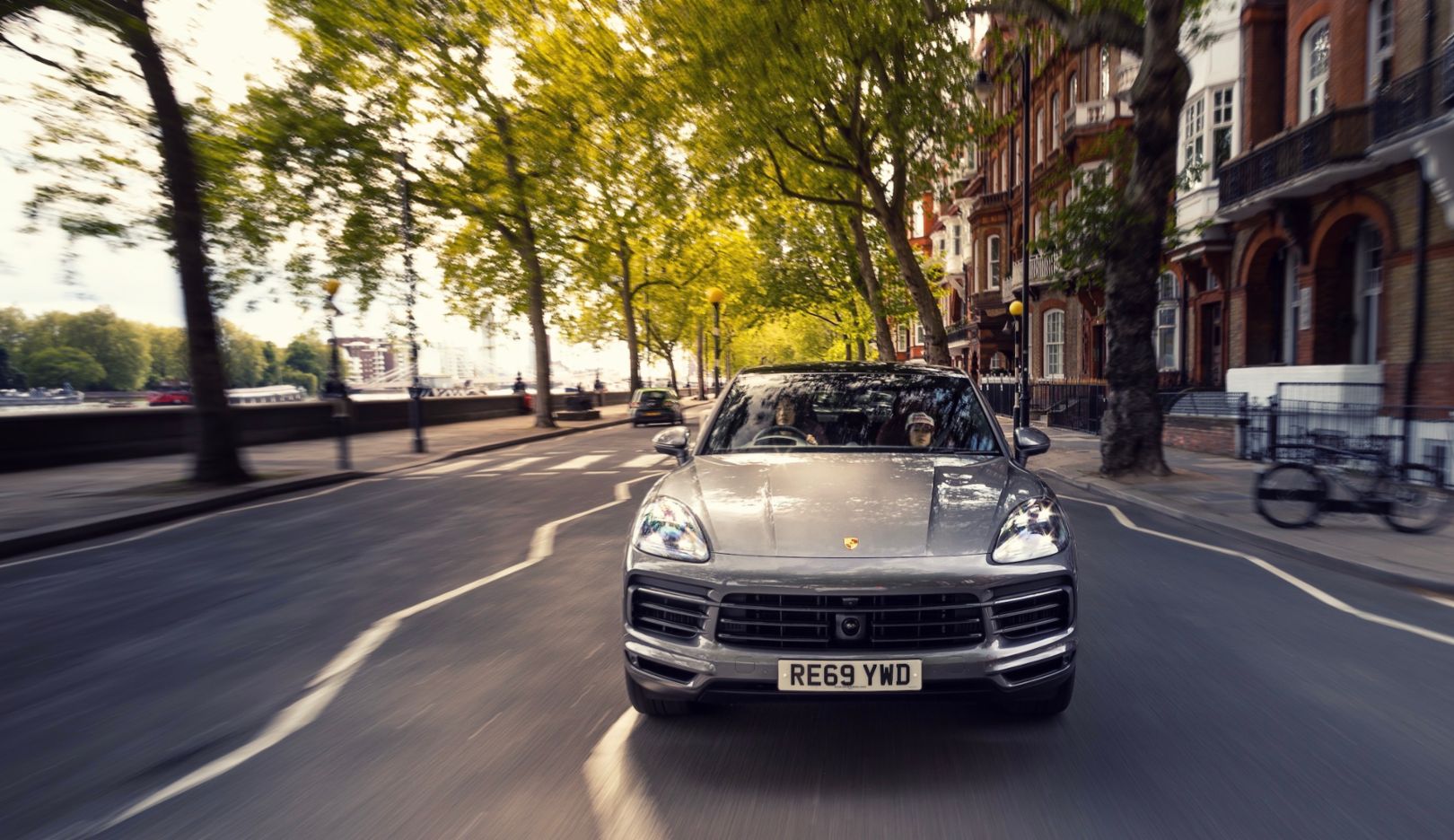 Along the Thames: Mai Ikuzawa and her children drive along Chelsea Embankment. Arto's preferred place is up front.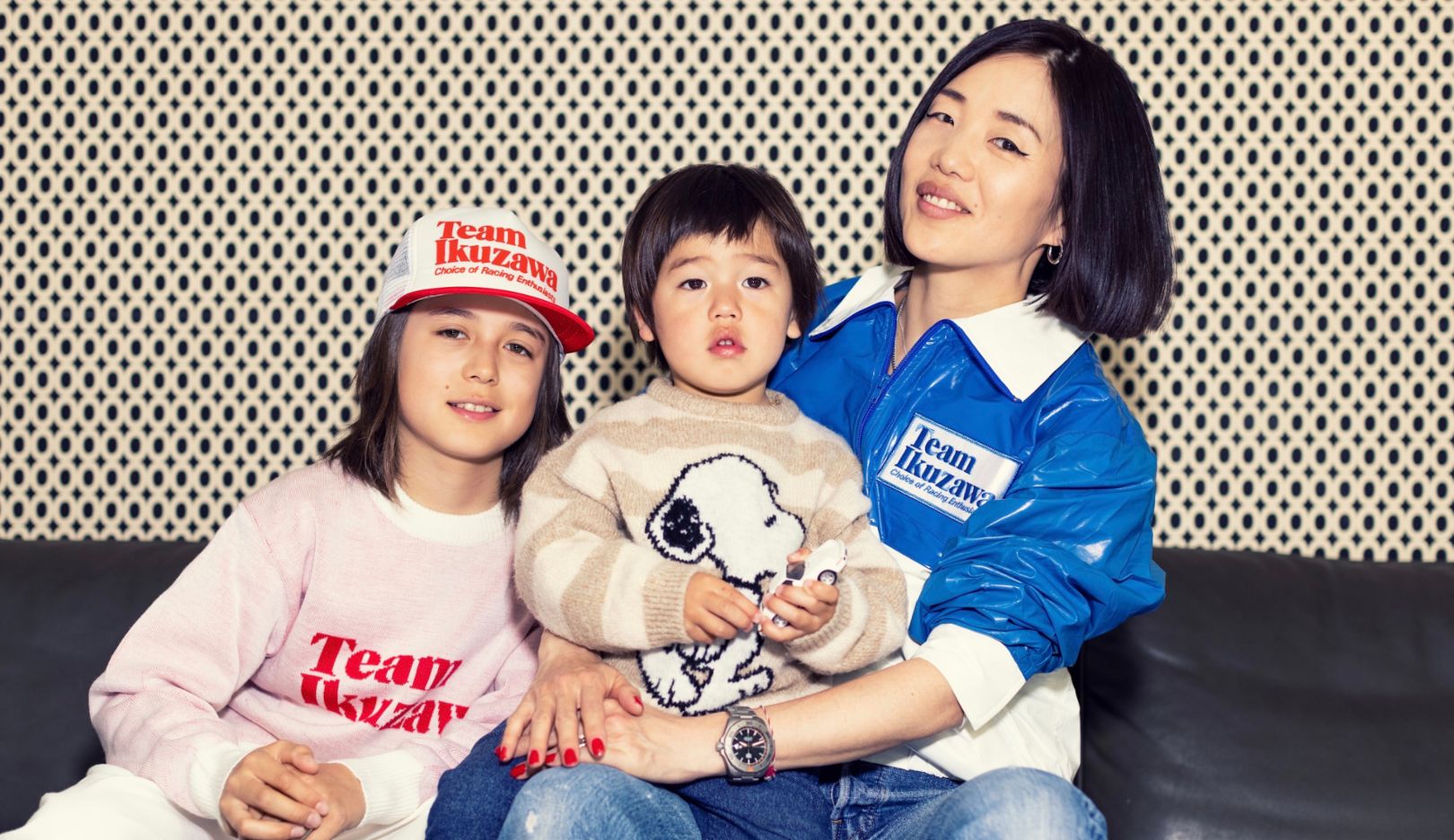 Family favorite: Mai Ikuzawa and her sons like wearing Team Ikuzawa brand clothing.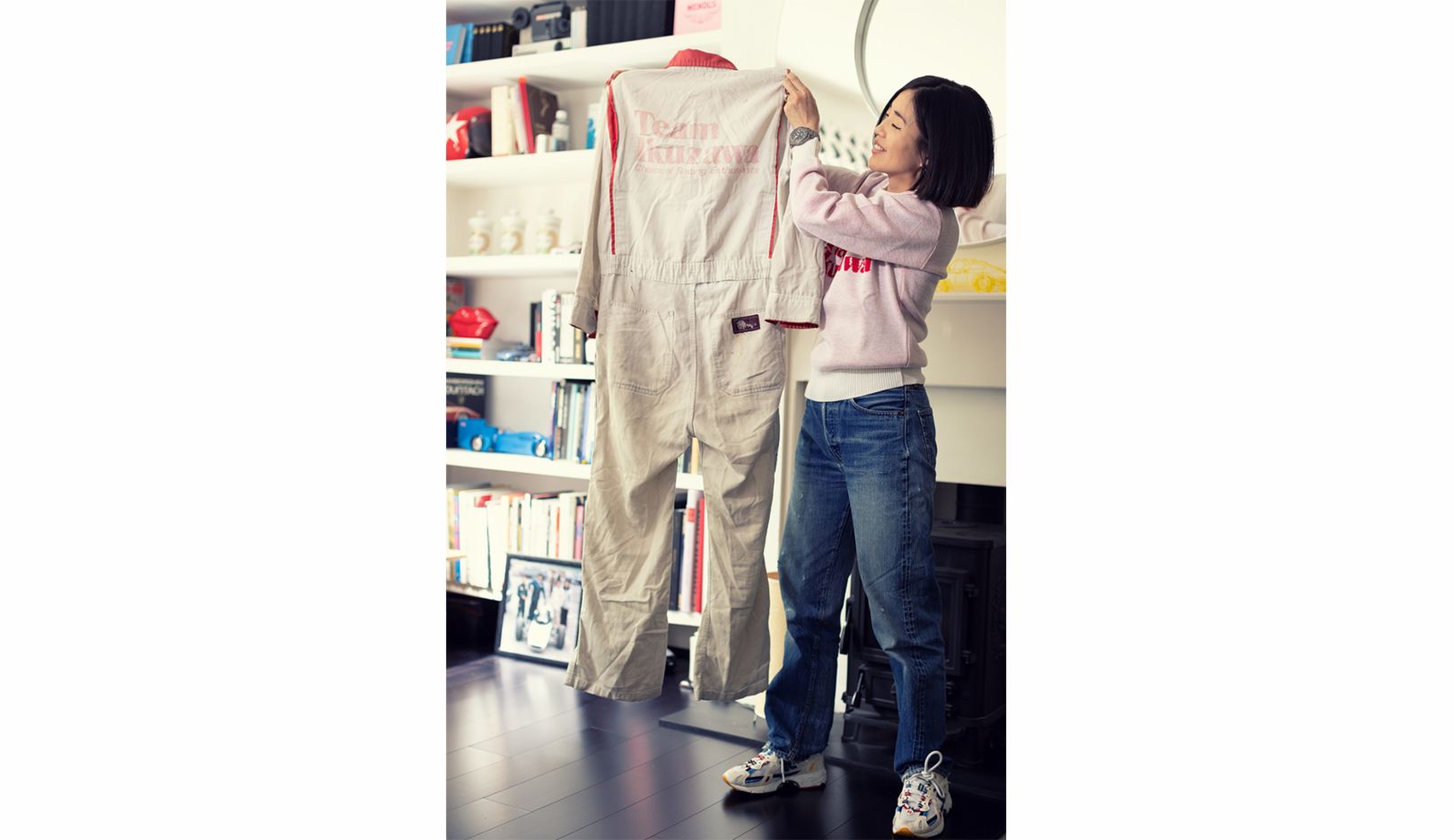 Inspiring original: Legendary race-car driver Tetsu Ikuzawa's overalls sported the Team Ikuzawa logo. Father and daughter share a passion for motorsports.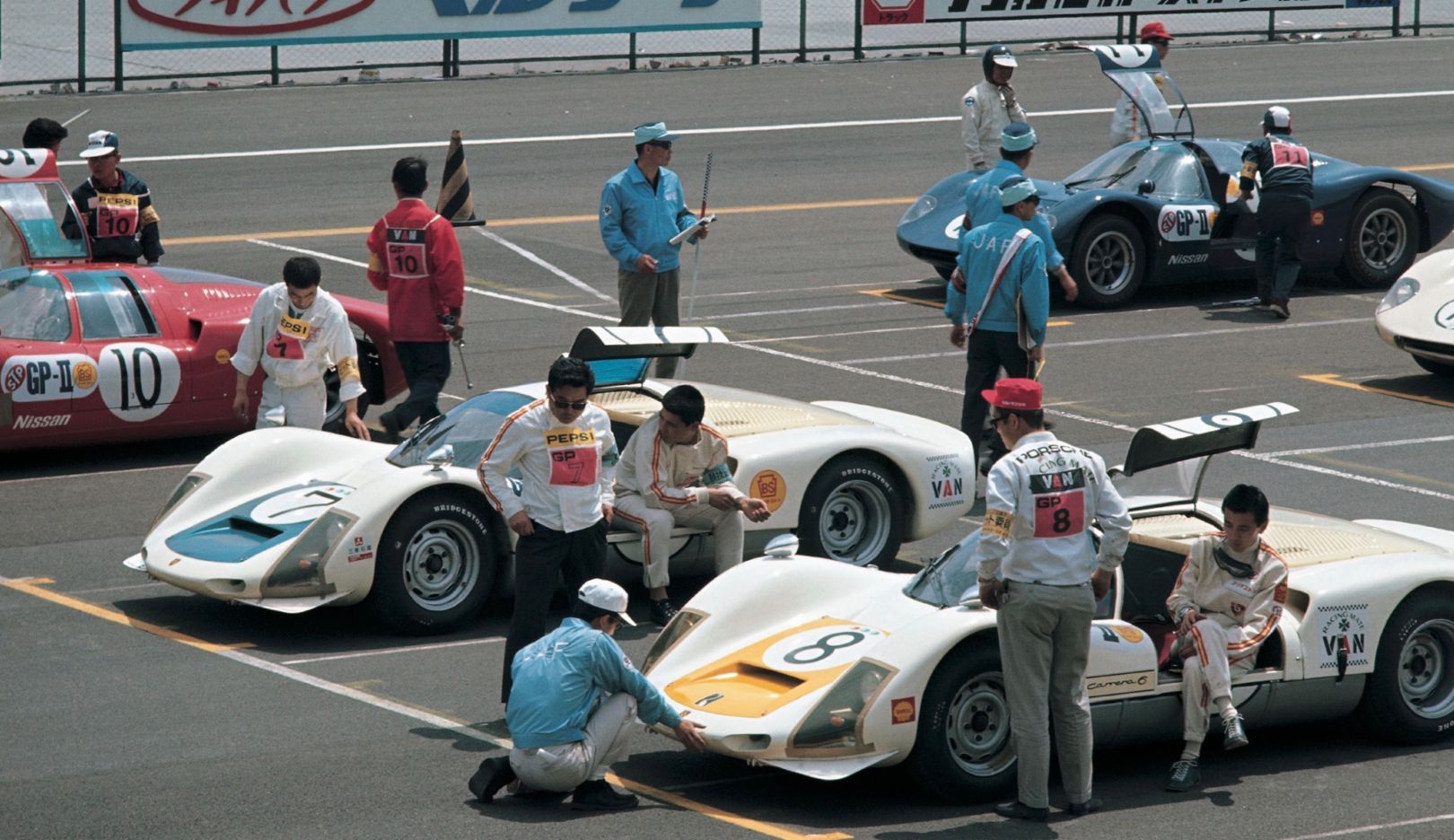 Lap record in the making: Tetsu Ikuzawa clocks a lap of 2:00.800 minutes in a Porsche 906 Carrera 6 (start number 8) at the Japanese Grand Prix on Fuji Speedway in May 1967.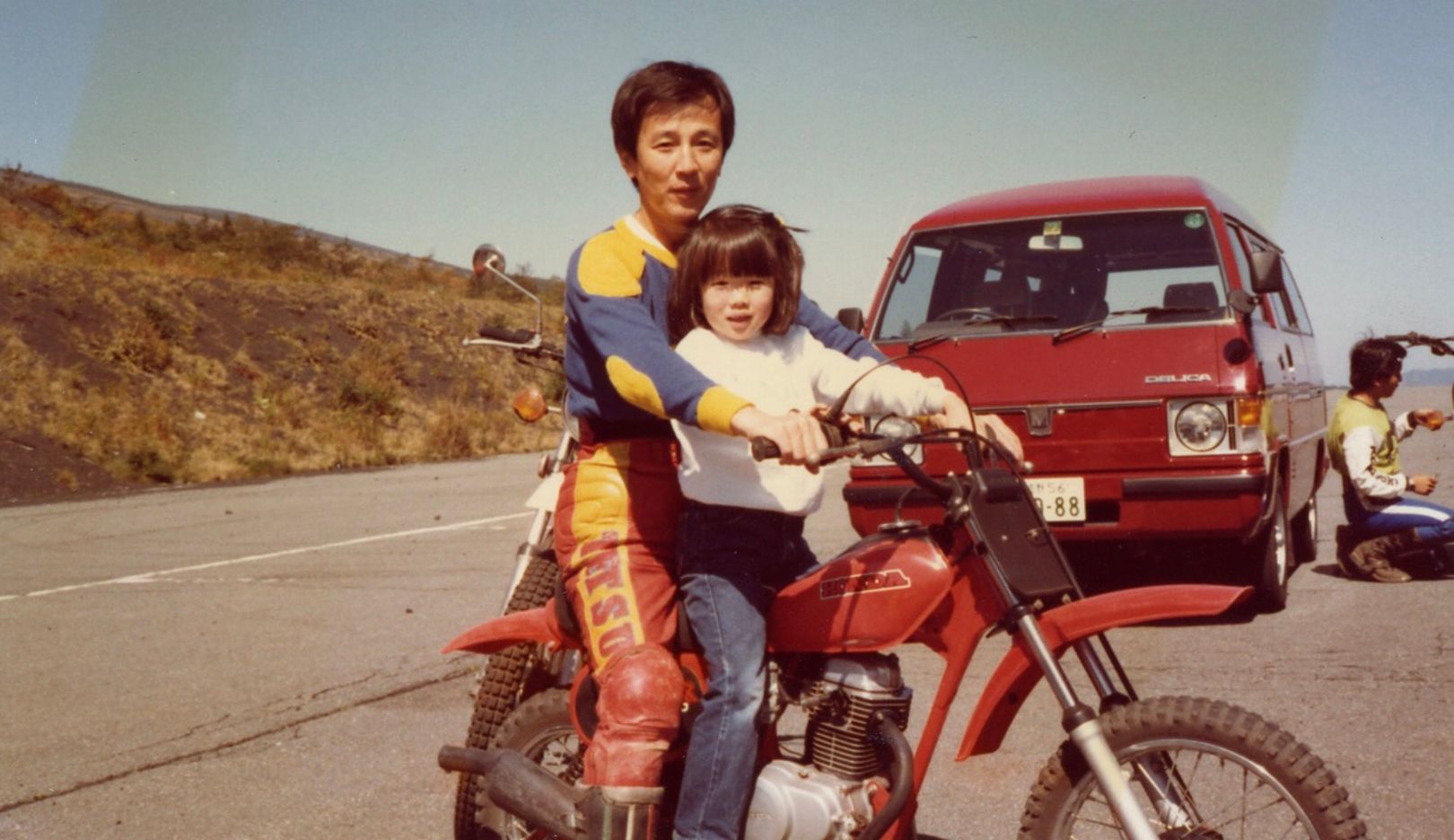 Close ties: Tetsu Ikuzawa ensured that his daughter Mai grew up with race cars and motorcycles.
/
When Mai is born, her father is vying for the lead on Fuji Speedway. The happy news is announced on the racecourse's loudspeakers—"It's a girl!"—and Ikuzawa marks his daughter's birth with a victory.
"I'm sure he was hoping for a son," says Mai Ikuzawa. "Someone who would follow in his footsteps and could one day race with him. But when it turned out differently, that was fine too." She remained an only child and her early years were shaped by the high-speed lifestyle of her glamorous father. "As a child I'd go to races with my parents, spending a lot of time in the pit and in our motor home. My father's mechanics were essentially my babysitters," she recalls. Tetsu Ikuzawa already possessed a striking fleet of cars. "I can still see the astonished faces of the parents when we showed up for our school's sports day in a car with a black and gold John Player Special design as Team Ikuzawa," she adds with a smile. Her childhood was marked by contests of all types. "Every bike ride, even if we were only going to the supermarket, turned into a race with my father." For his part, Tetsu had grown up with a love of design as the son of the artist Rou Ikuzawa. He himself went on to study automotive design at Nihon University in Tokyo in 1961 and even produced a coupe-like prototype entitled "TETSU 1000 GTR."
A legendary photo provides impressive documentation of his eccentric style and sense of color. It was taken in 1969 in London near Regent's Park, where his daughter now pulls the Porsche Cayenne E-Hybrid Coupé over for a stop. The photo shows young Tetsu leaning against his Signal Yellow 911 Targa. His hair is long and he is wearing sunglasses and a voluminous Afghan fur coat stretching almost to the ground. What looks like the cover of a lifestyle magazine is simply a personal photo, taken because a friend wanted to try out a new camera. At the time Ikuzawa was living right behind the park. He had become a Porsche factory driver shortly before and moved to Europe for that reason. The yellow Targa was a gift to himself. The car meant a lot to him, but he only realized how much after selling it and subsequently starting an intensive search to find it again. He did in fact find it—painted black—in an old shed. A 911 love story that Mai Ikuzawa recounts while reproducing her father's pose for Christophorus.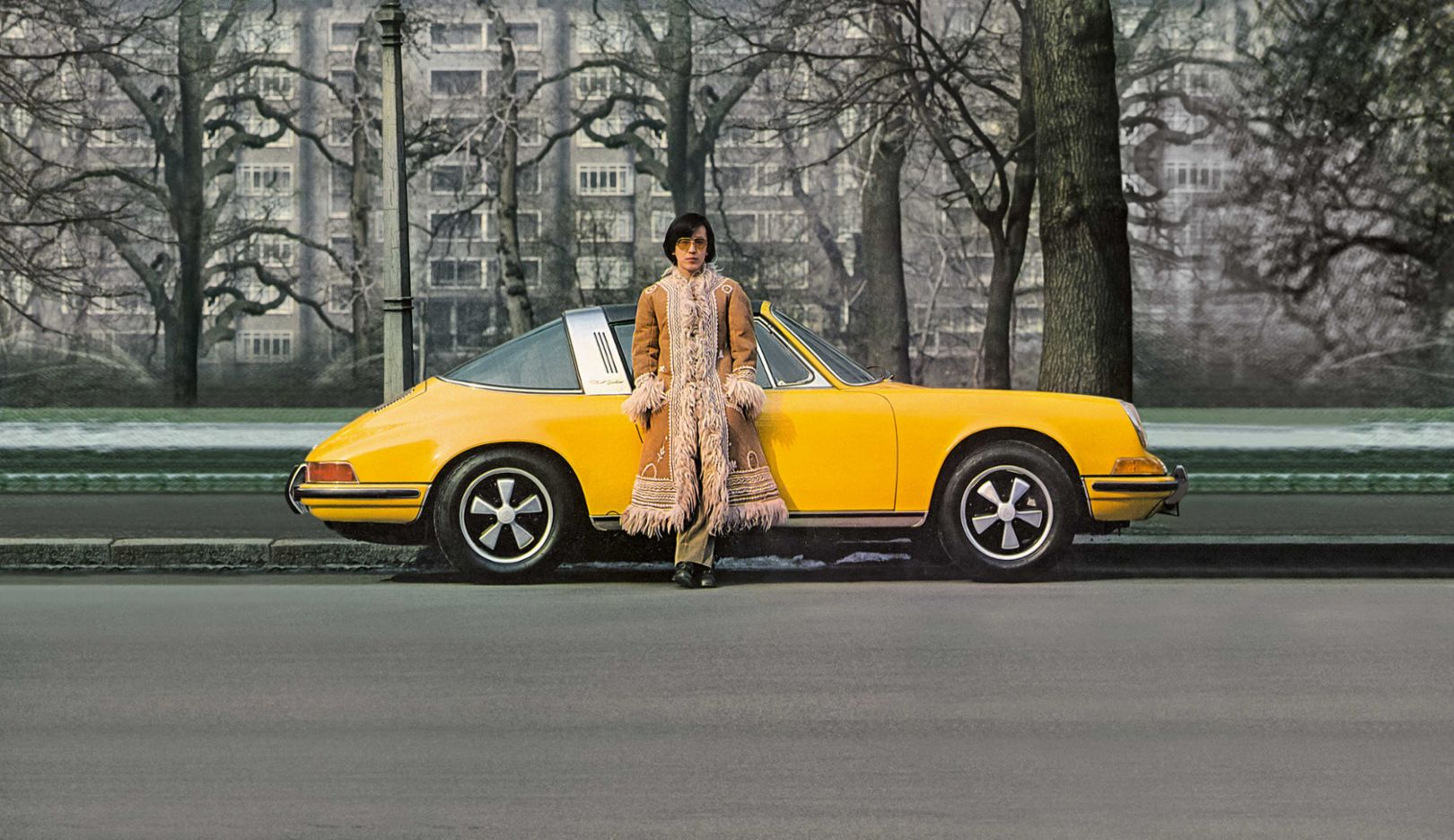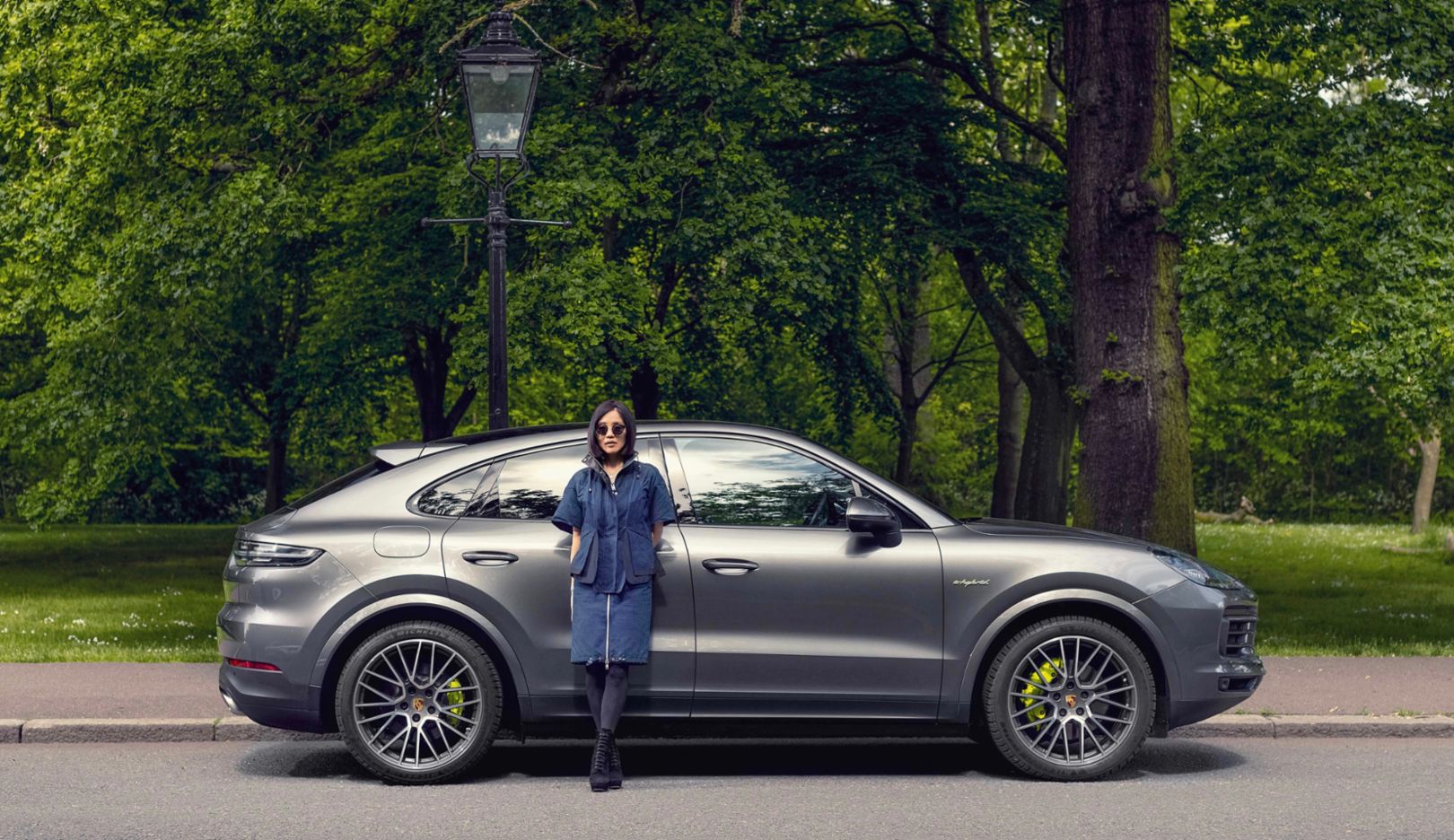 Her parents separate when their daughter is still young, and Mai moves to England with her father at the age of nine. She attends the elite Charterhouse School and earns a degree with honors from Central Saint Martin's—the famous school of the arts. For a long period she divides her time between London and Tokyo, but eventually chooses to settle in the English metropolis with its vibrant international reputation for young creatives and music videos. She is not satisfied with her position at an ad agency, remarking that "it was far too conventional." When still very young she founds her own company. The start-up idea hatched on the edge of her bed quickly becomes an agency with fifteen employees. "Our studio in Clerkenwell was spacious and stylish," she says. "Dieter Rams designs all around. I more or less worked around the clock—which is very Japanese. And yet there was too much of a cliché component in the success for my taste." Her new endeavor goes back to the roots. She and her father share innovative and creative abilities, extensive technical expertise, a modern idea of women's roles, and an international network of talented individuals. "The most brilliant people won't fit into a nine-to-five corset," remarks Mai. As creative director, designer, and brand manager she makes a name for herself, guiding her Bow Wow International agency completely differently than before. She is skilled at connecting leading artists, farsighted thinkers, and instigators of change. The automotive sector, action sports, and luxury brands are her métier. "London's automotive culture is charming and inspiring," she says. "People drive their vintage cars on everyday errands, and esteem all the imperfections." Of course she also knows the city's car nerds. One of them is the artist Benedict Radcliffe. He uses a special technique to craft automotive silhouettes out of wire. One of his works has an honored place in Mai's office.
"The most brilliant people won't fit into a nine-to-five corset." Mai Ikuzawa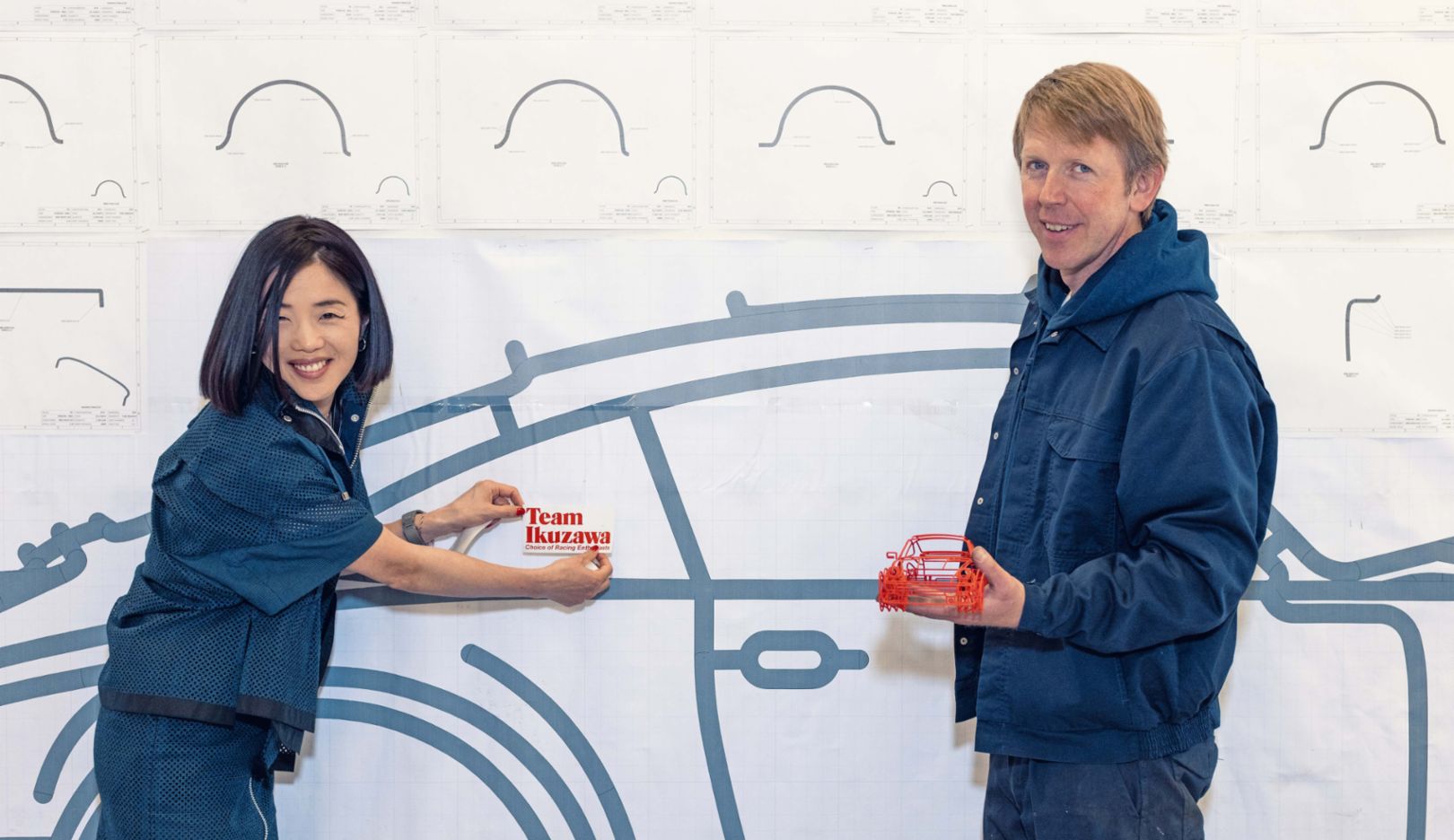 "It's a gift to have grown up in England and Japan." Mai Ikuzawa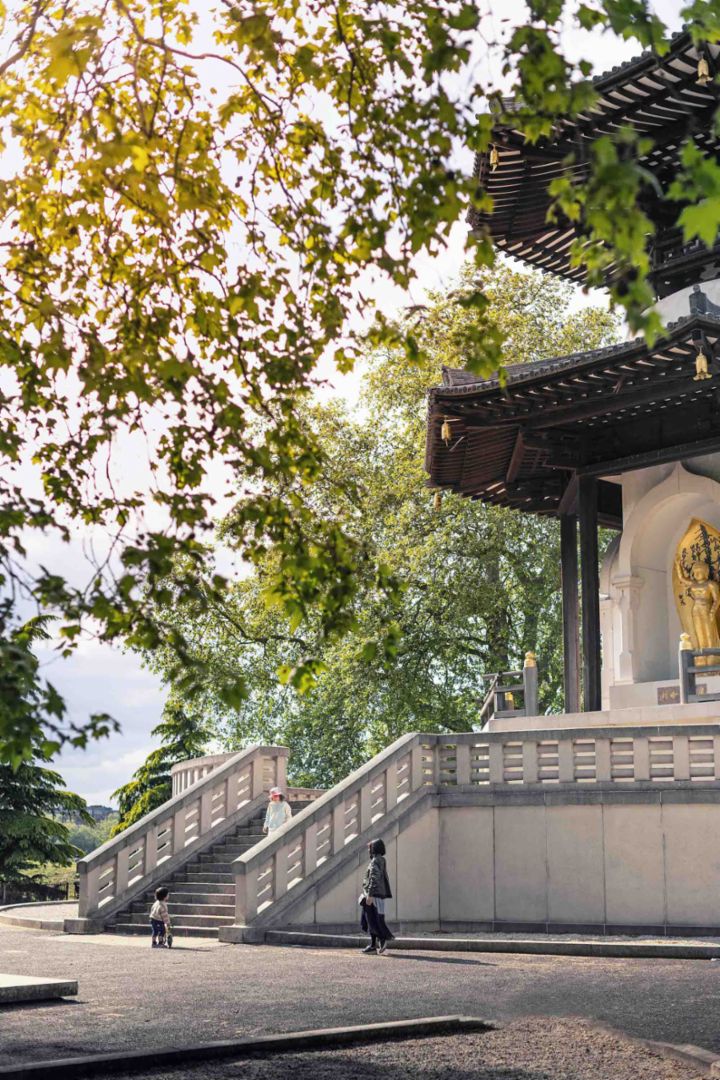 "It's a gift to have grown up in both England and Japan. Yes, you're confronted with elitism and sexism, but you also develop a wonderful sense of irony and the black humor to deal with it," she observes while maneuvering the car into precisely the same position as the Targa her father posed with fifty-two years ago. While the photographer prepares for the shot she goes on, "My cultural background and my current responsibilities as a mother have opened my eyes to ways of helping brands both forge and uphold contact with their customers in a changing world."
Equal rights have always been a matter close to her heart. "The industry is still dominated by men and continues to search for a better balance," she observes. "I find this hard to understand—I was never too shy to compete with the big boys." She raced cars and is an amateur stunt driver. Many a client has experienced a memorable airport transfer with her as an exclusive chauffeur. "I've become more careful as a mother," she admits. "But I enjoy hearing my children call me the world's coolest mum!"
Mai Ikuzawa drives cars and motorcycles whenever the opportunity presents itself. "I talk, write, and dream about them." She is a sought-after speaker and a member of leading selection committees in the industry, in addition to initiating and hosting discussions on cars and design.
During her childhood she is not aware of her father's fame. Only as a teenager does she realize what a passionate race-car driver and pioneer he was. "It was phenomenal for a Japanese person to enjoy international racing success in the 1960s. The prejudices were even greater than today, and racing was much more dangerous. My father survived the most romantic and also most lethal era in motorsports with colleagues like Jackie Stewart, Emerson Fittipaldi, Graham Hill, and Jochen Rindt."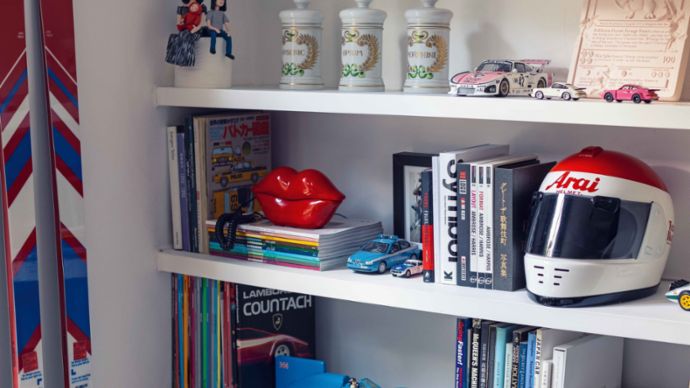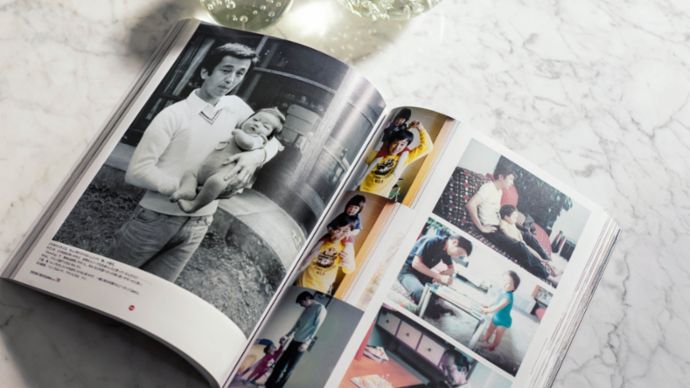 The COVID-19 pandemic interrupted her travels between London and Tokyo and reduced the level of visual contact. Tetsu Ikuzawa lives in a largely analogue world, so the two talk on the phone a lot and write letters. "It's been a while since my last evening meal with Papa in pajamas in front of the TV," she notes with regret. "If he were here he'd also get my kids' bikes back into shape," she says with a glance at her sons. Arto is ten years old and his brother Milo is two. "Arto thinks it's cool to have a grandpa like his, although his father's feats are no less interesting." Mai's husband Camille Jaccoux was a stunt double for James Bond actor Pierce Brosnan in The World Is Not Enough and was a member of the French World Cup ski team before he founded his own ski brand.
"The Ikuzawa name has opened doors for me, but the field of my business is highly competitive and dominated by men. I work hard," she adds with emphasis. And she has found her place in the dynamic environment of London. For nearly a decade she has made her home in the Battersea district. "It's a stimulating environment," she says. The neighborhood is also home to Vivienne Westwood and Lord Norman Foster. Not far away is the Thomas's Battersea School, attended by Prince George and Princess Charlotte, the great-grandchildren of Queen Elizabeth. Yet Mai Ikuzawa feels an analogous connection to the Japanese capital. "Tokyo will always be a part of me, and I'll be thrilled when we can finally go there again. Even though it'll mean having to wear all kinds of slippers again," she says with a smile. "My father has special slippers for every room. He is meticulous in his adherence to Japanese culture and especially so with respect to cleanliness and order."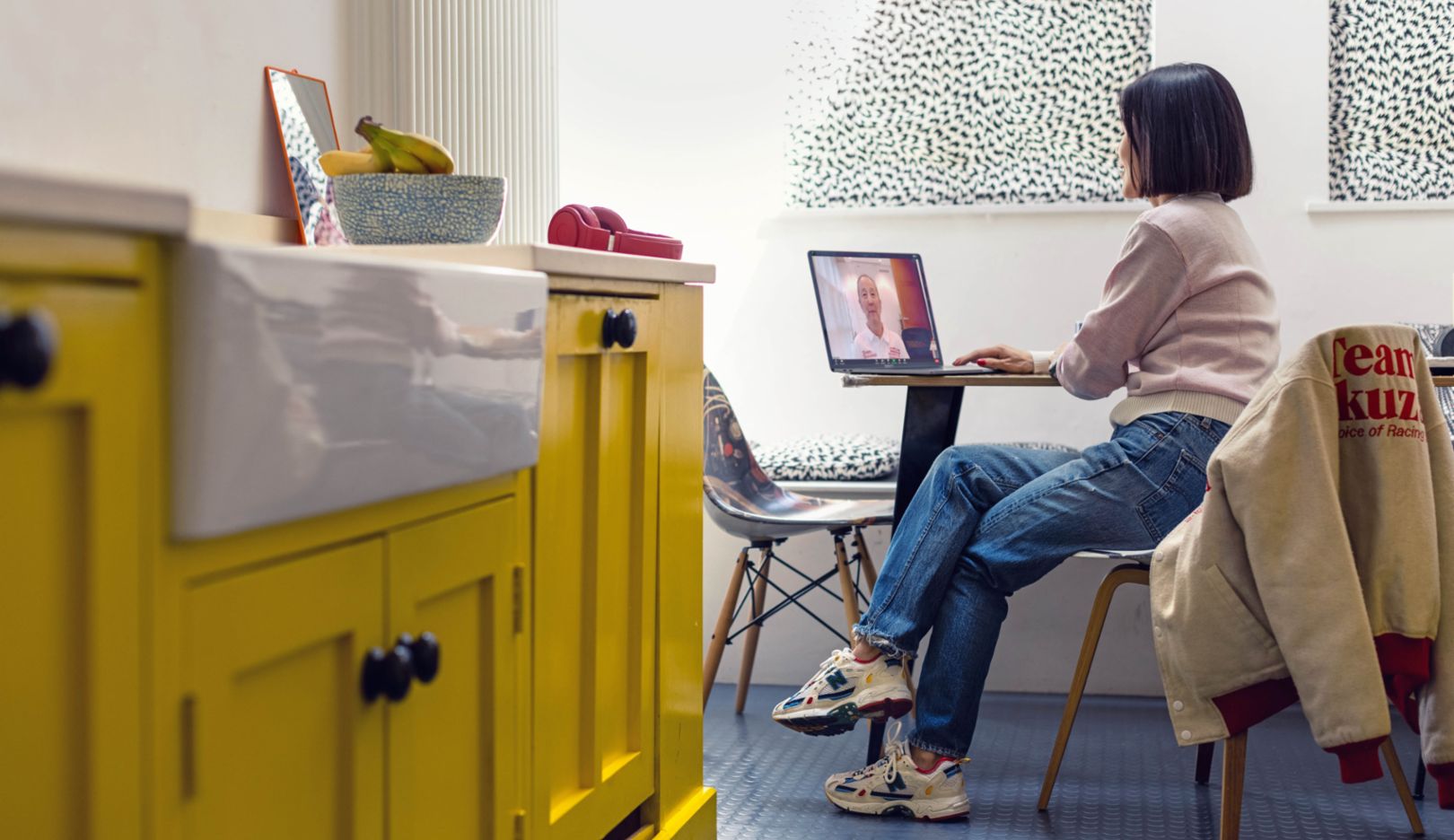 Back in her living room, Mai Ikuzawa unfolds her father's racing overalls. Her thoughts are a good 10,000 kilometers away. When Tetsu Ikuzawa, now seventy-nine, puts a jazz record on the player and Mai and her family can admire the latest additions to his archive, everyone will be reunited under the sign of the red-crowned crane. "I hope my dad and I will be able to enter another contest or rally with vintage Porsche vehicles—we want to be an inspiration to others." Mai Ikuzawa glances down at her ringing smartphone. "Oh, it's my father—it's like he's heard us talking."
Consumption data
Taycan GTS
WLTP*
0 g/km

23.3 – 20.4 kWh/100 km

439 – 502 km