The Formula of Speed
Porsche Central and Eastern Europe – Carrera Time Attack: What began as the brainchild of a Porsche enthusiast who was as passionate about motorsports as he was about physics now has many fans. Yurii Manoilo shows us how to bring the theory of speed to the road.
The number plate on Yurii Manoilo's Porsche Panamera bears the word Golova ("head" in Ukrainian), a nickname acquired for his quicksilver mind.
How can we go even faster on the track? Yurii not only practices a great deal, he also calculates vectors and trajectories using mathematical formulas. In 2018 he took his passion for racing to the next level, gathering Porsche enthusiasts and drivers eager to learn better what their cars can do on track. Today, about 30 Porsche sports cars participate in the Carrera Time Attack, with a fan base of around 5,000 enthusiasts.
Yurii was born in Mykolaiv, an industrial city in the south of Ukraine. At just five years old he sat on his father's lap behind the driving wheel for the first time. By the age of ten he could drive by himself. He also loved mathematics and physics from an early age and took a keen interest in the technical components of automobiles. Today he runs an IT company that develops AI technologies and works with clients from all over the world. Now he applies his passion for STEM disciplines to the racetrack. At first glance the two worlds seem unrelated, but in fact they have more in common than you might think.
"When I bought my first Porsche and started participating in amateur races, I immediately realized I needed to figure out how to drive fast and accurately. As both the car and track are physical objects, I could calculate the correct trajectory and time for braking or accelerating and the perfect racing line. If you know these parameters, you will understand how to improve your track performance. I took a sheet of paper and drew the line, and then put my calculations into practice."
For Yurii Manoilo, it's not only horsepower that counts, but also brainpower. And, of course, every second.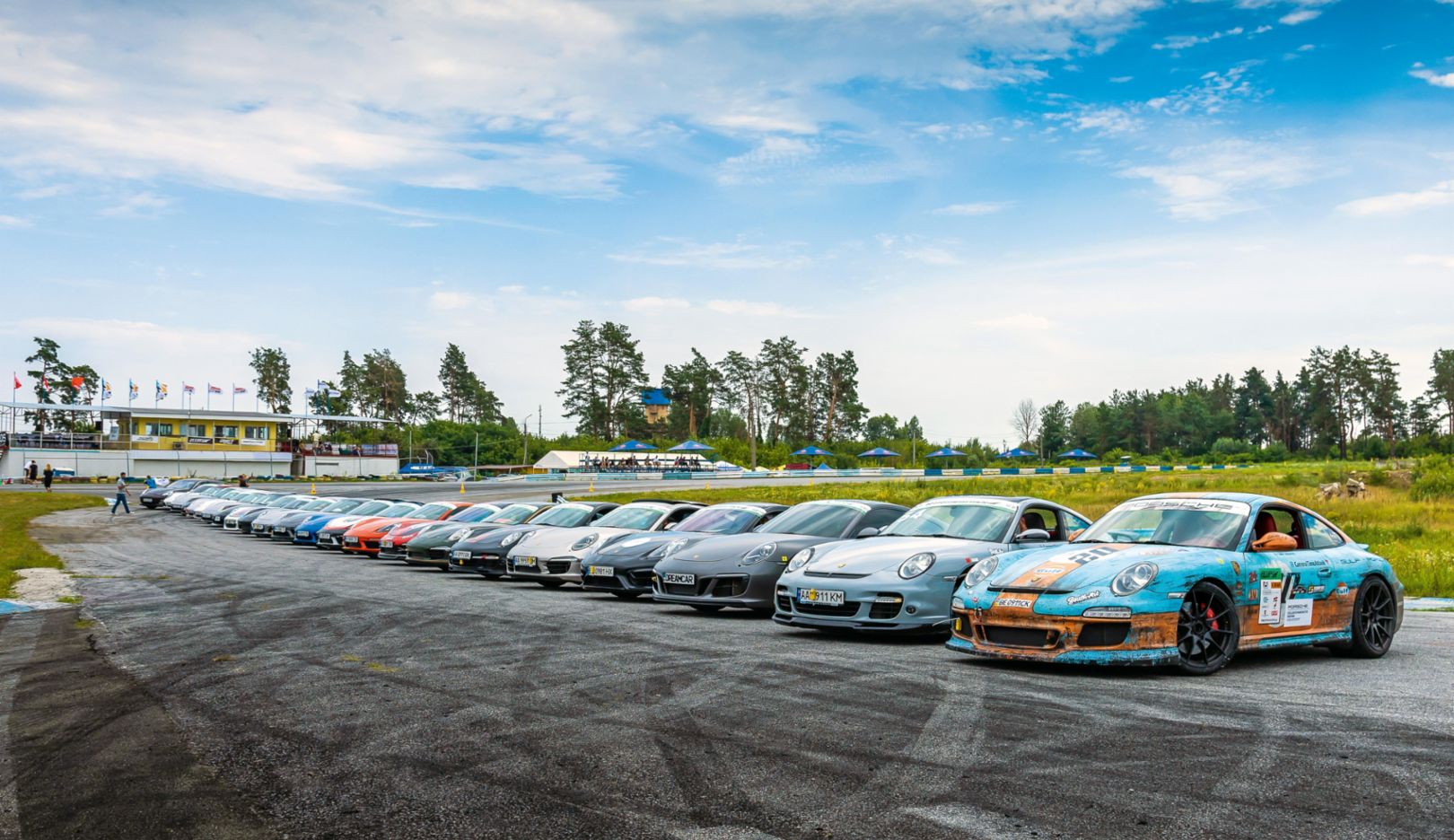 You just need a full tank and good tires
The Carrera is one of three national Time Attack series in Ukraine. When Yurii started training he was surprised that only a few Porsche drivers participated in official races, even though their cars are designed for track and don't require any preparation or enhancement. "You just need a full tank and good tires", says Yurii with a smile. That is all it takes for a Porsche. Knowing the advantages of a Porsche and driven by his passion, Yurii continues to pursue his dream of racing. In his dedication, more and more people were driven to join him or became naturally curious about racing. Over time more than 20 racing enthusiasts joined him.
Victory over time. Victory over self.
With no direct contact with other drivers, Carrera Time Attack is a competition against time and the driver's own skill. Participating sports cars may have different engines, tires and power, but the principle is simple: you know your previous result, and on the day of the race you just need to improve your own time and aim to set your own record. "When you rush across the racetrack a tenth of a second faster than before you feel incredibly inspired, because that's the moment when you transcend yourself. At least that's how I felt when I became a Time Attack winner for the first time. I realized I had surpassed my own result. And only afterwards I understood I had defeated other drivers", says Yurii.
But it's not just knowledge of physics and mathematics that helps drivers to win races. It's also the regular training. Theory is just the starting point. The question is then how to use this knowledge on the track. One driver excels at calculations; another has been driving since he was a child and feels the car with his entire body; and yet another is just more courageous and never brakes. "The Carrera Time Attack is first and foremost about people. You can't imagine growth and development of Porsche's racing culture in Ukraine without the active involvement of the car owners. It's the result of the contribution from each driver, organizer and partner", Yurii emphasizes.
Life is a constant racetrack where speed is combined with fearlessness, strategy and calculation. "We try to reach perfection by accelerating, braking, and finding the perfect racing line. We don't make fast drastic changes, but we do it gradually, step by step, so that we're still able to handle critical situations", Yurii says. "It's about keeping a cool head and not letting fear overwhelm you. The race teaches me to keep a balance on the track as well as in my private life. And racing has inspired me to change the culture of motorsports in Ukraine."
Developing Porsche's racing culture in Ukraine
Yurii is passionate about innovation and technology. He constantly strives to improve his knowledge within the sphere of his own business, but the Carrera Time Attack isn't just a hobby anymore—it's part of his life. "It's our task to create a proper racing culture in Ukraine", Yurii says. His long-term goal is to achieve an official license for the Porsche Cup in Ukraine, but fulfilling this dream requires time and more economic development in the country, and several more good quality racetracks. The first steps have already been taken with the Carrera Time Attack national series, with more and more Porsche owners participating in the races.
This is the stuff that dreams are made of. Races inspire generation after generation. They watch and hear the roaring of the engines and the screeching of tires, cheering on their fathers, brothers and friends or simply admiring the most beautiful cars, and begin to understand what victory is, both on the track and in everyday life. "Today we are shaping the values of a new generation of winners." Yurii sums it up: "This gives drivers and spectators a strong sense of self-belief and it shows that anything is possible."
Consumption data
Panamera
WLTP*
11.4 – 10.2 l/100 km

258 – 232 g/km
Taycan GTS
WLTP*
0 g/km

23.3 – 20.4 kWh/100 km

439 – 502 km