Discover the Unknown
Porsche Central and Eastern Europe – An epic adventure: The beauty, the people, the places and the unique spirit of Central and Eastern Europe: We set out on a journey to discover the unknown. Along for the ride: a bit of courage, a lot of curiosity, and the Porsche Taycan Turbo S.
New York? Everyone knows it, if only from countless films. London, Mallorca, Berlin or Tokyo? Great places, but somehow all seen and heard of a thousand times before. In the 21st century, a world that is getting smaller and smaller seems strangely familiar to us, even if not everyone has been everywhere. And yet there is a rather large white spot on the map in our minds: the region between Prague and Astana, between Latvia and Cyprus. A huge area full of surprises, unknown to many and more than worth seeing. But exploring this region with an ordinary car just wouldn't be the right thing to do.
So we saddled up 761 electric horses and just hit the road.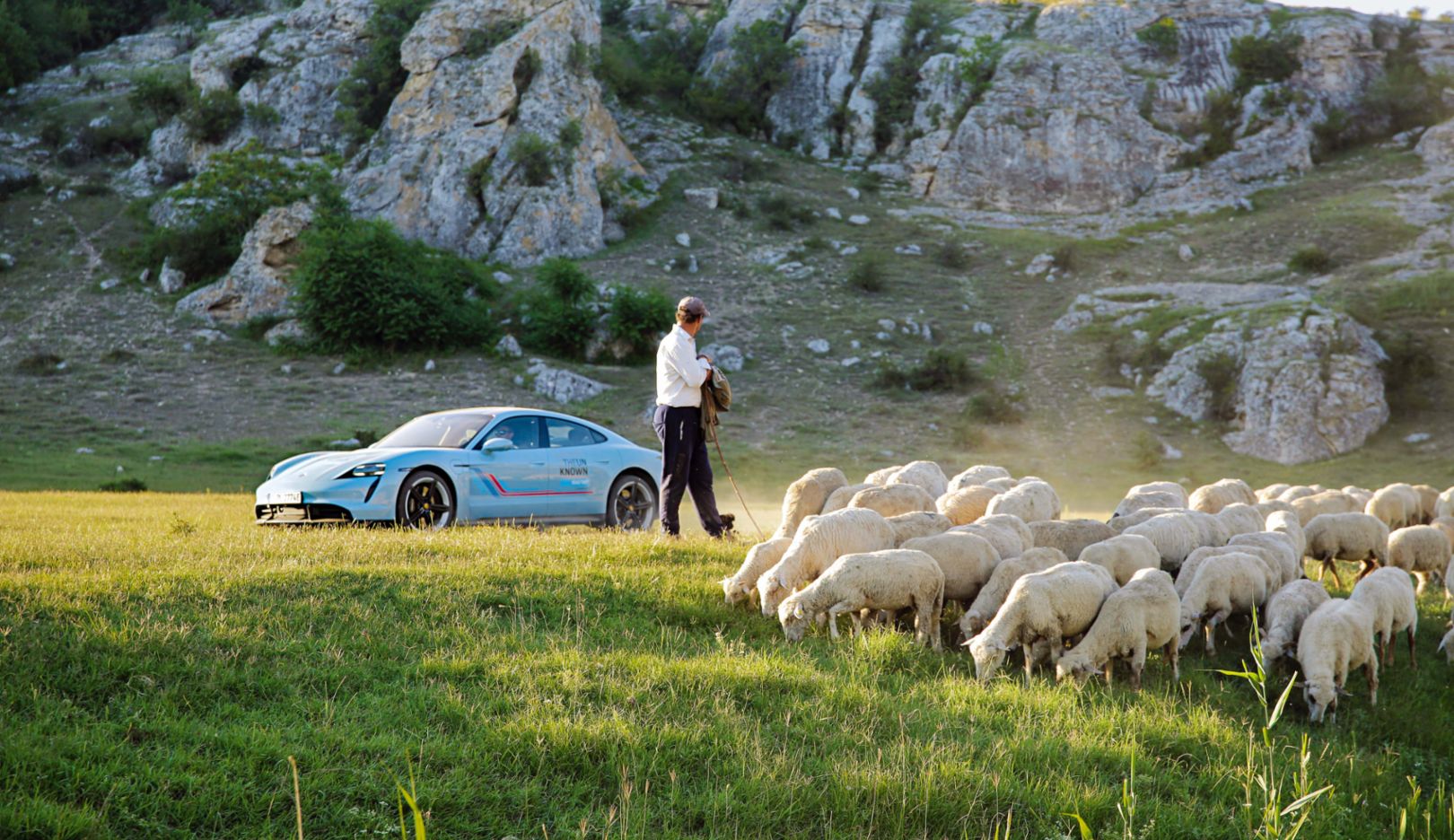 761 horsepower (Taycan Turbo S: electric power consumption* combined (WLTP) 25.6 – 24.3 kWh/100 km, CO₂ emissions combined (WLTP) 0 g/km, electric power consumption* combined (NEDC) 28.5 kWh/100 km, CO₂ emissions combined (NEDC) 0 g/km), 1,050 Newton meters of torque, 2.8 seconds from 0 to 100, one question: what happens when you take a brand-new electric supercar and use it to discover the secrets of a region that only causes many to shrug their shoulders? Spoiler: a whole lot. Under the motto "Discover the Unknown" we set out to explore the world beyond Central Park and the Eiffel Tower, to experience people, places and things that deserve to be discovered. And, along the way, to take a test drive of a different kind, with the Taycan Turbo S, which is as new and unknown to the local people and roads as the region is to most of us.
Where the streets have strange names
Transfăgărășan. What is a nightmare when it comes to pronouncing or writing it correctly is a dream when it comes to experiencing it. The Transfăgărășan is perhaps one of the most exciting roads in the world. And—who would have thought it—it is located in the middle of Romania, in the Transylvanian Alps (hand on heart: did you know that the Transylvanian Alps exist? You may as well say "Southern Carpathians").
So the first leg of our journey, Romania, awaits us right away with a real and unforgettable highlight. Until 1970, the Transfagaras High Road was nothing more than a simple forest road. Just four and a half years later, it was a sensation, or as Jeremy Clarkson of the legendary car show Top Gear called it, "the most beautiful road in the world." Lucky are those with the right car to enjoy it. We had two of them at once: the new Taycan Turbo S and a 911 Carrera 2.7. It was fun with both, although "fun" is clearly too small a word.
A legend collecting legends
While we're in Romania, we can't help but stop to visit Ion Țiriac. He is not exactly "unknown," but he is irresistible. The famous tennis player, manager and businessman loves to share our passion for beautiful, fast cars—and his collection. The Țiriac Collection contains countless legendary automotive sights, from Porsche diesel tractors to strictly limited supercars. However, a visit to perhaps the most famous of all Romanians suddenly and unexpectedly calls into question our entire plan, our entire road trip through Central and Eastern Europe. Because the friendly Mr. Țiriac likes our Taycan. Very much. We see ourselves taking the rest of the tour by bus and train and wonder if it will still be the same, but we are lucky. He lets himself be put off and we are "allowed" to continue.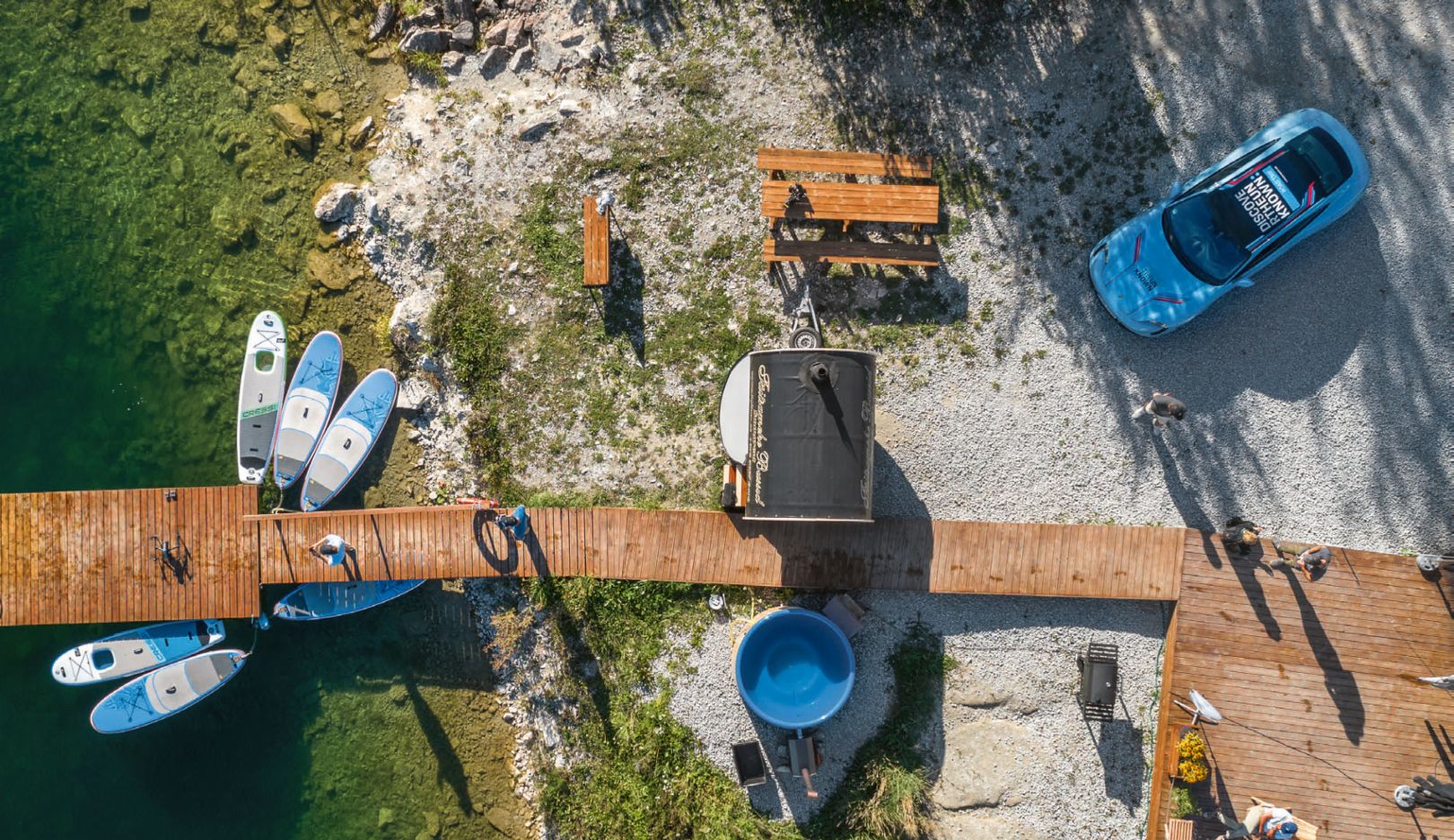 Waterworld
We drive on. In the Danube Delta Biosphere Reserve, we feel particularly comfortable with the Taycan in a completely different way: we glide almost silently through an enchanting world of water, without startling the countless pelicans and other water birds. The region's biodiversity is breathtaking; so far, some 5,200 animal and plant species have been catalogued here. In stretches of completely untouched nature there are certainly still some unknown things to discover, but since we are not biologists, we simply enjoy the picturesque scenery with its countless channels, lagoons and river arms.
Next stop: the unknown land of wine
Not France, not Italy. Nor New Zealand or South Africa. Hungary is our next destination, and what we find there is quite confidently described here and there as the future of wine. Innovative winemakers and ancient vineyards, rare grape varieties and devoted love for the grape characterize a country known to us so far mainly for its sunny climate and complicated language.
Have you ever heard of Olaszrizling, Hárslevelű, Furmint or Kékfrankos? No? Neither have we. But we have tasted them. In Hungary, grape varieties not only have their own names and their own characters, some of them exist almost only here, between Slovenia and Ukraine, Slovakia and Serbia. Furmint, for example. Nobody knows exactly where it comes from, one of the many legends says that it was brought to the country by Italian immigrants in the 13th century. Others believe that the Venetian princess Aurora Formentini brought it to Hungary as a wedding gift in the 17th century. As I said, no one knows for sure today. In any case, one thing is certain: the white wine grape is suitable only for the best sites and is the starting point for a white wine that you have probably heard of, but not necessarily the right image—Tokay. This wine, known beyond the borders of Hungary, has had an ambivalent history. Once a rather mass-produced, medium-sweet wine of sometimes questionable quality, today, carefully harvested and pressed with great expertise, the grape produces powerful white wines of excellent quality.
So, if you formed a judgment about Hungarian wines a long time ago, perhaps you should put it to the test again.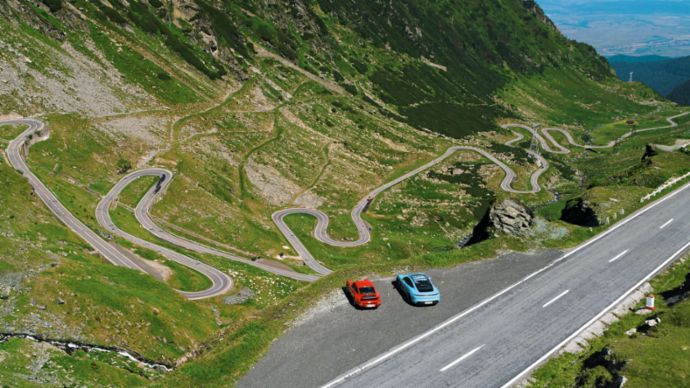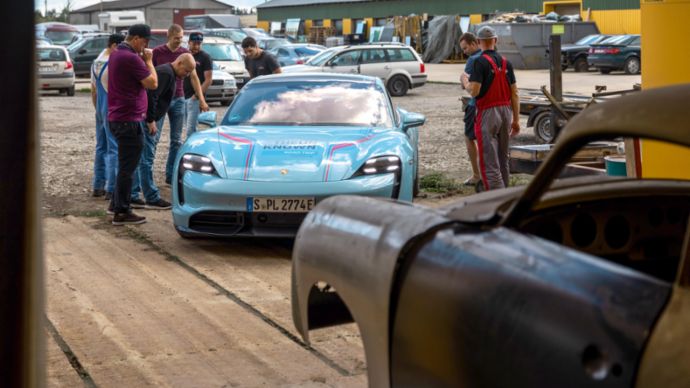 One can argue it's a road trip. Or perhaps an extended test drive. But in essence, it's an epic adventure.
Proof that heavy metal is art
Leaving the picturesque vineyards and passionate winemakers, we meet an artist who made a name for himself with huge metal animal sculptures. Admittedly a difficult name to pronounce, but Gábor Miklós Szőke's works speak for themselves. Inspired by his Doberman Dante, he creates almost frighteningly large and fantastic works. Although the artist is not yet 40 years old, you can admire around a hundred of his installations. In Washington D.C., Gstaad, Milan, Rome, Munich, Vienna, Moscow, Nizhny Novgorod, Zagreb, Samorin, Oradea, Budapest and many other cities worldwide. Or, a bit easier, on the Internet at gabormiklosszoke.com. Of course, we would recommend Budapest. And while you're there, take a trip to the region's impressive wineries.
Driving E through E-Estonia
Would you have known that there are over 2,000 islands in Estonia? Frankly, we didn't either—and most of them are quite small. But many are full of charm and historical sites. However, because we still don't travel by boat, but by Taycan Turbo S, we prefer to stay on the mainland. And the mainland also has a lot to offer. In the very north of the Baltic, we find an old and rich culture—and a remarkably digitized society at the same time. Enthusiasm for all things digital and connected has earned Estonia a top spot in digitization. And even a nickname of sorts: E-Estonia. Currently, for example, the country is working on its own digital currency. An ambitious project for a country with a population of just 1.3 million. But speaking of ambitious: We really need to get on the race track at long last. And show the car-loving Estonians what an electric car can do. So off we go to the Audru Ring on the west coast of Estonia.
Races have been held here since the 1930s, and after several rebuilds, Formula One almost made its first guest appearance in the Eastern Bloc here—in the 1980s. Anyway, history abounds here and we are happy to have the future with us. And since, as said, the Estonians are extremely open-minded about new technology, we're not the only ones who enjoy putting the Taycan through its paces on the racetrack. Later, we enjoy the sunset before stopping off in the capital Tallinn and continuing our way through endless forests to Tartu. Here we find real Porsche enthusiasts in Urban's Garage, who are mainly dedicated to the Porsche 356 and restore these classic roadsters with great expertise and passion. Amazing what you can discover when you just set out on a road trip.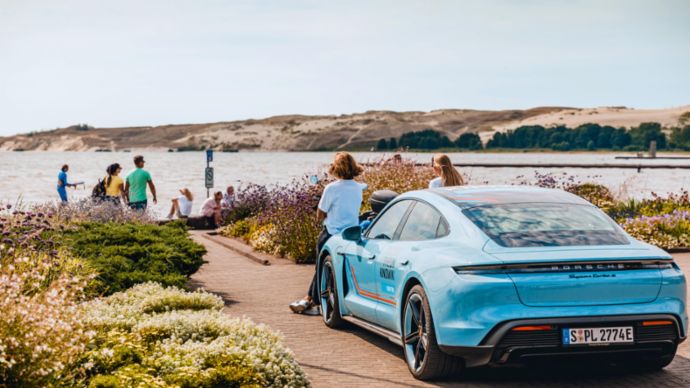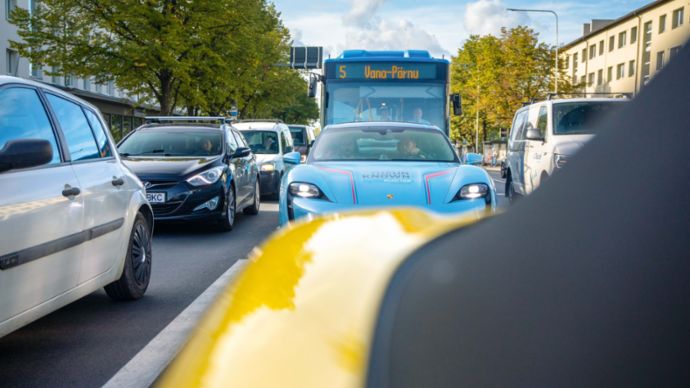 The beauty of the Baltics:
Digitalized, electrified and simply serene. Taking an electric supercar to the beach or into the traffic even turns the mundane into an experience.
We have just started
Romania, Hungary and Estonia are not the end, but the beginning of our journey with the all-electric Taycan Turbo S through Central and Eastern Europe. The next destinations on our tour: Latvia, Lithuania, the Czech Republic, Poland, Macedonia, Bulgaria and Greece. What will we experience there and where will our journey into the unknown take us afterwards? Stay tuned and follow us. We are already driving ahead.
"As our journey through our region continues, we are excited to share our most incredible experiences from the steering wheel of the Porsche Taycan Turbo S. For us, it is more than a distant observation that we are bringing to the world. It is a mind-opening glimpse into cultures and countries, for many people still unknown," said Michael Müller, Managing Director for Porsche Central and Eastern Europe.
Consumption data
Taycan Turbo S
WLTP*
25.6 – 24.3 kWh/100 km

0 g/km

390 – 416 km