Another epic season in the making
Porsche Great Britain: With some ultra-rapid drivers returning to the fray aiming to seize the silverware, and new guns signing up and eager to make their mark, the 16-race 2019 Porsche Carrera Cup GB is sure to provide some fearsome competition.
Porsche Carrera Cup GB
With over 300 races since its inception in 2003, the Porsche Carrera Cup GB powers into its 17th season in 2019 with all the ingredients to make it a true classic.
The championship has been a part of the TOCA package alongside the British Touring Car Championship (BTCC) since it was founded. That relationship continues for 2019, and will be supplemented by a meeting in support of the World Endurance Championship (WEC) at Silverstone. The WEC round provides a world-class stage for drivers to showcase their talents on the full Grand Prix circuit.
Across eight weekends and 16 rounds, the Porsche Carrera Cup GB 'class of 2019' will battle it out to become the championship's next stand-out driving talent. At just 18 years of age, Porsche GB 2018/19 Junior Dan Harper (driving for the JTR team) is aiming to replicate the success of team mentor Nick Tandy and former driver champions Charlie Eastwood, Dan Cammish and Ben Barker.
Time to make a mark
In 2019 Harper enters his second season of Porsche Carrera Cup GB racing in the top Pro category, his sole goal being outright title glory. The young Ulsterman, who continues to juggle schoolwork with his ongoing racing commitments, made a huge splash in the Carrera Cup GB during his rookie year in 2018. Harper's blistering pace and incisive, exciting overtaking moves marked him out as a crowd favourite as he accrued race wins, pole positions and fastest laps. With a year of Porsche racing experience under his belt, he is in determined mood ahead of the 2019 season.
'It's going to be tough as there are some great drivers coming back and new ones coming in.' Dan Harper
'I had a great season last year with two wins, the most fastest laps, and the most pole positions. This is my second season in the championship so it's the year to make my point, but it's going to be tough as there are some great drivers coming back and new ones coming in,' Harper comments. 'I'm looking forward to racing on the Silverstone GP circuit in support of the WEC. It's a great series to be running alongside and the pinnacle of GT racing – it's where I aim to reach in a few years. I can't wait to get on track...'
New partnerships power up
Junior Harper will not have it easy in 2019, though. A number of equally hungry drivers will be chasing hard, seeking greatness. Amongst them will be 2018 Rookie champion George Gamble and his team-mate, 2018 Pro-Am category champion Seb Perez. Both switch to Carrera Cup GB stalwart Redline Racing for the coming season as they mount Pro category title challenges.
Also switching teams for the coming season is 2018 frontrunner Lewis Plato. The Essex-based returnee moves to the experienced Motorbase Performance team, and will want to stamp his authority on the 2019 season as early as possible. However, all the established drivers will have to triumph over the championship's exciting newcomers.
'The Porsche Carrera Cup GB is my biggest challenge yet. If I can be the best new guy I'll be happy.' Tom Roche
Two drivers graduate to Porsche racing from other series within the TOCA package: Jack McCarthy steps up from the Renault UK Clio Cup Championship, while Tom Roche progresses from the Ginetta GT4 Supercup. Roche enters with newcomers Rob Boston Racing, a well respected team.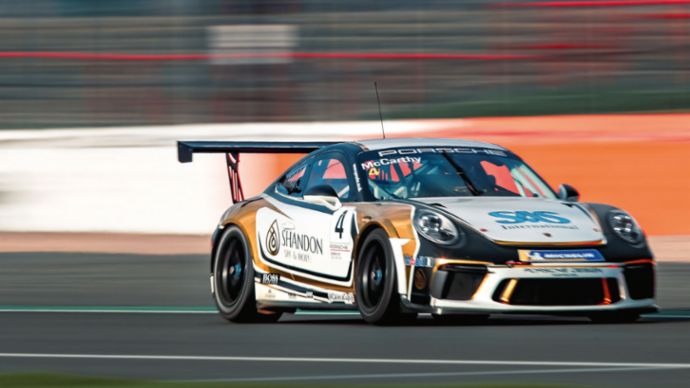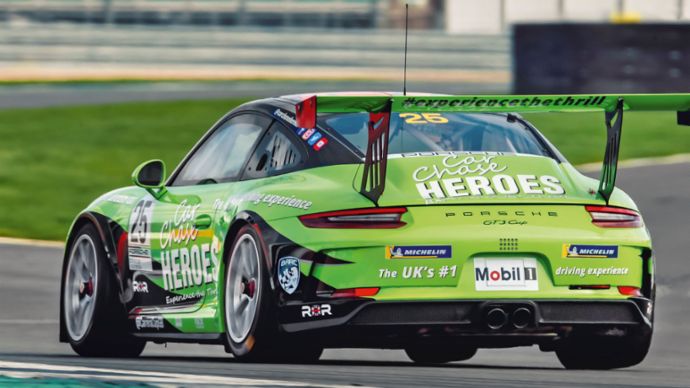 'I started in karting, I was on the TOCA package last year with Ginetta, but the Porsche Carrera Cup GB is my biggest challenge yet – there's lots to learn,' admits Roche. 'I want to be top Rookie. The existing drivers are going to be tough to beat, but if I can be the best new guy then I'll be happy.'
No easy rides
The Pro-Am category also features an interesting mix of returnees and fresh faces. JTR's Jamie Orton was a race-winner and title contender in 2018, as was Dan Vaughan (Motorbase Performance), and both will be aiming for category glory in 2019 – but neither will have an easy ride. Established podium finisher Esmee Hawkey (GT Marques) and aforementioned newcomer Jack McCarthy (Redline Racing) will also want to make an impression on the category.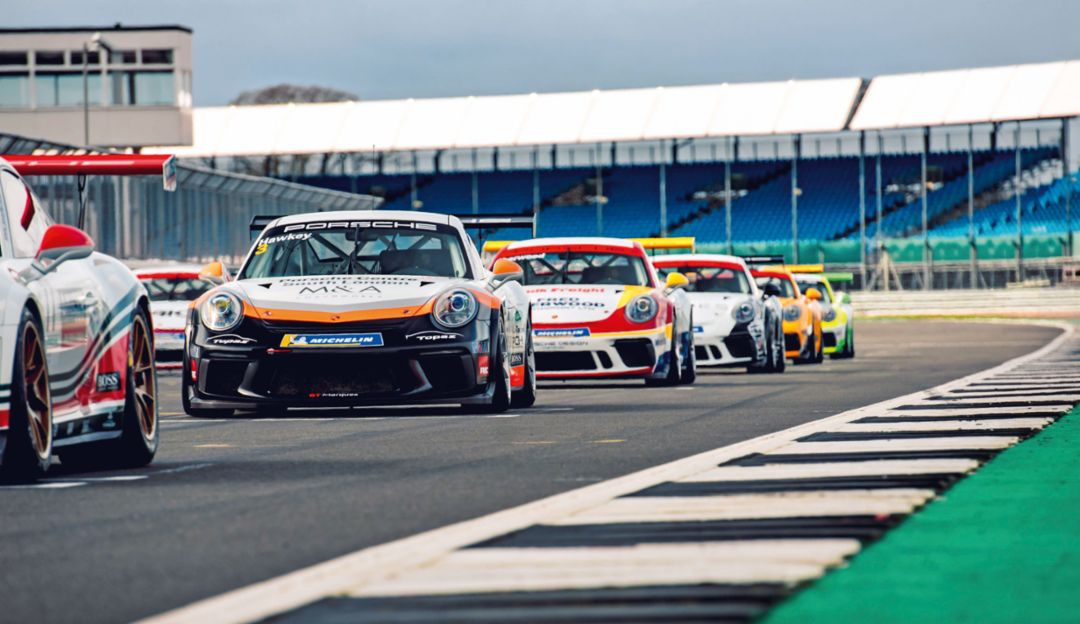 Similarly, the Am category looks set to deliver another thrilling battle. Throughout 2018. Peter Mangion (Team Parker Racing) and Peter Kyle-Henney (IN2 Racing) were virtually inseparable out on the track, Mangion ultimately taking top category championship honours as the rivals shared multiple victories. This fierce duel will recommence in 2019, and for Kyle-Henney nothing less than finishing ahead of his closely matched rival will satisfy.
The season's opening round in early April is the first of two visits to the world-renowned Brands Hatch racetrack in Kent – a venue which always guarantees dramatic racing action. Two other circuits that are famous for close racing, Donington Park in Leicestershire and Oulton Park in Cheshire, return to the calendar, alongside two new additions for 2019: Croft in North Yorkshire and Thruxton in Hampshire – one of the fastest circuits in the UK.
Both additions are firm favourites with a number of Porsche Carrera Cup GB drivers, but the buzz in the paddock is undoubtedly centred around Rounds 11 and 12, which are running in support of the WEC.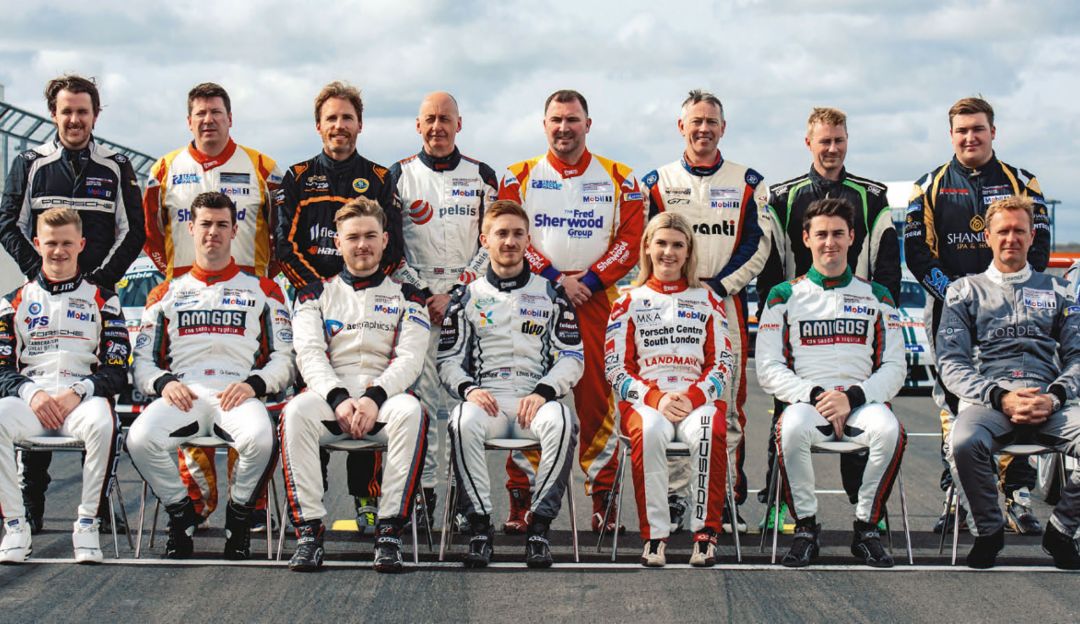 Breathtaking spectacle
At what will be a crucial stage of the 2019 championship season, spectators around Silverstone's full Grand Prix track (and those watching from home) will undoubtedly witness the kind of spectacular show that has established the Porsche Carrera Cup GB as an unequivocal favourite among motorsport enthusiasts. And, as history demonstrates, drivers who conquer the Carrera Cup GB often progress quickly to international stardom. For 2019's hopefuls, 16 hard-fought races stand in their path – don't miss any of the action.
2019 Carrera Cup GB Calendar
Brands Hatch (Indy): Rounds 1 & 2 (5-7 April)
Donington Park: Rounds 3 & 4 (25-28 April)
Croft: Rounds 5 & 6 (14-16 June)
Oulton Park: Rounds 7 & 8 (28-30 June)
Thruxton: Rounds 9 & 10 (16-18 August)
Silverstone (Grand Prix): Rounds 11 & 12 (30 August-1 September)
Silverstone (National): Rounds 13 & 14 (27-29 September)
Brands Hatch (Grand Prix): Rounds 15 & 16 (11-13 October)
Further information
To explore all Porsche motorsport activities visit porsche.com/uk