Showroom: 718 Spyder RS
The new super sports car of the 718 model series presents its strengths. Highlight: the removable lightweight soft top.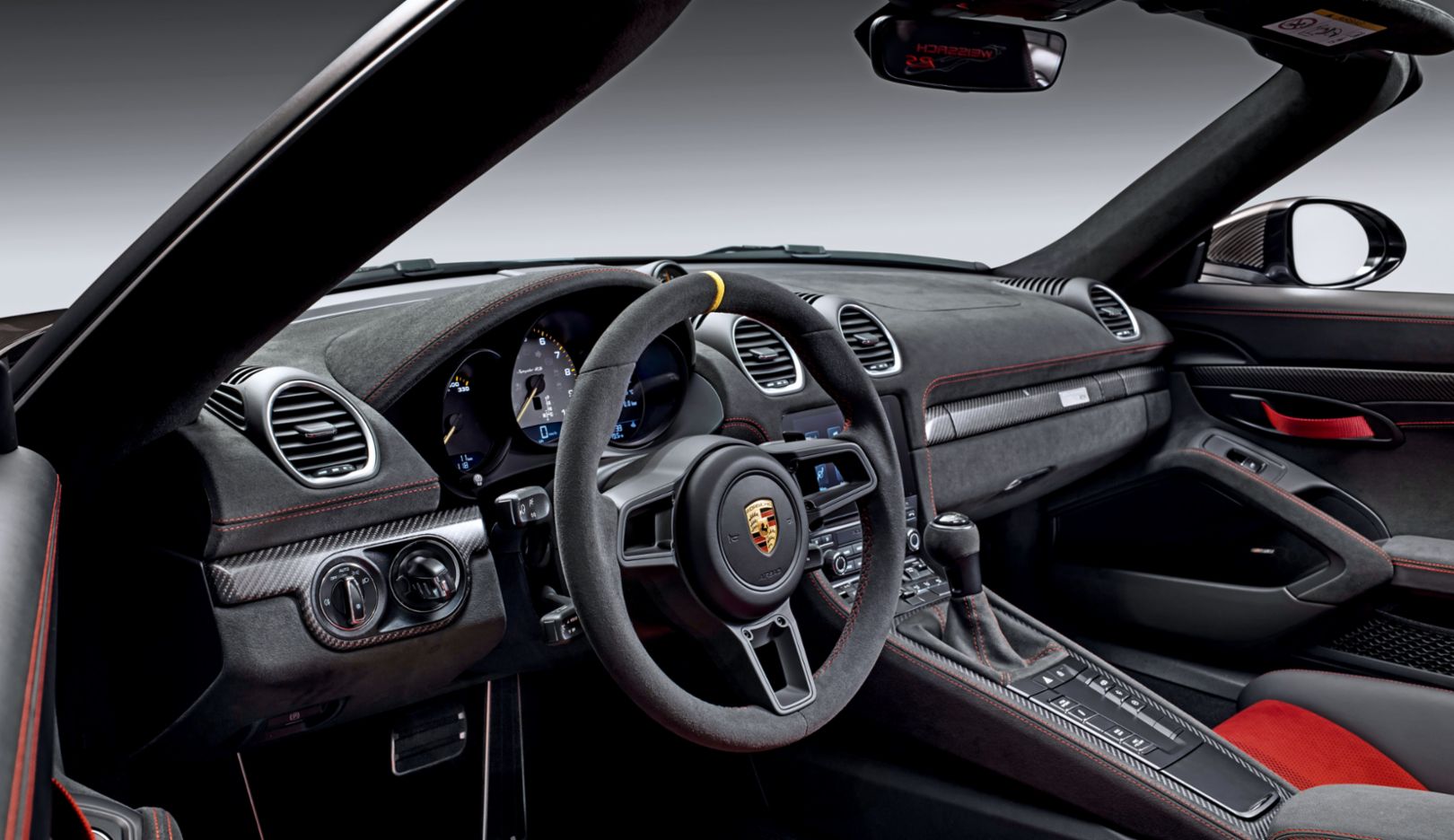 High-End Purist
Lightweight and pleasant to the touch: The functional, ergonomic interior of the new 718 Spyder RS is reduced to the essentials. Full bucket seats made from light CFRP in exposed carbon fiber cradle the driver and codriver, offering optimal side support and a very low weight. The interior features Race-Tex on the center panels and the rim of the RS sports steering wheel, as well as lightweight door panels and PDK shift paddles, which reliably register each shift change.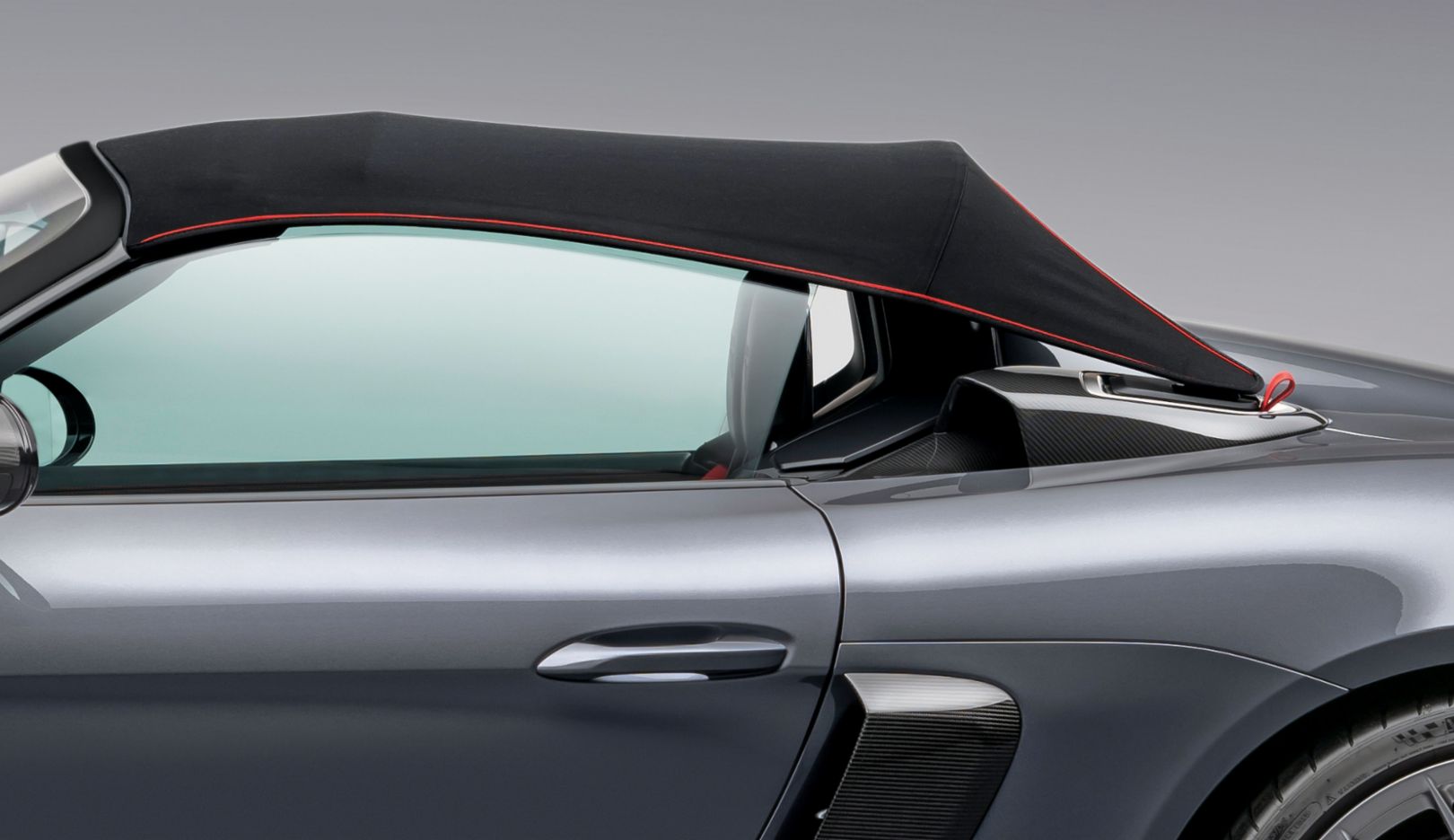 Air-Based Propulsion
Performance in every detail: The more air the 4.0-liter naturally aspirated boxer engine (718 Spyder RS: Fuel consumption* combined (WLTP) 13.0 l/100 km, CO₂ emissions* combined (WLTP) 294 g/km) receives, the more performance it delivers. Located behind the driver and codriver, the intakes made from CFRP ensure a sufficient supply of process air, with a welcome secondary effect: the process generates a sound experience like no other.
Reduction as Progress
Lightweight design: The manually operated lightweight top crowning the 718 Spyder RS weighs just 18.3 kilograms, including the mechanics, making it 16.5 kilograms lighter than that of the 718 Boxster. It consists of two parts: a sunshade and a weather protector. It is completely removable and can be stowed away in the vehicle. Or you can simply leave it at home – that way, the weight can be reduced by a further eight kilograms.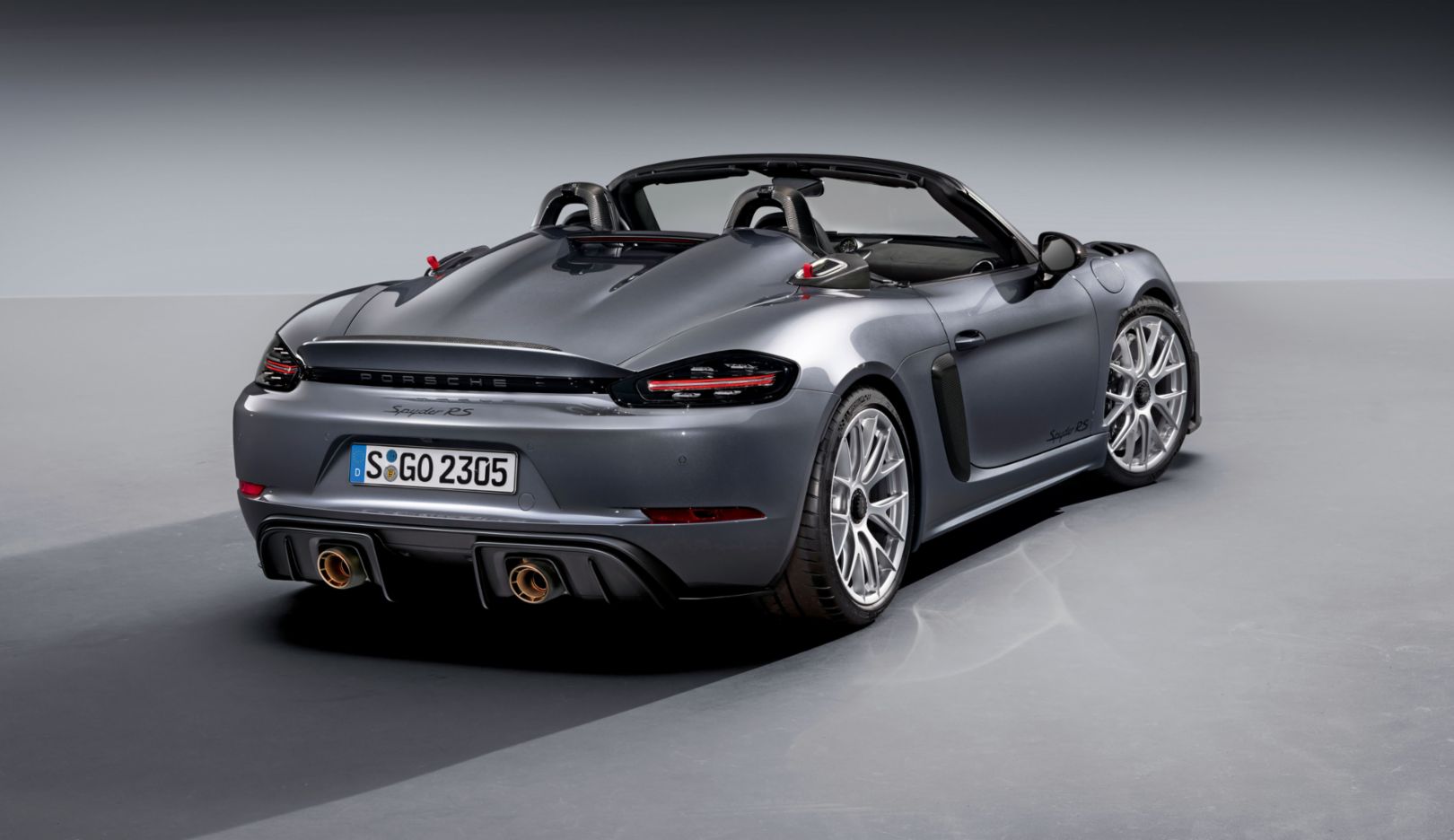 Idea Preserver
Promised performance: For the first time, the naturally aspirated six-cylinder boxer engine of the 911 GT3 (911 GT3: Fuel consumption* combined (WLTP) 13.0 – 12.9 l/100 km, CO₂ emissions* combined (WLTP) 294 – 293 g/km) is used in an open mid‑engine sports car. This has 368 kW (500 PS), a maximum torque of 450 Nm and takes the roadster to 100 kmh within 3.4 seconds. The top speed is 308 kmh – with the top down.
Curve Artist
Racing genes: At the rear, the 718 Spyder RS has a strikingly shaped spoiler that resembles the ducktail. The chassis is tuned for maximum driving pleasure on winding roads. Standard features include Porsche Active Suspension Management (PASM) with sport tuning and lowering by 30 millimeters. The result: razor-sharp steering precision, agile handling, and neutral drive behavior.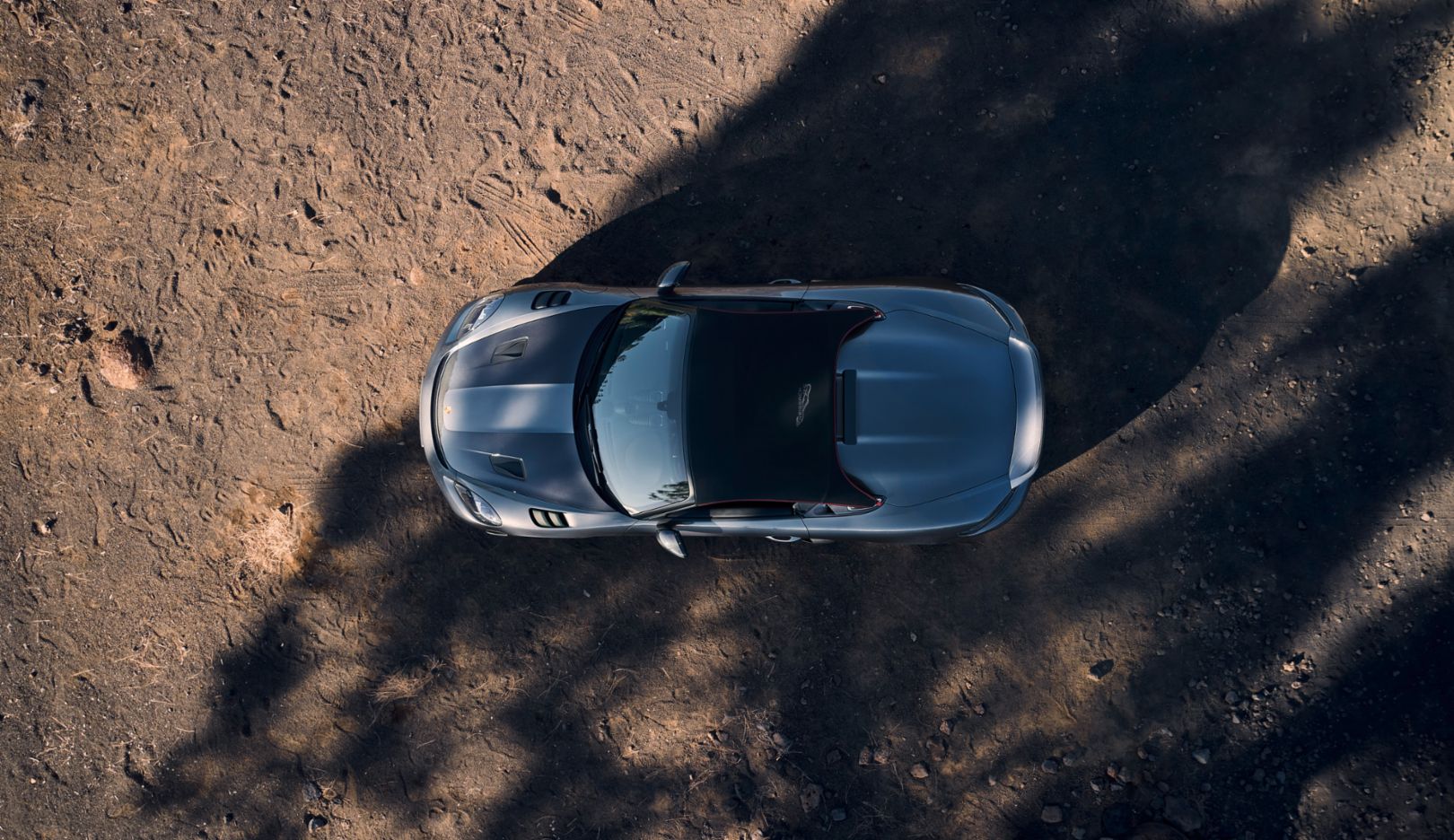 Premiere: the 718 Spyder RS at the photo shoot in Tenerife. 718 Spyder RS: Fuel consumption* combined (WLTP) 13.0 l/100 km, CO₂ emissions* combined (WLTP) 294 g/km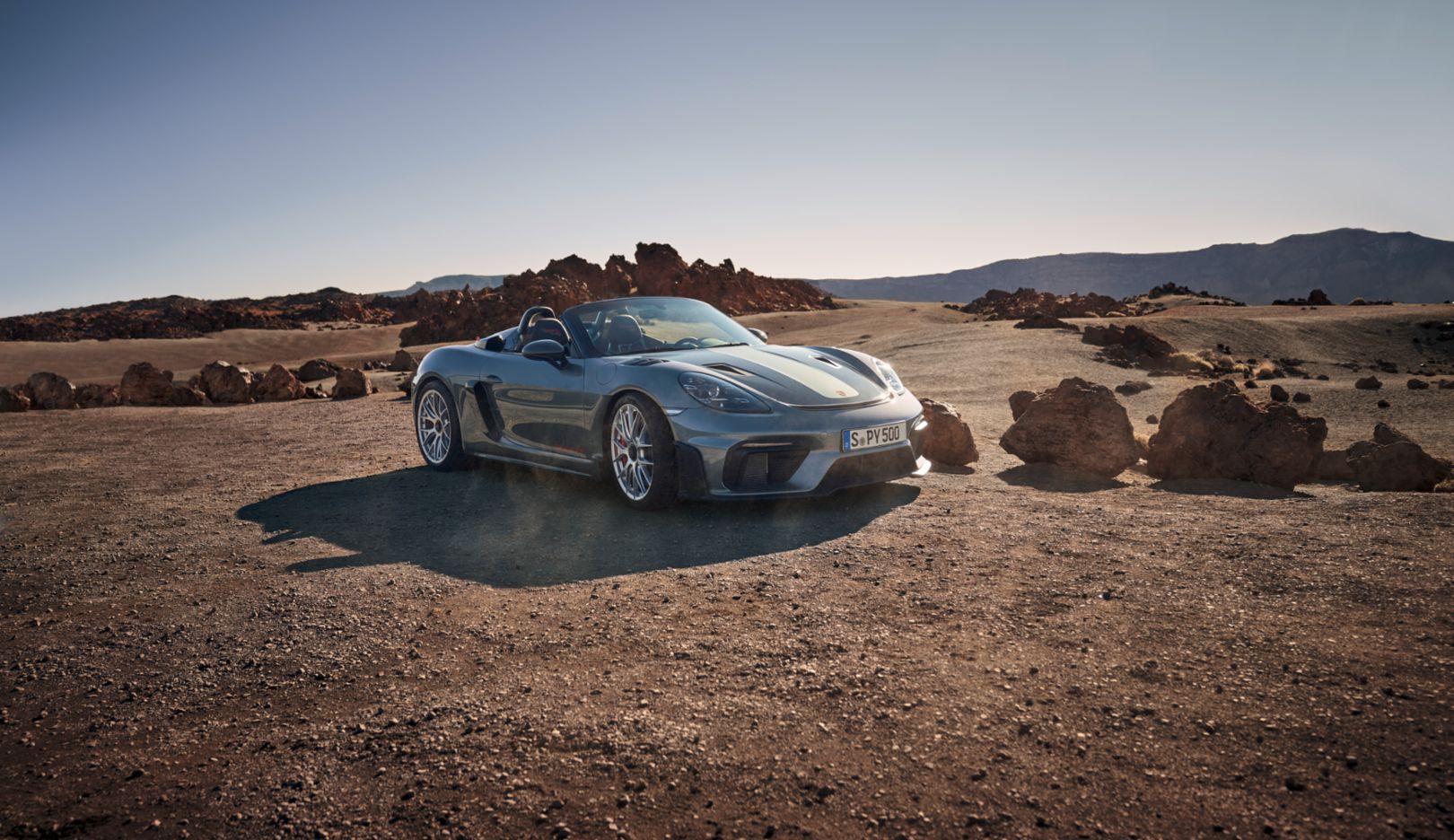 The mid-engine mounted roadster accelerates from 0 to 60 mph in 3.4 seconds. 718 Spyder RS: Fuel consumption* combined (WLTP) 13.0 l/100 km, CO₂ emissions* combined (WLTP) 294 g/km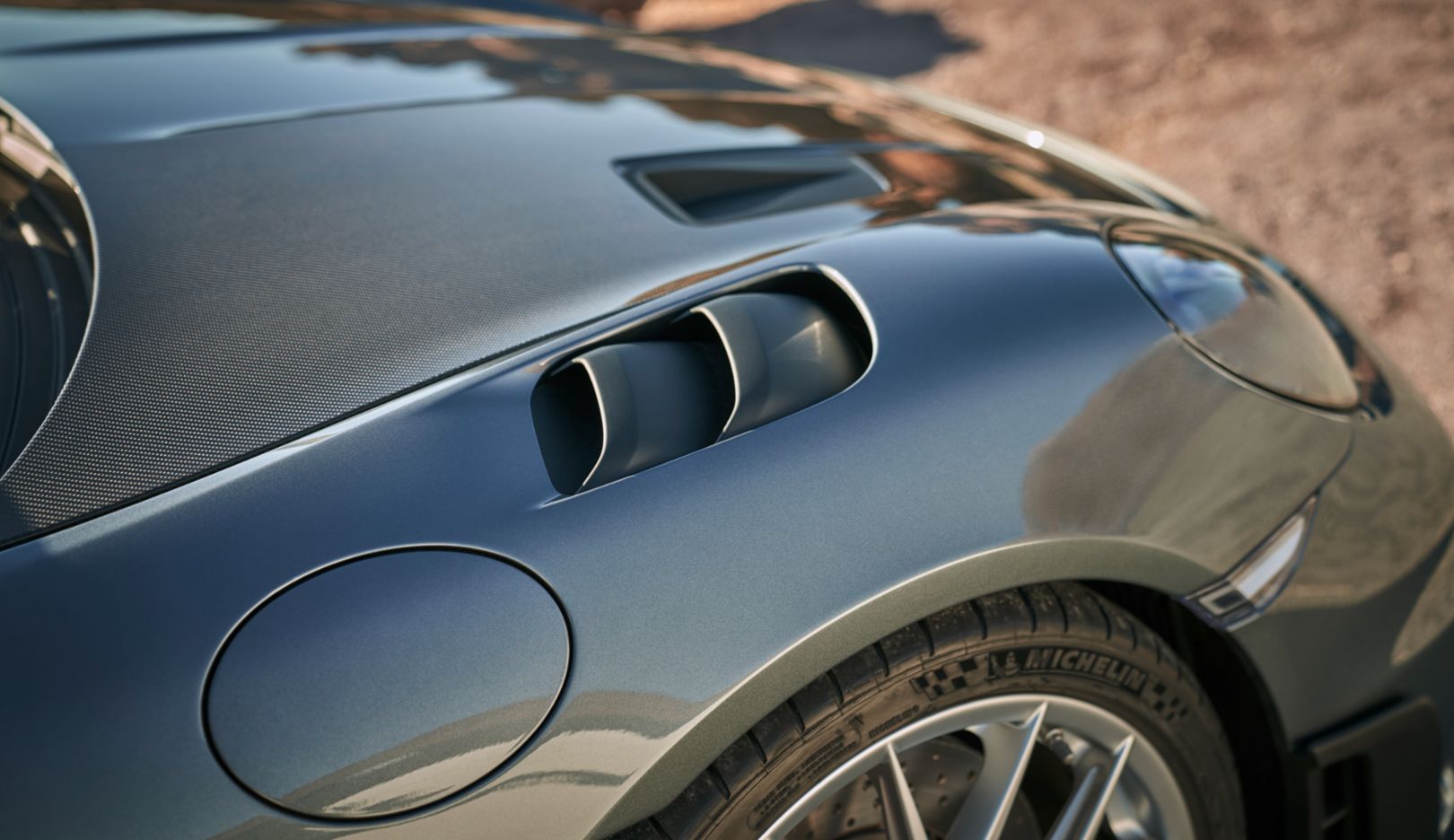 Incredible sound: the 4.0-liter six-cylinder boxer high-rev naturally aspirated engine was derived from the 911 GT3. 718 Spyder RS: Fuel consumption* combined (WLTP) 13.0 l/100 km, CO₂ emissions* combined (WLTP) 294 g/km
911 GT3: Fuel consumption* combined (WLTP) 13.0 – 12.9 l/100 km, CO₂ emissions* combined (WLTP) 294 – 293 g/km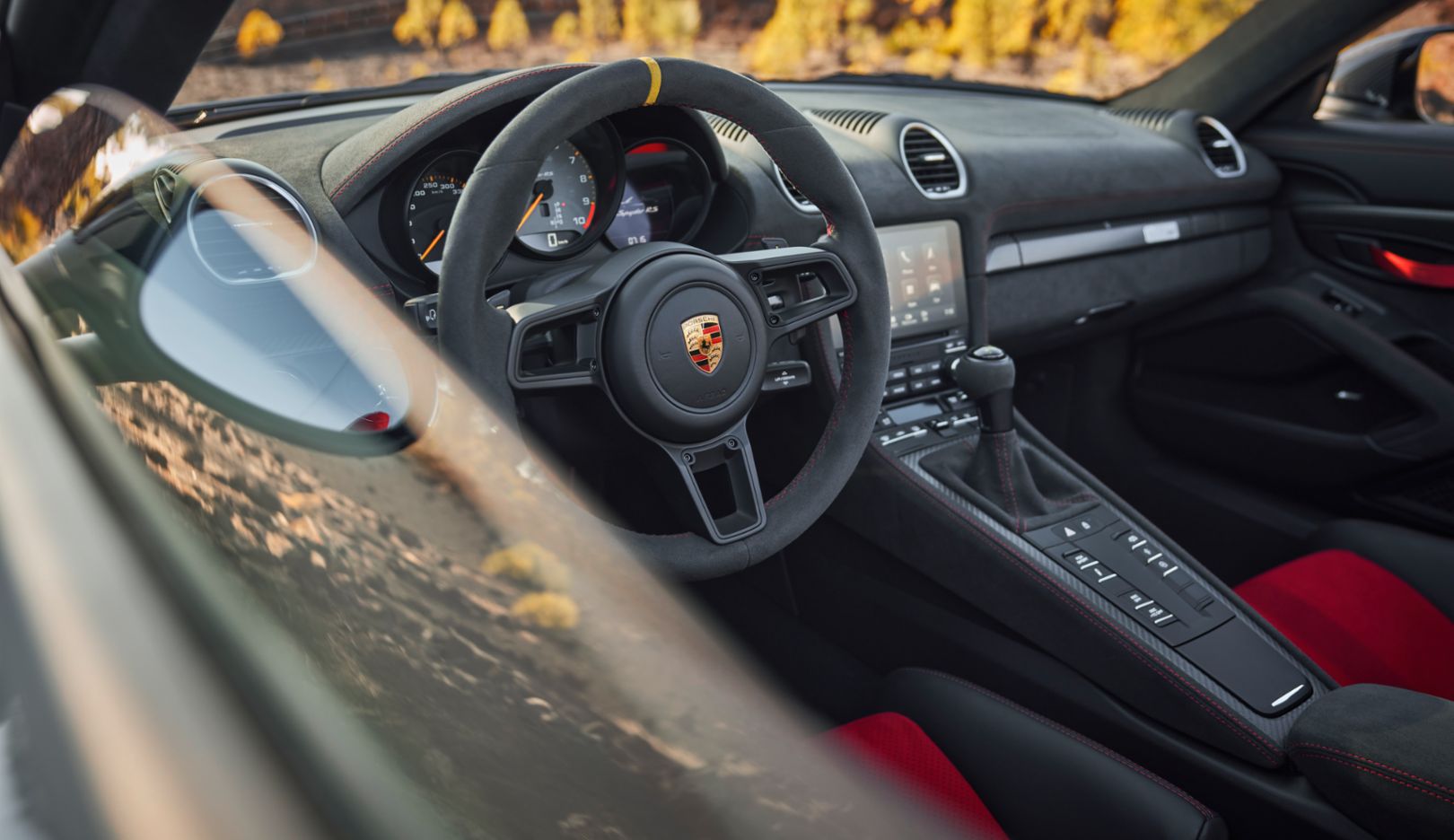 Open-top driving fun with a motorsport character: the steering wheel typical of the 718 Spyder RS comes with a marking at 12 o'clock. 718 Spyder RS: Fuel consumption* combined (WLTP) 13.0 l/100 km, CO₂ emissions* combined (WLTP) 294 g/km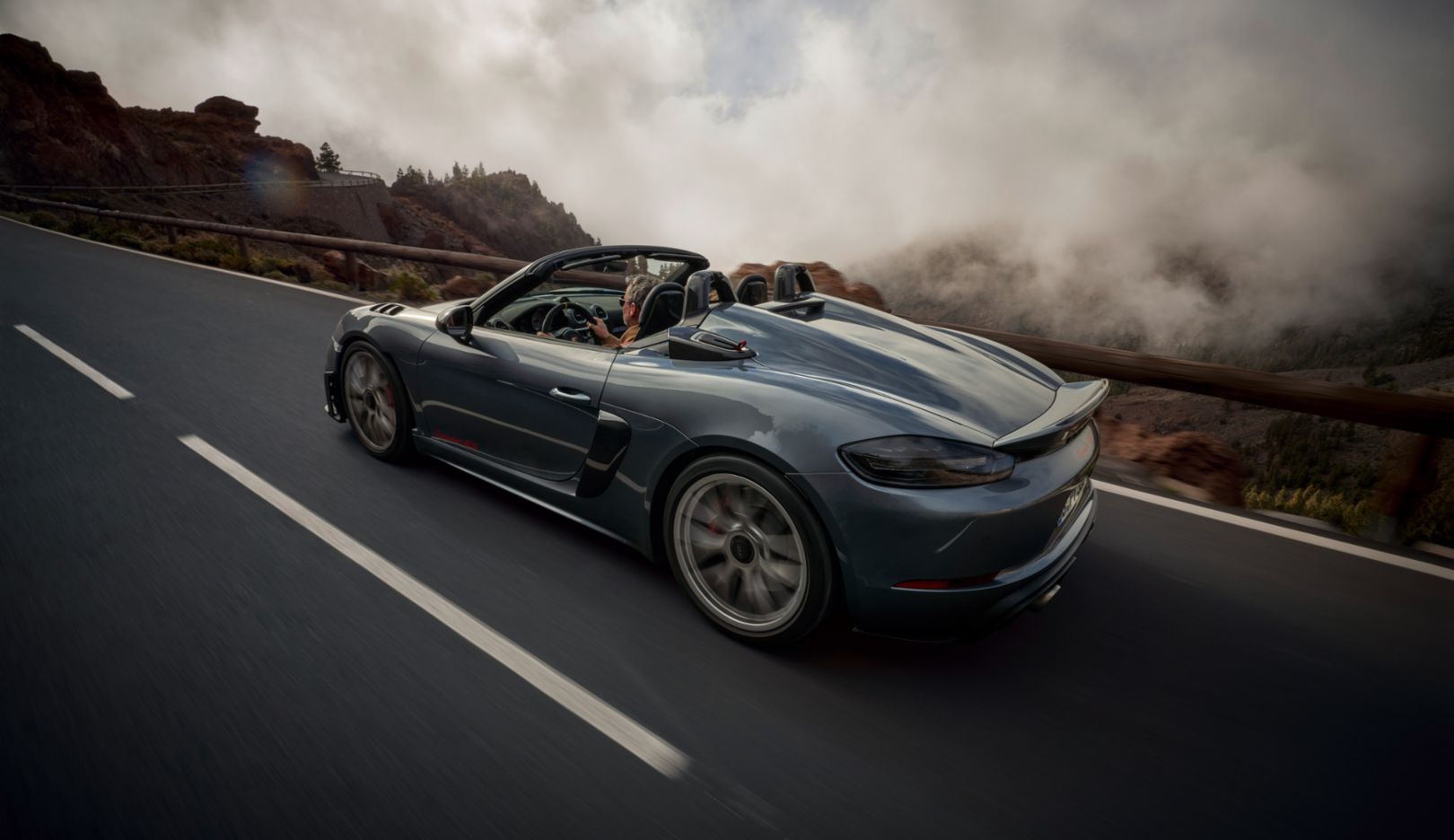 Developed for circuits, tuned for winding mountain passes: the chassis of the 718 Cayman GT4 RS was adapted to the concept of the 718 Spyder RS. 718 Spyder RS: Fuel consumption* combined (WLTP) 13.0 l/100 km, CO₂ emissions* combined (WLTP) 294 g/km
718 Cayman GT4 RS: Fuel consumption* combined (WLTP) 13.2 l/100 km, CO₂ emissions* combined (WLTP) 299 g/km
/
Consumption data
718 Boxster
WLTP*
9.7 – 8.9 l/100 km

220 – 201 g/km
911 GT3
WLTP*
13.0 – 12.9 l/100 km

294 – 293 g/km