Wild performance
Porsche Australia & New Zealand – Products: Motor racing champion and Porsche Brand Ambassador Mark Webber puts the Taycan Cross Turismo to the test in rugged Tasmania.

Australia's array of famous natural habitats makes it a landscape lover's paradise. Nowhere is this more evident than on the island state of Tasmania. Former World Endurance Champion and Porsche Brand Ambassador Mark Webber will tell you there is another special feature scribbled across Australia's "southernmost isle" that makes it a natural habitat for Porsche sportscars: its network of roads.
Webber describes them as "a ribbon through these beautiful rolling hills" as he powers the Taycan 4 Cross Turismo out of yet another wide-open bend. Tasmania is a driver's paradise. Its seemingly endless strips of sinuous asphalt are drizzled amongst the cool-climate greenery and hills, offering a playground to Porsche drivers and lovers of outdoor adventure. And it's as if the all-electric Porsche Taycan was made for them.
"You've got all that instantaneous torque," Webber says, eyes looking straight down the road. "And of course, the Taycan's build quality and mod cons mean there's no compromise on comfort, whether it's a longer trip or a shorter drive."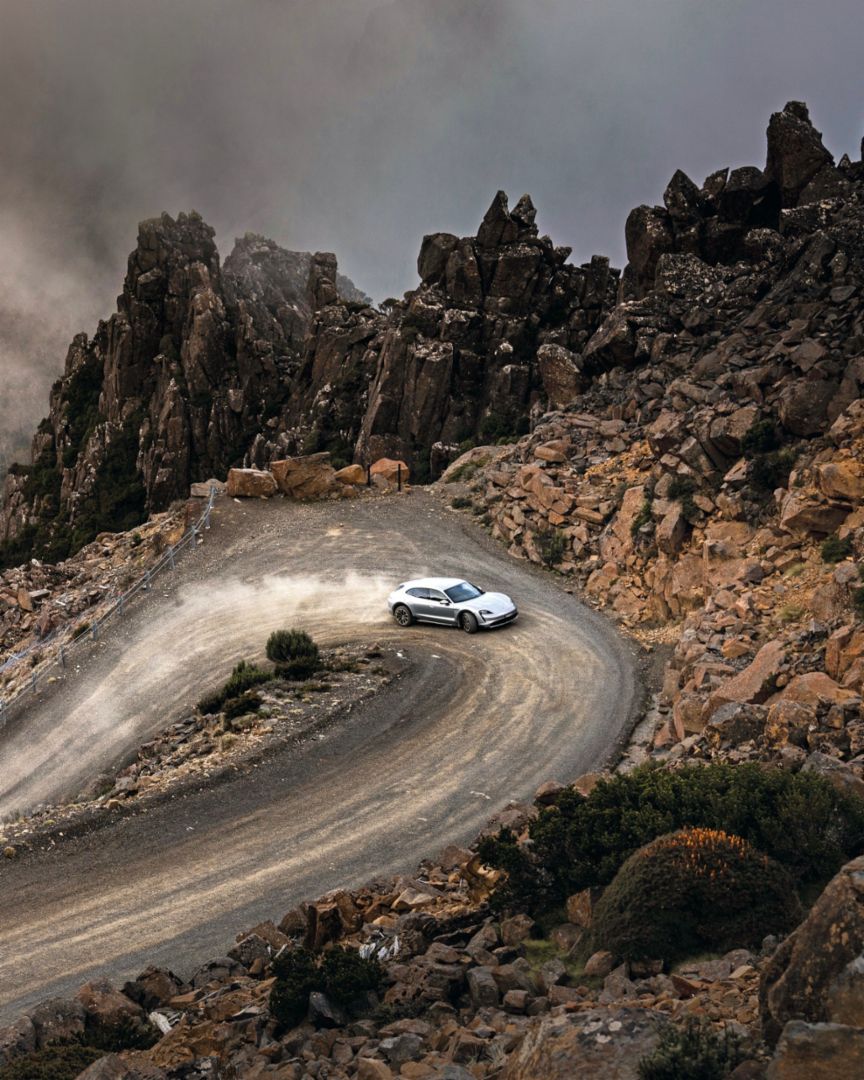 Despite growing up in Queanbeyan, outside Canberra, Mark Webber knows this part of Australia intimately. For more than a decade, it was where the top-flight racer conducted his gruelling multi-day outdoor adventure race, the Mark Webber Challenge. Competitors battled Tasmania's punishing wilderness on the way to raising more than two million Australian dollars for charity.
The event came to represent more than a charitable challenge. It symbolised Webber's trademark "Aussie grit" nickname, which he earned by applying his intense drive and personal strength to climb to the top of Formula One racing and the World Endurance Championship.
But there's another climb Webber is fond of and it can be found in one of Tasmania's most spectacular regions. Jacob's Ladder is one of Mark's all-time favourite roads. You'll find it in the state's North in Ben Lomond National Park. It's a collection of daring hairpins and hills that cut through its jagged rocky surroundings. Imagine the Stelvio Pass scraped into a mountain of stalagmites.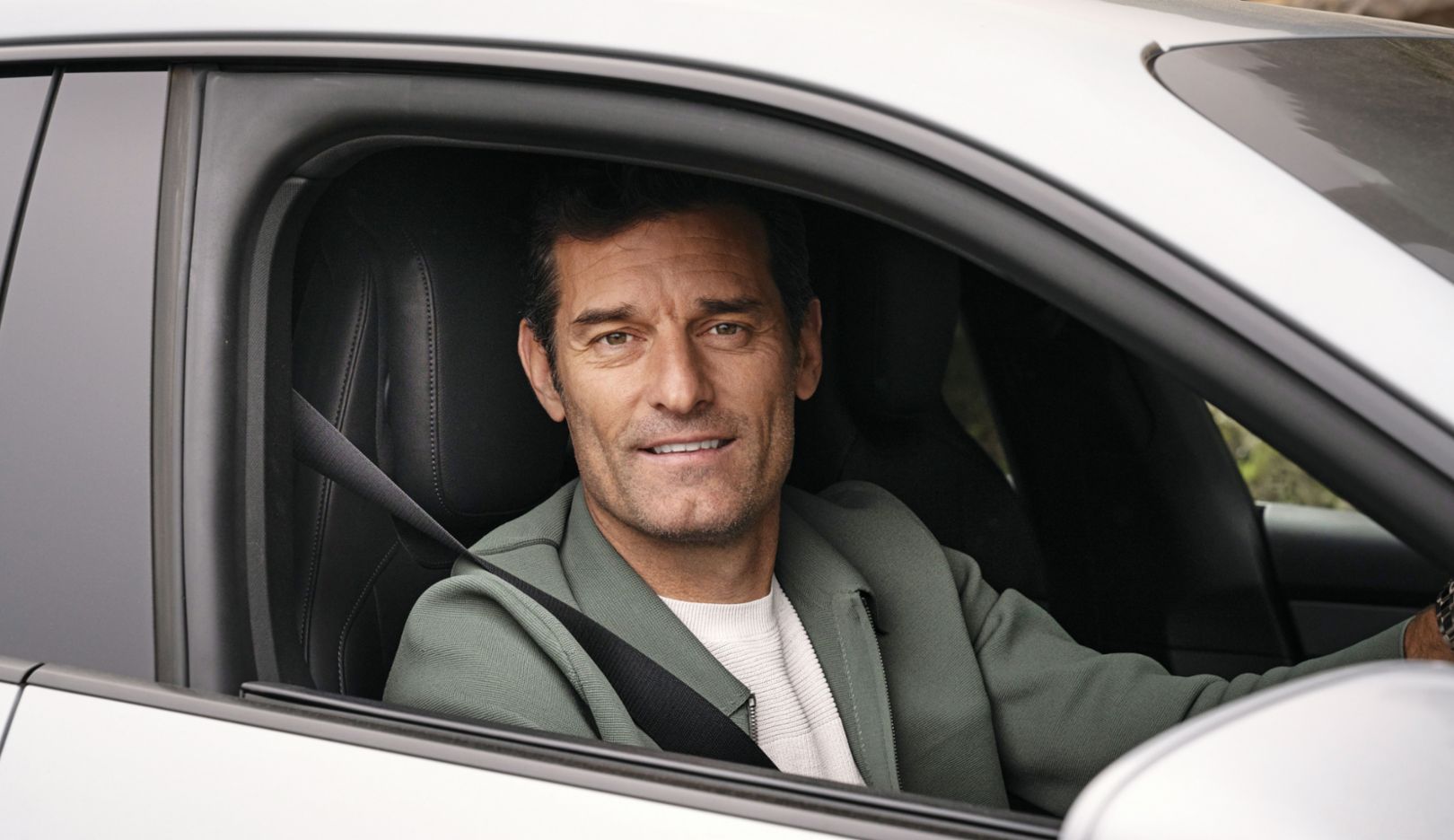 "It's a very steep wall!" he says, smiling, knowing the driving thrill he's about to enjoy. "I've climbed it on a bicycle as well as motorbike. But it's made for driving."
Webber says its collection of tight hairpins reminds him of the racetracks at Macau and Monte Carlo.
"It's got a European feel, but it's in Australia."
Unlike Webber's former ten-day adventure race, the steep trip to the top of Jacob's Ladder proves to be no challenge for the all-electric Taycan Cross Turismo. 350 kW (Taycan Cross Turismo Models: Electric power consumption* combined (WLTP) 24.8 – 21.3 kWh/100 km, CO₂ emissions* combined (WLTP) 0 g/km, Electric range* combined (WLTP) 415 – 488 km, Electric range* in town (WLTP) 517 – 613 km) of overboost power and 500 Nm of instant torque make the famous switchback road seem almost flat.
"It's made for it," he says. "And the Taycan's unique two-speed transmission gives you incredible acceleration."
There's an air of pride when he makes that comment. Webber's driving skills were called upon by Porsche when it was developing the Taycan, its first all-electric sportscar.
"I was involved in the early development of the Taycan some years ago. To be part of that journey and seeing the Taycan evolve using the Porsche methodology was fascinating.
"Porsche has rocked the establishment with the Taycan in terms of power deployment, technology, recharging, and more. There are a lot of 0–100 km/h numbers quoted by many different manufacturers, but when it comes to consistently and repeatedly deploying torque and performance, what the Taycan can do is extraordinary."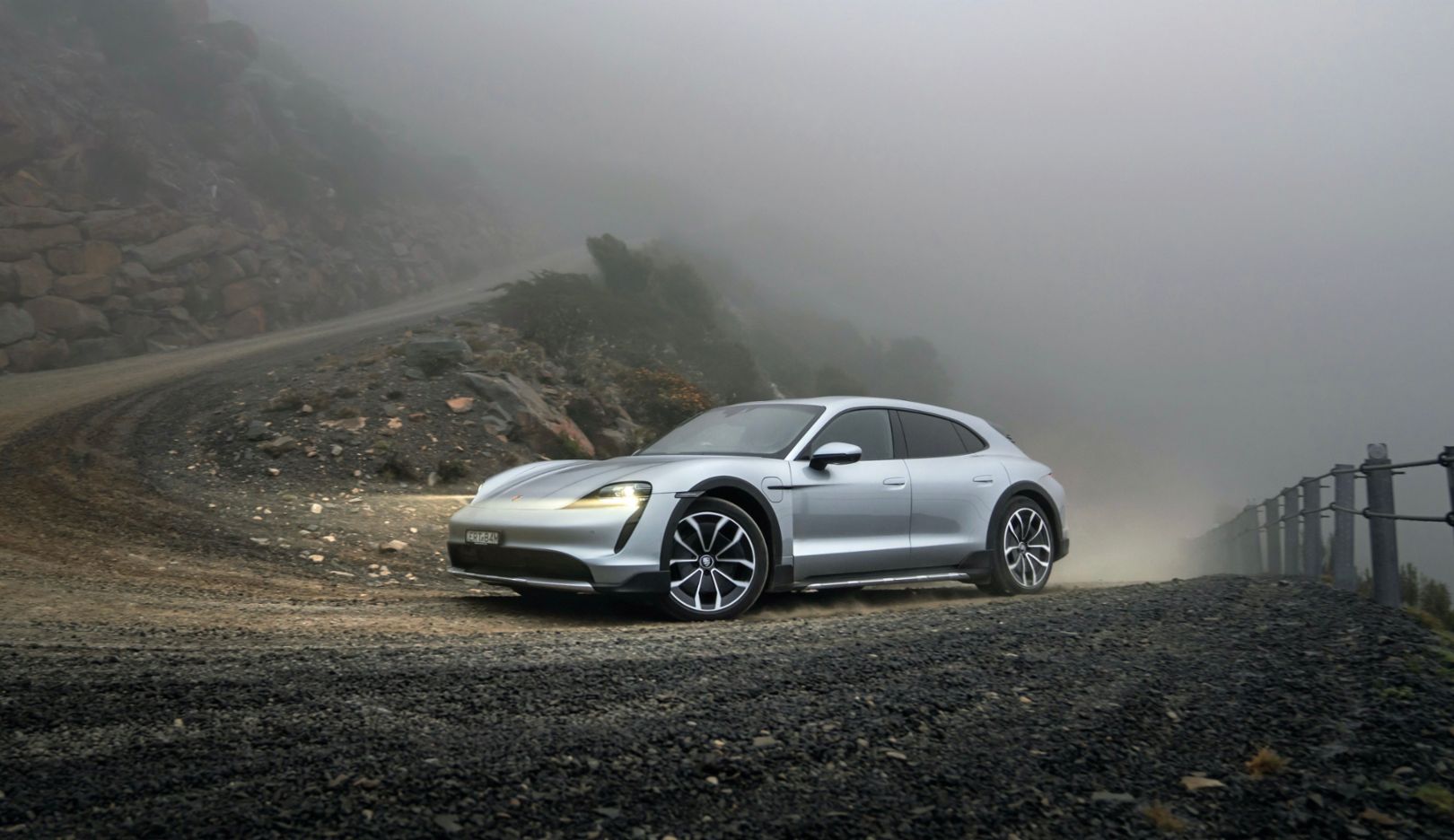 Add in the flexibility offered by the Taycan Cross Turismo, and its available driving range, and it is the ideal vehicle for adventure.
"I'm more of an outdoor guy," Webber says. "I love the Taycan Cross Turismo because it's got a lot of storage capacity in the rear and you can load it up. And the extra ground clearance lets you go into places that are more challenging for other cars.
"Driving in a place like this reminds you why we need to protect our environment for future generations. Porsche's pioneering spirit means it continues to look at how it can be a leader, and this includes delivering sustainable technologies, such as with EV powertrains and carbon-neutral liquid eFuels."
Porsche is well underway with its EV (electric vehicle) objectives. And Tasmania is playing a vital role in achieving the company's goals with eFuels. Porsche's commitment to a "double-e path" – e-mobility and e-Fuels – has seen the company invest in HIF Global LLC, a holding company of internationally active project developers of eFuel production facilities. HIF Asia Pacific, a wholly owned subsidiary of HIF Global, is underway with its plans to create a carbon-neutral eFuel production facility located approximately 30 kilometres south of Burnie in Tasmania.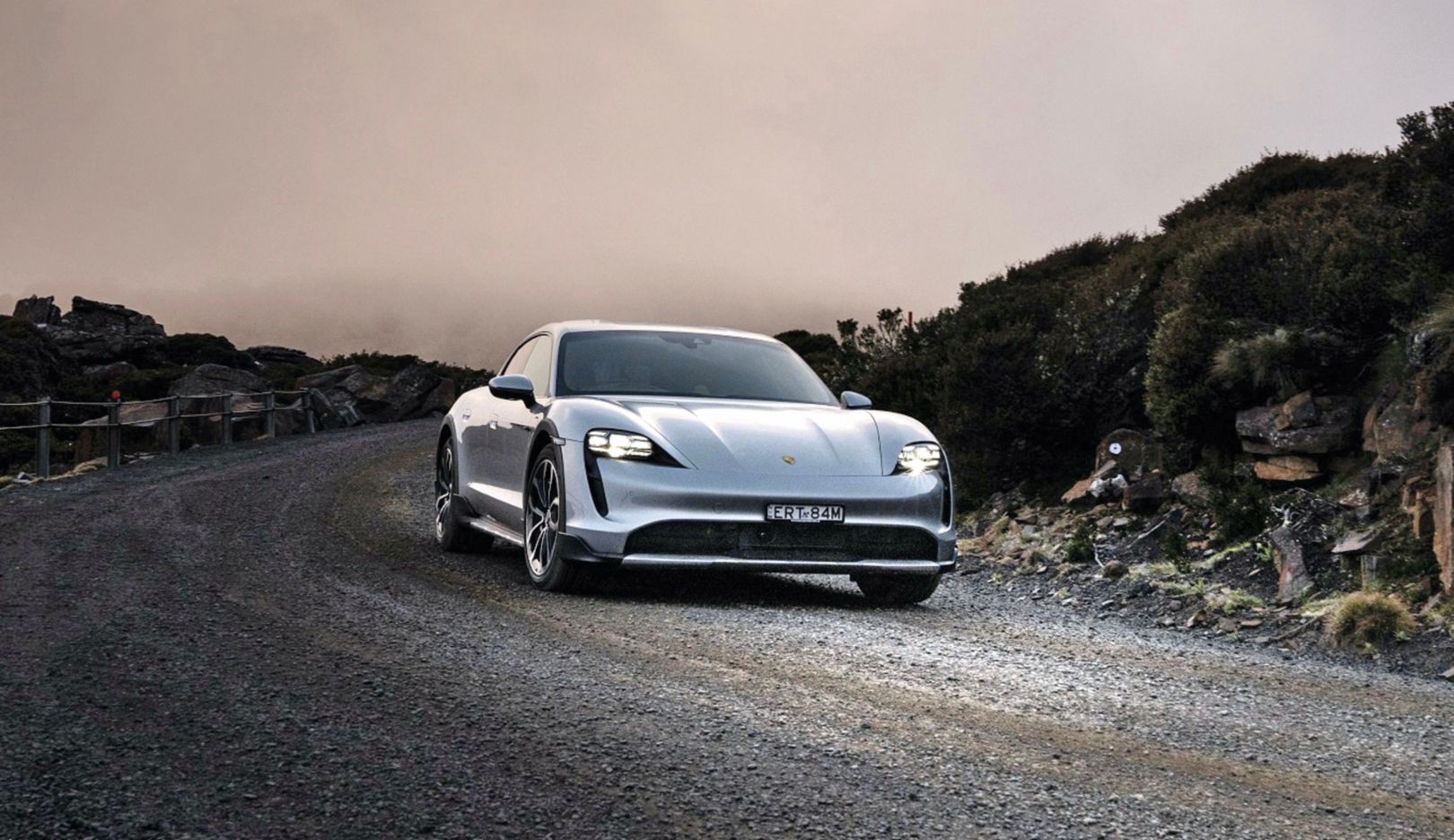 The HIF Tasmania facility will make a significant contribution to Porsche's climate protection plans. It is expected to produce up to 100 million litres of carbon-neutral eFuels per year, reducing global CO₂ emissions by approximately 260,000 tons annually, the equivalent of decarbonising 52,000 cars on the road today.
The facility has also been designed to be emission-free, with the water for electrolysis primarily extracted from biowaste.
Mark Webber: "We're on a journey from solely driving with combustion engines that use fossil fuels to vehicles that use electric powertrains, and vehicles with combustion engines that use eFuels. Using eFuels is an effective way to reduce the CO₂ outputs of the existing combustion-powered cars currently on the road. And this is an important contributor for drivers to make the transition to EVs over time. This approach goes hand in glove with the Porsche mindset – to be a leader – and it's especially important in the next phase of our future."
Consumption data
Taycan Cross Turismo Models
WLTP*
24.8 – 21.3 kWh/100 km

0 g/km

415 – 488 km