Made to Measure
Porsche Central and Eastern Europe – Porsche Exclusive Manufaktur: "Always be a first-rate version of yourself, instead of a second-rate version of someone else." – Judy Garland
I had quite high expectations in anticipation of my visit to Porsche Exclusive Manufaktur in Stuttgart. I knew I'd receive a lot of details about the brand, the business, the various customization procedures. I also knew I was about to enter an exclusive universe, meant for collectors.

However, I was surprised to discover that the entire process is, in fact, about people. No, I was not there to order a special car for myself, but somehow this visit made me wonder how well I knew myself, what I really liked, what was it that really defined me, and what made me special.
The power of colors
Imagine a typical day in Stuttgart: the sun was a rare sight, leaving room for an indecisive drizzle. You know that kind of rain with just a few drops here and there, enough to not know whether an umbrella is actually needed. The sky had grey patches and it seemed as if the grey had contaminated a lot of the city. That could be one of the reasons why the contrast to the cars on display outside of Porsche Exclusive Manufaktur was so strong. There was an instant smile on my face as I went around examining each of them – painted, intentionally, most likely, in a rare shade. Vivid pink, pistachio green, deep burgundy, just like a good red wine. For a second there I imagined how someone had just put their finger on the Pantone palette and the result was there, in front of my own eyes.
Porsche Exclusive Manufaktur: a perfect union of creation and science.
The interiors offered even more colors and textures; I would have thought this kind of variety possible only in a painter's studio. Miniature Porsche model cars in hundreds of shades, coatings, and finishes of all sorts – matte, glossy, pearlescent, metallic, or holographic colors. Pieces of leather in various textures and, again, dozens of colors. Plus, a variety of fabrics for upholstery. It's every artist's paradise, including the artists I was about to meet, whose mission was not just to create a car for you, but to create the car of your dreams. No, I'm not exaggerating.
A four-wheeled story
I talked about colors, fabrics, and textures because they are what first catches your eye upon entering the Porsche Exclusive Manufaktur headquarters. It seems easy, right? You choose your favorite Porsche, the paint color, the type of interior, and it is done. But this wouldn't require a special department.

Although all these details are important, the aim of Exclusive Manufaktur is to capture your personality or the best traits that define who you are and transfer them to your dream car. It's more of a process of discovery, of individualization where the client is an active participant. And the result is a unique piece: a custom-made car that fits your taste and desires. A car that truly represents who you are.

I've got the perfect example, too: Mr. Barilla's car. It's not a coincidence; I'm talking about THAT Mr. Barilla who, beside the pasta business, is also passionate about motorsport: in 1985, he won the Le Mans trophy behind the wheel of a Porsche 956.

Well, as he was about to turn 60 and wanted a special gift, Mr. Barilla came to Porsche Exclusive Manufaktur with a dream: he wanted a 911 GT3, but not just any GT3. One to remind him of the car he drove to win Le Mans. In this case, the images speak for themselves; the result is spectacular. A car with a story, one of a kind.
ANYTHING. As long as it's legal and safe
But if you didn't win the Le Mans trophy, what would your car look like – a car customized based on your passions? What is really important to you and how would these things "translate" into the design of a car? How well do you know yourself? How much do you truly know about yourself?

That was my moment of reflection, when I allowed myself to dream. When I went back, exploring my delights and my passions, but also the specific moments in time when I discovered them.

It's been years since I learned I could not separate myself from writing and words; however, there are elements, symbols, places that I became aware of much later: the need for freedom, the sea, natural light, solid colored fabrics, stripes, ink, cashmere, silk, pencils, my love for Italy, the symbol of the puzzle piece. You cannot mix those, like a magician, in a tall hat, and expect something to come out of it.

Or can you? Because all of these things ultimately define me. A mix of elements, some of them colliding yet managing to coexist.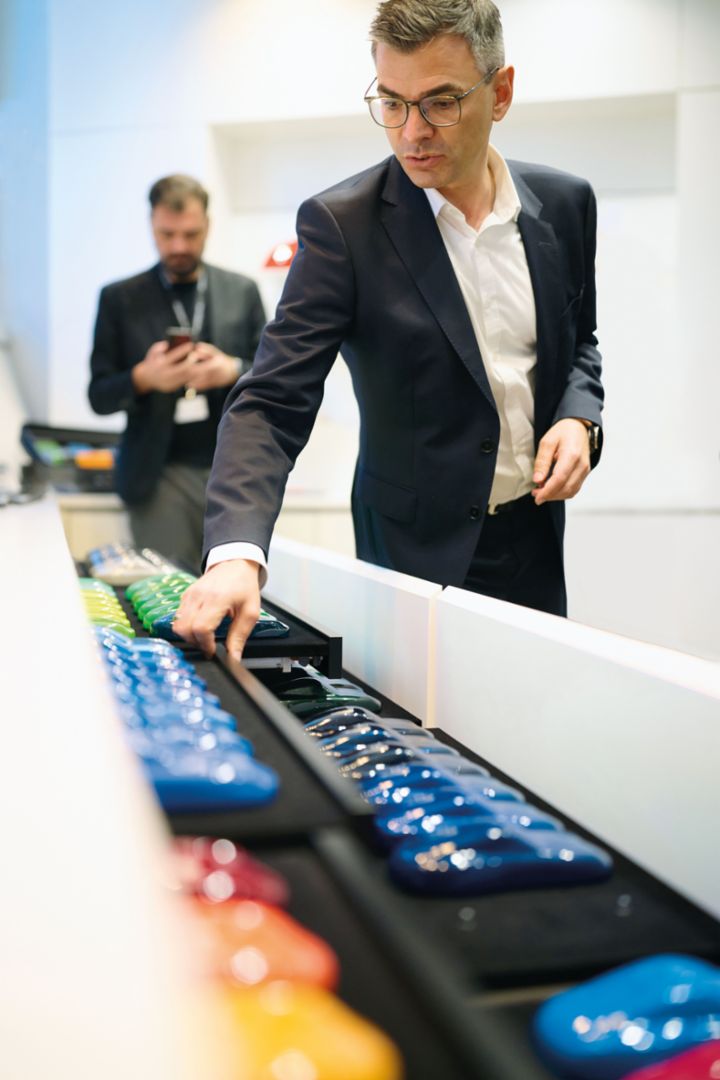 I halted my daydreaming and tried to take advantage as much as possible of the opportunity of being there and chatting with the people who deal with these very advanced customizations. "But is anything possible?" I asked after seeing the multitude of options. The answer was positive with one necessary caveat: it must be legally and technically safe. And, of course abide by the Porsche quality standards.

That kind of meeting where you're dying to be involved with "magicians" would not be a proper identifier for the people at Porsche Design Manufaktur since their jobs are related to science and technology, plus many years of training and experience. And actually, they don't perform any tricks. But when work involves extremely personal desires and, even more, identifying those desires, flair and empathy are definitely required. As well as in-person meetings, discussions, trials. Some kind of exploration that I imagine as a dance scene: steps to the left, steps to the right, maybe one step back, maybe one step forward. Until the choreography is perfect and the client begins to identify with the project.
Basically, everything starts with one idea. Defining it is, perhaps, the most beautiful and challenging of trials. And then there are work meetings.

Allowing myself the luxury of imagining taking part in one of those meetings makes me smile as I write these words. This is the narrator's privilege: you can fantasize a little, even go there mentally; you can say that the one-of-a-kind car, which is now just a drawing on a sheet of paper, is the one for you. Now you might understand why I am smiling. Could there be a more pleasant meeting than this?
The cocreator
These meetings are not only necessary for the car to turn out as close as possible to your dream car. It's true, specialists from all departments involved attend these meetings to ensure the project is feasible. Moreover, they bring the unique opportunity for the owner of the future car to take part in the creative process. The owners are, together with the people at Porsche, cocreators of their one-of-a-kind car. They are involved in the project – a rare privilege, which is part of this special experience that allows you to be a member of the team that is making your dream come true.

Working on the project is a lengthy process in itself. It can last up to one year, depending on the complexity and on the further changes. However, everyone involved has a common goal: quality and attention to detail come first. And for everything to be impeccable, the team takes all the time it needs.

Building the car, once again, requires experts from all departments – from design and engineering to car painters. In many of the stages, artisans are also involved; those are people who master a certain craft and work by hand on the exquisite details and finishings. It is an art, usually a family trade, appreciated by luxury brands in particular – those who understand the importance of combining state-of-the-art technology with tradition.
The customization process and the client involvement to the level practiced by Porsche Exclusive Manufaktur is relatively new. But the need for individualization is not new at all: over the years, clients have requested various alterations to their cars. One funny example, by comparison, that stayed with me is this: the first to come up with such a request to Porsche was a German client. In 1954, he wanted a… rear wiper for his car, a 356 Coupé.
Back to the present
Several collector models are on display in the Stuttgart showroom. I carefully examined them all and got excited about each and every one of them. I opened doors, sat behind wheels, and adjusted mirrors as if I was just about to drive off. But what the other guests and I admired most of all was a 911 painted in a very special shade of green: a holographic color variegated with olive, blue, and violet tinges. The shade is called Urban Bamboo, and the car is one of the custom-made projects by Porsche Design Manufaktur. The owner wanted specifically this shade and an additional detail along the sides of the car: three hand-painted stripes. The leather and the fabric inside are in the same elegant color palette.

What's interesting is that this 911 that first caught our eye wasn't flashy at all; on the contrary, it was refined, classy. Curious, I asked if they could tell me who had ordered it: an Italian designer. I suppose the holographic piece of art is now in his garage and, on sunny days, someone is driving it on a seaside road.
A world built around a brand
The Porsche Design Manufaktur showroom does not seduce solely with the display of one-of-a-kind or limited-edition cars, it also opens a door that allows you to peek inside and see some of the production details: sewing machines for leather, needles and thread for manual stitches, embossing the leather, or padding the wheel. Even small details meticulously embroidered on leather. Small and big model cars, various spectacular rims, sketches for various projects – including those for Porsche's collaboration with Pixar for the animated movie Cars, leading to the birth of the little daredevil Sally Carrera. Photography albums tell the history of the brand using text and image. Accessories, from the now iconic watches to key chains, gloves, glasses.

A fascinating universe, a world created for the lovers and connoisseurs of the brand.
More than a car
My visit to Stuttgart made it clear to me that Porsche not only succeeded in understanding people's need for customization, but they also managed to implement it at a level that, up until now, seemed to be unfathomable. The beauty of it all is that, by doing it this way, they not only created a car very different from all others, but also a memory, an imprint of a fleeting moment of happiness. Such a collection car encapsulates the desires and passions of a person at a certain moment of their life.
The client as the cocreator of a "pièce unique" dream car.
That's why I was saying, at the beginning, that Porsche Design Manufaktur is more about people than about business. It represents, simultaneously, a perfect union between creation and science, a journey to an exclusive and refined world that only those who understand the luxury industry and its role can fully appreciate.
Instead of a conclusion …
As for me, as a journalist, I must admit that this visit to Stuttgart has been a memorable experience. To be able to talk to the very people who make all of that come to life and witness with my own eyes so much of the creative process came as a reward after many years of writing. And one more reason to keep doing it.
Consumption data
911 GT3
WLTP*
13.0 – 12.9 l/100 km

294 – 293 g/km