Taycans power up Sandown
Porsche Australia & New Zealand​​​​​​​ – Lifestyle: More than 40 Porsche Taycan sportscars recently enjoyed an electric day of driving fun at one of Australia's most famous racing circuits.
The Porsche Taycan all-electric sportscar has been setting records around the world and Taycan owners are now discovering the camaraderie and enjoyment of ownership since Porsche's first EV went on sale in Australia.
Two weeks after the 100,000th Taycan drove off the Zuffenhausen production line, more than 40 proud Australian owners and their cars gathered at Sandown International Racing Circuit to celebrate their shared enjoyment of Porsche's first all-electric sportscar.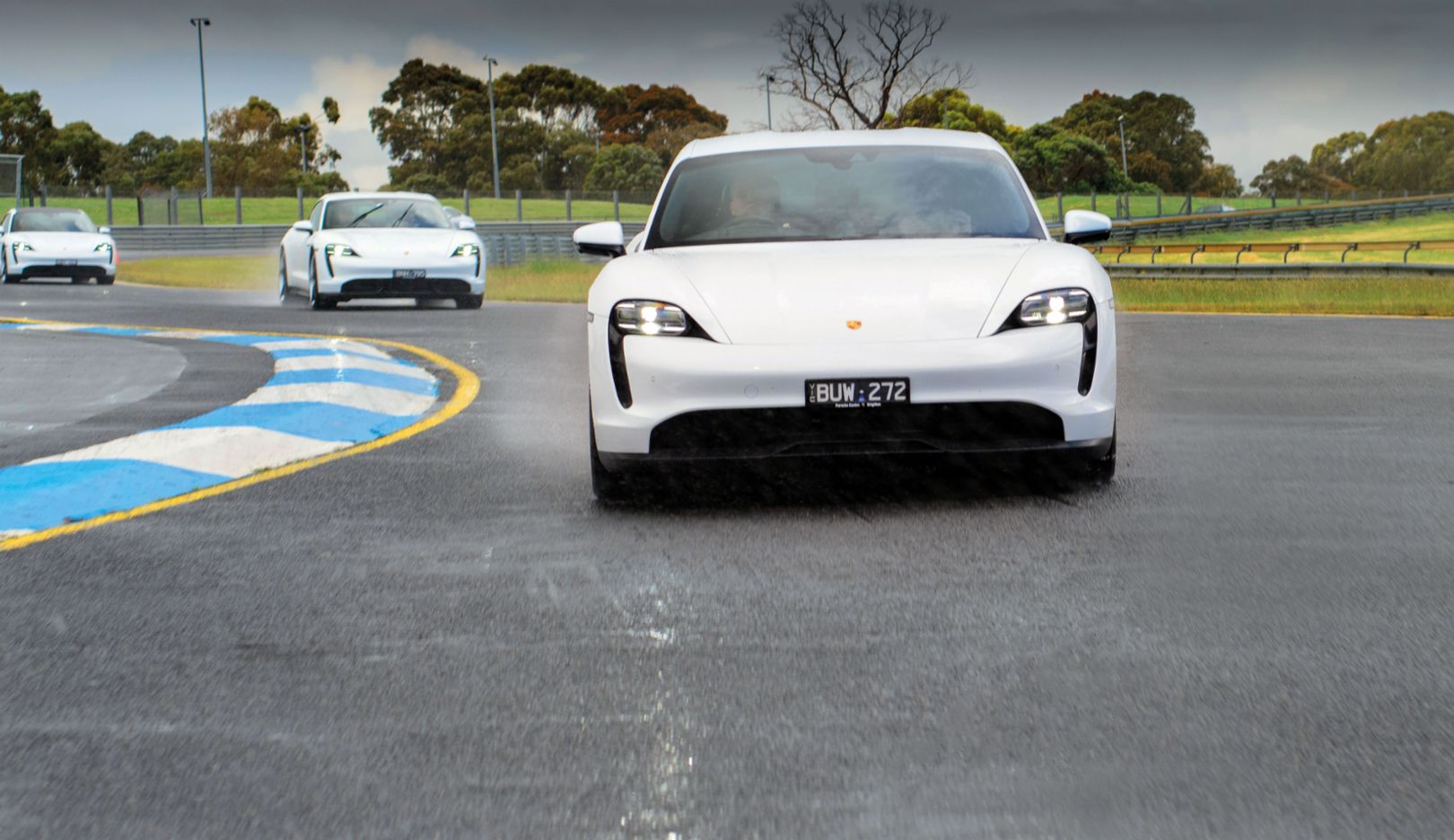 The Taycans and their owners experienced the driving joy of the 3.1-kilometre metropolitan circuit that, in glory days past, hosted rounds of the World Sportscar Championship and a six-hour endurance production sportscar race won by Porsches.
The Porsche Club of Victoria's annual "President's Day" gathering at Sandown Circuit saw Victorian owners and their Taycans, all delivered by Porsche Centre Melbourne, Porsche Centre Brighton and Porsche Centre Doncaster, form up in rows of three on the famous Melbourne track before driving the circuit for three laps.
"I never thought of taking my Taycan on to a circuit."
This latest gathering follows various extraordinary accomplishments made by Taycans, including 13 endurance records set by notable drivers at the wheel of Taycans in Britain, a record EV lap time set by a Taycan Turbo S at the Michelin Raceway Road Atlanta circuit in North America, a Guinness Drift World Record, and a 165.1 km/h World Speed Record made in an enclosed building set in New Orleans, Louisiana, in the USA. Add to this a new-production electric car lap record time of 7 minutes 33 seconds around the Nurburgring Nordschleife in Germany, which was recently set by a Taycan Turbo S.
As many Taycan drivers are now discovering the camaraderie and social pleasure of belonging to one of Australia's eight official Porsche Clubs, the Porsche EV drivers at the one-day Sandown gathering who signed up to membership of the Porsche Club of Victoria on the day – Australia's largest official Porsche club with more than 2,000 current members – enjoyed complimentary joining fees.
Predictably, Melbourne turned on its typical four-seasons-in-one-day spring weather for the late November event, with sunshine giving way to low cloud, then rain, with even some sleet thrown in for good measure.
It daunted none of the Taycan drivers, whose cars were full of family and friends for the special opportunity of having the flowing Sandown circuit to themselves.
Confident in the Taycan's intelligent drivetrain and the standard all-wheel drive of most models sold in Australia, they were well prepared for whatever conditions awaited them, unlike the owners of the many earlier-model Porsche Club cars taking passengers for rides on the day, who continually juggled wet and dry tyres and tyre pressures best suited to the changing conditions.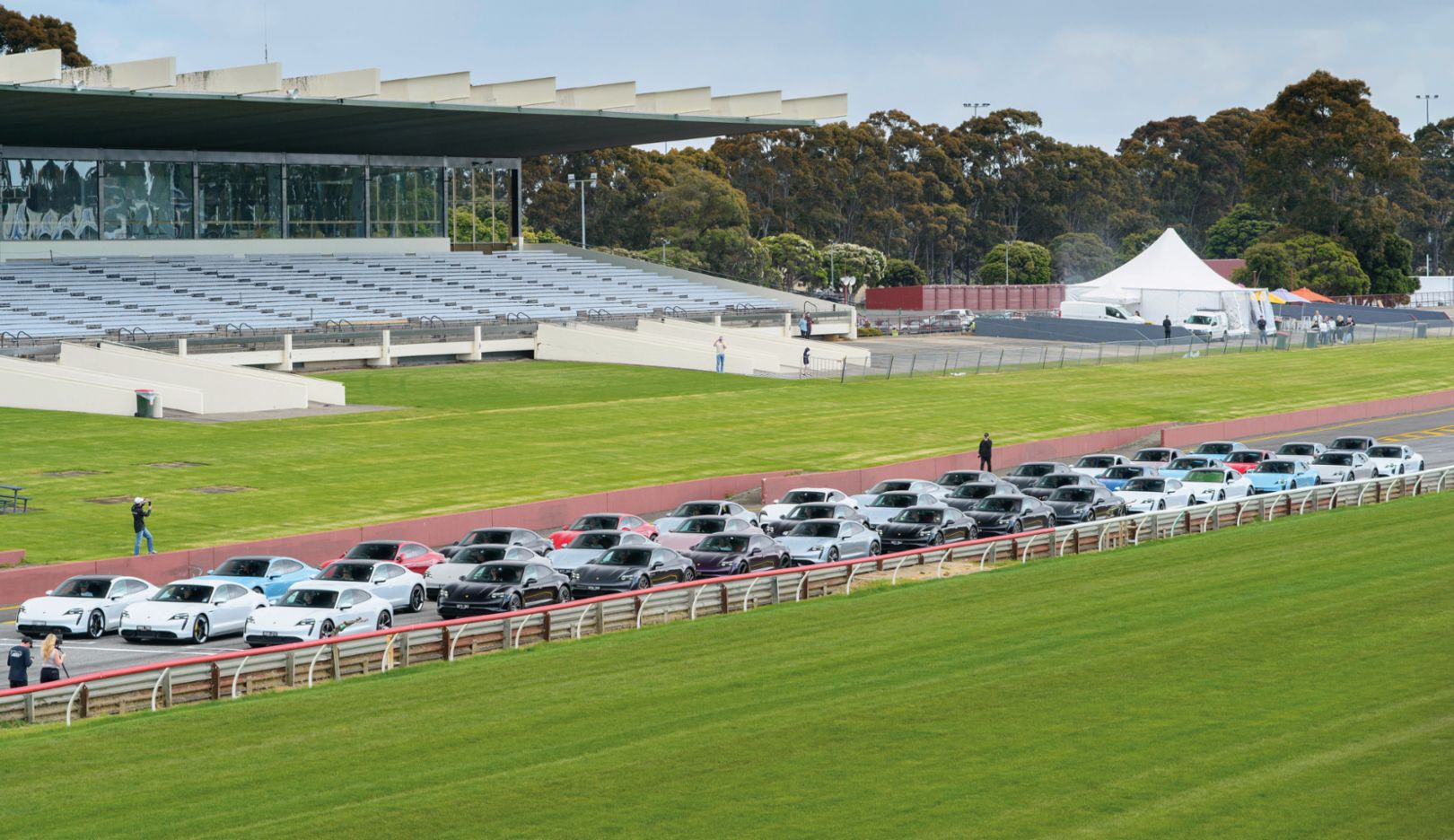 After their laps, the cars formed up in the Sandown paddock area to be admired by the many Porsche Club members and their friends who attended the annual family day, while they enjoyed a special barbecue lunch in a trackside marquee, while listening to contemporary live music.
"I never thought of taking my Taycan on to a circuit," said one beaming owner, "but it gave me the chance to explore its performance in safe, controlled conditions. I feel very confident now, knowing just how capable my car is in even the worst conditions."
The staff of Melbourne's three Official Porsche Centres also rated the day a great success, saying it helped their customers understand what made their Taycans "special", while also bringing them closer to their owners.
"Let's do this more often!" was the universal sentiment.
Consumption data
Taycan Sports Sedan Models
WLTP*
24.1 – 19.6 kWh/100 km

0 g/km

370 – 510 km