"Dreams Are Our Biggest Driving Force"
29 September 2022 is a historic day for the sports car manufacturer from Zuffenhausen: Porsche is going public. In this Christophorus interview, CEO Oliver Blume and CFO Lutz Meschke provide insights into the future of the brand.
911, 914, 917 – these numerical sequences are inextricably linked with the Porsche company. With just eleven models built, the 916 was once only known to a select few, but now represents the Stuttgart company's latest success model.
At 9:16 a.m. on September 29, 2022, the Porsche AG stock appears on the display board at the German stock exchange in Frankfurt for the first time. "We're writing a new chapter in Porsche's extraordinary history," says Oliver Blume, Chairman of the Porsche AG Executive Board, acknowledging this historic moment in his speech. He expresses his gratitude to the company's more than 37,000 employees. Then, following the rules of a new issue, a stock market dealer announces the cost price of the stock with the ticker symbol P911. Applause erupts on the trading floor.
It's the beginning of a new era for Porsche AG. Christophorus had the opportunity to speak at length to Oliver Blume and Lutz Meschke, Deputy Chairman of the Executive Board and member of the Executive Board for Finance and IT, about the reasons for the IPO and the story behind it.

Mr. Blume, Mr. Meschke, you have successfully floated Porsche on the market. How does that feel?
Blume: Porsche is the product of a dream – the dream of Ferry Porsche. Fulfilling our customers' dreams has always been our driving force. And now we've fulfilled one of our own biggest dreams. This is a historic moment and one of the most important milestones in our company's history. And we're all very proud of what we as the Porsche family have achieved together.
What moment moved you the most?
Blume: There's a strong team behind this achievement that has been working toward this step for many years. It was always moving to see the employees work together and give it their all every day anew. Then seeing the Porsche lettering on the display board at the Frankfurt Stock Exchange and ringing the bell on behalf of the entire team was the culmination of our efforts and, of course, a wonderful moment. This has been a once-in-a-lifetime experience.
Why was now the right time for Porsche to go public?
Meschke: We've positioned Porsche well over the years and created a very solid foundation – with a clear strategy, fantastic products and technologies, and more importantly an outstanding performance culture. We've demonstrated that we can be successful even in demanding situations. Our company is also very healthy, with orders at a record level. In 2021, we achieved operating profit of more than five billion euros with a return of 16 percent. The IPO provides additional leeway to shape the transformation. Porsche has therefore regained its entrepreneurial autonomy.
What does the collaboration with the Volkswagen Group look like? What role will Porsche assume in the future?
Blume: Both sides should benefit from synergies both now and in the future – in purchasing, with components, technologies, and plants. In that regard, the dual role of Chairman of the Executive Board of Porsche and Volkswagen provides significant benefits. We view the IPO as a win-win situation, as both sides ultimately pursue the same interest, which is sustainable, profitable development. The Volkswagen Group will benefit from dividends, which can then be invested in the transformation.
You both keep mentioning the concept of teamwork. How do you embrace teamwork at Porsche – and what steps should be taken in the future to further establish this culture at Porsche and Volkswagen?
Meschke: If you want to be successful over the long term, you need to operate as a team. Solidarity and mutual appreciation are important. We manage Porsche like a sports team. We're a part of it – not sitting on the stands. We define the structure and tactics, but also allow everyone the freedom they need to fully exploit their own strengths. We always think in terms of opportunities. We build on successes and learn from mistakes. And we as the Executive Board make every effort to always be a part of the action ourselves – as the player-coach, so to speak.
Blume: Further expanding this team concept is also important to Volkswagen. When everyone sticks together and works toward a shared goal, we can achieve anything together. What's important is collaboration. Volkswagen has a well-qualified team. We can develop great power together.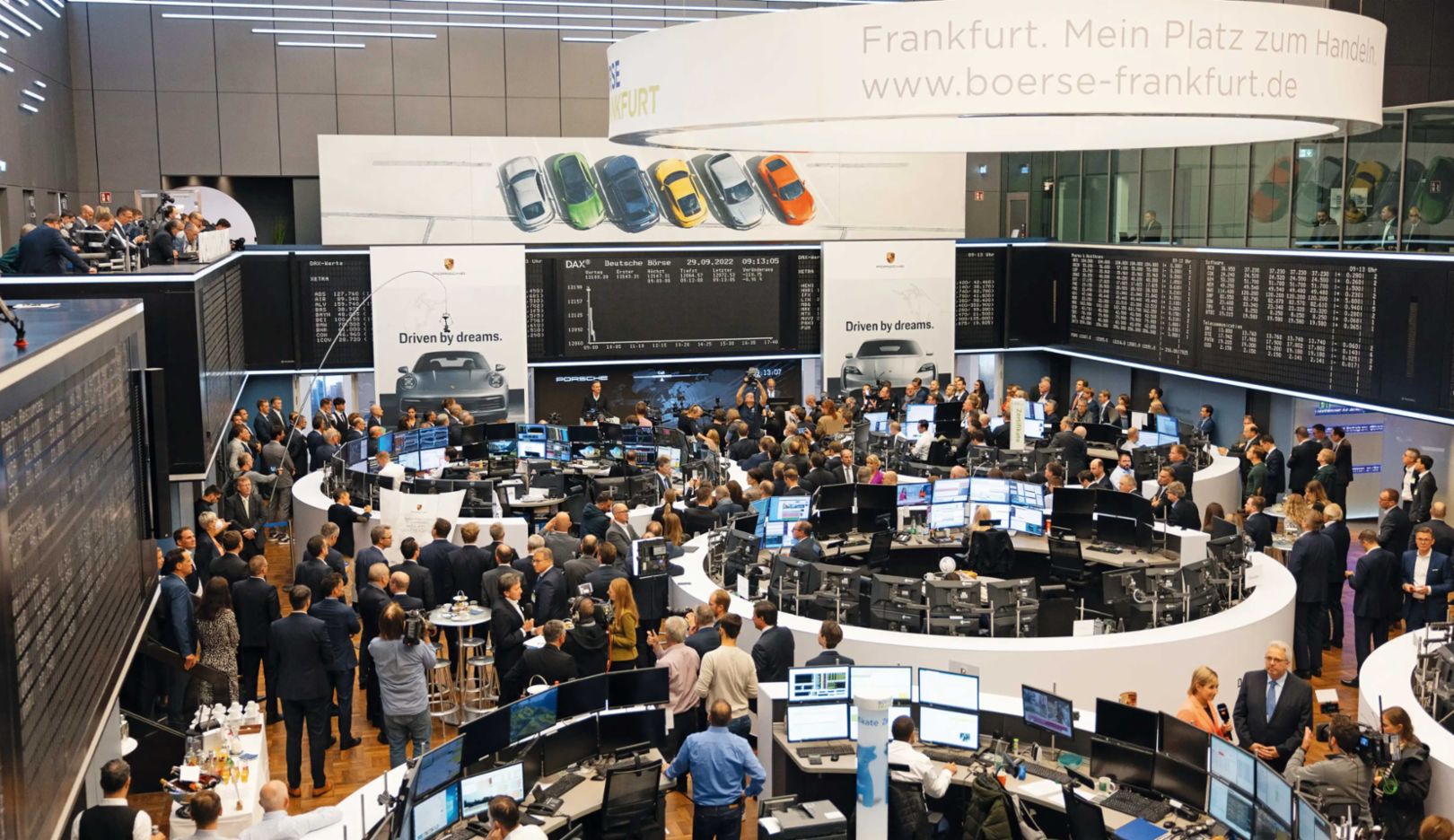 "We will protect the brand's heritage."

Oliver Blume
The IPO revealed just how unique the brand is. What is it exactly that sets the brand apart?
Meschke: Porsche is an icon with a unique heritage – and is now one of the most valuable luxury brands worldwide. Motorsport is an integral part of our DNA, just like the unmistakable design philosophy. We remain uncompromisingly true to all of that. That's what makes Porsche so fascinating to people around the world. The new 911 Sport Classic is a good example: the tradition of our sports car icon, paired with modern technology, top performance, and the incomparable driving experience so typical of Porsche.
What role does Porsche's heritage play in that, also in terms of the transformation throughout the automotive industry?
Blume: We're looking to the future, but will never forget where we come from. At Porsche, it's never just about a car. It's also about being part of a global community. Many of our fans have been with us for decades, which makes us very proud. We also feel a sense of obligation to our customers and fans to protect the Porsche brand's heritage.
Meschke: Of course, this also applies to the transformation in the automotive industry. With the Taycan, we've demonstrated what electric mobility looks like at Porsche. It's 100 percent electric and 100 percent Porsche – and very successful.
What are your most important strategic goals for the near future?
Blume: We want to further advance the transition to electric mobility, of course. We at Porsche are more determined about the ramp-up than many others and are making every effort to ensure that over 80 percent of our vehicles are all-electric by 2030. Our product strategy matches that. The electric Macan is already raring to go and should be available to our customers in 2024. We're also planning all-electric versions of the 718 and a new all-electric luxury class SUV.
Meschke: All of that is connected to our sustainability strategy, which is environmental, social, and economic. We're working on making our entire value chain carbon-neutral throughout by 2030. We've already been carbon-neutral at our main plant in Stuttgart-Zuffenhausen since the 2020 financial year and at the Leipzig plant and Weissach development center since 2021.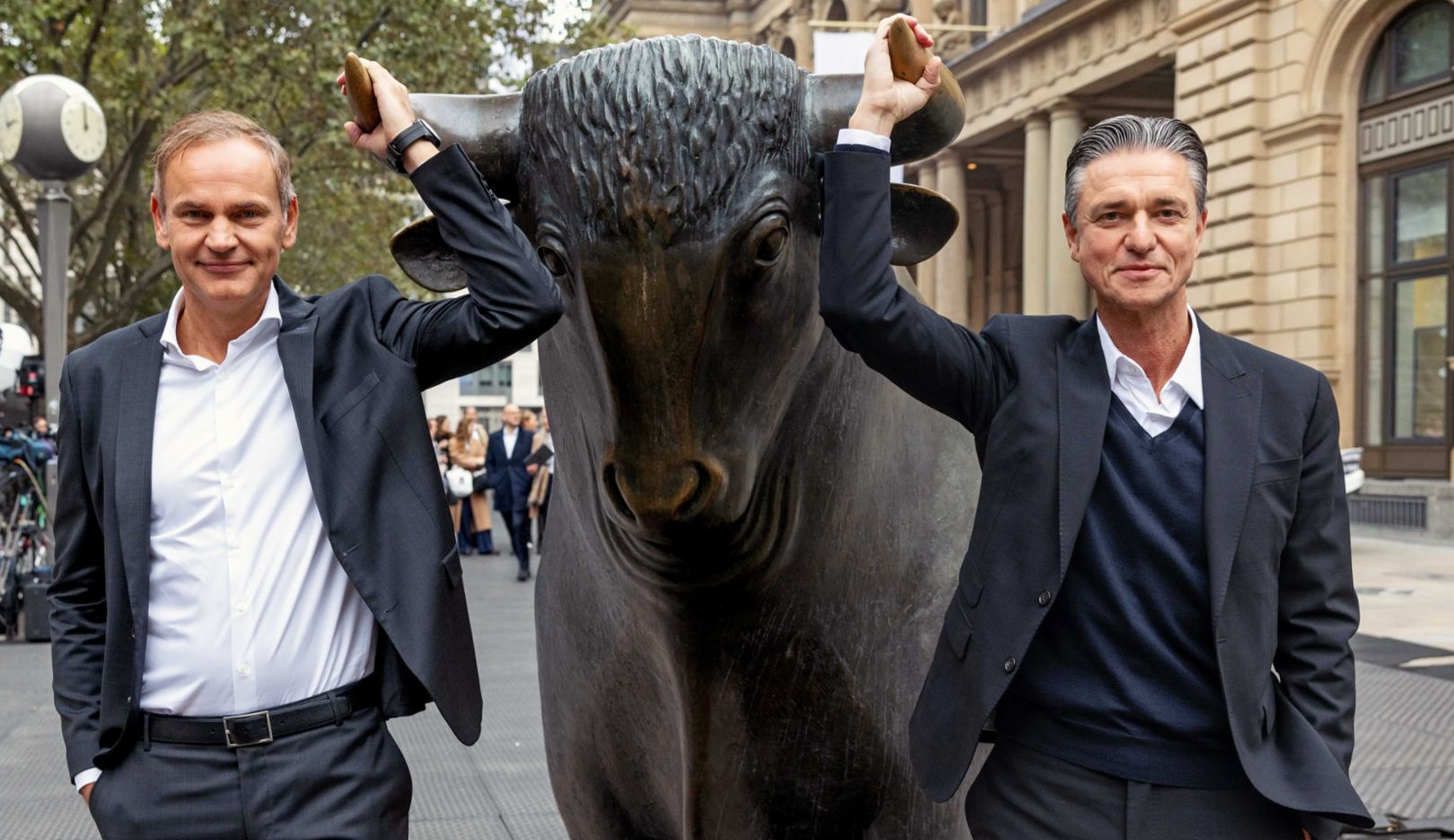 "If you want to be successful, you need to operate as a team."

Lutz Meschke
Porsche represents modern luxury. What exactly does that mean?
Blume: The world is changing – and with it the idea of luxury and the customers' standards. Porsche is positioned in this segment and now produces such large batch numbers that revenue is correspondingly high. Topics like sustainability are increasingly important to the world's rapidly growing group of so-called high-net-worth individuals, as are individualization, personalization, and especially the experience concept, which binds customers to the brand. Porsche offers all of that.
Where do you see the most growth potential?
Meschke: We believe that the group of high-net-worth individuals will exceed 100 million people worldwide by 2026 – and that it will be younger and include more women. We're making a real effort to target this new customer group. Of course, we will never lose sight of the needs of our existing loyal customers. We also benefit from the makeup of our product portfolio. We anticipate that luxury class sports cars will also drive growth just like SUVs in the coming years. And we see great potential in the transition to electric mobility, of course.
Porsche also plans to break new ground for growth. Keyword: 360° customer experience. What can customers and fans of the brand expect?
Blume: We plan to create unforgettable moments. When you purchase a Porsche, you not only get a new car. You will also be a part of the Porsche world with a wide range of opportunities to experience the brand. In addition to a whole host of digital offers and our global dealer network, this also includes our experience center with unforgettable driving experiences and our new Destination Porsche concept, which will be rolled out at more than 600 locations by 2030. And don't forget the Porsche Exclusive Manufaktur, where we follow the example of Ferry Porsche. If you can't find the car you've been dreaming of, you can have one built there according to your desires. That's where we make the most exclusive dreams come true – down to the smallest detail.

Oliver Blume and Lutz Meschke ring the bell at the stock exchange in Frankfurt to symbolize that trade with the Porsche stock has begun. It's also a sign of a new beginning for the company, its employees, and shareholders. There are more standing ovations. It's 9:17 a.m. when the last chime sounds. The success story continues.