Ranging far and wide
Porsche Great Britain – Road test: We take to the road in the Porsche Panamera 4 E-Hybrid Sport Turismo and discover a car of many talents.
Electric cars: they're here, they're mainstream, and they accounted for over 11 per cent of new car sales in the UK in 2021. But what of the other 89%? Pressure is on from all areas to cut emissions and fuel usage, which is where the benefits of battery power are evident. But, for every lifestyle that suits pure electric right now, there's another that doesn't.
Step forward plug-in hybrid technology and our car for this particular adventure – the Porsche Panamera 4 E-Hybrid Sport Turismo. This bridging technology has been around for well over a decade and, as Porsche itself stated when the Porsche Cayenne plug-in hybrid first arrived back in 2010, it is 'two cars in one' – pure electric for short journeys, petrol for longer distances and also, in the Porsche tradition, added performance.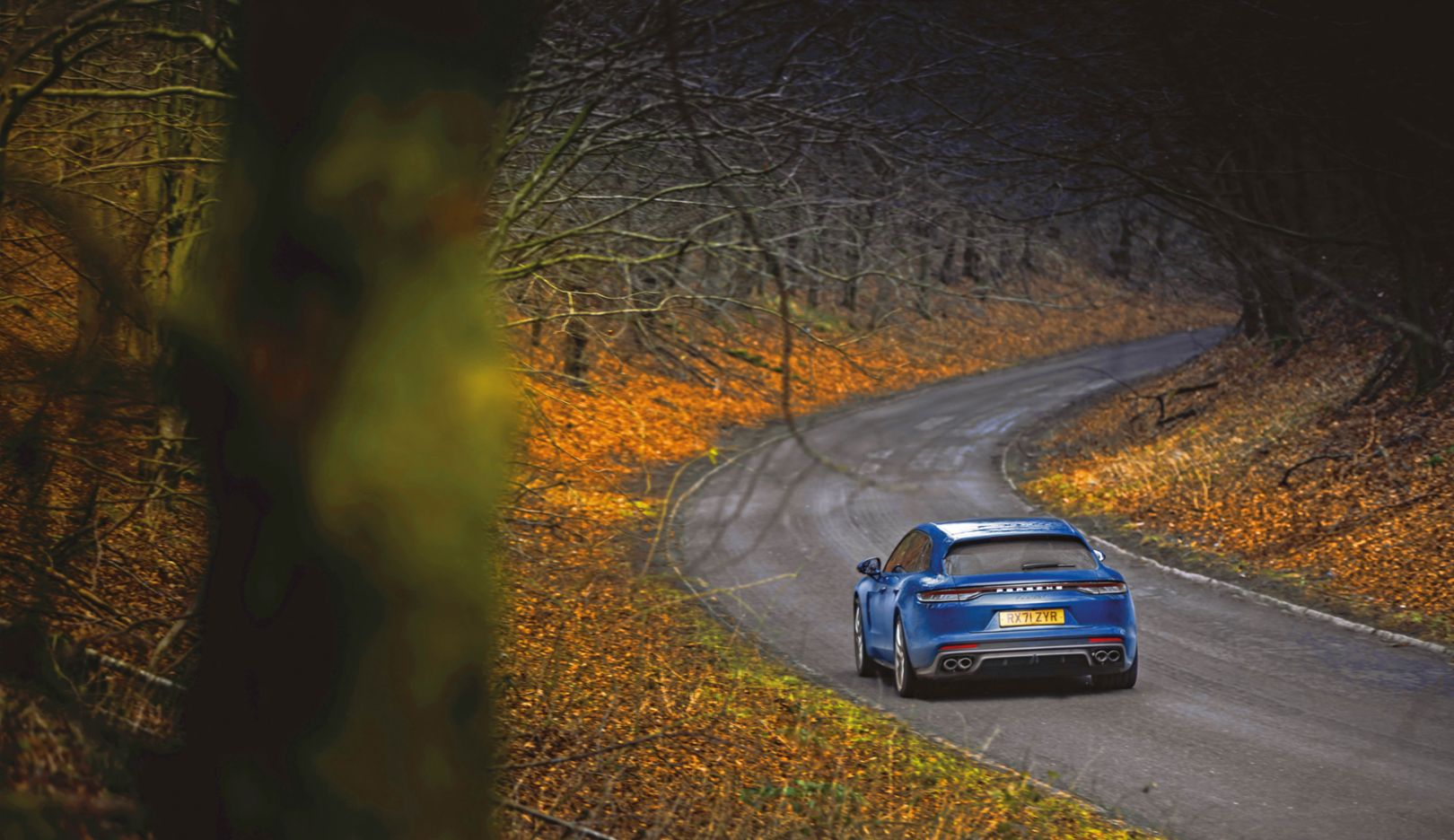 With WLTP figures in play, the 17.9 kWh battery in the Porsche Panamera 4 E-Hybrid can offer up to 34 miles of range (Panamera 4 E-Hybrid Sport Turismo: Fuel consumption* combined (WLTP) 2.7 – 2.1 l/100 km, CO₂ emissions* combined (WLTP) 60 – 49 g/km, Electric power consumption* combined (WLTP) 24.9 – 23.1 kWh/100 km, Electric range* combined (WLTP) 47 – 54 km, Electric range* in town (WLTP) 51 – 55 km, Fuel consumption* combined (NEDC) 2.3 – 2.2 l/100 km, CO₂ emissions* combined (NEDC) 51 – 49 g/km, Electric power consumption* combined (NEDC) 18.2 – 17.5 kWh/100 km). With the ability to hold the battery charge for later in the journey, or to use the car's regenerative braking and 2.9-litre V6 biturbo petrol engine to top up the battery, it's easier than ever to prioritise zero-tailpipe-emissions mileage without relying on public chargers. The progress in battery efficiency over the past decade or so is very evident as I roll out of the Reading HQ of Porsche Cars GB, our Panamera trickling seamlessly into the ebb and flow of the traffic in E-Power mode. It's one of the real joys of pure-electric drive – that uninterrupted build of power. I spend lots of time in electric and combustion-engined cars of every kind, and it's still an actively satisfying experience to feel the eerie stream of power that battery-electric cars deliver.
The Panamera feels instantly intuitive and smooth, and even the brake feel and response is easily modulated – notoriously tricky to achieve on cars with regenerative braking.
Our destination is Birmingham – one of a number of UK cities that implemented a clean air zone in 2021, but which will welcome the Porsche Panamera E-Hybrid free of the £8 daily charge. That gives us just over 100 miles from our starting point to explore the Porsche Panamera's many and varied talents.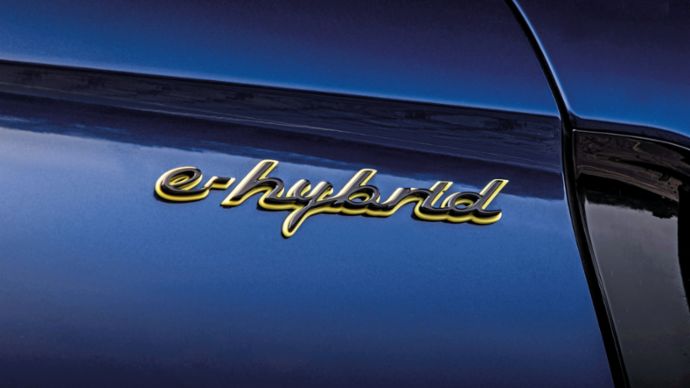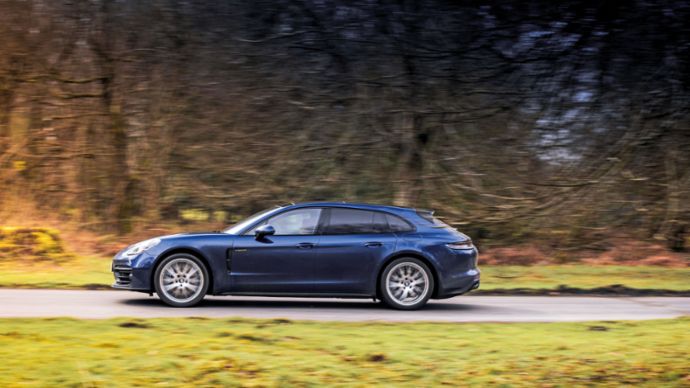 This Porsche Panamera feels instantly intuitive to drive
Driving up the A34 into the Oxfordshire countryside, the Panamera keeps to pure‑electric E-Power at first, with the info from the satnav allowing the car to decide how best to use its available charge. Coincidentally, that electric range would easily cover the average UK round-commute of 23 miles without waking the V6 petrol engine, which is why plug-in hybrids make sense for commuters who want electric power but aren't ready to give up petrol power altogether.
Anyway, it'd be rude not to take time to experience a little of what every Porsche is ultimately all about: pure driving. One of the joys of the E-Hybrid tech is that the 136 PS, 400 Nm electric motor that's integrated into the eight-speed PDK gearbox doesn't just bring efficiency – it brings power, too. Electric motors are able to deliver maximum torque from zero rpm. A reserve of battery power is always retained, too, to ensure you can enjoy the full performance potential even if you've used all the pure-electric range.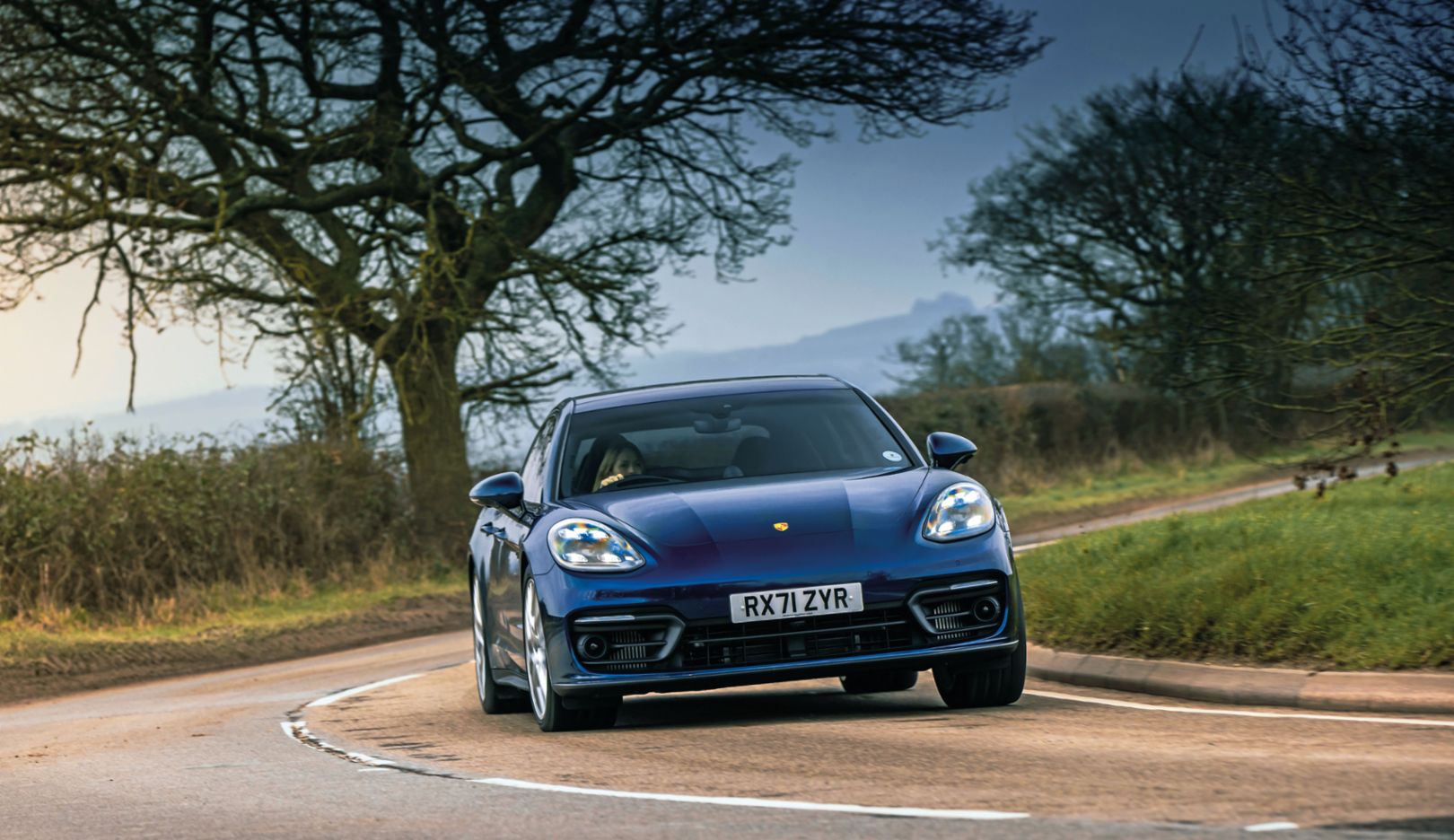 Sure enough, this electric shove mated to the delightfully raspy tone and long-revving nature of the V6 makes the Panamera E-Hybrid utterly peachy to drive, even on scruffy UK country roads. In fact, the punchy combined 700 Nm spreads across a plateau all the way from 1,500 to 5,000 rpm, so you've always got more than ample acceleration under your right foot. Meanwhile, the active all-wheel-drive system keeps things playful yet reassuring. That's the thing about the Panamera; it's totally sophisticated by any measure, but there's an all-weather driver's car underpinning it all.
But, Birmingham beckons, as does the M40. Our burst of B-road vim has regenerated four additional miles of electric range courtesy of the regenerative braking (which harvests the car's braking forces and forward motion to increase battery charge) and Sport mode, which automatically fires up the V6 and starts to charge the battery. Now it's time to try the E-Charge setting, which I select via the Hybrid menu on the PCM touchscreen. That's all you have to do; the car does the rest. So, after a brief stop for lunch, I sit back and let the Panamera E-Hybrid lope up the M40 while the battery recharges.
Eighty miles later we reach Birmingham with 21 miles of pure-electric range. This on-the-go charging is a neat trick that means you can regenerate a genuinely useful amount of electric power over a modest motorway journey.
It's still best to do a 2.5-hour wall-box charge at home (which will get you a full battery if you've added the 7.2 kW optional AC onboard charger upgrade), or an overnight charge from a standard three-pin domestic socket. And of course the Panamera E-Hybrid is fully compatible with a wide network of public charging points. But even without plugging in, the car can generate a genuinely useful amount of all-electric running.
Rolling back into Porsche Cars GB HQ after a late evening run back to Reading, the main thing that I'd take from our trip is that the E-Hybrid technology is actually now more than just 'two cars in one'.
From zen, pure-electric commuting to executive-luxury motorway cruising to exhilarating back-road driving and everything in between – I reckon I've found at least three in there. What's more, they're all brilliant.
Further information
Explore Porsche plug-in hybrid models at porsche.com/uk.
Consumption data
911 Targa 4 GTS
WLTP*
11.3 – 10.8 l/100 km

257 – 245 g/km
NEDC*
10.7 – 9.9 l/100 km

243 – 227 g/km
Taycan GTS Sport Turismo
WLTP*
0 g/km

24.1 – 21.0 kWh/100 km

424 – 490 km
Panamera 4 E-Hybrid Sport Turismo
WLTP*
2.7 – 2.1 l/100 km

60 – 49 g/km

24.9 – 23.1 kWh/100 km

47 – 54 km
NEDC*
2.3 – 2.2 l/100 km

51 – 49 g/km

18.2 – 17.5 kWh/100 km
911 Porsche Design 50th Anniversary Edition
WLTP*
11.3 – 10.8 l/100 km

257 – 245 g/km
NEDC*
10.7 – 9.9 l/100 km

243 – 227 g/km