Porsche's interactive Auckland store
Porsche Australia & New Zealand – Company: Auckland's recent interactive Porsche Experience showroom gave visitors some fascinating insights into the world of Porsche.
Called the Porsche Experience, the world-first digitally decorated interactive Porsche showroom in Auckland's Westfield Newmarket gave shoppers the chance to sample the Porsche brand experience and even buy their dream car while they shopped in the mall.
The unique brand store featured two eight-metre-wide screens which resembled 'living wallpaper' and offered a bespoke customer experience, allowing visitors to configure and virtually build their dream Porsche in-store using either one of the tablets on display or the jumbo touchscreen.
The Porsche Experience opened on 31 January to coincide with Chinese New Year celebrations. And to welcome the Year of the Tiger, a new-model Macan was styled in a modern geometric tiger print, a fitting image that echoed the Macan's naming origins; Macan is the Indonesian term for 'tiger', an animal that champions power and fascination.
This first phase of the Porsche Experience activation ran until the end of the Lunar New Year celebrations on 14 February.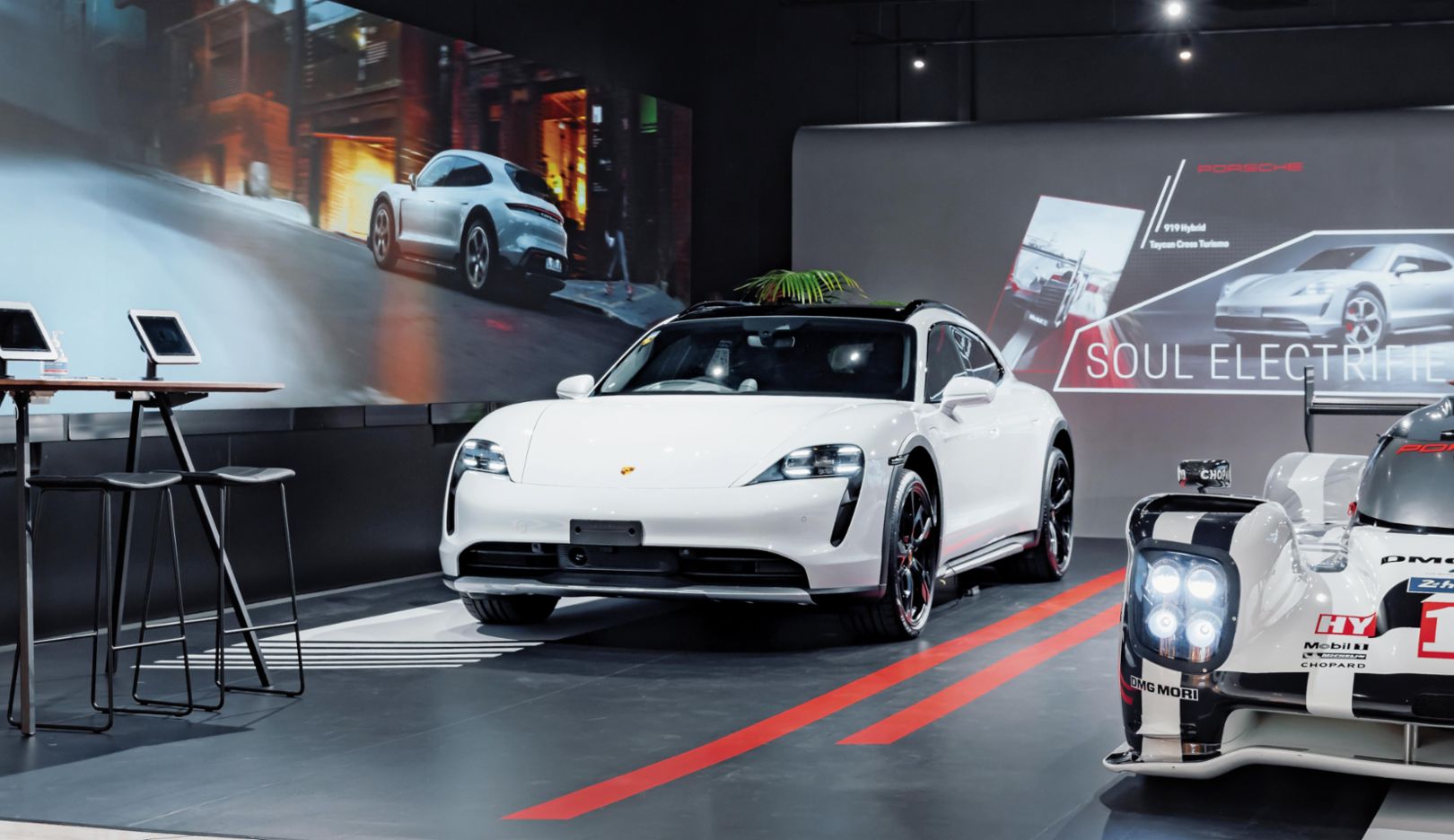 The second phase of the Porsche Experience featured a Porsche Motorsport display to showcase the achievements Porsche has made with Kiwi talent. The centrepiece of the store display was a replica of the Porsche 919 Hybrid racing car which New Zealand Porsche Factory driver Earl Bamber drove to victory at the 24 Hours of Le Mans race in 2017. This special display of New Zealand motorsport history was a popular attraction.
Highlighting Porsche's reputation for transferring its motorsport knowledge to road-car technologies was the all-electric Taycan Cross Turismo, which was displayed alongside the 919 racer. The connection gave visitors an insight into the depth of Porsche's research and development and the technology pedigree of its first electric vehicle model range.
Auckland's Porsche Experience showroom reached a huge number of Porsche fans and gave locals a glimpse of the potential for a future Porsche showroom.
Consumption data
Taycan Cross Turismo Models
WLTP*
24.8 – 21.2 kWh/100 km

0 g/km

415 – 490 km
NEDC*
26.5 – 26.2 kWh/100 km

0 g/km
Taycan 4S
WLTP*
24.1 – 19.8 kWh/100 km

0 g/km

370 – 512 km
NEDC*
25.8 – 25.4 kWh/100 km

0 g/km
Macan
WLTP*
10.7 – 10.1 l/100 km

243 – 228 g/km
NEDC*
8.8 – 8.7 l/100 km

200 – 198 g/km