Fast forward
Porsche Great Britain – Porsche Motorsport: The 2021 season drew to a close in typically thrilling style – while Adam Smalley is the new Porsche Carrera Cup GB Junior and will join the battle in April 2022
The rollercoaster 2021 Porsche Carrera Cup GB season had everyone on the edge of their seats until the final race. Wins for Harry King (Team Parker Racing) and team-mate Kiern Jewiss on the penultimate weekend established a four-way battle for championship honours. King, Jewiss, Lorcan Hanafin (JTR) and Dan Cammish (Redline Racing) arrived at Brands Hatch in Kent separated by just 22 points.
In the first race of the weekend, the four title hopefuls gave it their all over 14 nail-biting laps, constantly swapping places. Following a brave manoeuvre to take the lead, Hanafin emerged the winner, setting up a winner-takes-all clash with Cammish in the 16th and final race of the season. In the end, Cammish came through to become the series' first triple champion. Ryan Ratcliffe (Team Parker Racing) took the Pro-Am crown while Justin Sherwood (also Team Parker Racing) became the first driver to win three consecutive Am category titles. Team Parker Racing took the Teams' championship, and Jewiss was top Rookie.
The Porsche Visit Cayman Islands Sprint Challenge GB returned to support British GT at Donington Park, and welcomed reigning champion James Dorlin (Redline Racing) back to the grid. Dorlin dominated, taking pole position and two race wins. However, the season belonged to the absent Pro category champion Theo Edgerton (TCR) and Am victor Ian Humphris (Valluga) after both drivers appeared on their respective category podiums on ten consecutive occasions. Team Parker Racing again took the Teams' championship.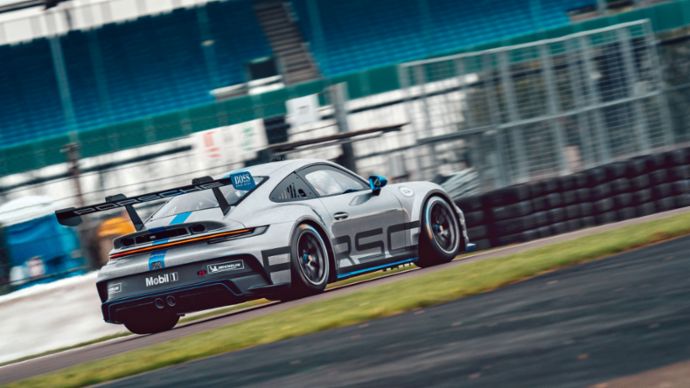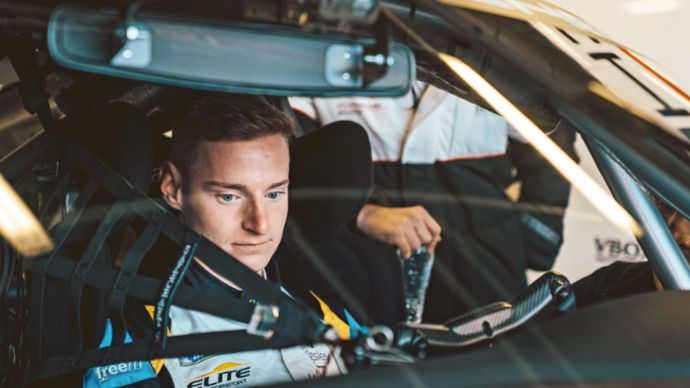 The red lights go out again for Porsche racing in April 2022
One matter was still to be settled: the Porsche Carrera Cup GB 2022/2023 Junior. With an impressive calibre of applicants vying for the coveted role, Adam Smalley was chosen after he and three talented young finalists were put through a challenging day of assessment at Silverstone in November.
Smalley will join the 2022 grid, driving the 'Type 992' 911 GT3 Cup when it makes its UK debut at the start of next season. The latest iteration of racing 911 follows in the tyre tracks of its successful 'Type 991' predecessor, with an increase in power from 485 PS to 510 PS.
Porsche Motorsport GB is already looking ahead to the 2022 season, when Porsche Carrera Cup GB enters its 20th season, adopting its traditional position as part of the TOCA package in support of the British Touring Car Championship (as it has been since its inaugural season in 2003). Meanwhile, Porsche Visit Cayman Islands Sprint Challenge GB will head into its third season with an expanded race calendar: 15 rounds will take place across six weekends alongside the Porsche Club GB, British Touring Car Championship and British GT Championship packages. The red lights go out for racing in April 2022.