Porsche Destination Charging
Porsche Australia & New Zealand – Porsche E-Performance: The network of electrical vehicle chargers installed by Porsche at luxurious locations continues to expand.
The arrival of the Taycan has ushered in a new era for Porsche. It has also opened the door to the Taycan Cross Turismo, Porsche's first Cross Utility Vehicle (CUV), along with plans for more electrification in future models.
Owners of electric Porsche sportscars already have various ways to recharge.
Home charging with the Home Energy Manager is the most common, and simple, method. Use of growing charging networks such as ChargeFox, which includes Ultra-Rapid chargers, is another.
Then there's the Porsche Destination Charging network. Here, Porsche has partnered with a variety of premium destinations and venues and installed EV recharging facilities, giving Porsche owners the convenience of recharging their electric or plug-in hybrid electric vehicles when visiting or staying.
The global program has grown to more than 2,800 rechargers in 70 countries, making it the most international EV recharging network in operation.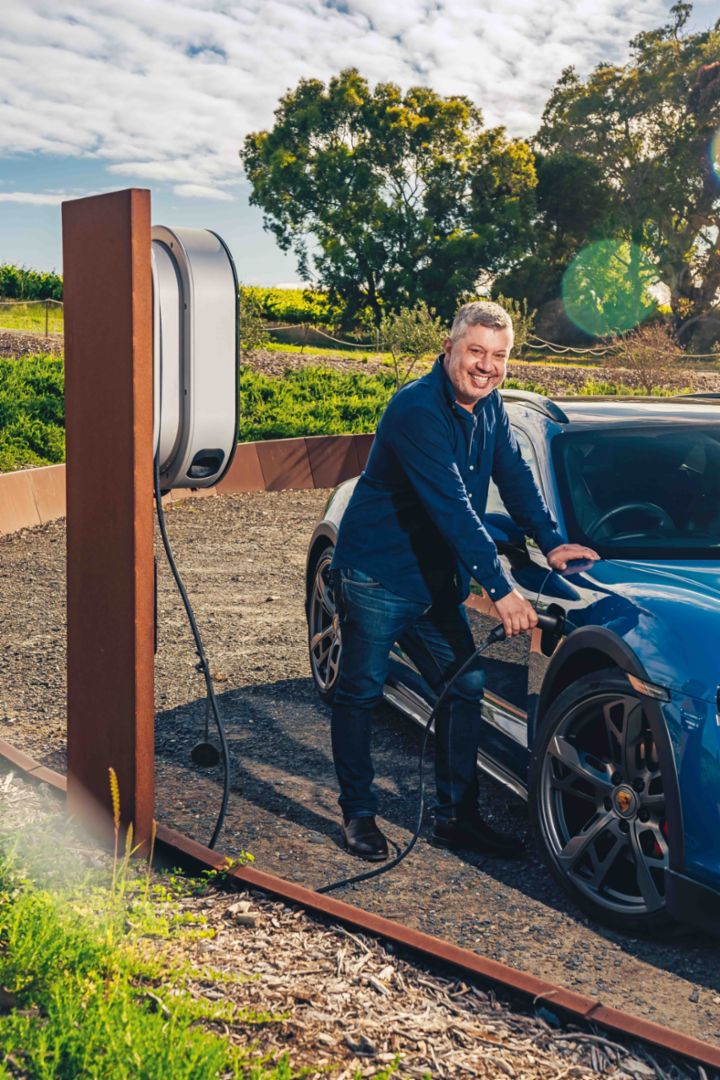 The fast-growing program made its Australian start in 2019, well in advance of the Taycan's local release. Since then the list of premium lifestyle destinations such as luxury hotels, restaurants, shopping precincts, theatres and entertainment venues in metropolitan and regional sites has grown to around 50 partners, offering the convenience of more than 80 AC-capable recharging units.
One business owner who has embraced the program is Frank Mitolo, owner of Mitolo Wines in the McLaren Vale region south of Adelaide.
The winery and its famed Little Wolf Osteria restaurant now houses two Porsche Destination Chargers.
"To be able to offer Porsche Destination Charging at our winery aligns with our philosophy of reliability and quality first. We want those people driving these cars to know they can rely on us as a destination to come and dine and charge with a peace of mind," said Mitolo.
A classic 911 owner himself, Mitolo is pleased to encourage Taycan owners to visit and recharge.
"I did have reservations about electric cars, but having driven the Taycan it has completely changed my perception to a positive note.
"It's so powerful. Those first few starting seconds you're on a wild ride. It doesn't slip or fight and it shoots off like a rocket.
"You won't understand it until you've driven it yourself. It's different to an internal combustion engine in terms of the way it gets its power down. It's quite exhilarating.
"Taycan drivers don't need to worry about where they can charge their Porsche while on the road, they can count on us."
More information
You can find the Porsche Destination Charging network map at porsche.com.au.

Other stories about Porsche Destination Charging locations can be found on Newsroom.Porsche.com.au.
Consumption data
Taycan Cross Turismo Models
WLTP*
24.8 – 21.2 kWh/100 km

0 g/km

415 – 490 km
NEDC*
26.5 – 26.2 kWh/100 km

0 g/km
Taycan 4S Cross Turismo
WLTP*
24.8 – 21.3 kWh/100 km

0 g/km

415 – 490 km
Macan GTS
WLTP*
11.7 – 11.3 l/100 km

265 – 255 g/km