Fast pasture
Porsche Australia & New Zealand – Porsche Motorsport: The extremes of high-level motorsport competition can limit the life of many race cars. But in the case of the 911 GT3 Cup, many live on as track day rockets.
It's the world's top-selling racing car. Since 1990, successive generations of Porsche's 911 GT3 Cup racer have stamped their mark on racetracks around the world, thanks largely to their high-quality design and engineering.
It's why Porsche Carrera Cup is chosen by many top-flight racing teams and drivers – and why so many examples of the 911 GT3 Cup keep living in the fast lane long after their full-time racing careers.
It's a fact well-known to Adelaide's Marc Percat. He knows a thing or two about Porsche's popular customer sports racer. He has a special connection to his fully restored 997.1 generation 911 GT3 Cup, which is as much a time machine as a speed machine.
"This is the car that started Nick's career," he says, referring to his son Nick Percat, Bathurst 1000 winner and one of the leading drivers in the Supercars Championship.
The 2013 season of what is now the Porsche Paynter Dixon Carrera Cup in Australia was a launching pad for young Nick, racing against the likes of Craig Baird and Steven Richards. "When Nick first competed in a Carrera Cup car he put it on pole position at his first race, which was the season-opening Clipsal 500 event," says Marc with obvious pride.
His son's first season in that 911 GT3 Cup racer saw him take second place in Australia's premier one-make sports car championship.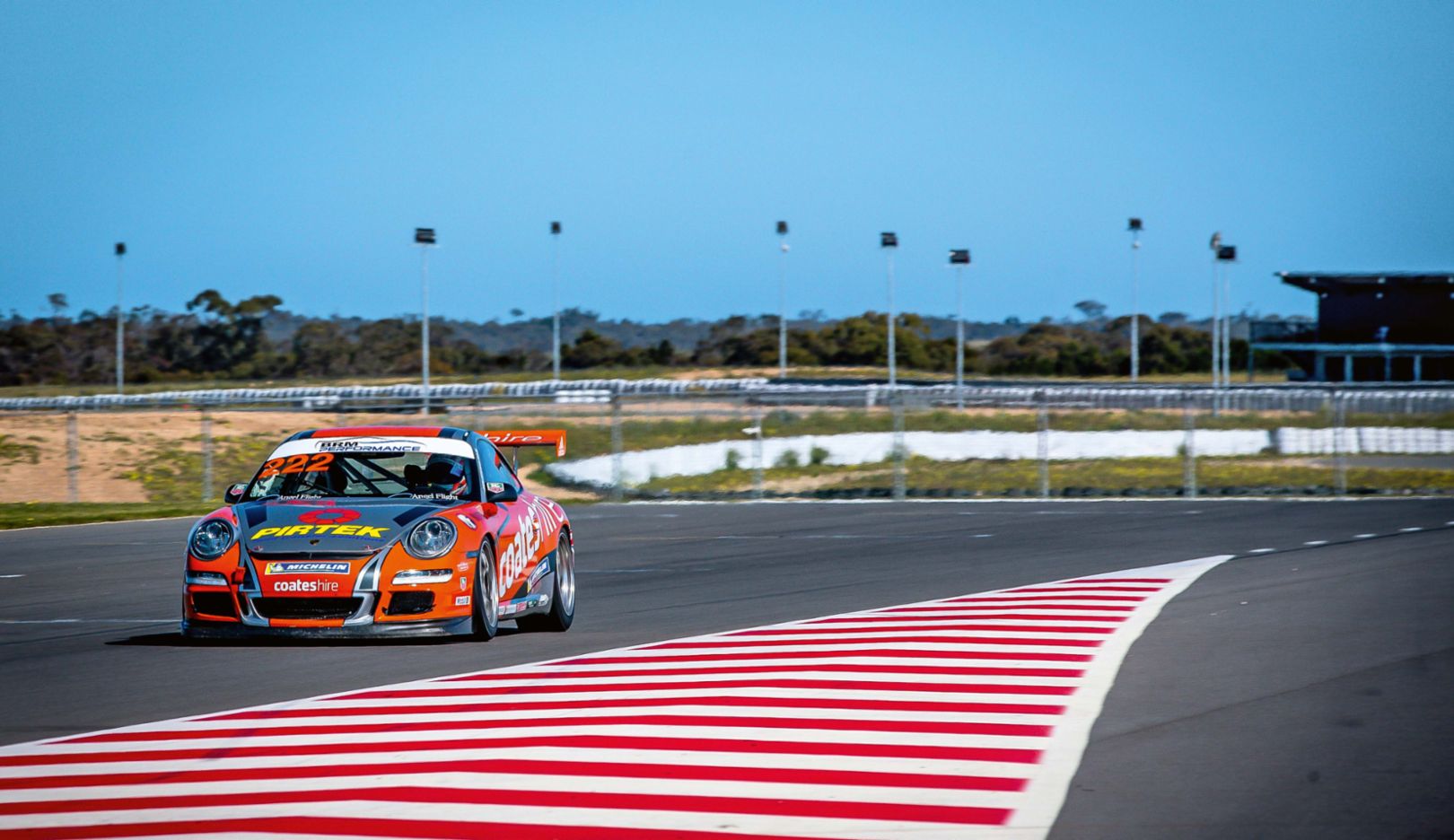 So when Marc got the itch for a track day car a couple of years ago, Porsche was the natural choice. "I've got an original 1973 911 but it wasn't suited for track driving. So I went looking for a reliable track day car and quickly got the idea I'd restore the same car that Nick competed in."
Marc soon discovered the original 911 Cup car Nick had campaigned had been re-shelled due to a heavy crash. But he managed to find another example that had been on the grid during that landmark 2013 Carrera Cup season.
"The car we restored was originally raced in Australia by Richard Muscat. It did two Carrera Cup seasons here – in 2013 and 2014. I bought the car in March 2020 from the President of the Porsche Club of South Australia. The owner prior to him had done some SA Championship events and track days but it was straight and in very good condition."
Work on the restoration got started as soon as the car was purchased. An experienced automotive technician, Marc knew the depth of the car's performance capabilities. He was aware of the importance of getting it back to its original racing condition. "It was a matter of making things right and returning it to how it should be."
That included recreating the exterior livery that graced Nick's car in 2013. With the restoration complete, it was time for its first track outing. It's a day Marc won't forget any time soon. "It was amazing! I couldn't believe how fast it was. The first time I drove it was at Mallala Motorsport Park and I remember accelerating out of the pits thinking 'This thing's a bullet!'."
And his conclusion after spending some time behind the wheel? "These 911 Cup cars are the most reliable bang for your buck you can get," he says smiling. "They simply don't break."
"These 911 Cup cars are the most reliable bang for your buck you can get."

Marc Percat
Today Marc shares the car with Nick and drives it in different events. It's one of many still-busy 911 GT3 Cup race cars in Australia, cars that today compete in everything from hill climbs to club-level racing.
"We've been having some fun in it, driving in events such as Hyperdrive 3D. You think you're going well and then Nick gets in goes 12 seconds a lap faster! Nick keeps telling me 'don't look at the clock and just enjoy it'." Marc's even used the car to help a young up-and-coming driver with his own career.
"Seeing him in the car was like seeing Nick in there all those years ago," he says. "When I look at this car I think of what it did for my son."
With more than 30 new 911 GT3 Cup racers competing for honours in this year's Porsche Paynter Dixon Carrera Cup Australia, there are plenty more memories being made – and long lives for these racing thoroughbreds as track day favourites.