The Whaler
A captain falls in love with a wing, reinvents himself as an artist, and manages to fascinate Jacky Ickx.
Heading for Tampa, Florida, Johans Lamic takes to the skies in August 2019. He flies often and is usually in the cockpit. But this time the commercial airline pilot has a private appointment with the air-cooled car of his dreams, the 1984 Porsche 911 3.2 Carrera Targa, which he has found online. It's love at first sight. And then the sound. "Huge emotions!" says the 42-year-old Frenchman. "I could feel the car's soul instantly and fell head over heels in love with the traditional driving experience." He laughs at himself, the cheerful sound filling the entire studio. Located in a twisting alley in Palma, the capital of Majorca, his work space almost feels too cramped for a man like him, who stands two meters tall from his skateboard sneakers to his gaucho hat.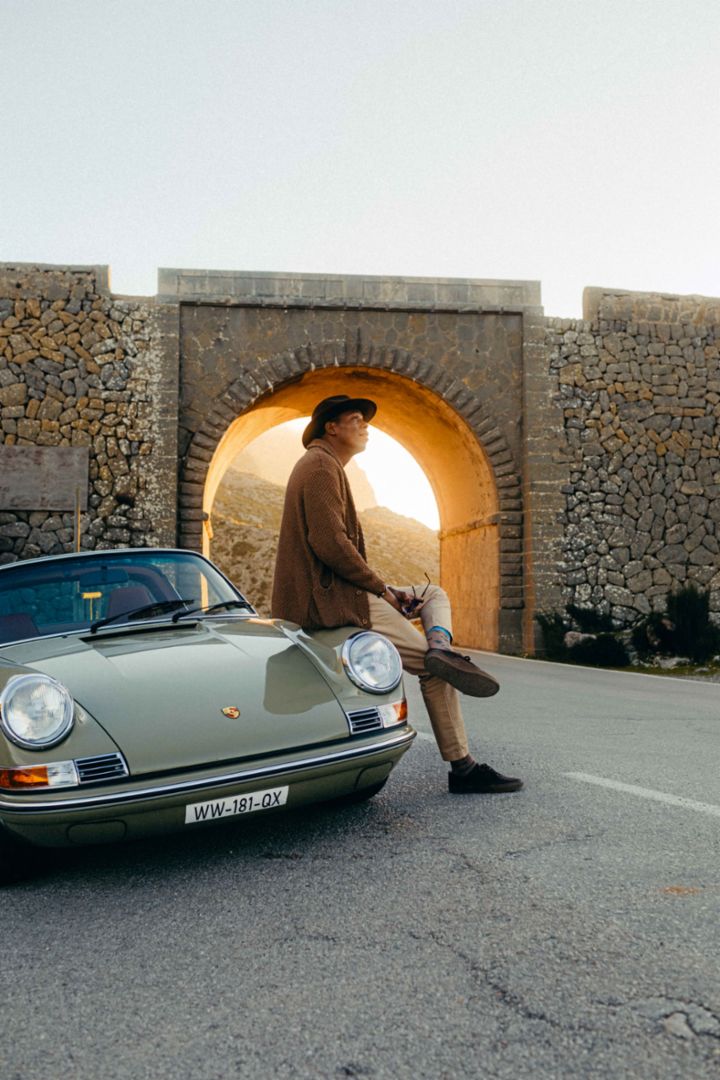 He sees to the freight documents in Tampa and has the car restored in Europe, taking it back to the 1960s. Longer hood, different bumper, and the rear wing has to go. The first owner, a dentist in Massachusetts, ordered the Targa with the imposing turbo wing of the 930 model built in 1974. Because the flowing lines are reminiscent of a whale's tail fin, its nickname is Whale Tail. Lamic instantly realizes that it's "much too beautiful and much too valuable to simply throw away." He has the decades-old object repainted and hangs it on the wall as a decoration. Beautiful. But something's missing. After studying the piece at great length, Lamic has something akin to a revelation: "The rear wing is an aerodynamic ­component, and air is basically water in a different state, which is how I came up with the idea of a drop design." Over a period of weeks, he experiments with synthetic resin, fiddling about with the design and stability of the drops. "They followed me into my dreams and robbed me of any sleep," he says, amused. But he ­actually discovers a technical solution for the perfect drop, and thus The Whale Tail Project is born. Lamic begins moonlighting as a whaler, spending countless hours surfing the net in search of more of the popular tail fins, talking on the phone, and corresponding with potential sellers.
In his hands, the hard-to-find rear wings are transformed into sculptures in a look reminiscent of Porsche racing teams of days gone by. The Martini Racing design serves as inspiration for the light-blue and orange combination of the Gulf paint job, ultimately an interpretation of the pink 917/20 that competed as Pink Pig in Le Mans in 1971. The colors of the successful Brumos team and Kremer Racing provide additional inspiration. The sixth edition is now here and boasts the colors of the vehicles sponsored by Rothmans, with the first one secured by none other than racing legend Jacky Ickx. Many details of Lamic's work pay homage to authentic racing technology. To stabilize the sculptures, he builds a structure inside much like a roll cage using pipes with a diameter of 32 millimeters, like those also used in Porsche race cars. Even the size, color, and typeface of the small signs that display the collection names of each piece correspond to those of the original stickers in Porsche engine compartments.
Before long, his sculptures are in demand both at home and abroad, with Lamic exhibiting his works of art at numerous locations in the US, Germany, Austria, Switzerland, and Dubai. His goal is to create a total of nine design editions, each limited to eleven pieces.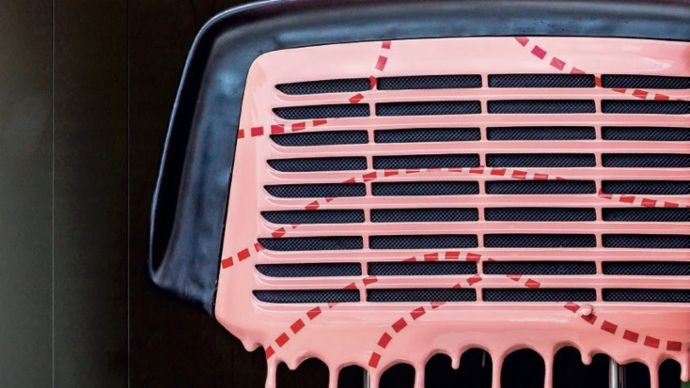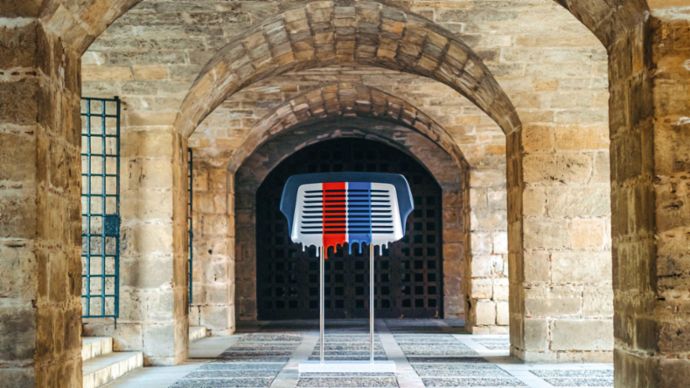 "I could actually feel its soul." Johans Lamic
When he's not flying or designing art, he enjoys his Stone Grey Targa. "I like the feeling of freedom when the top's down, the smell of pine in Serra de Tramuntana, Majorca, and cruising the winding roads." Mastering curves is his forte. Born in Paris, he grew up on the Caribbean archipelago of Guadeloupe, where he discovers his passion for basketball. After finishing school, he packs his bags and leaves for France to play professionally. At the same time, he studies law for a few semesters before changing direction again and assuming the role of marketing and sales director of an electronics company, with a focus on the region of Southeast France. With his new salary, he can afford to take his first flying lessons, devouring books about aviation and flying theory and training at home with a flight simulation program. He starts his pilot training in his mid twenties, flying in Turkey, Rwanda, and the Congo, and becomes a captain based at London Heathrow. And then there's his chosen home, Majorca, his flights of fancy to locations all over the world, and his curiosity about the next curve.
Consumption data
Taycan GTS
WLTP*
0 g/km

23.3 – 20.4 kWh/100 km

439 – 502 km