Hello Porsche World
Porsche Australia & New Zealand – Porsche Experience: Ferry Porsche once predicted that the last car people would drive would be a sports car. Held during the COVID pandemic, Porsche New Zealand gave 400 owners a preview.
With New Zealand borders still effectively closed in 2021, there has been little in terms of overseas experiences for Kiwis. But a roadshow from Stuttgart wasn't just both heart racing and thrilling; for the first time ever, it was electrifying too.
People can't travel too much during a global pandemic. But cars can, so Porsche saw no reason to stop the global tour of its World Roadshow (PWRS), an international programme offered by Porsche AG that visits markets without a dedicated Porsche Track Experience.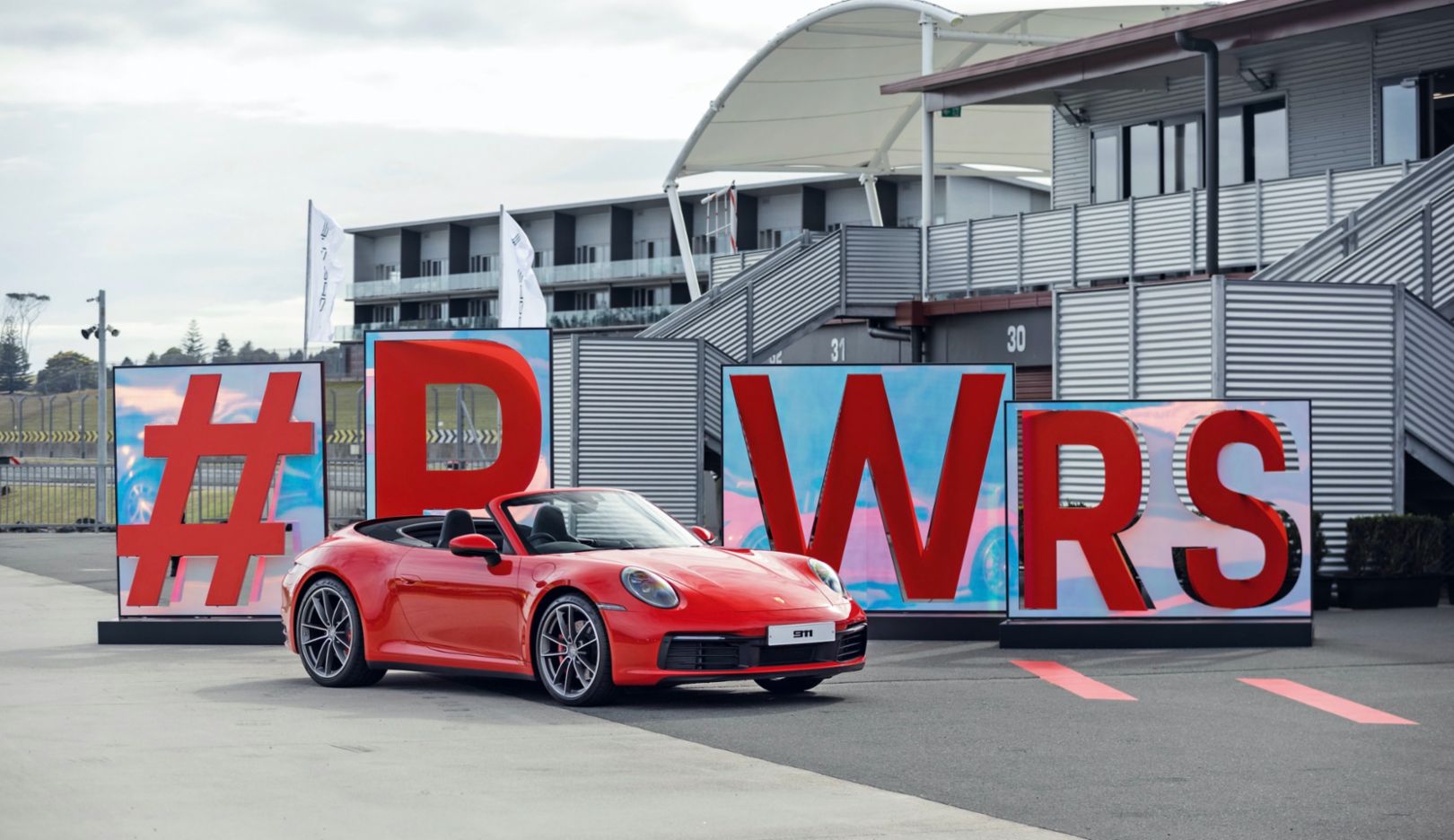 Normally, the 26 brand-new cars would be escorted by a team of Porsche engineers and trainers, yet these are not normal times and the combined teams of Porsche NZ and Downforce NZ are not normal people.
Fully trained and fully trusted, the 2021 Porsche World Roadshow in New Zealand was thus left in the highly capable hands of Kiwis. But nothing was done by halves.
The PWRS gave 400 customers and prospects the opportunity to experience almost every car in the Porsche range, test their handling, enjoy their power and learn some skills along the way. For the first time, Porsche also gave them the chance to experience both internal combustion engines and Porsche's new EV, the Taycan.
Having Taycans on the fleet was really the catalyst, said Porsche NZ general manager Greg Clarke: "This was the biggest PWRS fleet we've ever had, but the key reason we were so keen to get it out this time was that it now contained the Taycan."
Bright factory colours
The PWRS fleet that landed in NZ saw a range of bright factory colours, challenging potential customers to consider leaving the safety of the usual silver, black and grey palette.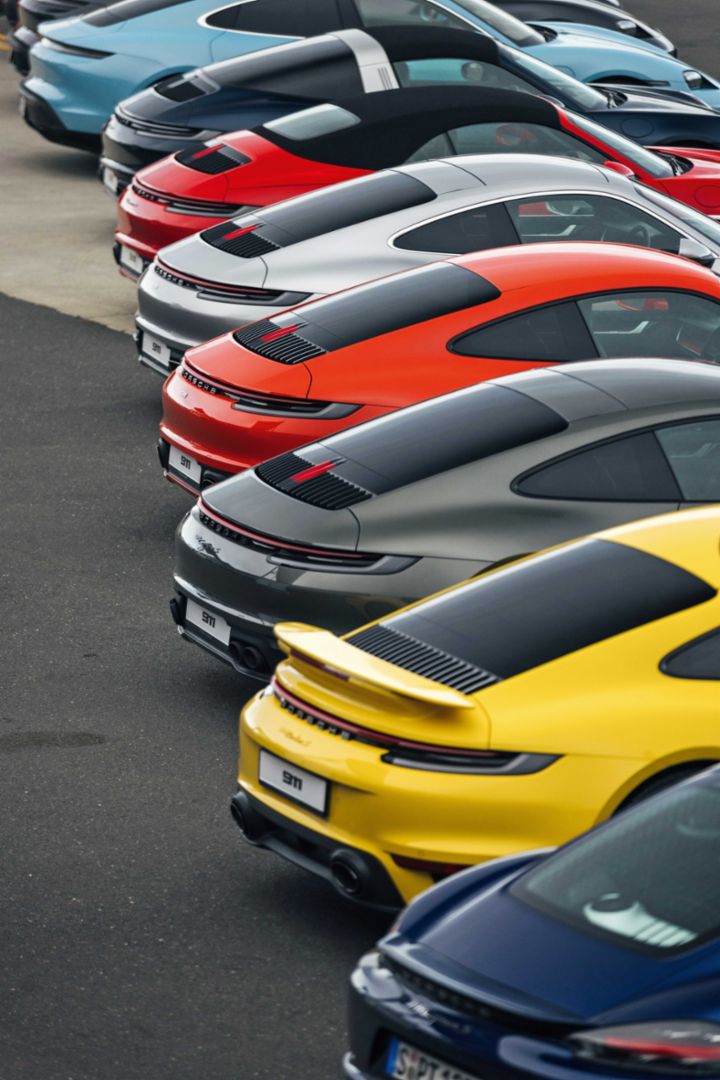 Forty attendees at a time were put to the test in five different modules, grouped by car type: Slalom & Antilock Braking System (with the 718 Boxster & 911 Turbo S); two-door Sportscar Handling (718 Cayman & 911); Electric Vehicle Handling (Taycan); Four Door Sportscar Handling (Macan, Cayenne and Panamera); and Offroad Handling (Cayenne).
Conducting the PWRS unsupervised is one thing, but adding the extra component of the Taycan EV really amped things up, pun intended. As a venue, Hampton Downs Motorsport Park was perfect, with a petrol station on its doorstep and with a public EV charger on site for the Taycans.
Thankfully ChargeNet, which is an integral part of rolling out the public electrification network throughout New Zealand, was also on hand to assist. In order to run the Taycans seamlessly throughout the PWRS programme, Porsche New Zealand partnered with ChargeNet to provide a temporary hypercharger to keep the electric vehicles on the track, with their 300 kW unit able to charge a Taycan from 20 per cent to 80 per cent in just 20 minutes.
A selected group of New Zealand journalists was invited along for a condensed version of the Roadshow, including a 0–100–0 km/h Launch and Brake module and then a cycle through four performance Porsches on the International circuit.
The 478 kW/800 Nm Porsche 911 Turbo S (911 Turbo S: fuel consumption combined (WLTP) 12.3 – 12.0 l/100 km, CO₂ emissions combined (WLTP) 278 – 271 g/km, fuel consumption combined (NEDC) 11.1 l/100 km, CO₂ emissions combined (NEDC) 254 g/km) accelerates from 0–100 km/h in a breath-sapping 2.7 seconds on the way up to its top speed of 330 km/h. The PWRS programme involved guests using launch control to get off the mark and accelerating up into treble digits, before an anti-lock braking manoeuvre to bring the Racing Yellow Turbo S to a very abrupt halt – a memorable exercise that was over all too soon.
Memorable Taycan laps
The rotation through the four-door 353 kW Panamera GTS (Panamera GTS: fuel consumption combined (WLTP) 13.1 – 12.1 l/100 km, CO₂ emissions combined (WLTP) 296 – 275 g/km, fuel consumption combined (NEDC) 10.9 – 10.7 l/100 km, CO₂ emissions combined (NEDC) 249 – 244 g/km), the 390 kW Taycan 4S (Taycan 4S: electric power consumption* combined (WLTP) 26.0 – 21.0 kWh/100 km, CO₂ emissions combined (WLTP) 0 g/km, electric power consumption* combined (NEDC) 27.0 – 26.2 kWh/100 km, CO₂ emissions combined (NEDC) 0 g/km) and the manual 294 kW Cayman GTS (718 Cayman GTS 4.0: fuel consumption combined (WLTP) 10.9 – 10.1 l/100 km, CO₂ emissions combined (WLTP) 247 – 230 g/km, fuel consumption combined (NEDC) 10.8 –9.6 l/100 km, CO₂ emissions combined (NEDC) 246–219 g/km) was held over three laps of the International circuit, which includes an aptly-named corner called the Double Bastard, as well as the challenging Porsche Dipper.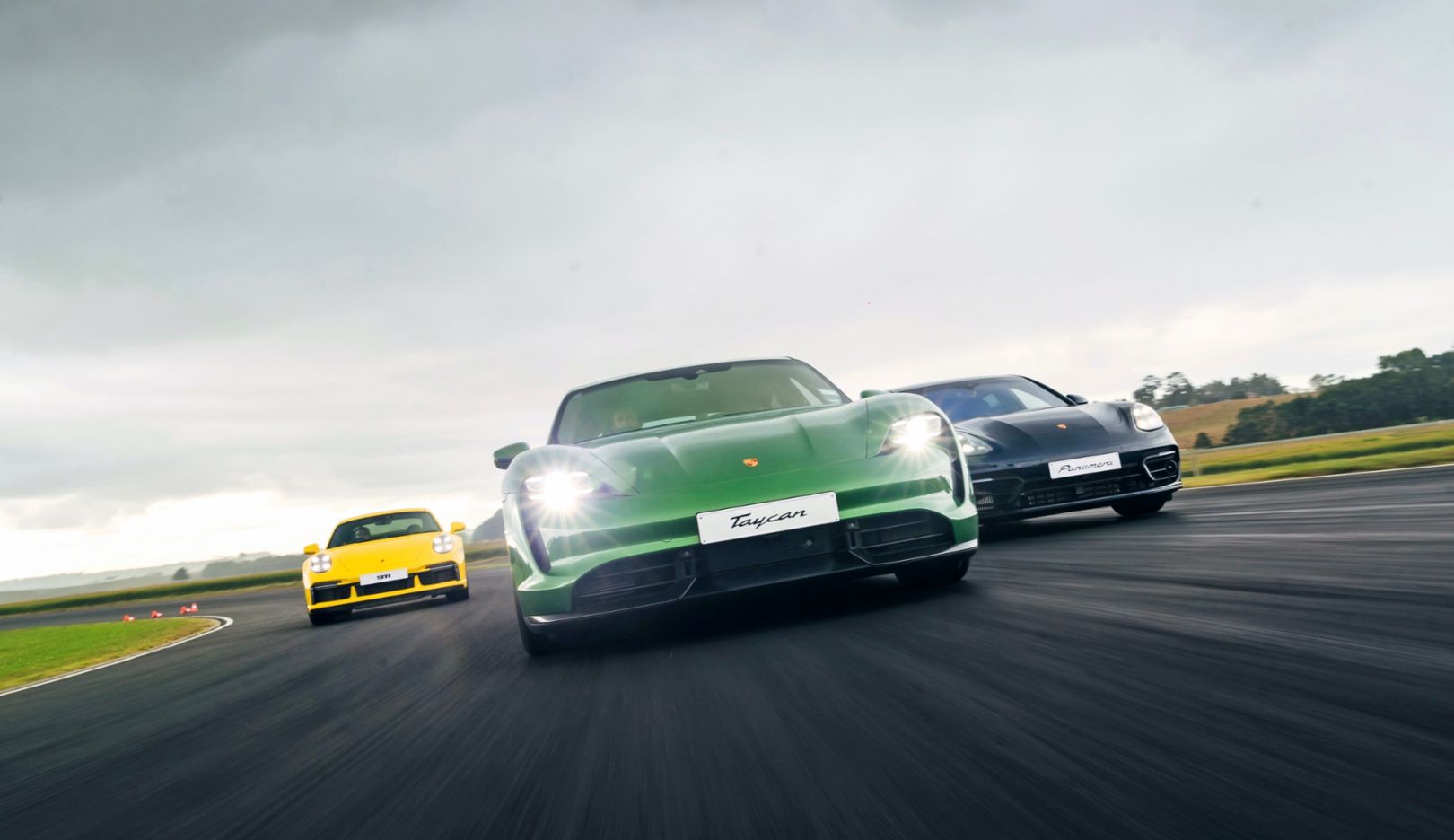 Each vehicle test showcased the driving prowess which is ingrained in Porsches, with the four-door Panamera impressing everyone with its 911-like agility. Meanwhile, the Taycan 4S just wowed its pilots by the way it 'silently' handled so adroitly. On the track, it more than held its own.
For many, however, the biggest surprise was the Cayman. Despite having less power than the others, its lightness and overall performance enthralled everyone.
Each day ended with hot laps, with passengers seated alongside experienced Porsche instructors. As a testament to the enthusiasm of the drivers, Michelin supplied 300 tyres for use during the event.
As expected, the ten days of the PWRS were all sold out, with Porsche NZ saying that most of the EV-sceptics who showed up left as Taycan converts.
Then, as the ten days drew to a close, everything was dismantled, stored carefully in the containers and sent to its next PWRS destination – Thailand. COVID World Pandemic or not, the Porsche World Roadshow goes on!
Consumption data
911 Carrera Cabriolet models
WLTP*
11.3 – 10.3 l/100 km

256 – 233 g/km
NEFZ*
10.6 – 9.6 l/100 km

242 – 218 g/km
911 Turbo S
WLTP*
12.3 – 12.0 l/100 km

278 – 271 g/km
Panamera GTS
WLTP*
13.1 – 12.1 l/100 km

296 – 275 g/km
NEFZ*
10.9 – 10.7 l/100 km

249 – 244 g/km
911 Targa models
WLTP*
11.3 – 10.4 l/100 km

257 – 236 g/km
NEFZ*
10.7 – 9.8 l/100 km

243 – 223 g/km
718 Cayman GTS 4.0
WLTP*
10.9 – 10.1 l/100 km

247 – 230 g/km
NEFZ*
10.8 –9.6 l/100 km

246–219 g/km
718 Cayman
WLTP*
9.7 – 8.9 l/100 km

220 – 201 g/km
NEFZ*
8.7 – 8.1 l/100 km

199 – 185 g/km
911 Turbo Cabriolet
WLTP*
12.5 – 12.1 l/100 km

284 – 275 g/km
Taycan 4S
WLTP*
26.0 – 21.0 kWh/100 km

0 g/km

335 – 464 km
NEFZ*
27.0 – 26.2 kWh/100 km

0 g/km
911 Turbo S Cabriolet
WLTP*
12.5 – 12.1 l/100 km

284 – 275 g/km
718 Boxster
WLTP*
9.7 – 8.9 l/100 km

220 – 201 g/km
NEFZ*
8.7 – 8.1 l/100 km

199 – 185 g/km