Crypto Art
Pilot project with future potential: for the first time, Porsche Germany auctioned off an exclusive design sketch as a non-fungible token.
"A passion for testing new technologies shapes our company."

Peter Varga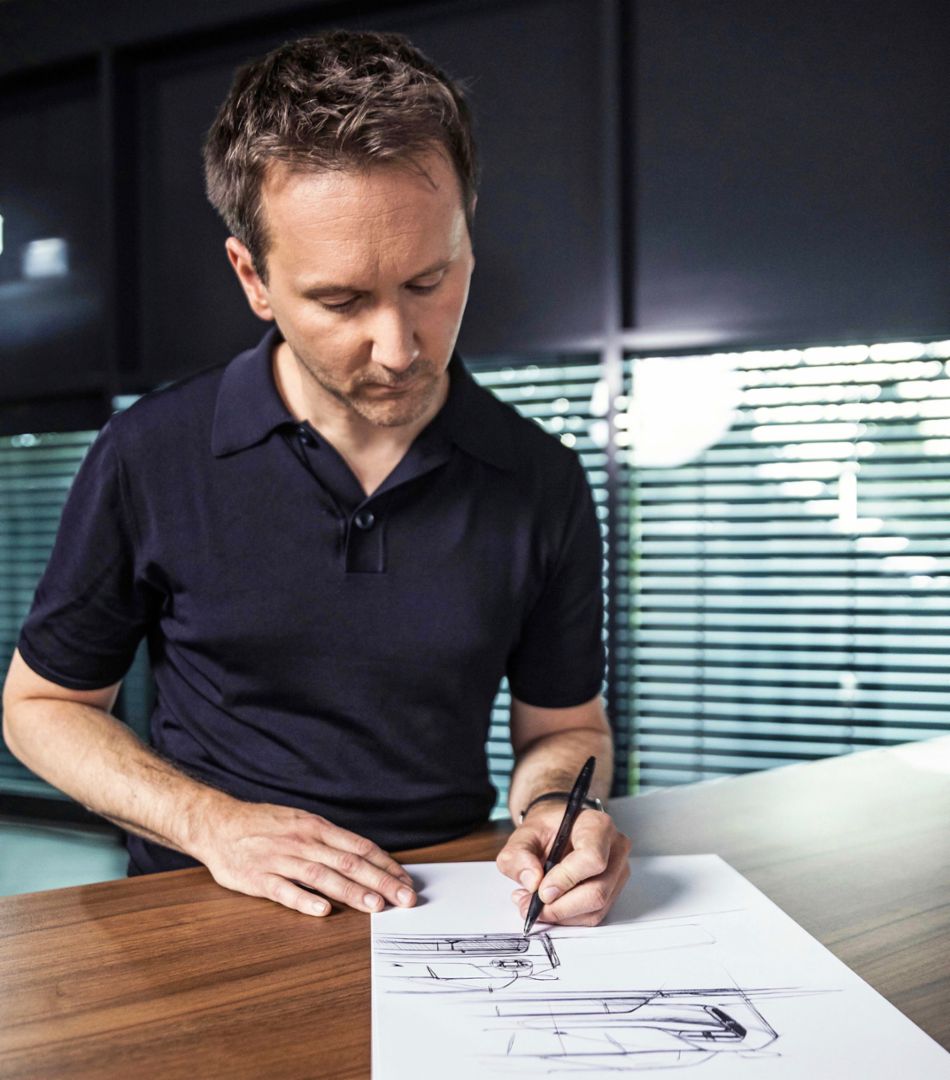 Peter Varga created a sketch, which is one of his responsibilities as Director of Exterior Design at Porsche. But this drawing is not only special because it aesthetically combines the Taycan Cross Turismo and 911 models. It's also the first Porsche project developed for the crypto art market – successfully auctioned off as a non-fungible token (NFT).
"Building a bridge between the iconic lines of the 911 and the latest model for the first Porsche NFT was an exciting task," says Peter Varga. "The NFT initiative came about as a result of our internal innovation process. A passion for testing new technologies has always shaped our company."
NFTs are based on blockchain technology. In 2018, Porsche became the first automotive manufacturer to try this out in vehicles. Among the early pilot projects were the locking and unlocking of a car using an app as well as temporary access authorizations and new business models through encrypted data logging. Possible application areas are continuously being further developed in order, for example, to improve autonomous driving functions.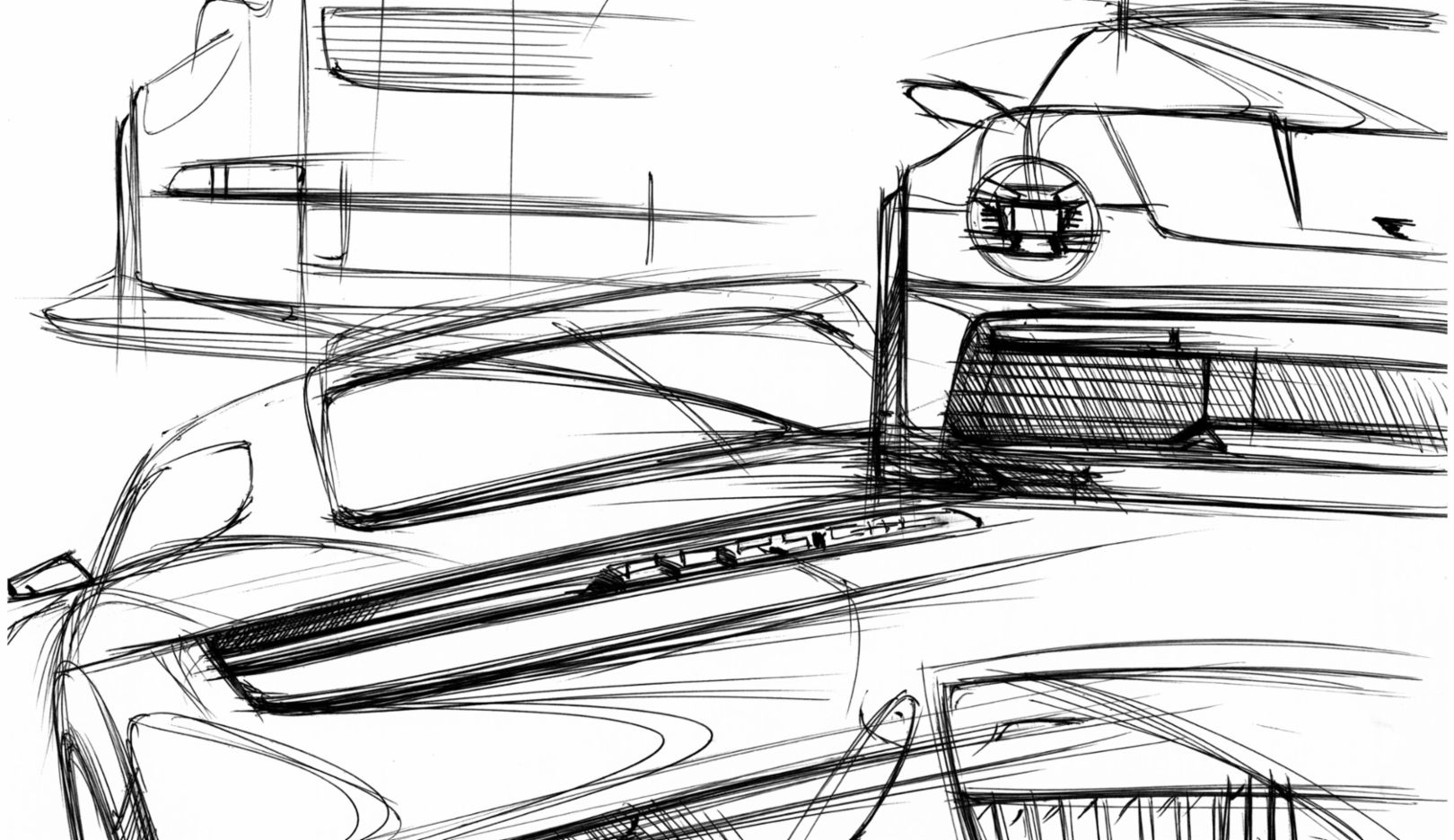 What's an NFT?
In principle, a non-fungible token is a forgery-proof digitalized asset that can take the form of immaterial objects such as music or film rights. Even special Tweets can be transformed into NFTs and belong to someone. Digital property protection is especially effective for physical objects such as real estate and vehicles. And for works of art. NFTs can be bought and sold, and the market is growing. The "N" in the name distinguishes it from cryptocurrencies such as Ether and Bitcoin, which are fungible tokens – interchangeable like paper money in the real world. Both cryptocurrencies and NFTs are based on blockchain technology.
How does blockchain work?
Blockchain represents a rejection of central regulatory bodies in favor of a decentralized system that provides all participants with the same rights and information. A chat on WhatsApp or a comparable service can serve as an example for further clarification. Here, too, each member of a group, in principle, has access to the same content, with entries added one after the other.
In blockchain technology, all of the entries are assigned hash values, which are character strings of any length that all lead back to the same root. New blocks are assessed by the network of computers, all of which have the same rights and a full copy of the blockchain. So if someone intended to forge a transaction, they would have to manipulate all of the hash values entered thus far in all of the existing copies. To put it simply, this type of computing power is not feasible, and that's what forms the basis for the security principle of a blockchain.
What do NFTs mean in the art market?
Art historian Thomas Kellein managed large museums and worked as a curator at various locations, including in Basel, London, Munich, Beijing, Venice, and the US. "We're experiencing the emergence of a financially strong marketplace for digital art that's authenticated with blockchain technology rather than signatures," says Kellein, confirming the NFT boom. He does not doubt the security of the system. "But in terms of content, investment remains just as speculative as it is in analog art. You should never forget that art – just like money – wouldn't exist without belief and conviction."
He believes that a revolution in the world of art could also develop in the area of sharing. "Through NFT technology, digital and physical works of art – such as paintings, sculptures, drawings, and photographs – can initially be authenticated. However, in the near future, it will also be possible through NFT to trade parts of physical works just like stocks. This is known as fractionalization."
What does the buyer have to say?
US American Ed Voyles acquired Peter Varga's design sketch for 30.25 Ethereum, which at the end of the auction translated to around $92,000. Porsche Germany donated the proceeds to the nonprofit organization Viva con Agua, which is dedicated to providing access to clean drinking water around the world.
Voyles, 26, purchased both the blockchain-verified NFT and the physical work of art during the auction. "This combination makes the design sketch especially valuable," says the delighted NFT collector and entrepreneur from Atlanta, Georgia. He has been a fan of the sports car brand for many years and has been dabbling in cryptocurrencies since 2018. "I'd say I own a small piece of Porsche history. And the fact that the proceeds went to Viva con Agua makes the purchase a win-win situation for everyone involved."
SideKICK: Implementation with Fanzone
Forward31, which is a company builder and business unit of Porsche Digital GmbH, spun off the Fanzone start-up in 2021. It was with this young company based in Berlin that Porsche auctioned off its first NFT. Fanzone operates an online platform on which sports fans can acquire, collect, and trade digital trading cards in the form of NFTs and use them in fantasy competitions. Blockchain technology guarantees the identity and security of the trading cards.
Consumption data
Taycan Cross Turismo Models
WLTP*
24.8 – 21.2 kWh/100 km

0 g/km

415 – 490 km
NEDC*
26.5 – 26.2 kWh/100 km

0 g/km
Macan
WLTP*
10.7 – 10.1 l/100 km

243 – 228 g/km
NEDC*
8.8 – 8.7 l/100 km

200 – 198 g/km