Rising Through the Ranks
Porsche Australia & New Zealand – Porsche Motorsport: From Porsche Track Experience guest to Porsche Michelin Sprint Challenge round winner in less than five years, Matt Belford's racing rise is the ultimate example of the Porsche Motorsport Pyramid at work.
Competing in top-level motorsport was never on Matthew Belford's radar.
Barely five years ago, the Melbourne-based businessman had not even been on a racing track, let alone in one of the most competitive forms of one-make racing in the world. He is now a regular frontrunner in the Porsche Michelin Sprint Challenge Series' competitive Pro-Am class.
Though a deep interest in sports and competitive pursuits played a big role in his life, Belford's business and family life ensured he was an interested spectator rather than an active participant until very recently.
And that is before you mention the fact he didn't even grow up as your typical 'car guy'.

"I grew up with my brother, David. I was the guy who kicked the footy and chased the ball around while he'd take my toy cars and take the motor out," remembers Belford.
"He was the car guy, I was into sport and competition. I followed motorsport because I loved the competition of it, but I wouldn't have called myself a 'car guy'.
"And then later, I was focused on my business and on my career so it was never really a factor."
One track experience, however, was all it took to make getting behind the wheel a serious option. It would be the family connection that would play a role—not just in Belford's move into active competition, but also towards Porsche brand itself.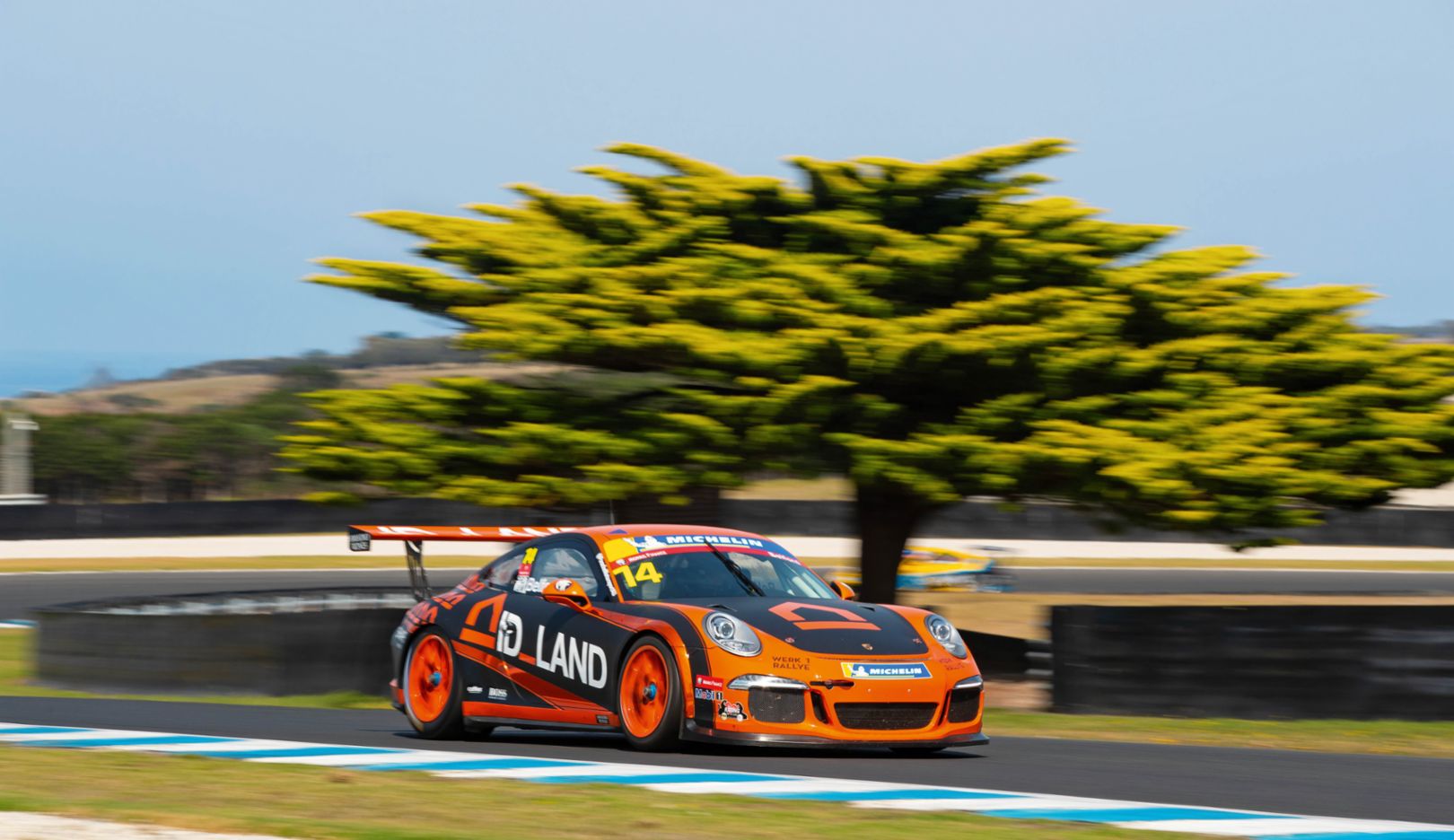 "My brother restores classic cars for a living and my business partner is also into old cars. They kept saying 'You've got to come and do a track day!' and I was more concerned that it was a full day out of the office," he recalls.
"They finally dragged me down to Phillip Island and in a single day I drove Porsches from the 1970s, '80s, '90s and current-spec cars as well.
"For a bloke who always wondered how people could get so wound up about Porsches, I was an instant convert!"
The track days, coupled with a subsequent purchase of a Porsche 911 GT3 RS for his own track use, opened Belford's eyes to the opportunity to focus purely on the driving and nothing else.
"I loved the mental side of it, the complete switch off: the only thing you think about is what you're doing in the car," says Belford.
"I found a magnificent release from from my everyday schedule. Then I turned my mind to the sporting aspect of it and began thinking about getting involved in the competitive side of it."
A timely work trip up north saw Belford take the opportunity to tackle all five levels of the Porsche Track Experience, which culminates in the Level 5 programme in which participants drive a fully fledged Porsche 911 GT3 Cup Car at Queensland Raceway, complete with their own driving coach and data engineer.
It was tapping into the knowledge of professional drivers that opened Belford's eyes to the potential of making the step into one-make Porsche competition.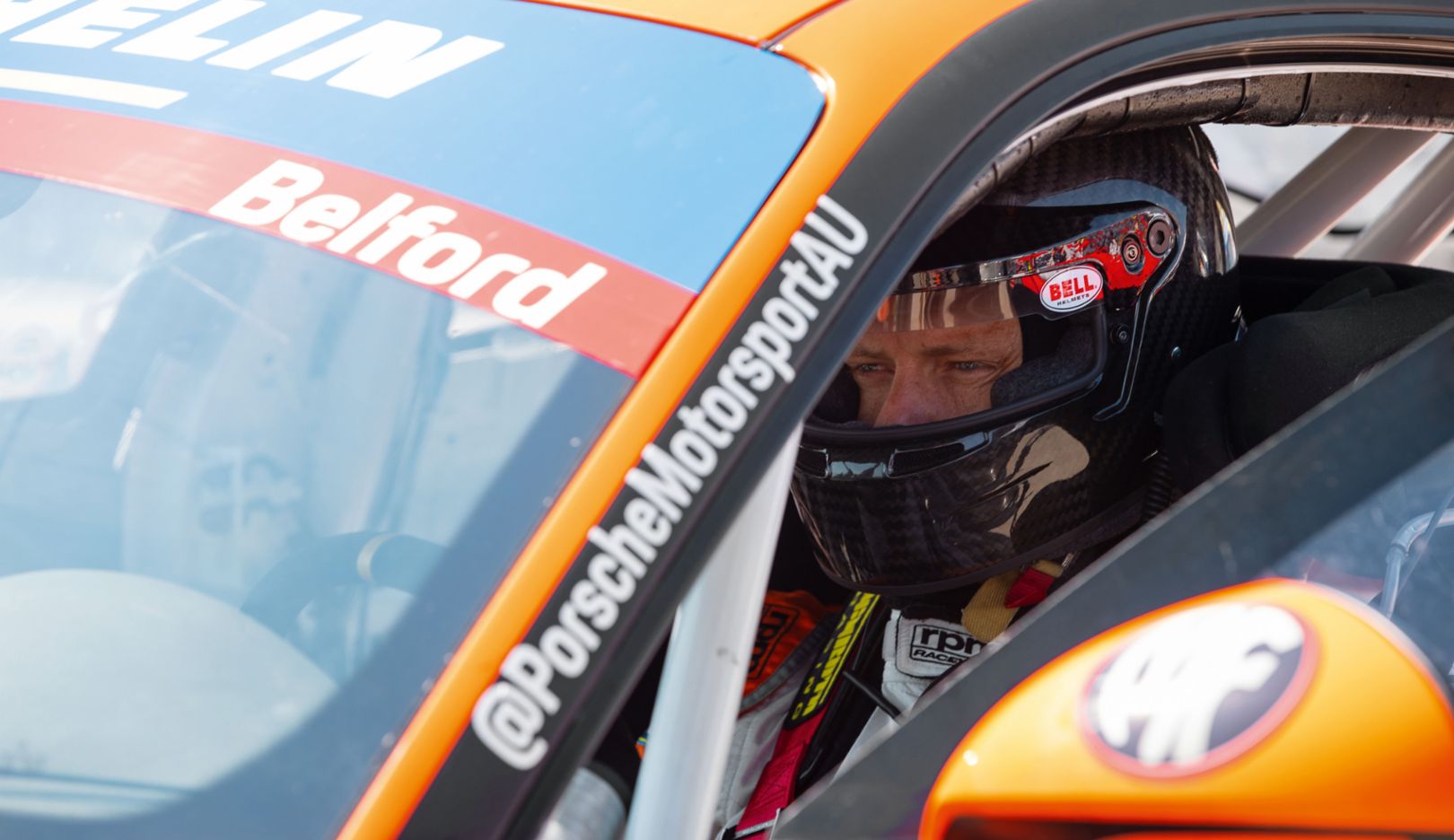 "I was getting coached by Jaxon Evans and Luke Youlden: Professional guys who are at the top of the Carrera Cup field and are as good as anyone in the world. By doing it I had a bit more interest in Carrera Cup, Cup Challenge and thought it would be great to look into the competitive side and get into that."
With brother David once again providing the source for an appropriate car, Belford linked up with Porsche Centre Melbourne's experienced team of motorsport professionals, led by legendary engineer Karl Batson, for his racing debut in the 2019 Porsche Michelin Sprint Challenge series.
After missing the opening round thanks to a poorly timed biking accident, he ultimately finished seventh in the Pro-Am class in his rookie season, followed by maiden Pro-Am class race and round victories coming early in the 2021 racing season.
That rapid progression has Belford with eyes on making the next step on the Porsche Pyramid sooner rather than later.
"I'm generally pretty happy to throw myself into the deep end, but to go from doing very, very little of that kind of racing to jumping into that category was a big step," he explains.
"The beauty of the Porsche pyramid is you can see where you are at and if you can be competitive in that space then you know you'll be competitive in Carrera Cup."