Charging into the history books
Porsche Cars Great Britain – Record run: Brands Hatch motor circuit has often played an important role in Porsche motorsport history, and it proved to be the perfect place for a pair of Porsche Taycans, a trio of Porsche driving stars and one journalist to set 13 electric driving records
The suggestion was to fill some of the yawning gaps in the Motorsport UK record books for electric vehicles. Take a Porsche Taycan to an airfield or perhaps to the two-mile banked circular test track at Millbrook Proving Ground in Bedfordshire, establish a few records, and then home in time for tea.
Porsche Cars GB had a rather more ambitious plan. Instead of setting a series of somewhat predictable records for acceleration and speed, why not go for endurance records? And not on some windswept runway or on the rather boring bowl at Millbrook, but at a proper racing circuit.
And not just any circuit – one positively steeped in Porsche history. The sublimely picturesque Brands Hatch was the scene of the epic battle in the rain between an array of Porsche 917K models and a strong field of Ferrari 512S endurance race cars at the BOAC 1000km in 1970.
That race was the third round of the 1970 World Sportscar Championship, and was won by Pedro Rodríguez and Leo Kinnunen in the Gulf-liveried Porsche 917K. Porsche racers filled the podium that day, with Vic Elford and Denny Hulme finishing second and Richard Attwood and Hans Herrmann coming home third.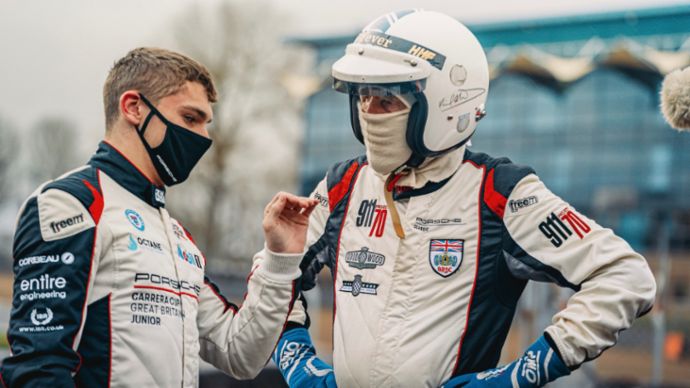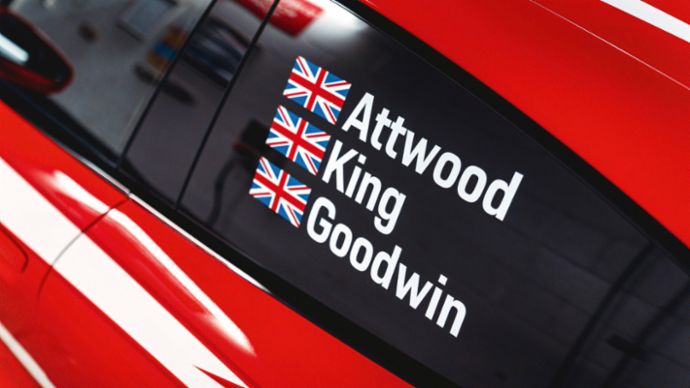 Winning line-up:
reigning Porsche Carrera Cup GB champion Harry King and Porsche 1970 Le Mans winner Richard Attwood discuss the fine art of precision driving while preserving battery power
Then, at the same race 14 years later, Jonathan Palmer and Jan Lammers crossed the line first in their Canon-sponsored Porsche 956. Incredibly, Porsche race cars took the top six positions at Brands Hatch that day.
To win long-distance races, you need the right machinery and the right drivers – but you also need flawless organisation. Porsche has all of the above. Within days of the record attempt in the electric Taycan first being mooted, a giant trailer containing 2.1 megawatts of battery charging power had been requested from Porsche HQ in Stuttgart, and two Taycans – one a 4S and the other a Turbo S – had been organised in the UK.
After that epic battle at Brands in 1970, Attwood and Herrmann had to content themselves with the bottom step of the podium. But they didn't have to wait long for their day in the sun. Just two months later, driving their Salzburg-entered 917, they gave Porsche its first overall win at the Le Mans 24 Hours. In tribute to the marque's former glories, the Taycans were both 'wrapped' in modern interpretations of heritage livery for their electric record-breaking run at Brands Hatch. The Taycan 4S bore Salzburg colours, while the Turbo S carried Canon-inspired hues.
Porsche had scanned the UK records (which you can view on Motorsport UK's website) and picked out 12 that could be set, all from a standing start. First, we'd aim to establish a record for 50km and then continue all the way to 1000km, posting en route records for imperial distance and for distance covered in hours (one hour, three hours, six hours etc.). The plan was to run both cars at the same time with two teams of drivers.
Clearly, it would have been unthinkable to undertake the challenge without enlisting the services of Richard Attwood, who is still racing and still fast. Attwood would be driving the Salzburg-liveried 4S (of course) alongside current Porsche Carrera Cup GB champion Harry King. King, at 20 years of age, is 60 years younger than Attwood, who is probably the fastest octogenarian in the world.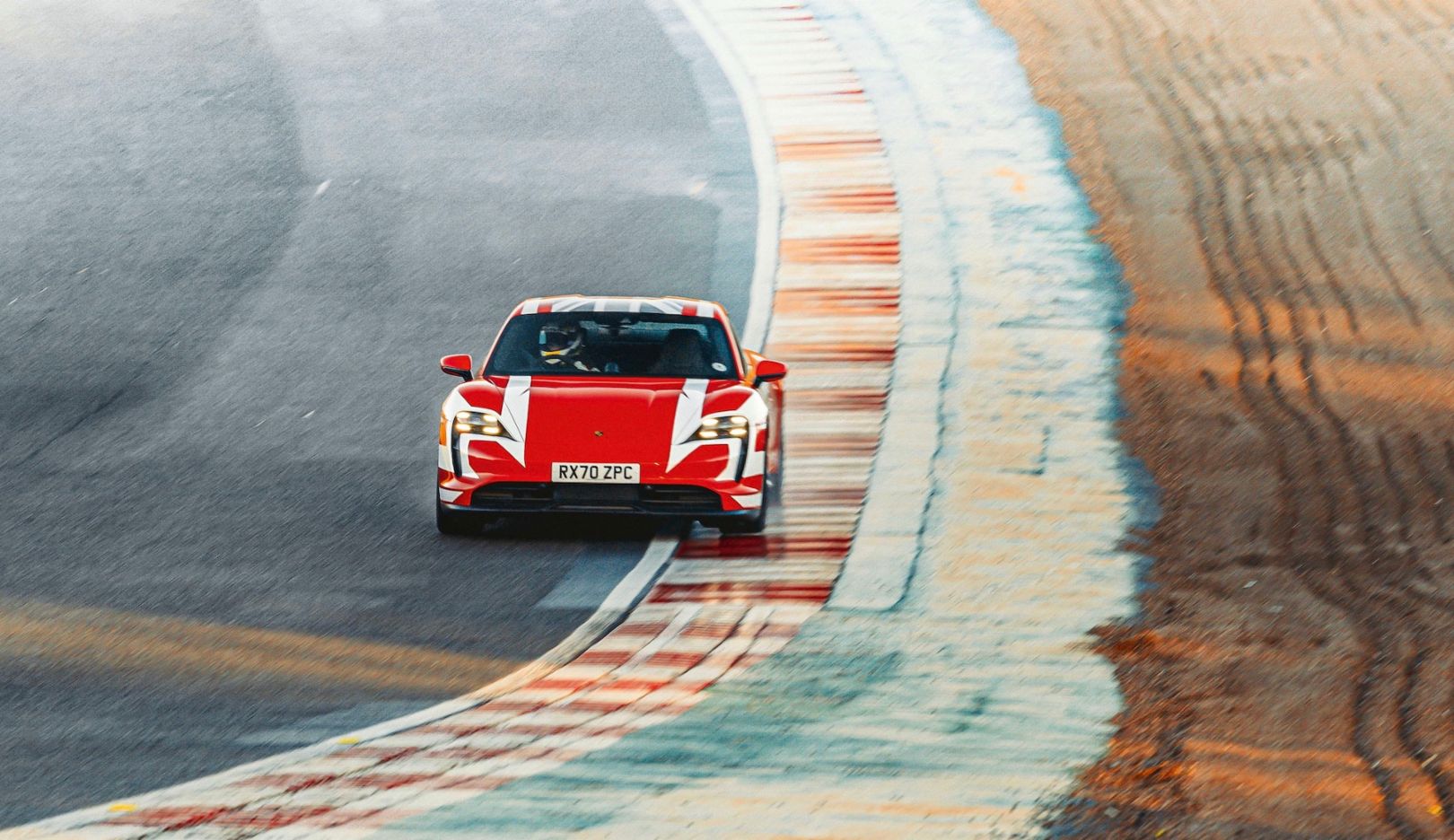 Unfortunately for the hugely talented Attwood and King, I'm joining them in their team. I'm down to have a stint in the Turbo S, too, which is also being driven by James Dorlin, current Porsche Visit Cayman Islands Sprint Challenge GB Champion, and 1984 1000km winner Jonathan Palmer.
We start at 07.00 sharp, and have until the circuit curfew at 20.00 to bag all our records. I start the clock ticking in the Salzburg car. A post-event thumb through 'The Pocket Book of Racing Driver's Excuses' provides me with a reason for why I nearly crash the 4S at Paddock Hill Bend, having barely got 20 metres: it wasn't due to incompetence, but to the combination of a wet, greasy track and brand new tyres. I suspect the real reason (aside from a lack of skill) was a serious attack of nerves. Half an hour later and I'm beginning to feel a bit more settled in, even though I've never driven on a more slippery track.
Out of every corner, the Taycan feels like it wants to wriggle and slip, but its Porsche Stability Management system keeps us on the Tarmac. In preparation, the expert team at Porsche had done some reconnaissance at the circuit, and spent hours on their calculators working out the ideal lap time and energy consumption.
For the 4S, it works out at a lap time of 1 min 08 secs and an energy consumption of 70kWh. The boffins had also prepared a diagram of Brands showing the corner speeds we should aim for at each apex: Paddock Hill Bend should be taken at 62mph, Druids at 42mph, Graham Hill Bend at 50mph with light acceleration up to 65mph on the Cooper straight, before lifting and coasting into McLaren, then Clearways at 52mph, before accelerating to 85mph for the Brabham or pit straight …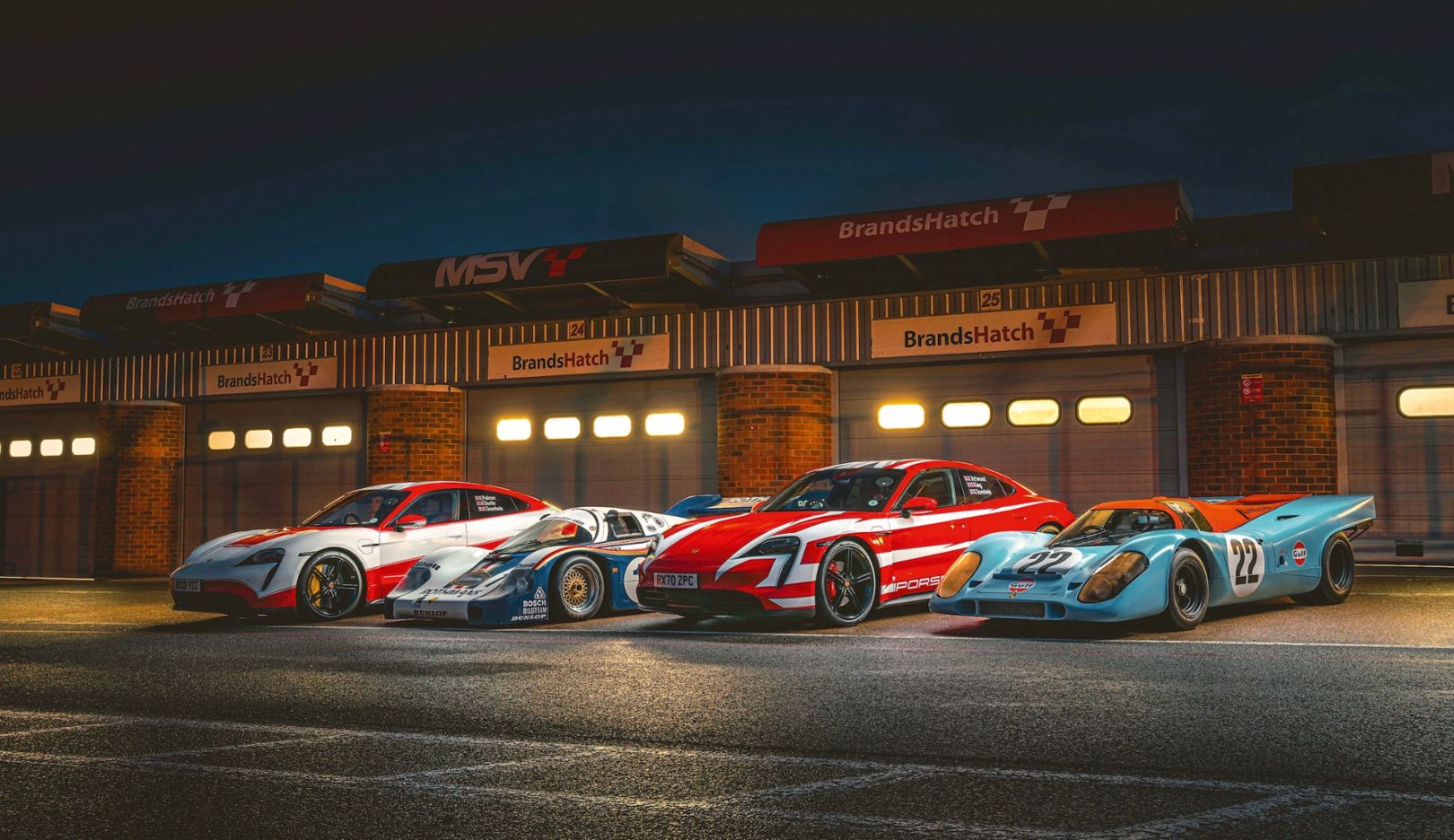 The Taycans have bettered their official charging times
It all sounds very easy, and it probably is for my highly experienced teammates. One of the differences between amateurs and the professionals is that the professionals can deal with many different inputs at once. However, even for Harry King, this is not straightforward: 'It's completely different to what I'm used to. It's all about adjusting your driving style and trying different techniques to get the best from the car,' he explains.
The Taycan is the first electric car that Jonathan Palmer has driven. 'It's very appropriate that we're trying for a 1000km record, especially at Brands Hatch,' he recalls. 'The driving discipline reminds me of the Group C days, when we had to make 100 litres of fuel last for each stint, with six stints in a 1000km. You had to eke out the fuel to get the best lap time, but you didn't want to make more pit stops than you needed to.'
Unfortunately, although I manage to match the professionals' lap times, I'm using more energy than they are in doing so. I improve during my stint in the Canon car, helped by a slightly less slippery track, but my last run in the Salzburg car is in the dark and through torrential rain. I'm determined not to make any mistakes, especially after everything has gone so smoothly throughout the day. Happily, no mishaps occur and I breathe a sigh of relief.
What particularly impresses me about the Taycan is how it manages to match – and even exceed – the quoted charging times. And this under quite extreme conditions. It's just as well the charging is straightforward, because my greedy energy usage means the 4S has to pause for an extra pit stop.
But no matter: when King takes the 4S across the line a couple of minutes after 20.00, followed a lap later by the Turbo S, we have set the dozen records we planned to. And it turns out to be a baker's dozen, as we've also set a new record for distance covered in 12 hours. Another memorable day for Porsche at Brands Hatch.
Further information
To learn more about the all-electric Taycan, visit porsche.com/uk
Consumption data
Taycan 4S
WLTP*
0 g/km

26.0 – 21.0 kWh/100 km

335 – 464 km
NEFZ*
0 g/km

27.0 – 26.2 kWh/100 km
Taycan Turbo S
WLTP*
0 g/km

25.6 – 24.3 kWh/100 km

390 – 416 km