Sprint Challenge ends in Silverstone showdown
Porsche Great Britain – Motorsport: The inaugural Cayman Islands Porsche Sprint Challenge GB concludes a successful season despite the challenges of racing safely under the restrictions of COVID-19 – and with the number of drivers and cars increasing as the season progressed, it's all looking good for 2021.
Porsche Motorsport GB's second one-make championship, the Cayman Islands Porsche Sprint Challenge GB, sits alongside the Porsche Carrera Cup GB in the Porsche Motorsport GB pyramid. The series returned for its third weekend at Brands Hatch in September.
James Dorlin (IN2 Racing) and Tom Jackson (Rob Boston Racing) renewed their battle for Pro category honours and took one overall victory apiece, moving them to within two points of each other in their tense championship duel. Ian Humphris (Valluga) recorded his maiden Am category victory in race one, while John Westbrook (Rob Boston Racing) took his first category win in race two.
The championship returned to the British GT package for its second visit to Donington Park, where Jackson took two overall wins – snatching the championship lead from Dorlin in the process. The weekend also saw a return to the top for Ambrogio Perfetti (IN2 Racing), confirming his Am category title aspirations with two wins.
'It's a great thing to be a part of… and to be the first ever champion is just fantastic' James Dorlin
In October, the championship travelled to the Croft circuit in North Yorkshire, where it made its first appearance in support of the British Touring Car Championship. Challenging weather conditions didn't prevent Dorlin from re-establishing his authority with two wins, while chief rival Jackson struggled in race one before suffering a season-ending crash in race two. In Am, Perfetti won race one while guest driver Paul Donkin (Redline Racing) tasted the winner's champagne in race two.
Silverstone's full Grand Prix circuit was a fitting venue for the championship finale, alongside the British GT Championship. Dorlin arrived 14 points ahead of Jackson, but with Jackson's enforced absence, the championship leader simply needed to remove the mathematical chance of Theo Edgerton (TCR) challenging his title hopes. Further intrigue was added by the arrival of guest driver, Porsche Carrera Cup GB veteran Dino Zamparelli (Redline Racing). In addition came experienced racer Charlie Ladell (Rob Boston Racing), short on time in the car but not on pace.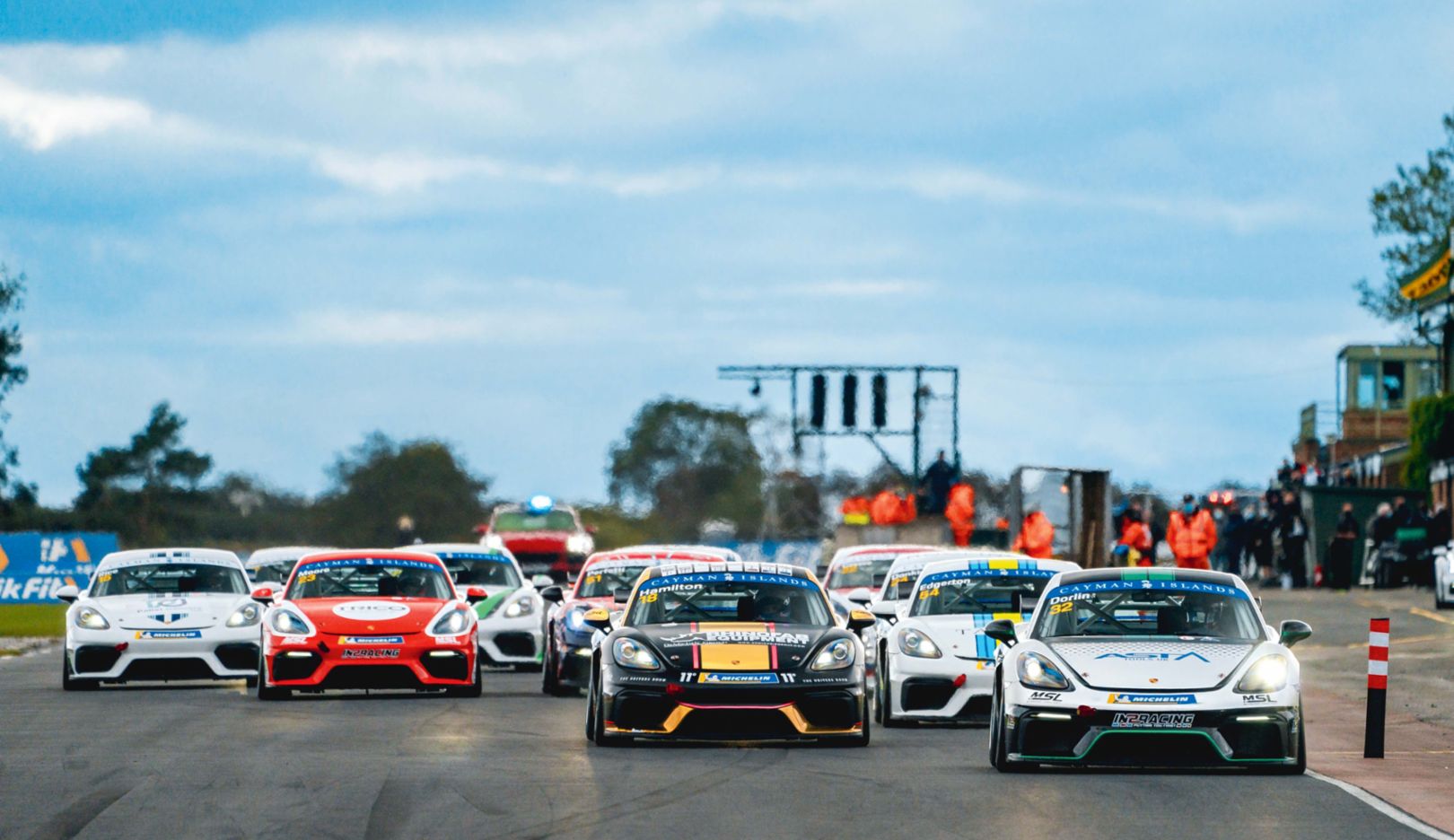 Also making his championship debut – and similarly short on testing miles – was Charles Henry Gordon-Lennox, Earl of March and Kinrara, more commonly known as Charlie March. More accustomed to historic race cars, March would face a tough challenge in the Am category as he adapted to the 718 Cayman GT4 Clubsport.
Race one saw a close fight between Zamparelli, Dorlin and Ladell, but it was Edgerton who dominated to take his maiden win. Humphris cemented his rise to Am category prominence with his second category victory of 2020. The final race was all set to be a titanic battle between established championship contenders and exciting newcomers. Dorlin wasted no time in dispatching his only remaining title rival in Edgerton, followed through by Zamparelli to set up a thrilling fight for victory that lasted right up to the flag.
Dorlin and Zamparelli gave it everything, but the champion elect soaked up the pressure to take the inaugural Cayman Islands Porsche Sprint Challenge GB championship with a win. Meanwhile, two wins for Humphris in the Am category couldn't stop Perfetti taking the Am championship, joining Dorlin in the Porsche Motorsport GB history books.
Following his title victory, 21-year-old Dorlin told Christophorus: 'I really like what has been created with the Cayman Islands Porsche Sprint Challenge GB championship. It is accessible, competitive, well organised and just generally a great thing to be a part of – the cars are awesome to drive and they look amazing! To win the inaugural season and have my name recorded as the first ever champion – in a championship that is going to go from strength to strength and really build on its already high profile – is just fantastic.'
After its first season of six weekends and 12 rounds held under COVID-19 restrictions, the Cayman Islands Porsche Sprint Challenge GB has proved itself an exciting addition to the Porsche Motorsport GB pyramid. The final weekend at Silverstone undoubtedly provided some of the best racing of the season, with the largest grid to date setting the scene for 2021.