Continue:

News from the world of Porsche

Learn more about CO2 in the supply chain and software updates, a loyalty program for e-mobility, a body kit composed of natural-fiber composite materials, and the new Subsecond clock by Porsche Design.
Prize-winning idea
Porsche wants to make its CO₂ footprint along the supply chain transparent. The company is pursuing innovative approaches to achieve its goal. A joint pilot project by Porsche and supplier companies BASF and Motherson has received a Global Innovation Award from the US-based Plug and Play investment company. CarbonBlock is the name of the winning program from the Berlin start-up CircularTree. Its blockchain application helps track greenhouse gas emissions in supply chains. It uses smart contracts provided by companies participating in the process to digitally trace CO₂ emissions from components throughout the supply chain. This approach enables the carbon footprints of products to be quantified in a standardized way.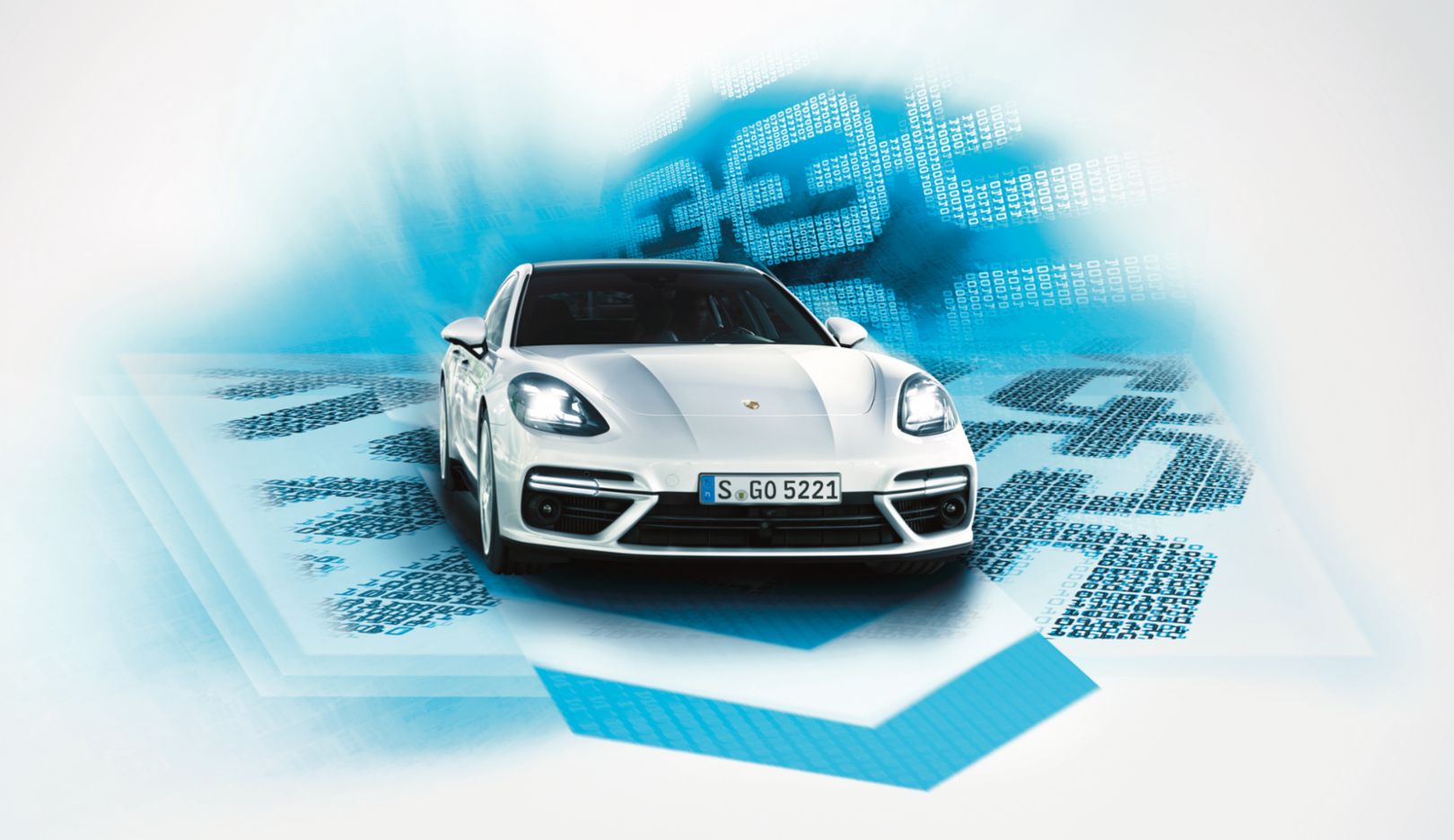 Securely up to date
Digital functions in vehicles are becoming increasingly more important and comprehensive. For this reason, a greater focus is being placed on remote or over-the-air software updates. This software is expected to be the biggest distinguishing factor in the automotive industry in the future, and Porsche Automobil Holding SE is expanding its portfolio in this growth market by acquiring part of Aurora Labs. Founded in 2016, this Israeli company specializes in validating, verifying, and updating software in the automotive and connected devices industries.

The line-of-code behavior technology developed by Aurora Labs has set a new benchmark for software management, remote diagnostics, and over-the-air updates. The technology performs system updates for the entire vehicle without losing time and also scans for potential software defects. If it detects anything, it restores a previous healthy version of the software without any downtime for the car. The solution can shorten the time needed to update by as much as 90 percent, and reduce the requisite storage space, data transfer costs, and overall energy requirements.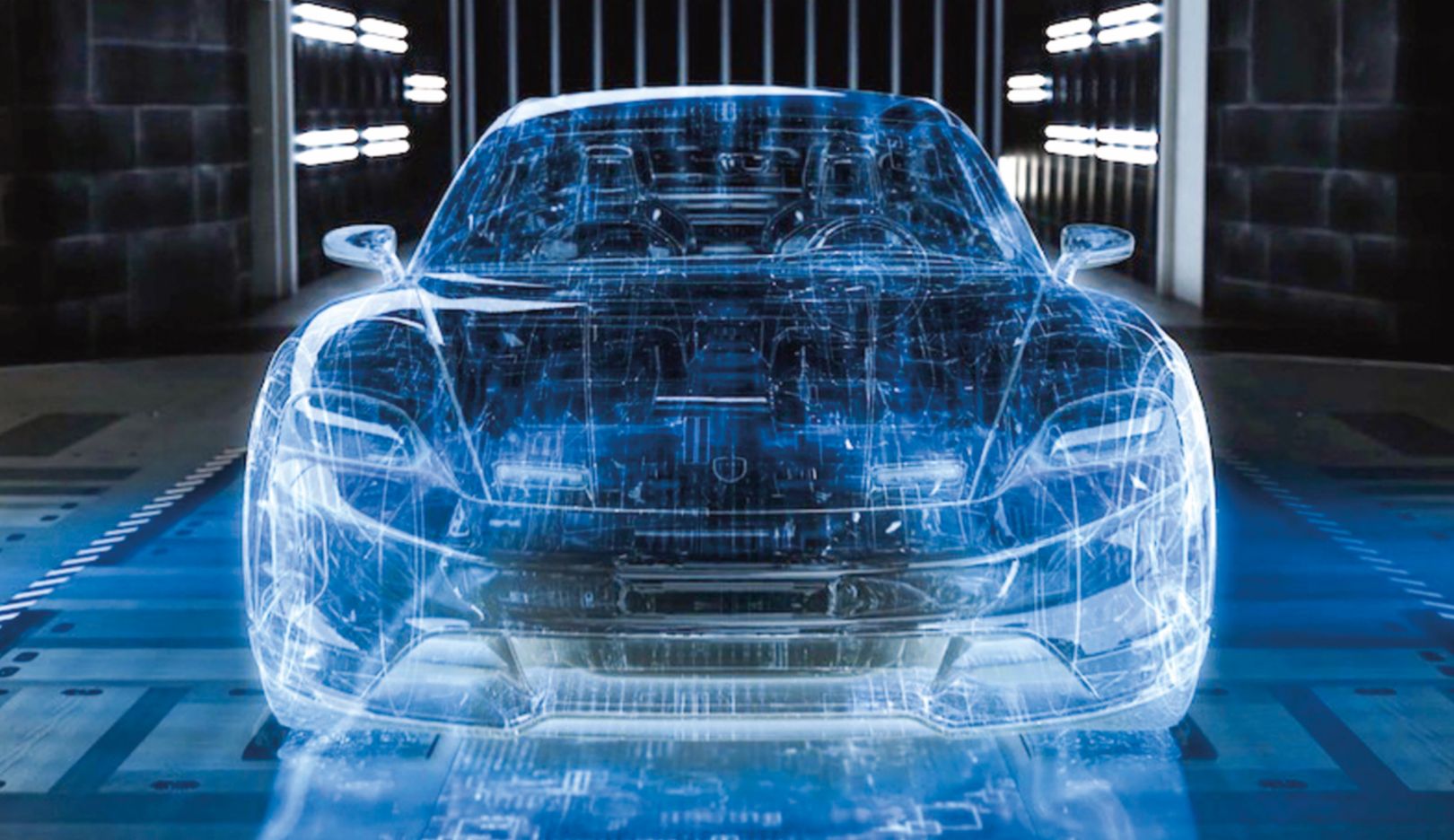 E-bonus
Incentive for sustainable mobility: & Charge, a start-up and spin-off from Porsche Digital, which is headquartered in Frankfurt, Germany, offers Europe's first loyalty program for electric mobility. When users make purchases, bookings, or other transactions on this digital platform they accumulate points in the form of kilometers. They can apply them to charging their electric vehicles or to using e-scooters or car-sharing services. &Charge, which has been a climate-neutral company since its inception, wants to seriously accelerate the shift toward sustainable mobility solutions. Its offer is currently available in Germany, Austria, Belgium, Switzerland, and the Netherlands, with more countries expected to follow soon. More than 700 e-commerce partners and sixteen mobility providers have already joined the initiative.
Quick fibers
Acid test for a very special Porsche: a Porsche 718 Cayman GT4 Clubsport MR entered the twenty-four-hour race on the Nürburgring for the first time with a body kit composed entirely of natural-fiber composite materials. Farmed flax fibers form the basis for these sustainable composites, which replace metal and plastic injection-molded components in the series-production sports car. The natural fiber composite had to meet high safety and quality requirements for use in racing. The car body components are especially advantageous for motorsports because they are five times better at damping vibrations, and in the event of a collision they break into fewer small and sharp-edged pieces. The components can also be produced at lower cost and with less energy. Porsche is actively working on the testing of sustainable materials to continuously reduce the environmental impact of its products. Development of the innovative outer shell and add-on parts was based on a joint project launched in 2016 by Porsche, the German Federal Ministry of Food and Agriculture (BMEL), the Fraunhofer Institute for Wood Research, Wihelm-Klauditz-Institute WKI, and the Swiss company Bcomp.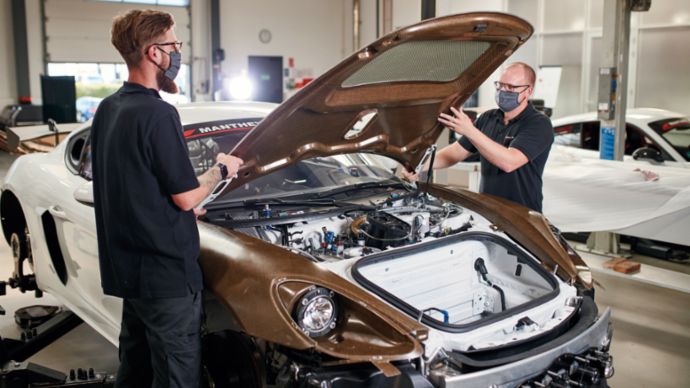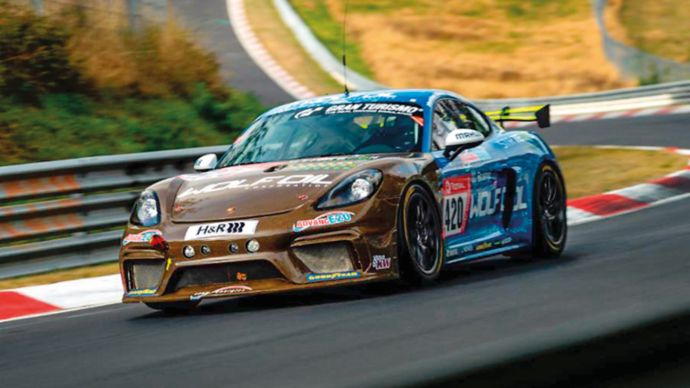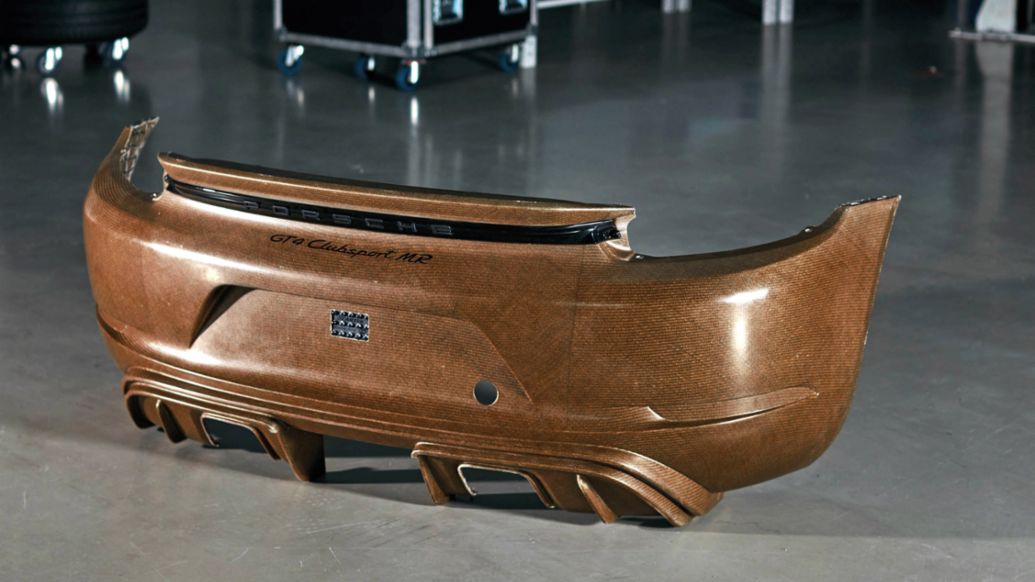 Dashboard renaissance
In 1963 an electric clock joined the dashboard of the Porsche 911 as part of the five-gauge instrument cluster. In 1972 Porsche Design adapted it for its Chronograph I watch, which went on to enjoy worldwide success. Design principles for the wrist are now returning to the center of the dashboard. As part of the new Sport Chrono Package, Porsche Design's Subsecond clock is an homage to the original classic. Again with an electric drive, it features excellent craftsmanship, superior-quality hands, a metal dial with ceramic indicators, and a Superluminova coating. In connection with a specially developed illumination system, it offers the superb readability of a high-end watch. This is exactly what the Porsche Design Sport Chrono Collection offers—it's customizable for the perfect interaction between the timepiece in the vehicle and the one on your wrist.