Taycan Teasing
Porsche Australia and New Zealand – E-Performance: Ahead of the arrival of the hotly anticipated Porsche Taycan, New Zealand motorsport icon Greg Murphy sat down with Porsche factory driver Earl Bamber and Porsche Carrera Cup Asia driver (and brother) Will Bamber. They were also joined by two 'electrified' guests of honour—the Taycan and the Porsche 919 Hybrid.
Porsche Taycan Turbo
Fuel consumption combined: 0 l/100 km
Electricity consumption combined: 28.0 kWh/100 km
CO2 emissions combined: 0 g/km

Porsche 911 GT3 RS
Fuel consumption combined: 13.2 l/100 km
CO2 emissions combined: 303 g/km

(all as of 10/2020)
The technical data may vary from country to country.
Greg Murphy: Earl, I know you've spent a bit of time in the Taycan. And you understand this car, with the history you've got in 919 Hybrid. Has technology and learning from the 919 found its way into what is Porsche's first electric sports car?
Earl Bamber: I had the chance many years ago to experience EV technology at the highest possible level with the 919 team. When we first think of electric vehicles, we think of city cars that are efficient, but have no adrenaline. The first time you get in the Taycan you are absolutely mind blown about the level of performance that these things have. With the Porsche 919 it was humbling to be at the forefront of the technology, to harness that power and torque, it was a new frontier.
Greg Murphy: Talk about when you first drove that Porsche 919 and you obviously understood the concept of what the hybrid is. It must have been quite incredible in terms of the performance, which no doubt just blew you away. But also how the different technologies work together.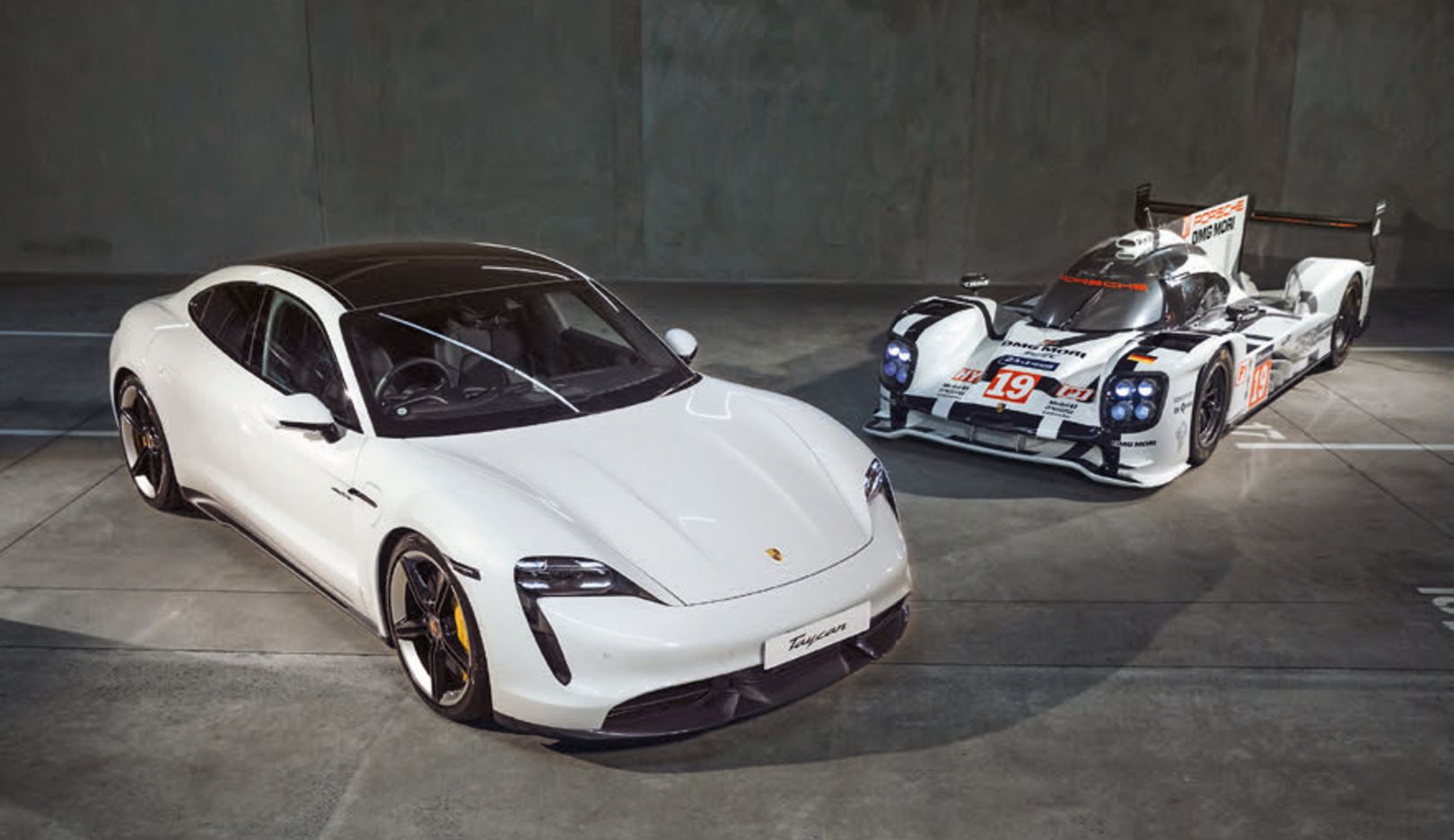 Earl Bamber: The first time you sit inside it and switch on all the buttons, you hear this whirring power, of not the engine, but the electric motor in the hybrid system. Prior to the 919, I had only driven vehicles with 600 or 700 horsepower and this thing had 1200/1300 horsepower. The feeling when that kicks off is exhilarating. You have wheel spin at over 200 kilometres per hour out of the apex of a corner on the front axle, not the rear axle, because of the hybrid system. Being at the helm of that power while also figuring out how to handle it requires a shift in mind-set. The efficiency is extreme. The fuel tank is relatively small, from memory 45 kilograms and then the average stint length at Le Mans is 245 kilometres and you pit every 45 minutes. To go so far on such a small amount of fuel is absolutely game changing.
Greg Murphy: Will, I know that I get absolutely green with envy when Earl talks about driving that thing. As a brother how does this inspire you?
Will Bamber: I remember when Earl won Le Mans the first time, I was at university, deep in my studies and I watched every second of the race. It was the easiest 24 hours of my life. I think it is fascinating watching technology filter through from race specialised vehicles such as the 919 and into production vehicles. Porsche technology is truly born on the track. Remembering back to when we first drove the Taycan, we put it through its paces, we had a lot of fun and didn't hold back—that's for sure. That car just keeps going and going, it's unbelievable.
Greg Murphy: It's quite interesting that we have this ingrained perception of electric vehicles because of how they have been positioned historically. The Taycan has been such a hot topic because it breaks the mould of how we think of EVs, because Porsche isn't competing with other brands, it is competing with its own standards of perfection. I have watched electric vehicles unfold, seen the stigma around them, there are obviously some divided opinions on them. But at the end of the day, when I got in the Taycan for the first time for a drive, I did have a pre-conceived idea of what it would be and it blew me away. Was it the same for you guys?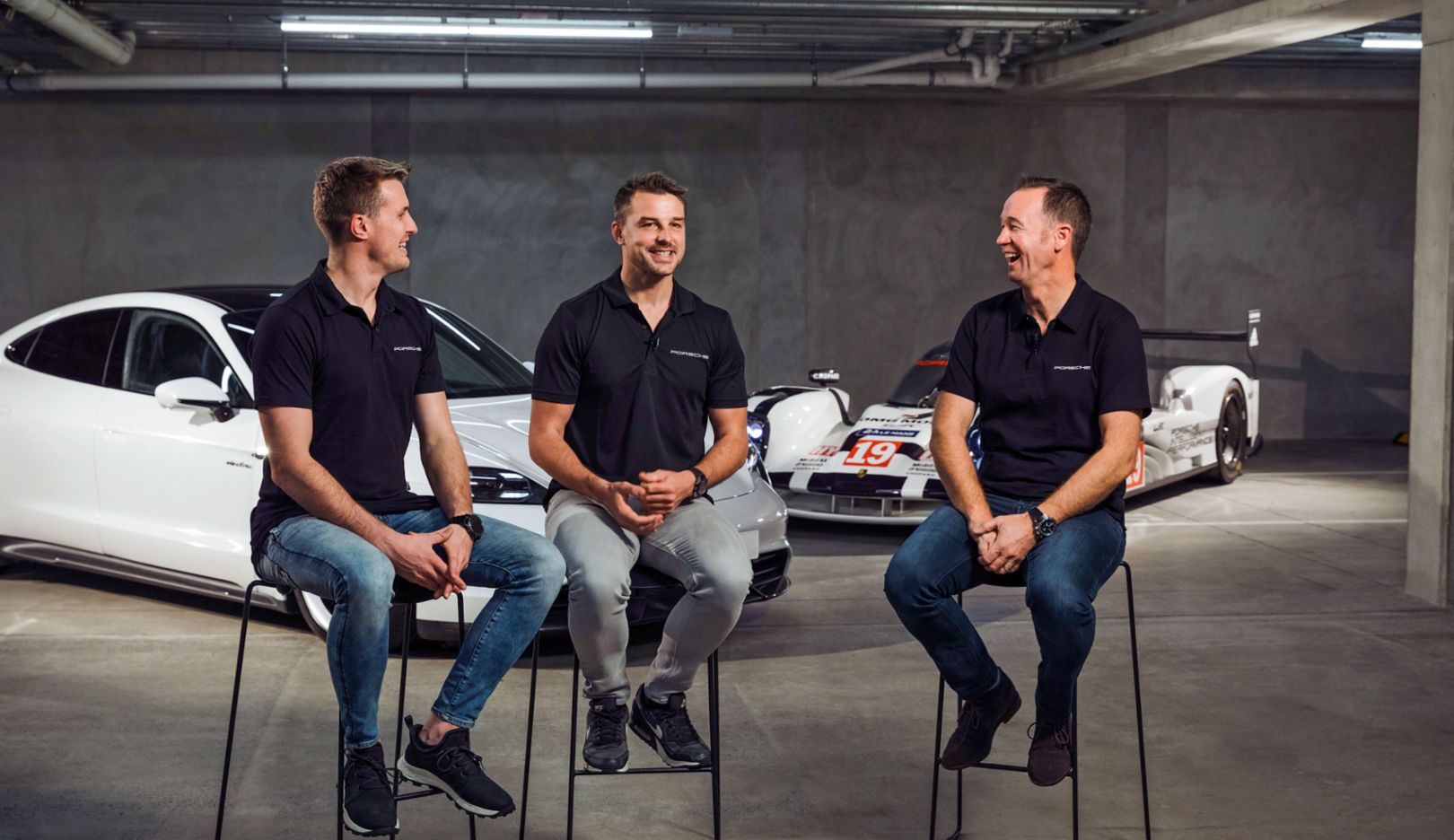 Will Bamber: Yes absolutely, the word is sports car and the big question was: can a sports car be electric? The first time I drove the Taycan was in Portugal at a Porsche Track Experience event, so we are talking about cars like the 911, models like the 911 R and 911 GT3 RS. It was all about track and all about performance, everything about Porsche is born on the track. But the car that all the drivers were most interested in was the Taycan and whether it would live up to the Porsche icons. Everyone was so interested in whether it would live up to the test. We could not get enough of it, we had to keep driving it and is has exactly the Porsche feel: the sports seat, low centre of gravity, familiar steering wheel, everything about it is Porsche.
Earl Bamber: There was a lot of talk about it at Weissach, we would meet the team who designed and built it. It was interesting seeing the attention build in the media. I think everyone was curious about how it was all going to come together, as it had been Porsche's first time building a purely electric production vehicle. So to see the final product is absolutely incredible and the handling of it is amazing. The big questions were, is this car going to perform like a 911 does? Am I going to be able to throw it around? Is it going to excite me to drive it? And I would say it does that and more. You can't get enough of it.
Greg Murphy: There were some key things that really stood out to me, like the two-speed gearbox and the Porsche Sport Sound. There was meticulous effort in the details. When you launch it off the line and it changes gear, as an experience it really is unparalleled isn't it?
Will Bamber: I totally agree and that is how I would describe it. If I could describe a feeling that is both electric and Porsche they have absolutely nailed it. And when it hits that second gear, it just keeps following through. I am looking forward to how they adapt this technology into racing cars going forward. It makes me look forward to the future, with how well this car handles that amount of weight. We all talk about torque, performance and top speed, but if it handles a corner with that amount of weight, that is phenomenal.
Greg Murphy: They had to make sure that it hit all technical requirements and had that Porsche DNA. I have been quite critical of electric vehicles, but when you drive the Taycan and if you weren't told it was electric and you had the radio up and couldn't hear the engine, you would drive that car and think you were in any Porsche. Because everything else is as it needs to be.