Icon: New Horizons
In the 1950s, Porsche presented its first boat engine: the Type 729.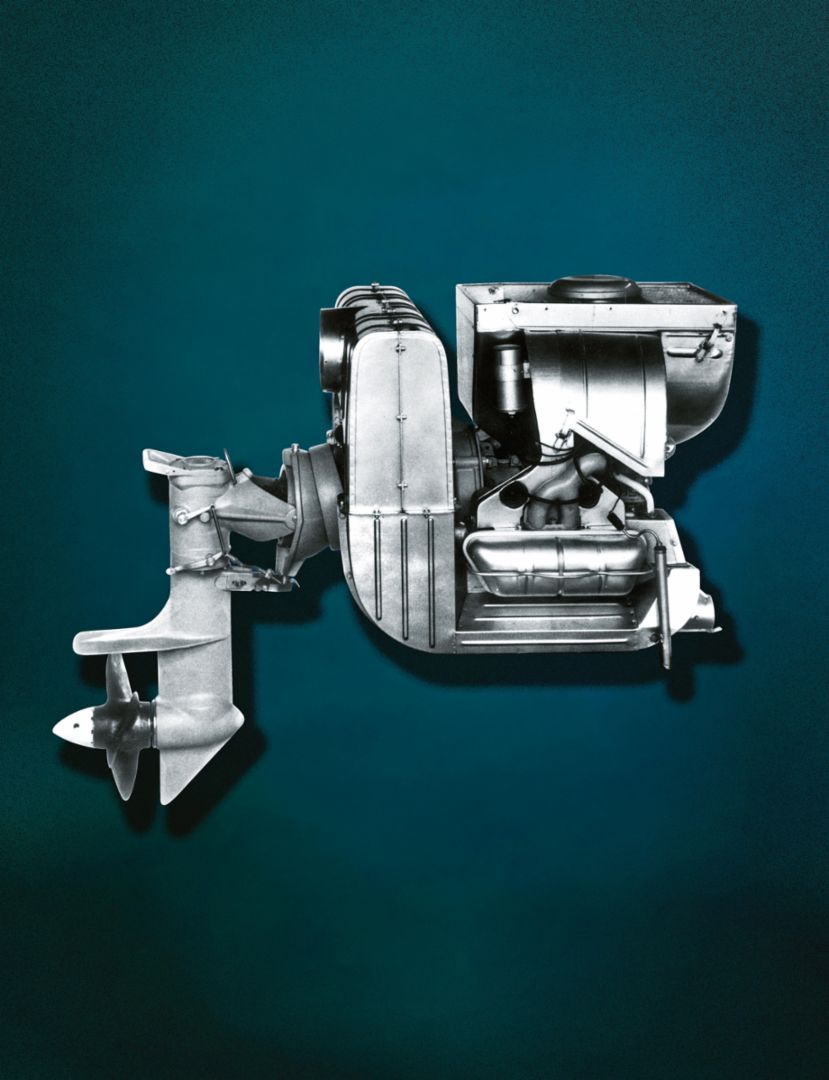 Between a development contract for a small car for Volkswagen (728) and another for a five-speed truck transmission for automotive supplier Getrag (730), there's an entry on the growing list of Porsche type numbers that doesn't quite seem to fit. Type number 729 is listed as a "Porsche boat engine."
Based on the 1.6-liter four-cylinder boxer engine (616 type), which is used in the Porsche 356 A, the sports car manufacturer developed an engine for use on the water in the mid 1950s. Launched in 1958, the engine making around 52 PS, featured a corrosion-resistant coating for protection against seawater; a supply of fresh air that feeds the cooling fan, carburetor, and auxiliary fan separately; and an additional function to be able to use the engine exhaust to heat the cabin if required.
"With the Porsche boat engine, you're installing a true powerhouse on your boat and thus ensuring the success of your boldest water sport plans." That's how Porsche advertised the 729 type boat engine in a sales brochure at that time. "Corrosion from salt water and starting difficulties due to cold, silt, and dirt are all a thing of the past," it says, emphasizing the air cooling. At just 132 kilograms, the 729 type is also exceptionally light and sporty compared to conventional boat engines. And then there are the external transmission and double propeller. "Regardless of the climate conditions you use your boat in, the Porsche boat engine will always live up to your requirements in terms of speed, reliability, and minimal maintenance and care."
During the development phase, Ferry Porsche had the 729 type installed on his own motorboat, which he took out for plenty of test runs on Wörthersee lake. The robust, powerful engine was used on search and rescue boats starting in 1959 as well as the locomotives of the narrow-gauge trains that transported visitors through the Franco-German Garden in Saarbrücken in 1960. And the eight-meter-long Bon Air 6-1-X Warana air-cushioned vehicle built by Australian Major Colin J. Bonner in 1963 was equipped with three of the engines. While the 729 type on the water never quite achieved the level of success of its counterpart on the road, the developers were well ahead of their time.
More than 60 years later, this topic is more relevant at Porsche now than ever before. Working with Austrian shipyard Frauscher, the company has developed an electric sports boat featuring the 800-volt drive technology of the upcoming fully electric Porsche Macan. The first 25 units of the Frauscher × Porsche 850 Fantom Air, which measures about eight and a half meters in length, should be available in the coming year.