Icon: Constant Companion
Herbert Linge is a Porsche legend. He came as an apprentice, became a racing driver and finally operations manager at the Weissach development center. Always at his side: his leather tool bag. An everyday object of the utmost importance.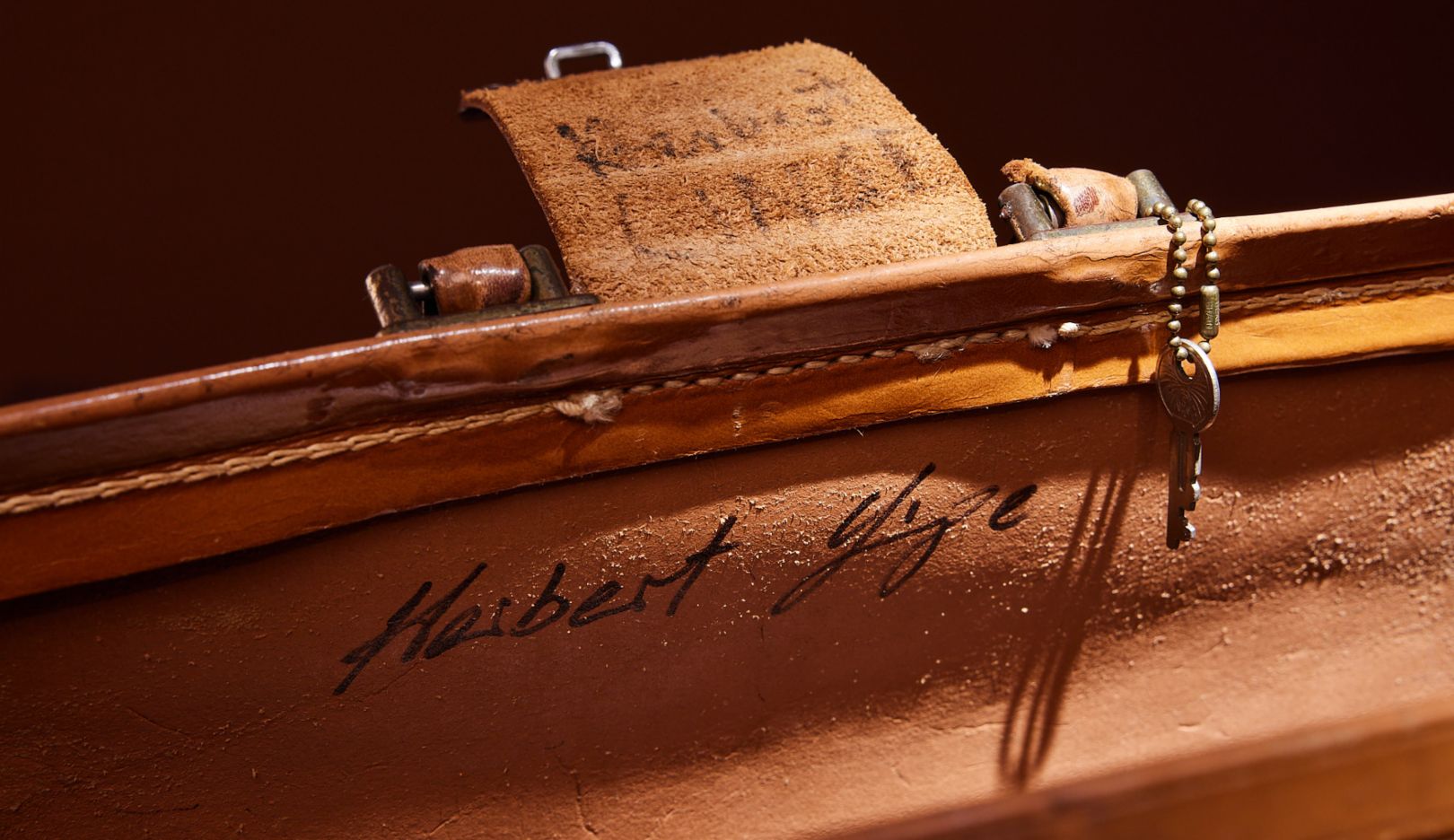 Original: even today, the signature of the former owner is clearly visible.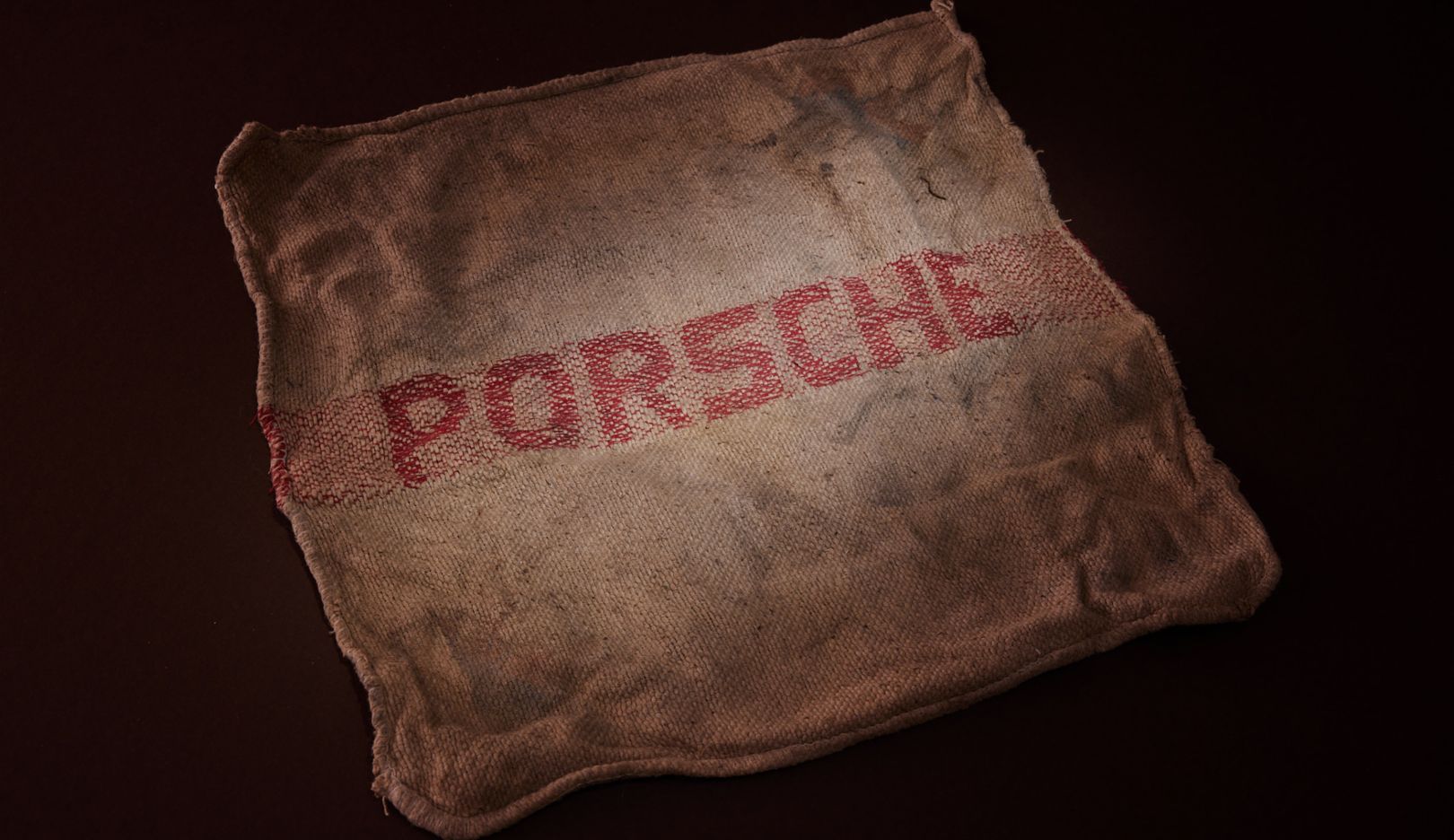 More than 50 years later, the Porsche cloth still smells of oil.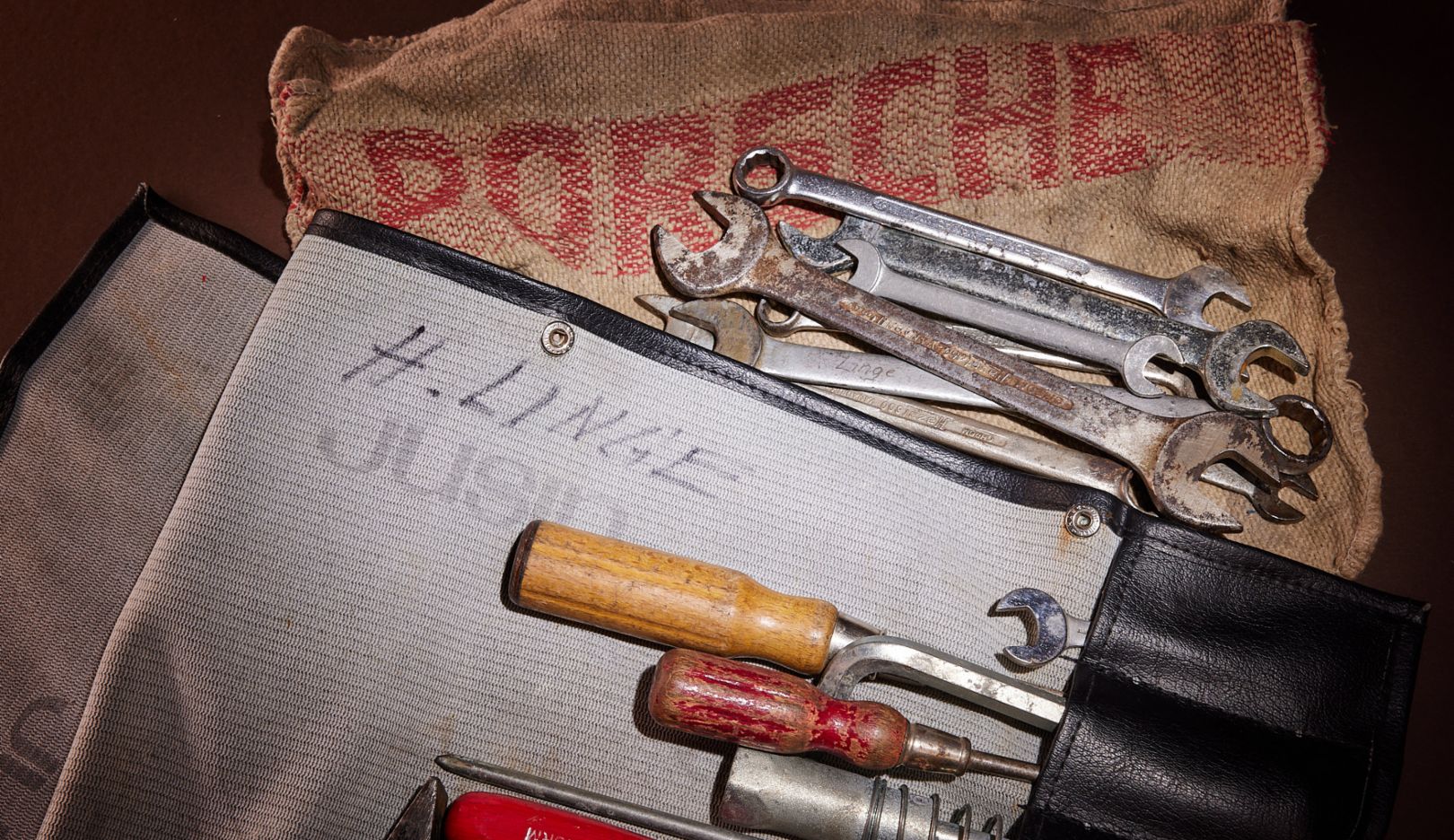 At the time, Linge had a saddler make special interior pockets to keep things in better order.
/
Legends can also be made from leather. Take for example an everyday tool bag carefully packed with wrenches, clamps, spark plugs, and V-belts. Herbert Linge has traveled the world with his. "As long as I had it with me, I didn't have any reason to worry," says the retired Porsche legend. And without it, some victories may not have been possible.
Something happened during the 1954 Mille Miglia race that made the headlines worldwide. During the 1,000-mile race, Hans Herrmann and his codriver Herbert Linge zipped under a closed railroad crossing in their Porsche 550 Spyder, ultimately taking first place in the sports car class up to 1,500 cc and sixth place in the overall ranking. However, that wouldn't have been possible without Linge's leather bag. By the time they'd reached the Futa Pass, the Spyder was no longer running smoothly due to moisture in the distributor. The copilot grabbed his tools, resolved the issue, and they carried on.
Herbert Linge, who will turn 95 in June 2023, is as sturdy as an oak. He was 14 years old when he began his mechanic training at Porsche KG in Zuffenhausen in 1943. Then in the 1950s, he and his leather bag traveled the world: They need a mechanic for the Carrera Panamericana in Mexico? Linge can do it. Service issues in the US? We'll send Linge right over. He can drive, make repairs, and coordinate.
And he always had his bag with him. You could almost call it a ritual; one that hasn't gone unnoticed. To this day, Linge responds with a shrug to the ironic comments his constant companion sometimes solicits. "It has always held everything I need." The wrenches etched with his name hint at all the work he's done over the years. The wooden handles of the screwdrivers are scuffed; the wrench for preloading suspension struts has a fair amount of wear; and the workshop rag with Porsche lettering still smells of oil. Linge had a saddlery integrate special inside pockets for the tools. Maximum organization for maximum success.
It usually just takes up space in the car. But in an emergency at a remote location, the bag is nothing short of a savior. "That's why I always had it with me. If you have something like this, you take it with you."
Linge often served as a works driver for Porsche, including eleven times in the 24 Hours of Le Mans alone. With more than a hundred races and around 30 class wins under his belt, there was also Nürburgring, Targa Florio, Spa, Sebring, and the motorsport debut of the 911 at the 1965 Rallye Monte-Carlo. But all that changed in the 1960s, when Ferdinand Piëch was appointed Head of Development at Porsche. He gave Linge the choice: either he should become an official works driver. Or the operations manager of the Weissach development center, which was newly founded in 1971. Linge decided. And so the racing career of a man whose importance was the sum of his many talents came to an end – and a new career began. A man who lives Porsche, as a trainee, race driver, operations manager. And with it, the era of Linge's leather bag ended too. An everyday object that, used properly, was the decisive factor for Porsche winning many a race.