The ultimate summer garden party returns
Porsche Cars Great Britain – Goodwood: after an enforced lay-off in 2020 due to the global pandemic, motorsport fans were in rapture to be part of the 2021 Goodwood Festival of Speed. And, naturally, Porsche had a host of models on display and in action on the famous Hill in the Duke of Richmond's back garden
Visitors to the Goodwood Festival of Speed were treated to a glittering display of both historic and brand-new Porsche models. Making its global dynamic premiere was the new Cayenne Turbo GT, a four-door, four-wheel-drive 471 kW (640 PS; ) sports car offering potent power backed up by incredible track capability. The Festival was an ideal launchpad for the fastest production Cayenne ever: a few weeks earlier, the Turbo GT had lapped the 12.9-mile Nürburgring Nordschleife circuit in Germany in 7:38.9 minutes – an official SUV record.
Helping put extra swing into the debut of the new car was three-time Ryder Cup Champion and Porsche Ambassador Paul Casey, who visited Goodwood ahead of playing in the 149th Open at Royal St George's in Kent the following weekend.
'The power of the Cayenne Turbo GT is breathtaking and, as a big fan of GT cars, every drive in a new model is like Christmas. It was incredibly exciting to experience the atmosphere here, immerse myself in the motorsport world and see some legends live,' enthused Casey.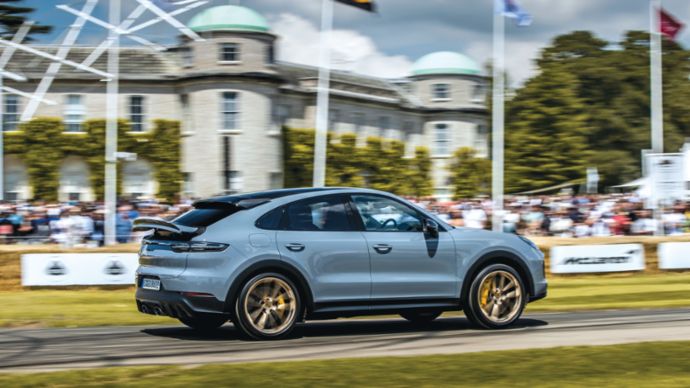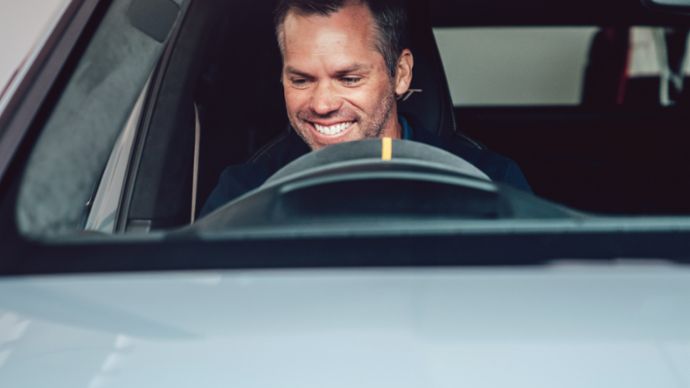 Perfect drives
Professional golfer and Porsche Ambassador Paul Casey enjoyed a high-speed ride up the famous Goodwood Hill in the new Porsche Cayenne Turbo GT, which made its global dynamic debut at the Festival of Speed
Roger Penske, Chairman of Team Penske, attended the Festival as one of Goodwood's guests of honour. With the Porsche RS Spyder, Team Penske won the American Le Mans Series LMP2 class for three years in succession between 2006 and 2008. Porsche Motorsport and Team Penske recently agreed to collaborate once more, entering the new LMDh sports racing category in the FIA WEC and North American IMSA Sportscar series from 2023.
Harry King's ascent of the Hill in 47.65 seconds was another demonstration of his phenomenal speed
In the Timed Shootout competition on Sunday, Porsche Carrera Cup GB Junior Harry King catapulted himself to fourth fastest overall in the new Type 992 911 GT3 Cup. His ascent of the Hill in 47.65 secs was a demonstration of both the 20-year-old's phenomenal speed and the prowess of the 510PS, flat-six, rear-engine race car from Weissach. 'Driving on the Hill was a very different dynamic to a race circuit,' grinned King. 'It was seriously good fun and I can't wait to visit Goodwood again in the future.'