Early Adopter
Porsche Australia and New Zealand – Porsche history: The history of Porsche in Australia is inextricably linked to a pioneering pastoralist family.
When Ronald Fife Angas helped his father attach the early South Australian black and white numberplates '119' to the family's Talbot in 1906, Dr. Professor Ferdinand Porsche had already built the word's first commercially successful electric vehicle, the Lohner-Porsche, and had just been recruited by Austro-Daimler as its chief designer.
However, Porsche had no idea that 49 years later the mirror image of those number plates would be shorthand for the world's most famous sports car—one that would bear his name and re-shape the motoring world.
Pre-dating him, Ron Angas' father, John Howard Angas, was already South Australian 'royalty'. As the second son of George Fife Angas, he arrived to manage his father's estates in the free-settler colony in September 1843.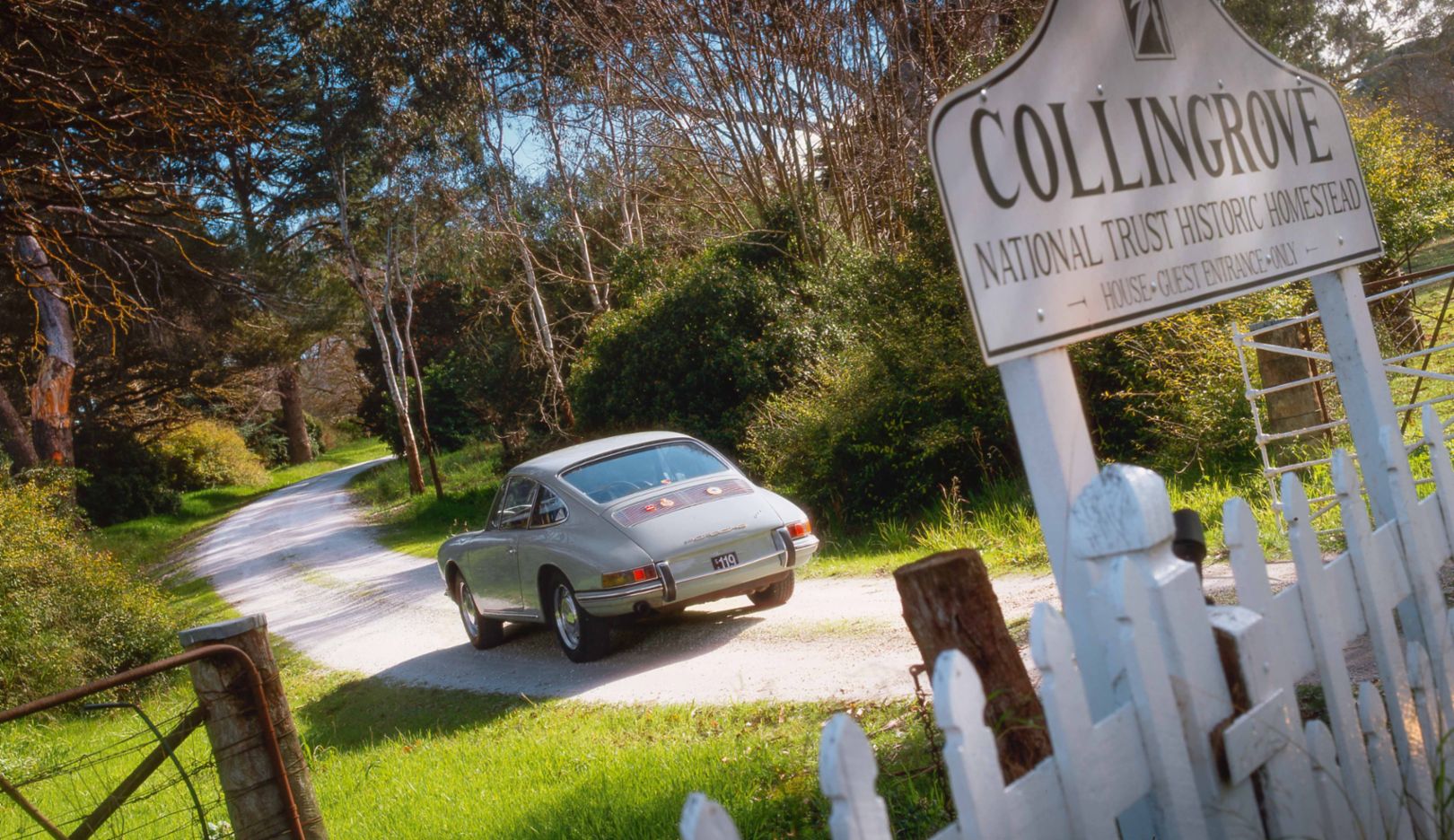 After settling at Tarrawatta, near Angaston, where he established a successful pastoral business and built a fine homestead called Collingrove, his purchase of additional land and livestock soon made him one of the colony's largest landowners and foremost stud breeders.
The young Ron Angas carried on the family pastoral interests with no inkling that he would today be remembered as one of the most significant figures in the history of Porsche cars in Australia.
Just four years after the Porsche family name first appeared on a motor vehicle, Angas became the owner of the first customer-delivered car in Australia when he purchased a Fish Silver Grey 356 Cabriolet—the world's first factory right-hand drive production model—from newly appointed local agent, Norman Hamilton.
The Cabriolet and its burgundy right-hand drive 356 Coupé sibling had been on a promotional tour of South Australia in early 1952, participating in sprints on the sands of Sellick's Beach south of Adelaide and making runs up the new hillclimb that Angas had built on the family's Collingrove Estate in Barossa Valley.
It was to be another 13 years before the '119' numberplates found their destined home on the very first Porsche 911 delivered in Australia. In April 1964, just seven months after its first public appearance at the 1963 Frankfurt Motor Show, Angas sent £2,000 to Norman Hamilton "as a deposit on the new type 901".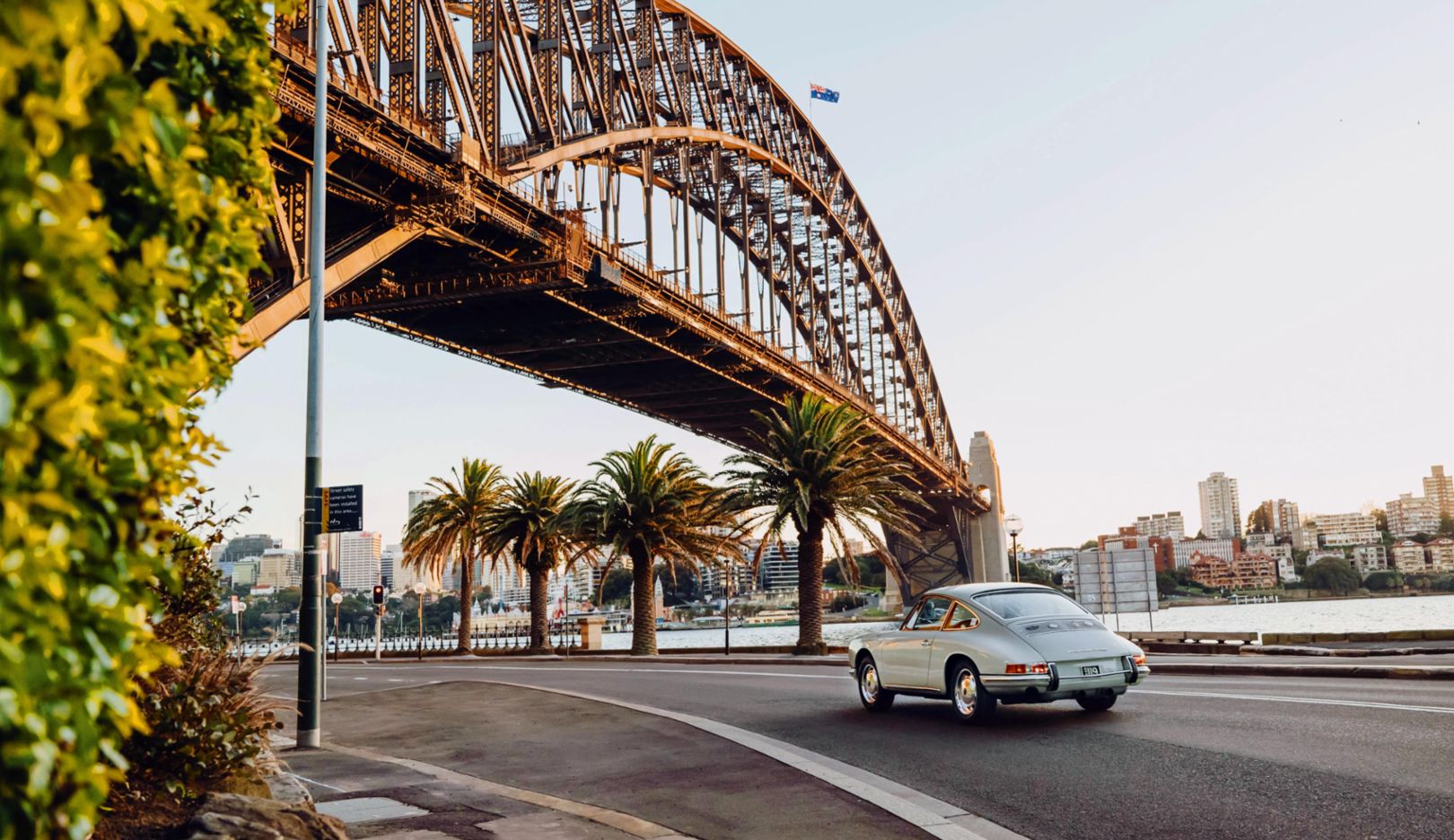 By then he was a seasoned Porsche owner, with a V-screen 356 Continental and a 356 B Coupé having also graced the Collingrove driveway. The 356 B also wore the family's '119' numberplates, but their significance didn't dawn until Porsche, facing a legal challenge by Peugeot, which claimed ownership of three-digit model numbers with a central zero, renamed their new six cylinder coupe a '911'.
Thirteen months after Angas paid his deposit, production of the right-hand 911 began and on 3 May 1965, the Porsche factory saw his car, a Stone Grey 911 Coupé with dark green leather interior, become the fourth right-hand drive 911 built.
The years haven't dulled the aura or unique character of this fabulous 911 'survivor'.
Equipped with the factory-fitted options of 'English' instrumentation, sealed beam headlights, a horn ring, luggage straps, black over-mats with the hub caps for its chromed wheels carrying the coloured Porsche crest, its full landed price was £4,881/10s, at the time equivalent to just under $10,000, or the price of a small suburban Adelaide. When Angas took delivery in early September 1965, he also became the owner of the first customer-delivered Australian 911.
The very first right-hand drive 911, chassis No. 300 474, was delivered to Porsche Cars of Great Britain, but the next three in the series—300 475, 301 501, and Angas' car—were all built for Australia. The first 'Australian' 911, chassis No. 300 475, with a finish in Slate Grey with Fawn leather trim, was collected at the Porsche factory in mid-1965 by 22-year-old Alan Hamilton, who had been sent to Stuttgart to learn the family business.
After being driven around Europe, including a stop to collect his father from the first Qantas flight to Vienna, it became the company's demonstrator on its arrival in Australia, before eventually being sold. Now repainted in silver, it calls Sydney home, tended to by another Porsche enthusiast, who has plans to restore it to its original livery.
For the next four years, the Angas 911 remained garaged at the family's homestead in Barossa Valley and locals recall the stir it caused whenever it came to nearby Angaston for shopping. The rasp of its modified exhaust system reverberated through the valley from Lyndoch to Nuriootpa.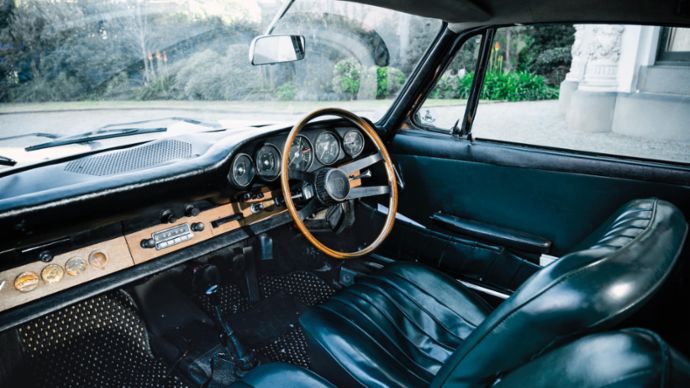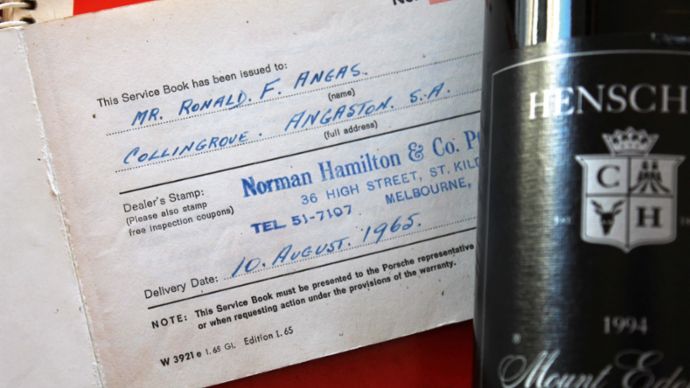 Familiar surroundings: The signature features of the 911's interior were already well established in the 1965 model.
Angas sold it in February 1969 to friend and architect, Roy Wilson, by which stage it had covered a good 54,000 miles. The car's proud current owner, Adelaide Porsche enthusiast Stewart Kay, first saw the 911 when he interviewed Wilson for a university paper in the late 1980s.
Secreted in the shadows of Wilson's garage, it was obviously an early 911, but to Kay's surprise, his research showed its was built 1,000 cars earlier than the elderly 911 then displayed in the Porsche Museum in Stuttgart. After pleading unsuccessfully with Wilson to sell the car, Kay received a phone call some years later in 1992, and was asked "Do you still want it?" A price was negotiated immediately.
The 911 had by then covered more than 85,000 miles in Wilson's hands over the previous 23 years, but it was still completely original and had weathered the years well. As the icing on the cake, it came with its original keys, original owner's manual and complete service books.
While appreciating its special place in Porsche history, Kay was determined to follow Porsche's dictum that its cars were designed to be driven—and he drove it hard and regularly, including competing in a Grand Prix rally. But other than routine maintenance, it has never been restored. Today, the historic 911 calls The Bend Motorsport Park at Tailem Bend home, as its place in Kay's Adelaide home has been successively taken by a series of other notable Australian Porsches—a very early and original 356 A Coupé, Australia's first 911 SC Cabriolet, the world's first right-hand drive 924, which went on to finish ninth in the 18,885 kilometre 1979 Repco Reliability Trial, his 'daily drive', an early 928 S, and most recently, the ex-Peter Fitzgerald Type 996 GT3 Cup car.
But the years haven't dulled the aura of the 911. Simply sitting in it is a delightful 'homely' experience to anyone familiar with any air-cooled Porsche. With its five large instruments and with the trademark slightly offset driving position, it's easy to peel away the years and understand why the 911, 55 years on, remains a sports car icon.