Continue
News from the world of Porsche.
Consumption data
Porsche 718 Cayman models
Fuel consumption combined: 10.9–8.1 l/100 km
CO2 emissions combined: 249–185 g/km

Porsche Panamera Turbo S
Fuel consumption combined: 10.8–10.7 l/100 km
CO2 emissions combined: 247–245 g/km

Porsche 911 Carrera Cabriolet models
Fuel consumption combined: 10.2–9.6 l/100 km
CO2 emissions combined: 234–218 g/km

(as of 10/2020)
The technical data mentioned in this issue may vary from country to country.
Porsche4Kids with Tom and Tina
The website porsche4kids.com offers girls and boys a variety of games and activities. These free online experiences meet stringent educational standards for children of different age groups. And all activities are accompanied by Tina Turbo and Tom Targa. The mascots can recommend—in either German or English—pictures to color in, handicraft guides, word jumbles, memory games, puzzles, hidden picture puzzles, sports exercises, and much more. There's even a child-friendly tour of the Porsche Museum on offer. Porsche4Kids is a fun and playful approach to relevant themes relating to mobility, sustainability, and traffic safety.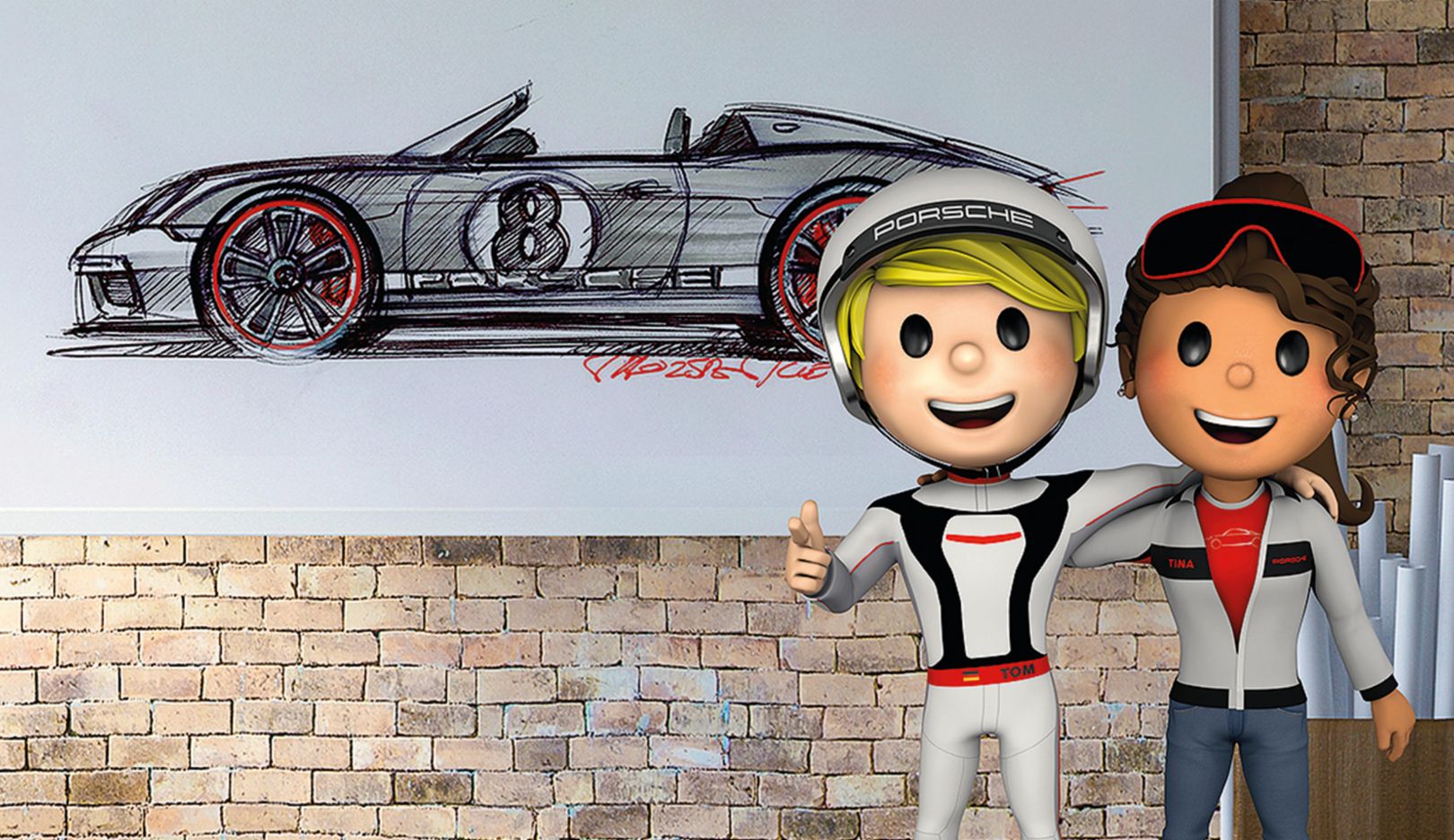 Drive-in Movies Are Back
Movie fans don't need to despair just because of COVID-19-related social distancing—drive-in cinemas are making a comeback. There's even a pop-up movie theater on the grounds of Porsche Leipzig.

The world's first drive-in movie theater was opened by Richard Hollingshead, Jr., in Camden, New Jersey, in 1933. It had space for 400 vehicles. The early technology involved projecting celluloid onto a whitewashed wall with loudspeaker amplification that, unfortunately, annoyed local residents. Later, and for many decades, the theaters offered small speakers with long wires for each car. In 1957, Europe's first drive-in cinema opened near Rome. The first one in Germany opened in 1960 in the small town of Gravenbruch near Frankfurt—and is still open. In the 1980s, the popularity of drive-in cinemas waned. There were many reasons for that, including the fact that the use of Daylight Saving Time meant that movies had to start very late in the summer and that an expansion of TV programming by private channels was making life difficult for all cinemas. 2020's COVID-19 crisis and the resulting social distancing measures sparked a renaissance in drive-in movie culture and to open pop-up cinemas like the one at Porsche in Leipzig. State-of-the-art digital image technology for the 144-square-meter screen even enables daytime performances for children. The sound is transmitted crystal clear via FM frequencies from your own car radio—or from the sound system of a Porsche that you can book for a special film experience.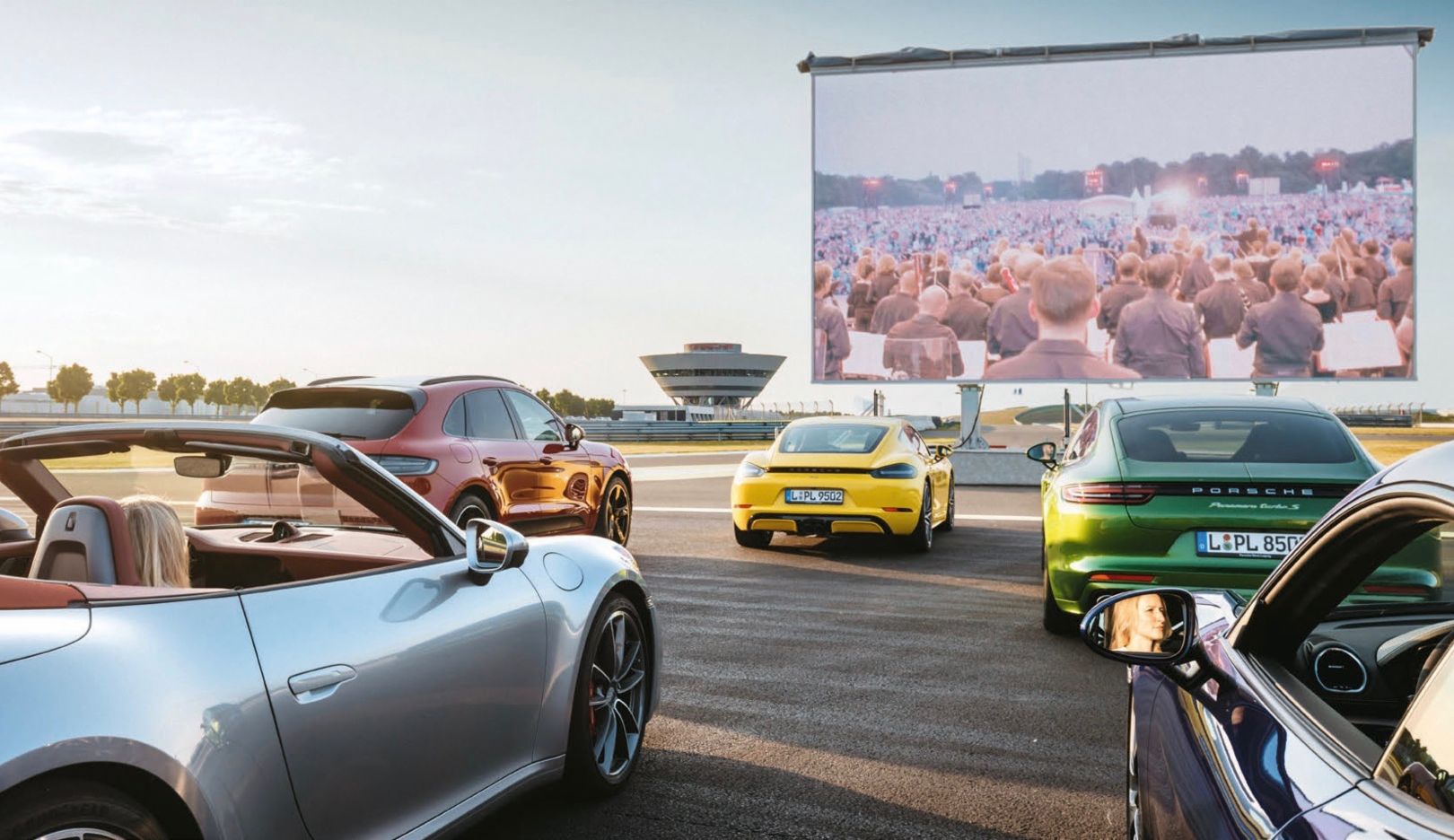 Distinguished
Three awards for Christophorus: the Porsche customer magazine, which has been designed with love since 1952, will again win the most important industry awards in 2020. Issue 393—the fourth issue of 2019 and entitled Inside E—won over the independent expert jury of the German Brand Award. The renowned design and brand authority crowned the magazine the best print product in the category Excellence in Brand Strategy and Creation. A total of 1,200 publications from fourteen countries had been submitted for consideration. At the Best of Content Marketing Award (BCM), the same issue won gold among all magazines submitted in the automotive segment. Volume 2 of the Christophorus XL edition, The people issue, won the Automotive Brand Contest for outstanding product and communication design.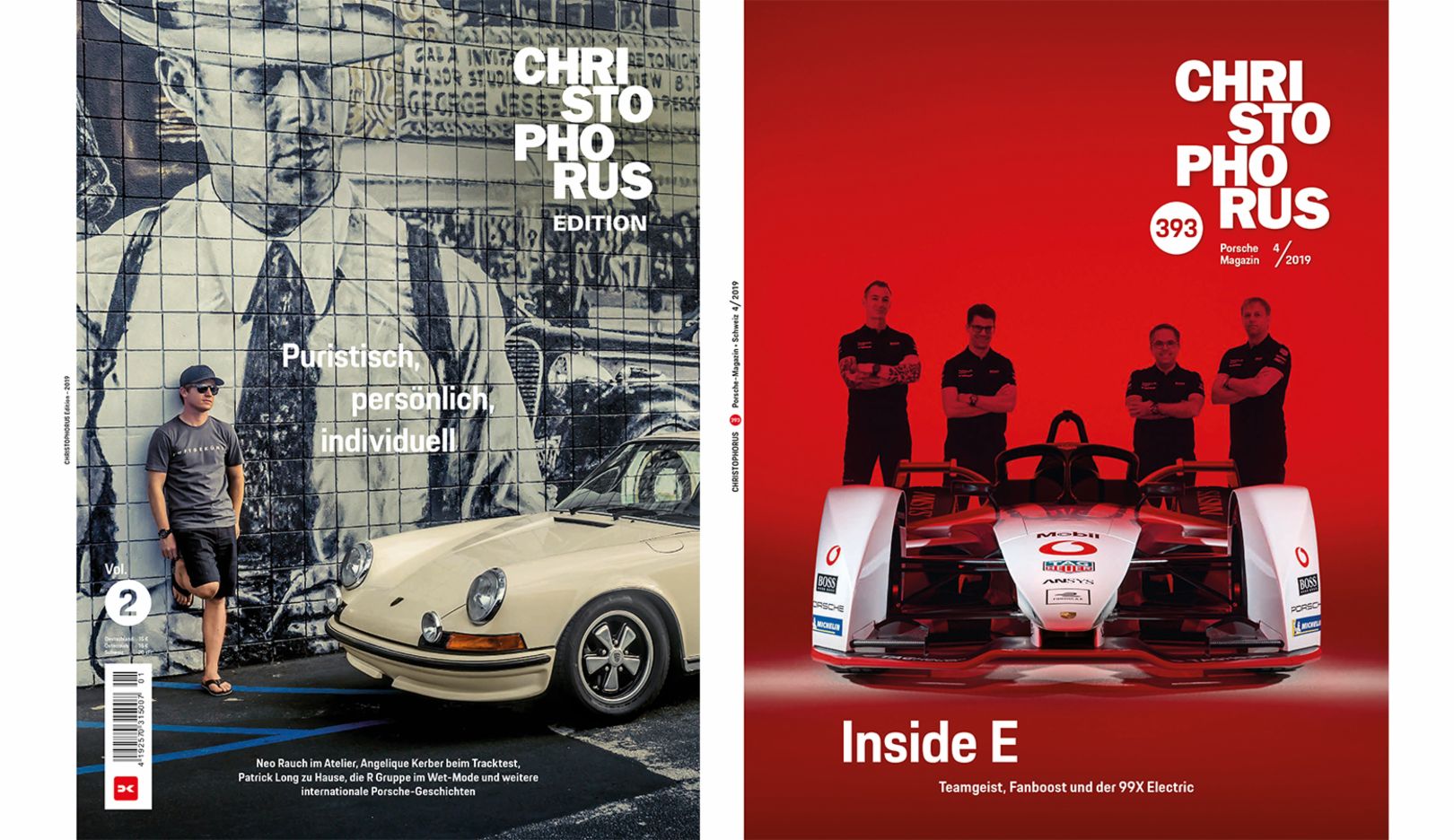 New Track Precision App
Even more functions have been added to the digital trainer for the racetrack: Porsche has enhanced the Track Precision app. The most important innovation offered is that the app—available to download for free and suitable for use on most model year 2017 and later Porsche 911 and 718 models equipped with the Sport Chrono Package and navigation system—can now be displayed directly on the PCM screen using Apple Car Play and can be operated via Porsche Communication Management (PCM). This is more convenient than the previous smartphone-based display. The latest update of the app, Version 3.2, also offers the racing lines of 300 racetracks from around the world.

To train the driver's personal driving style on the racetrack, the app automatically records individual driving data for each lap, such as longitudinal and lateral acceleration, braking force, engine rpm, and speed. And it does so in real time and while connected to the car's control devices. The Laptimer and Drive at your Limit functions visualize the current performance. For analysis, video recordings from smartphones or action cams can be combined with the driving data. Thanks to the connection to the vehicle's sensors, information such as steering angle, brake pressure, or accelerator pedal position is available—even when comparing with previous laps. AirDrop offers detailed analysis on the user's iPad, while the Apple Watch app allows the driver's pulse to be recorded. Feel that vibration alert? Congratulations! You've achieved a new personal best—and it's easy to share this on social media.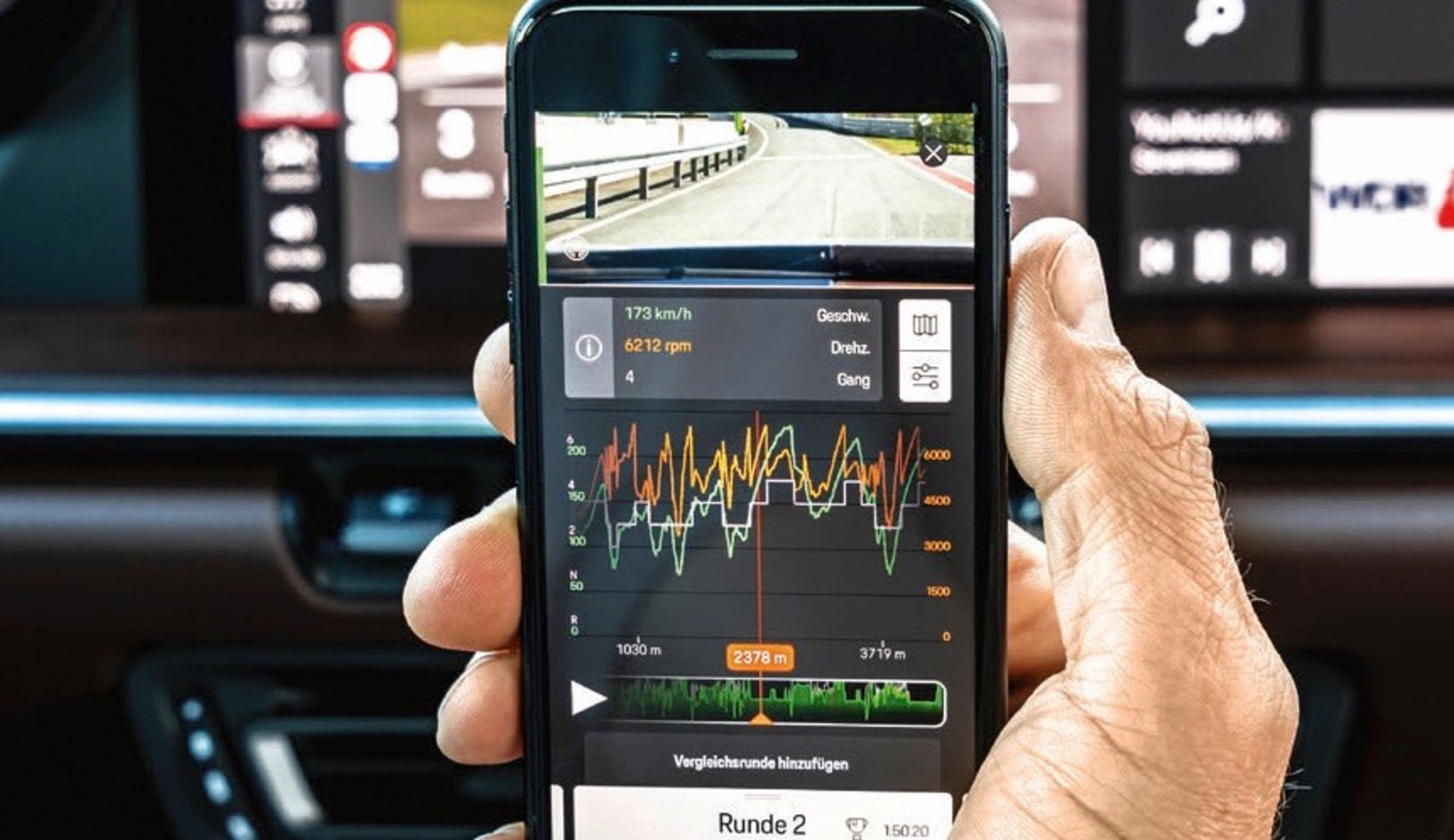 On Track for the Long Term
From a vision to a clearly formulated target: Porsche is working hard on a factory that has no negative effects on the environment. To this end, the entire value creation chain and the complete life cycle of the vehicles are constantly being optimized with regard to resource conservation and material recycling. With the Porsche Impact carbon offset program, every single driver can also make a contribution. Following a successful pilot phase in Germany, the UK, Poland, and the USA, the service is now available in fifteen other countries.

Users can enter their figures for mileage and average fuel consumption in the Porsche Impact emission calculator at porsche.com/usa/impact and, at the click of a mouse, can find out their sports car's CO₂ footprint and immediately choose to compensate for it. Various internationally certified projects are available to choose from. The projects concentrate on saving American forests, for example, or sustainable protection of habitats in Zimbabwe, or generating energy from water and wind power in Vietnam and China. There are also other country-specific forest protection projects in Canada and Australia. In the pilot period between December 2018 and April 2020, around 45,000 tons of carbon dioxide were already offset.

The company is also pressing ahead with climate-neutral production independently of any compensation schemes. For example, the main Zuffenhausen plant uses only electricity from renewable energies and uses biogas to generate heat; the purely electrically powered Porsche Taycan is manufactured there in a CO₂-neutral process. In addition, Porsche also relies on environmentally friendly rail transport solutions and on electric and gas-powered trucks for transport.