Three of the best
Porsche Great Britain: Track test: We take to the racing circuit in three very different Porsche racing cars – the Porsche 986 Boxster, the Porsche Cayman GT4 Clubsport and the Porsche 911 GT3 Cup – to gain an insight into the trio of race series dedicated to the marque in the UK.
Want to race a Porsche? For most drivers, it would be the realisation of a dream. And you might be surprised to discover how easy it is for that dream to come true. Even if you fancy not only racing a Porsche, but racing solely against other Porsches, there are three Porsche-backed dedicated series in the UK alone.
Very much at the affordable end of the market is the Porsche Classic Boxster Cup, for which only original 986-series Boxsters are eligible. Race cars are available for little more than £20,000, rising to perhaps twice as much for one with a proven track record. The car is kept as simple as possible to keep costs down, and is essentially a stripped-out Boxster S with full safety equipment and racing suspension, running on road-legal Pirelli tyres.
Winged wonder:
the Porsche Cayman GT4 Clubsport race car is engineered by Porsche Motorsport in Germany, and takes to UK circuits this year.
The next step up is the new Porsche Sprint Challenge GB, a series for the Cayman GT4 Clubsport – a proper racing car fitted with a four-litre flat-six motor which is designed, engineered and developed at Weissach. One of these costs £131,000 (excluding VAT) and there's a £12,000 entry fee per season.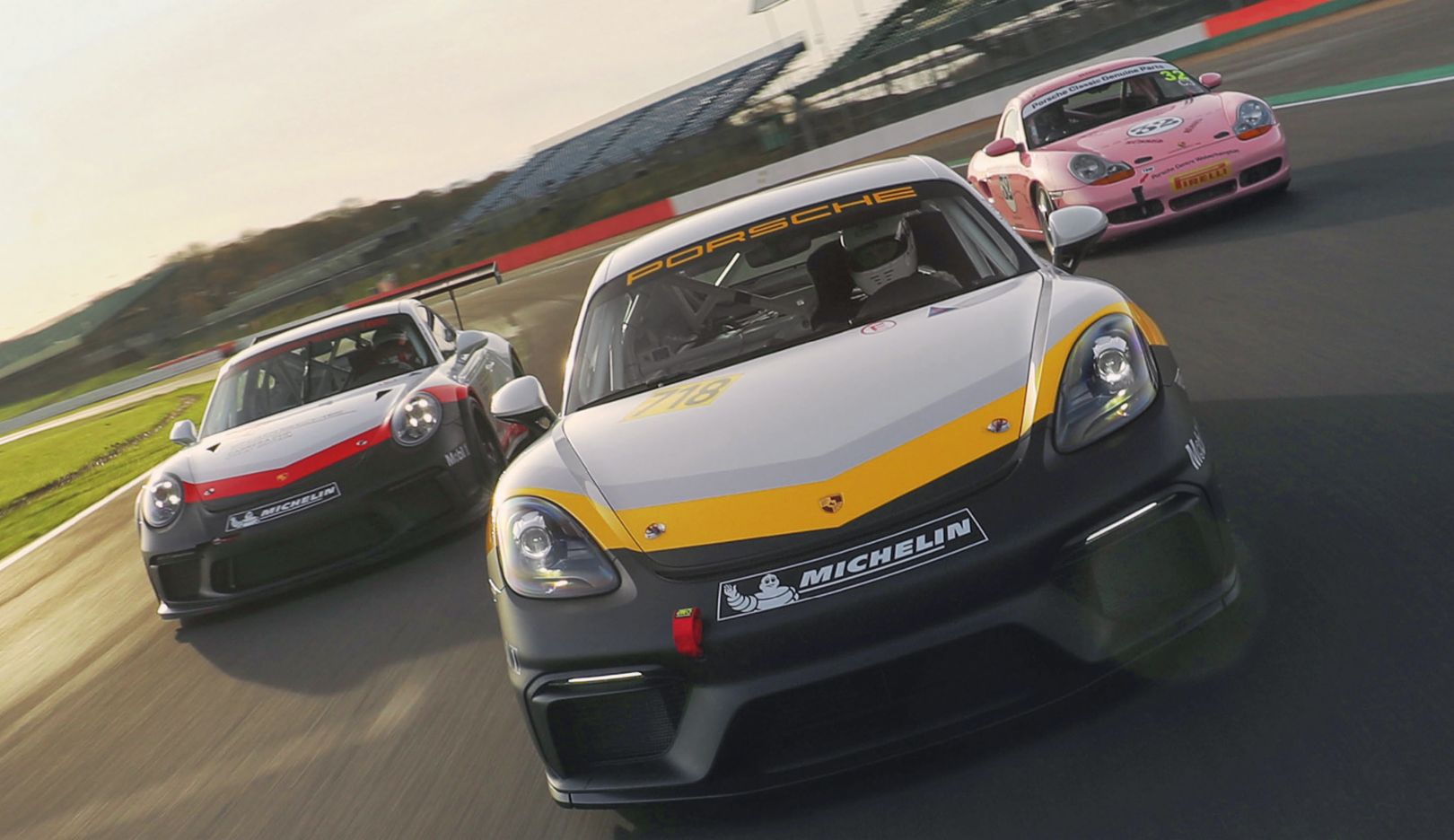 Finally, there's the Carrera Cup GB – Britain's fastest one-make championship. It tends to attract drivers who are very serious about their motor racing and looking to make a name for themselves. It works, too: many Carrera Cup drivers have gone on to carve out an impressive career in motorsport, whether that's racing at Le Mans or in touring cars.
There's nothing like strapping yourself into a racing car, and so much of the joy of driving the 911 can also be found in the comparatively humble Boxster. You have to focus as hard as you can and drive as well as you're able to get the most from it. It's not massively fast, but all speed is relative and it's still a fun and forgiving car to drive – the perfect vehicle in which to start racing or resume it after a long break.
You're driving a racing Porsche 911 without a safety net.
And there's more fun to be had than I'd thought possible.
By contrast, the Cayman is altogether more serious – a lot quicker in a straight line, of course, but relatively quicker still through the corners, thanks to full race suspension and slick tyres. The brakes are ridiculously good, too. It's actually quite a physical car to drive, due to the cornering and acceleration forces it can generate, but because it has traction control and ABS, it provides many additional lines of defence should you overstep the mark.
The same can't be said for the Carrera Cup car. While the Cayman can be seen as a wildly more modern, sophisticated and capable progression from the Boxster, the 911 is a breed apart. Drive it like you'd drive the Cayman and you'll regret it quickly. The 911 requires a different level of skill to drive, and a different way of thinking, too. It's a sprint formula, so its slick Michelin tyres are soft and need to be managed. It has neither traction control nor ABS. You can't be over-ambitious with corner-entry speed and hope to get away with it. You're driving a racing 911 without a safety net, and if you don't respect that fact, it'll end in tears. However, if you do, there's more fun to be had than I'd thought possible in a modern GT racing car.