Bathurst Number Five
Porsche Australia and New Zealand: Porsche Motorsport customer racing: Ten years ago, Stephen Grove was a relatively unknown club racing driver from Melbourne. Now, he's a five-time Bathurst winner and international Porsche racing driver, enjoying his racing success side-by-side with his son, Brenton.
The list of people to have won a major Bathurst endurance race five times or more is a short one, but it includes many of Australian Motorsport's most famous names: Brock, Richards Senior and Junior, Perkins, Lowndes and Skaife. And now, Grove. Victory in the Pro-Am class of the 2020 Liqui-Moly Bathurst 12 Hour saw long-time Porsche racing driver Stephen Grove and his eponymous team notch up his fifth Bathurst trophy in a remarkable performance against one of the world's best GT3 fields. After years of class domination in their well-raced fleet of Porsche GT3 Cup cars, the Melbourne businessman, his son Brenton and regular co-driver Ben Barker stepped up to a 911 GT3 R in 2020, finished 10th outright and won the Pro-Am class by a full lap. It took their number of Bathurst class wins to five, the most ever by a single team in 12 Hour history.
Grove's accomplishment was remarkable for someone who a decade ago hadn't even turned a lap in national competition.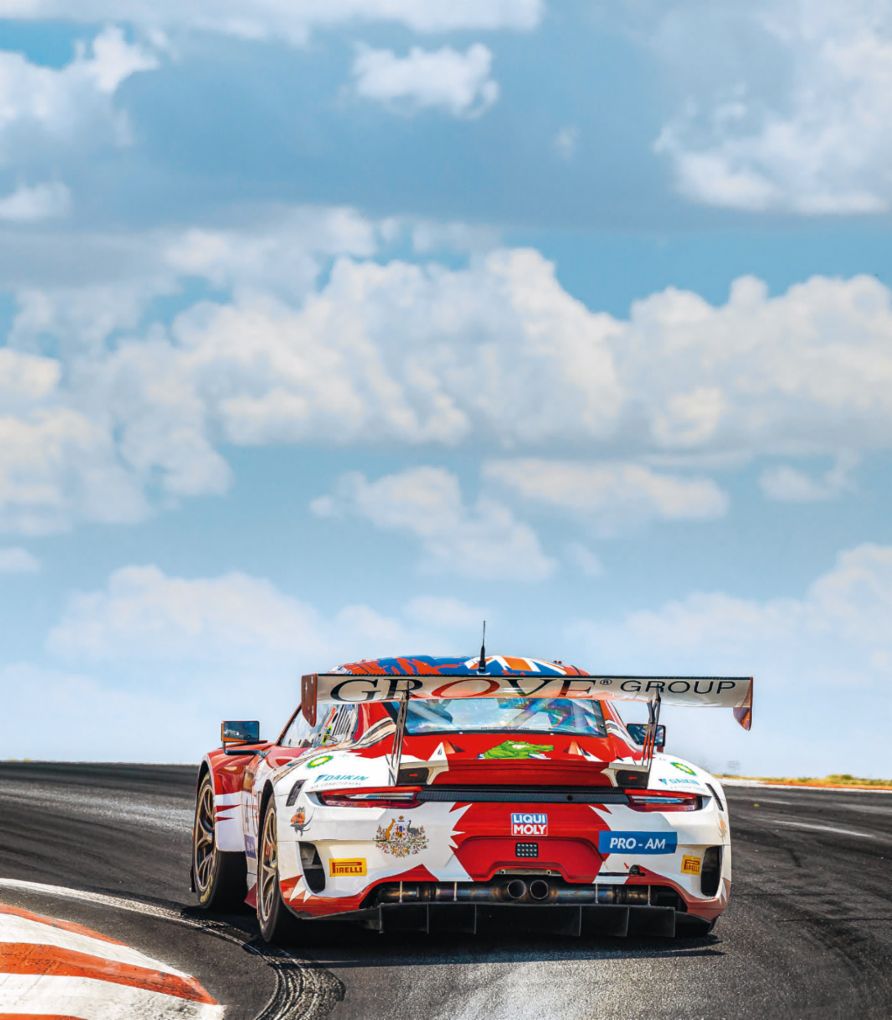 Second in the class was another new GT3 R, driven by car owner and Bathurst 12 Hour regular, expatriate Australian David Calvert-Jones, French endurance racing legend Romain Dumas and New Zealand-born Porsche Junior, Jaxon Evans. Stephen Grove's accomplishment was remarkable for someone who a decade ago hadn't even turned a lap in national competition, let alone won what has become one of the world's most demanding endurance races. Between his 2011 debut in Porsche GT3 Cup Challenge, a trio of Porsche Carrera Cup Pro-Am class titles and four class wins on The Mountain, Grove says that his most recent Bathurst success was a particularly proud moment.
"We'd been talking about stepping up to the next level with a GT3 R in Pro-Am, but I'd only driven one car in the FIA World Motorsport Games one other time (in late 2019) and that was only a short, one-hour race.
"I've done so many laps there in a Cup car: seven 12 Hours, at least seven Carrera Cup rounds and some other races, but it was trying to build up trust in the car's aero and that was the battle I faced early on". A key theme of the weekend was 'family', both on and off the track. While Grove raced with his son Brenton and long-time co-driver Barker, his own family-run Grove Racing squad partnered with crack German outfit Herberth Motorsport this time to run the #4 GT3 R.
"It was very important for me to do the race with Brenton," Grove says with his trademark enthusiasm. "To race with your son is special and to be competitive is even better. To watch him grow and hear the feedback he gives is an important part of it. There's only a small window for us to do this. He needed to be old enough to be good enough, and I needed to be 'not too old' and good enough! I assume a time will come down the track where I'm not quick enough and I'm not adding anything to our performance, then the partnership won't exist like it does now. It's such a high level of competition now that you both need to be on top of your game." While Barker isn't quite 'family', the tall Englishman was the obvious choice to include as the team's third driver—and he didn't disappoint.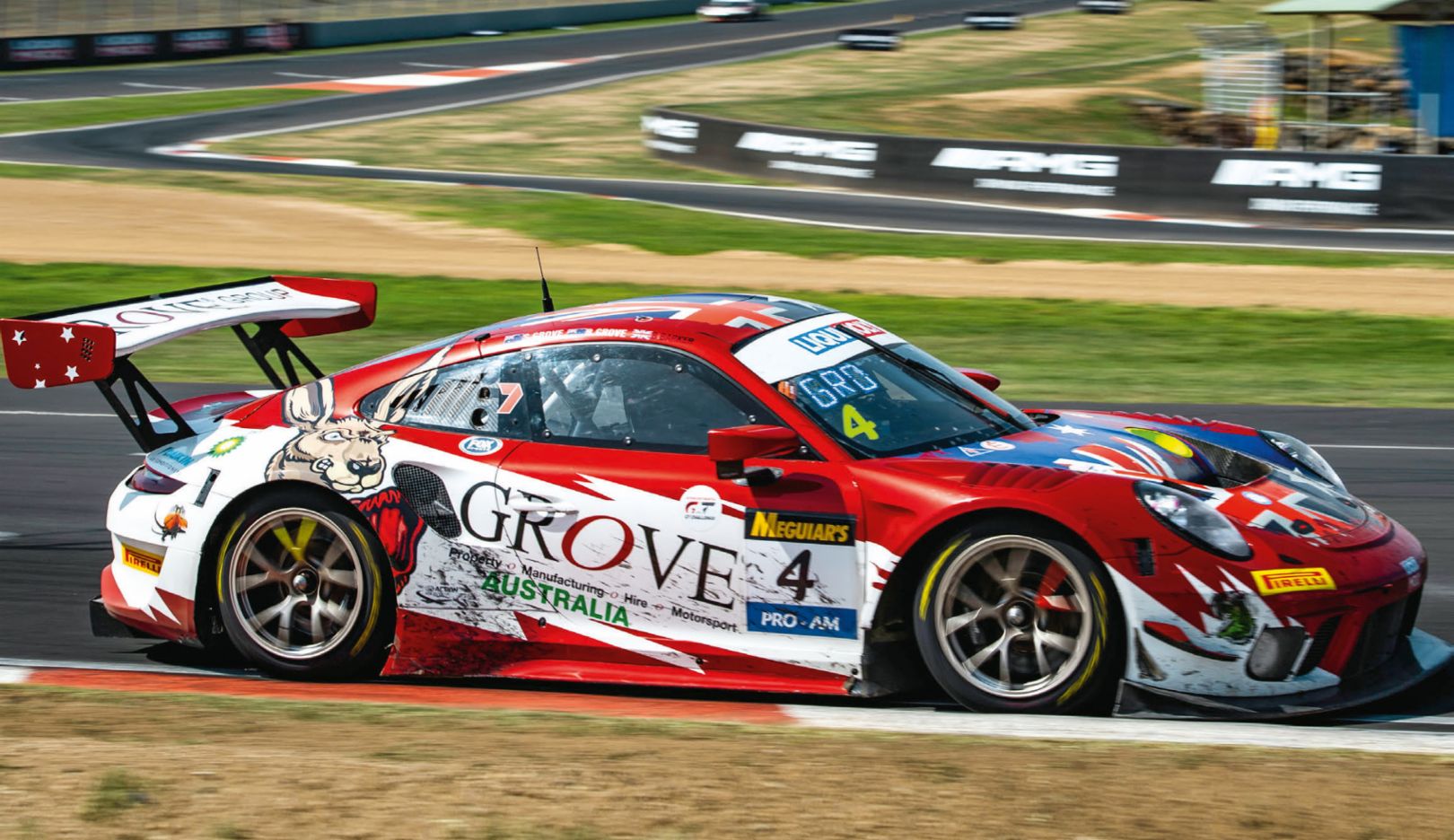 "We had a lot of people in Australia, professional guys, who said that they wanted to do it—but we chose Ben because I've done it with him since 2014. He missed one year, but it was important to bring him back and he didn't let us down. He did an outstanding job." Grove believes his Bathurst success can be partly attributed to his debut full-season campaign in the 2019 Porsche Mobil 1 Supercup, in which he raced with fellow Aussies Marc Cini and Joey Mawson under the 'Team Australia' banner.
"There's only a small window: He needs to be old enough to be good enough, and I need to be 'not too old' to be good enough!" Stephen Grove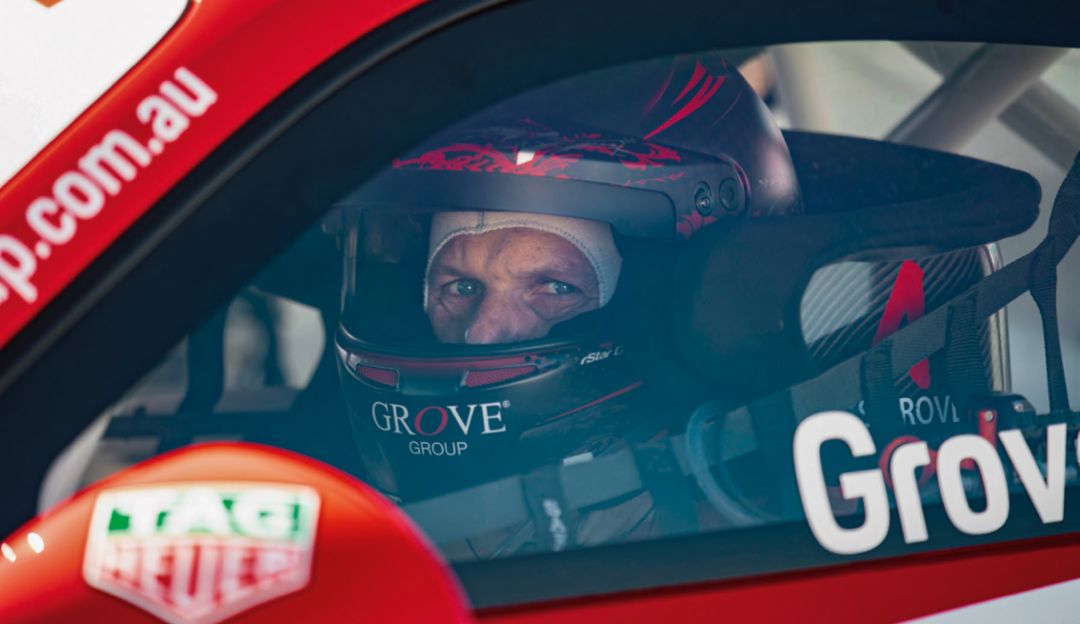 "Supercup taught me the ability to get up to pace really quickly," he says. "You could go to a new track, only for it to be wet in practice, so you rock up the next morning for qualifying and you've got two runs, two laps per run, in the dry. It gave me the ability to get up to pace straight away, plus the experience of driving on cold tyres and feeling their grip. Plus the professionalism—you've got to focus, study hard and put in the effort."
With more motorsport still ahead of him in Porsche race cars during 2020, Grove will not be giving up his passion for racing any time soon. But for the moment, the latest Bathurst silverware has pride of place on the Grove family mantelpiece.