Continue
News from the world of Porsche.
Porsche 911 Speedster
Fuel consumption city: 20.6 l/100 km
Highway: 9.9 l/100 km . combined: 13.8 l/100 km
CO2 emissions combined: 317 g/km

Porsche 911 Carrera 4S
Fuel consumption city: 14.8–13.1 l/100 km
Highway: 7.8–7.4 l/100 km . combined: 10.1–9.7 l/100 km
CO2 emissions combined: 231–222 g/km

(as of 06/2020)

The technical data mentioned in this issue may vary from country to country.
Worldwide extended warranty
For all vehicles whose new vehicle warranty expired between March 1, 2020, and May 31, 2020, Porsche will extend it by a further three months. This extension is free of charge for customers, valid worldwide, and automatically taken into account by the Porsche Centers.

By cutting through the red tape, the sports-car manufacturer is responding to the COVID-19 crisis, which has severely curtailed operation at many Porsche Centers since March. This action also applies to customers who purchased a Porsche Approved Warranty as an extension to the two-year new vehicle warranty. If this starts within the relevant period, it'll be extended by three months as well. The new expiration date is based on the effective date. For example, if the new vehicle warranty ended on May 15, 2020, the extension will now apply until August 15, 2020.
Virtual action
While real motorsport events have had to be canceled due to the COVID-19 pandemic, virtual Porsche racing is in full swing. The 2020 Porsche TAG Heuer Esports Supercup will stage its second season at world championship level as planned—now with a new sponsor.

Meanwhile, Formula E and the Porsche Mobil 1 Supercup, usually held as part of Formula One, moved their season opener to the virtual world. In the Formula E Race at Home Challenge, factory drivers Neel Jani and André Lotterer fight for points for the TAG Heuer Porsche Formula E Team in a simulator—from home. Donations collected will benefit the children's charity UNICEF.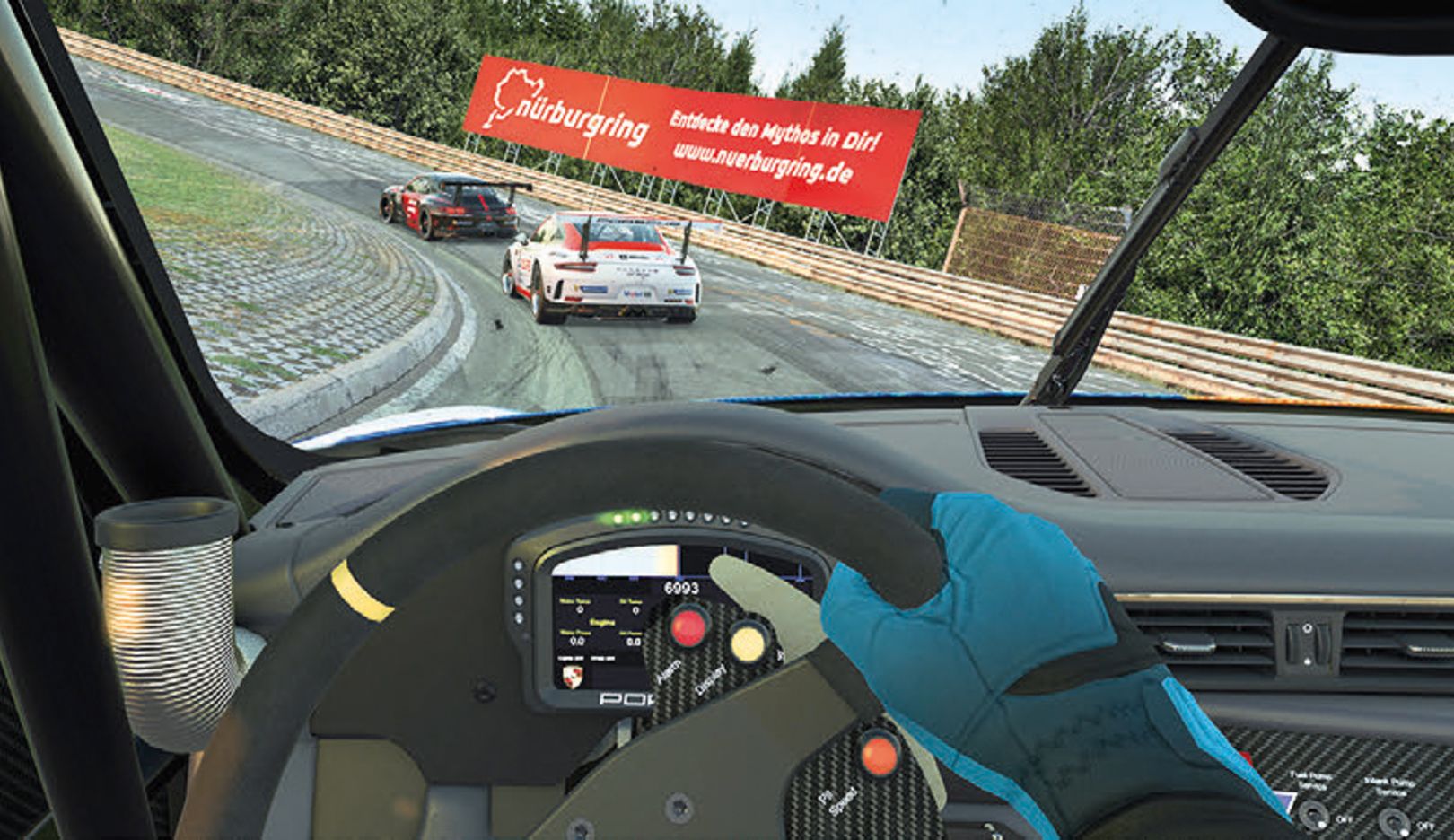 Speedster and donations for a good cause
Porsche is taking numerous steps to help people suffering from the COVID-19 pandemic. Porsche Cars North America, for example, auctioned off a 911 Speedster that was the last 911 model of the 991 generation to pass down the serial production line. The subsidiary matched the winning bid of US $500,000 to make the donation to the nonprofit organization United Way a total of US $1 million.

In Germany, Porsche AG increased its annual donations by €5 million and doubled its funding of food banks to €200,000. Together with logistics partners DB Schenker and Lufthansa Cargo, Porsche supported the state governments of Baden-Württemberg and Saxony as of April in airlifting urgently needed personal protective equipment from China. The governors of the two states expressed their appreciation for the global expertise of the six-member Porsche task force.

Porsche has introduced aid programs in many other countries as well. Its cafeteria in Madrid has been preparing meals for seniors, and Porsche mechanics in Indonesia have been making protective face masks. These efforts to meet basic needs and ensure medical care, along with volunteer projects for neighbors and homeless people, will be continued and expanded for as long as necessary. Members of the Porsche executive board are also making their own individual donations. Together they've contributed half a million euros to Porsche's donation drive for hospitals and charity projects.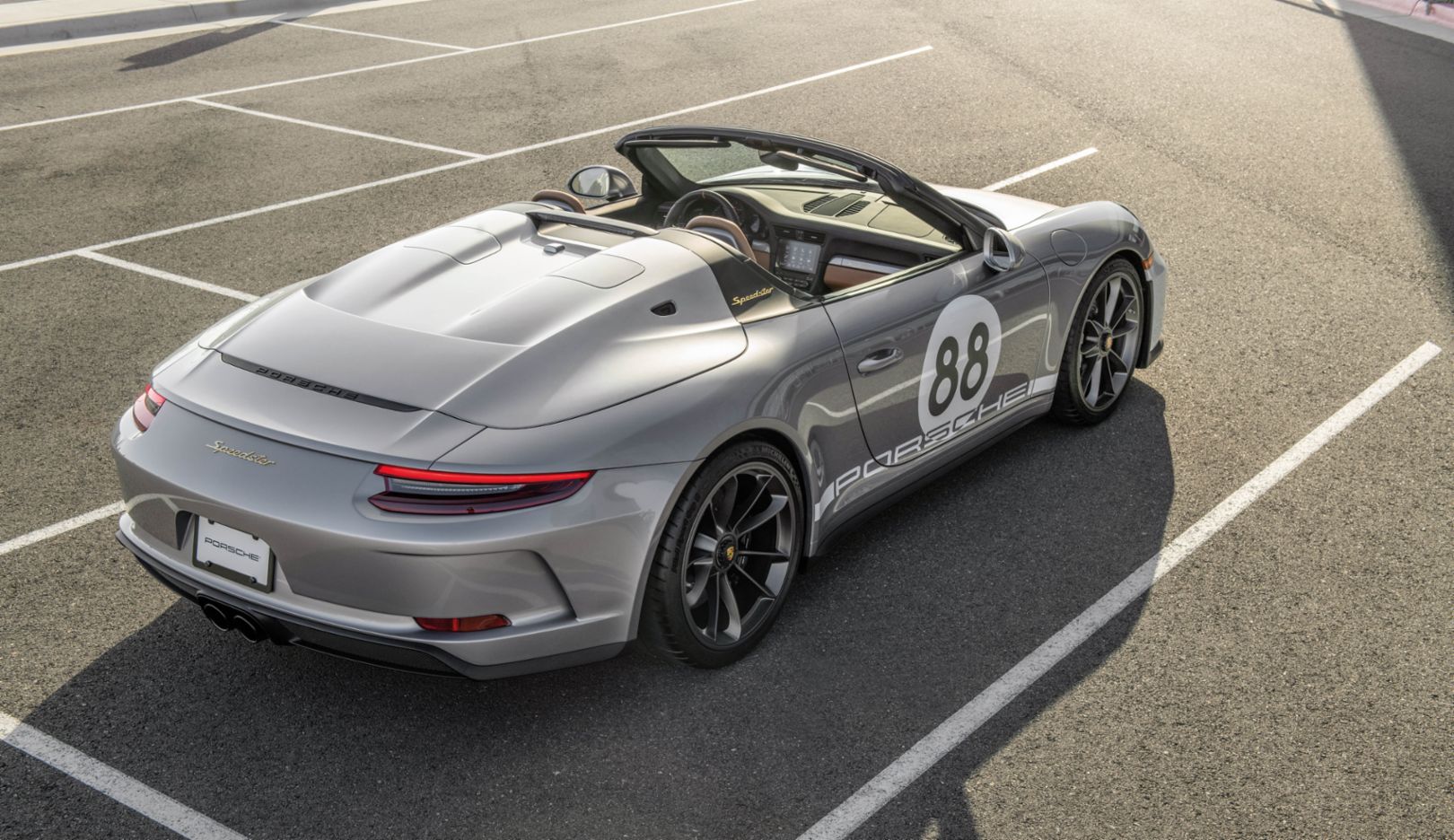 Volume 2
Porsche stands for attitude and passion, for courage, dedication, and devotion. The second XL edition of Christophorus therefore focuses on drivers and their Porsche cars. Its 140 pages in an XL format of 26.5 by 36 centimeters present a kaleidoscope of fascinating personalities—both human and mechanical.

The editorial team combined the best portraits from Christophorus into a superb compilation. Those featured include Angelique Kerber, Neo Rauch, Daniel Hope, Patrick Long, the R Gruppe, and the oldest Porsche Club in the world.

Unique insights into the lives of artists, musicians, athletes, and aficionados make this second edition of Christophorus XL a treat for enthusiasts, collectors, and fans alike. The magazine can be ordered at delius-klasing.de.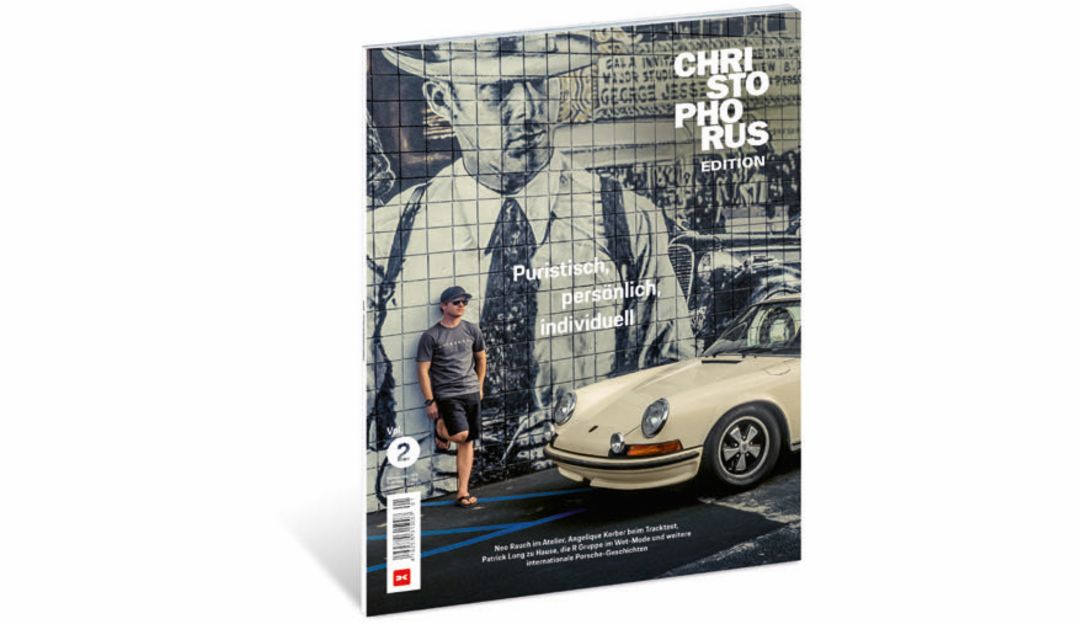 A new era: photo volume on the Taycan
A pioneer like the Porsche Taycan deserves a lasting tribute: in a limited edition of 2,019 illustrated volumes, the magnum opus entitled Roads to Taycan takes readers on a 180-page journey from the initial idea to the finished product. It shows the early sketches and describes the trials that prepared the car for series production.

Photographer Christoph Bauer, who has been working for Porsche since 1985, captured all stages of the journey from the drawing board to the Mission E and the Taycan itself. Photos taken in locations such as Sweden, South Africa, and Shanghai are found exclusively in this work from Christophorus Edition. It won a Best of Best award at the 2020 Automotive Brand Contest and can be ordered in German or English at shop.museum@porsche.de or at store.porsche.com/gb/.
Drivable art
Deep insights into what used to be shiny surfaces—the Porsche art car created by Daniel Arsham reveals astonishing crystalline depths. Arsham, a thirty-nine-year-old artist based in New York, is a master of the aesthetics of disintegration, whether in stage sets, architecture, or individual objects. The white Porsche 911 Carrera 4S of the current 992 generation features patches of crystalline erosion characteristic of his work.

"I've always wanted to create an eroded car that was still drivable," he says. "We took it apart and recast all of its sections—putting it back together again was an enormous amount of work." At the vernissage held in a London department store, visitors waited in a long line to take photos with the 911. Arsham, who has collaborated in the past with fashion brands Dior and Adidas as well as the musician Pharrell Williams, now plans to turn his own Porsche 930 Turbo into a work of art on wheels.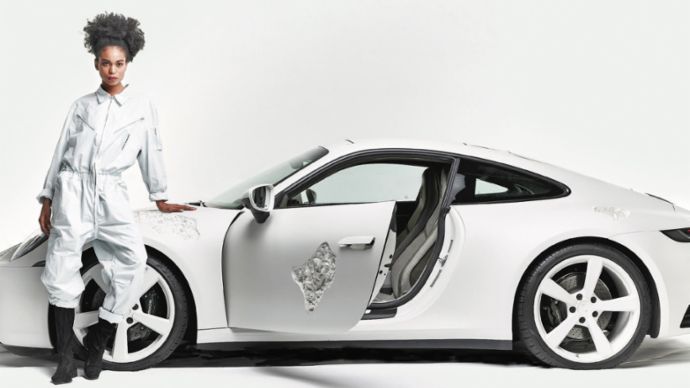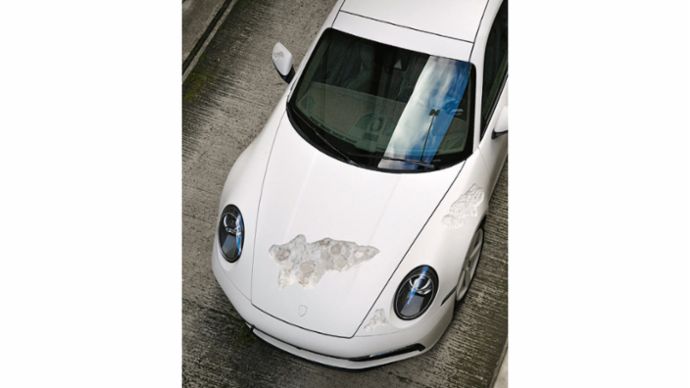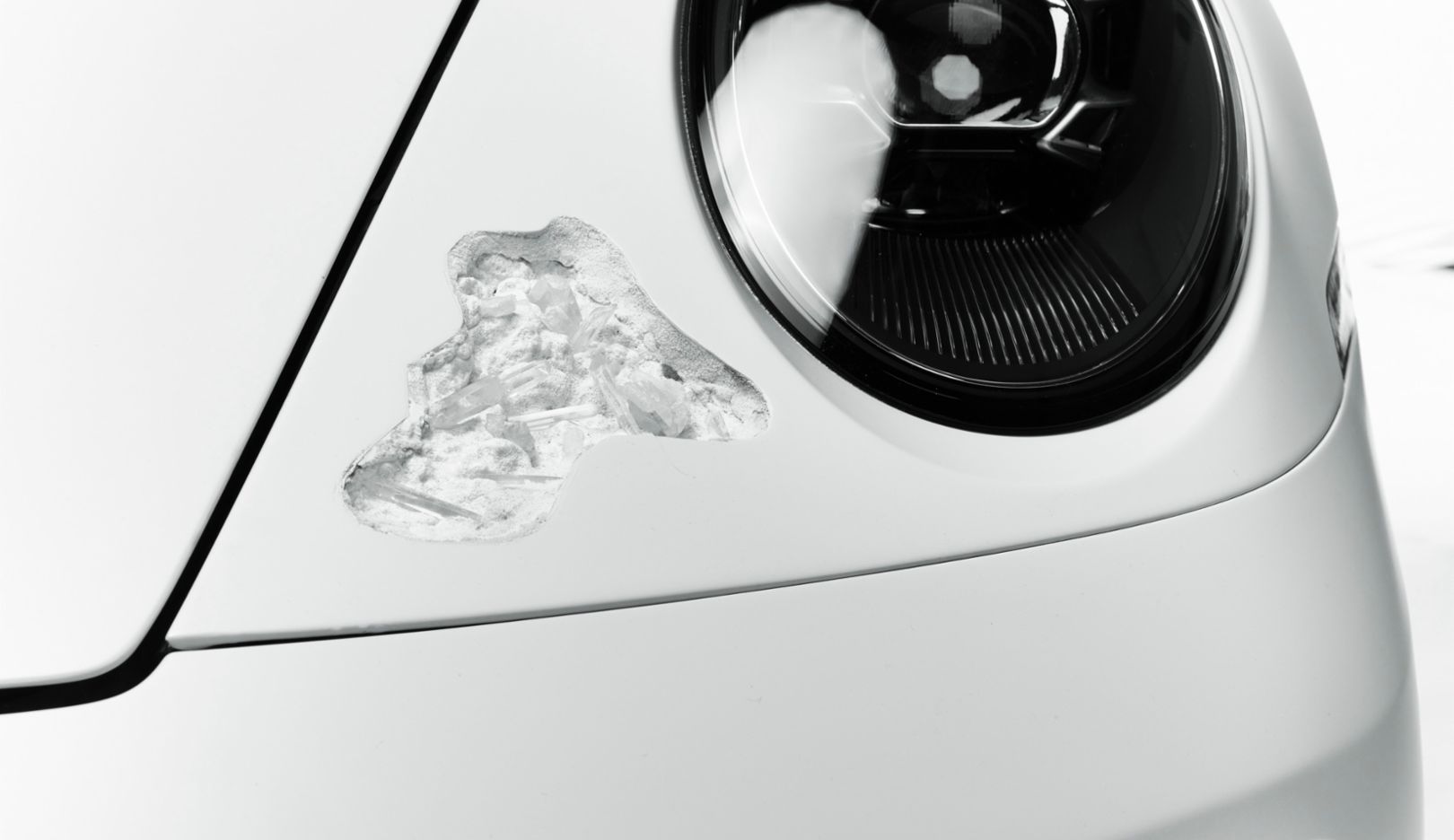 Porsche 911 Carrera 4S: Fuel consumption combined: 10.1–9.7 l/100 km, CO₂ emissions combined: 231–222 g/km (as of 06/2020)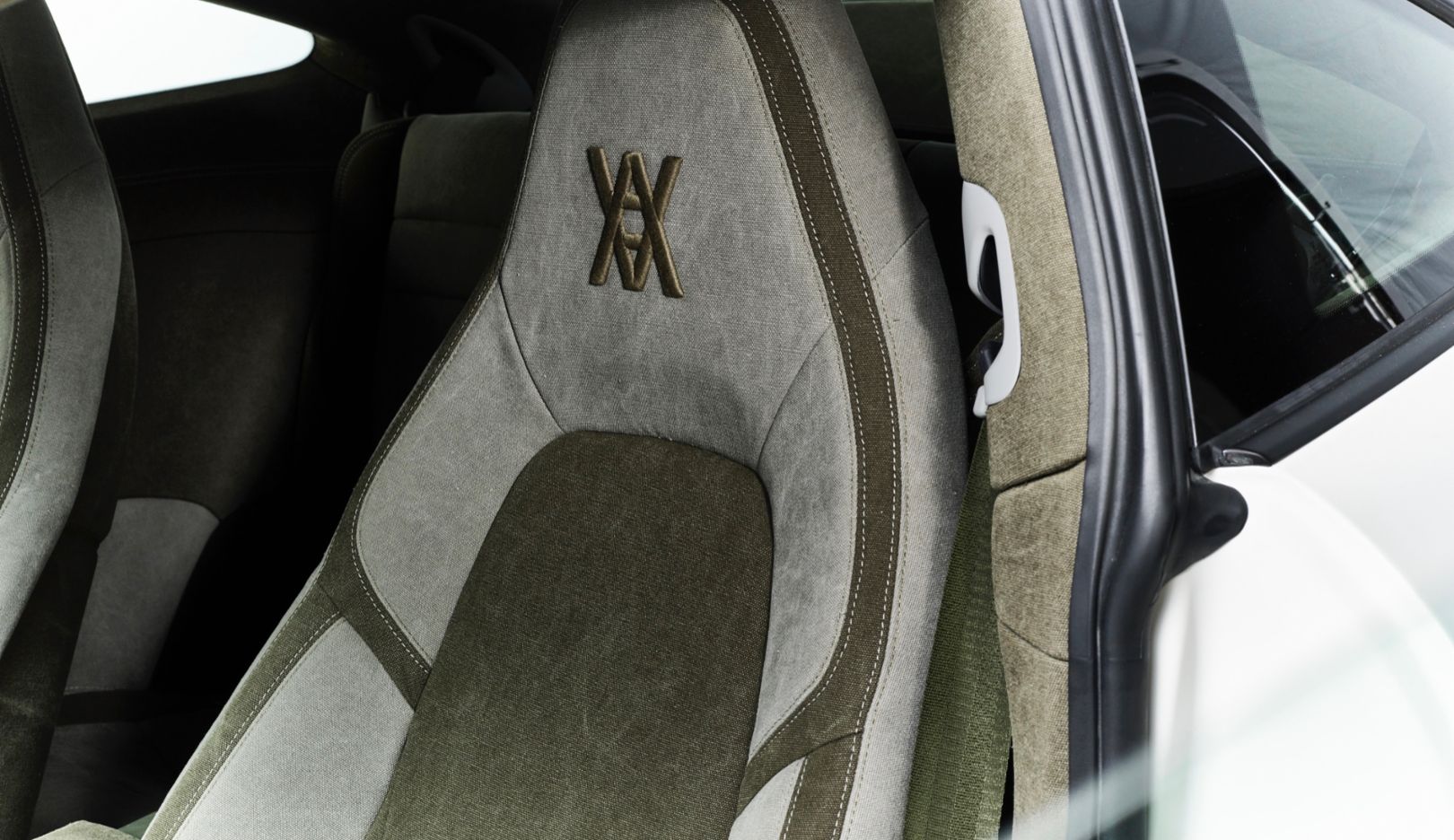 Porsche 911 Carrera 4S: Fuel consumption combined: 10.1–9.7 l/100 km, CO₂ emissions combined: 231–222 g/km (as of 06/2020)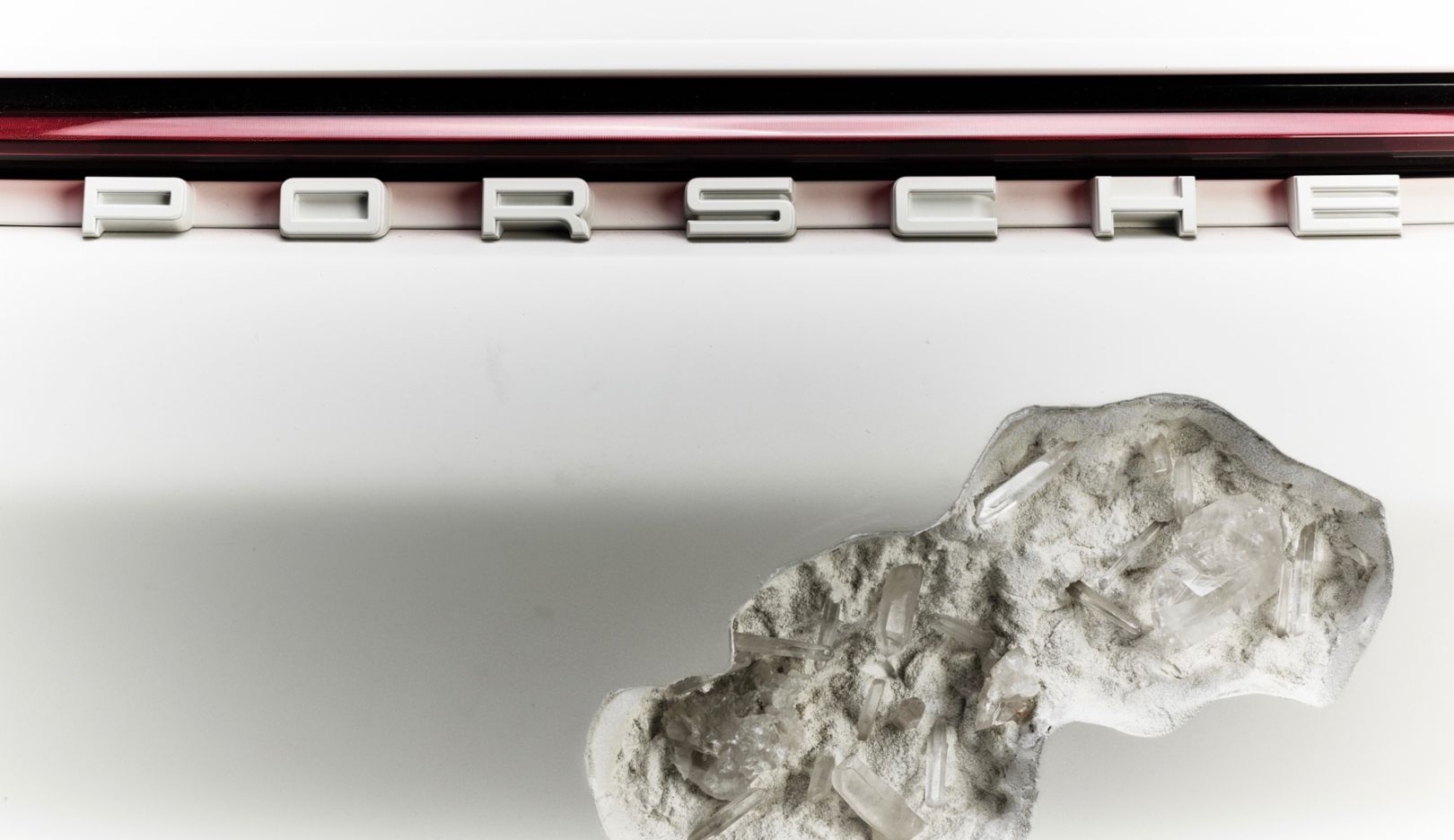 Porsche 911 Carrera 4S: Fuel consumption combined: 10.1–9.7 l/100 km, CO₂ emissions combined: 231–222 g/km (as of 06/2020)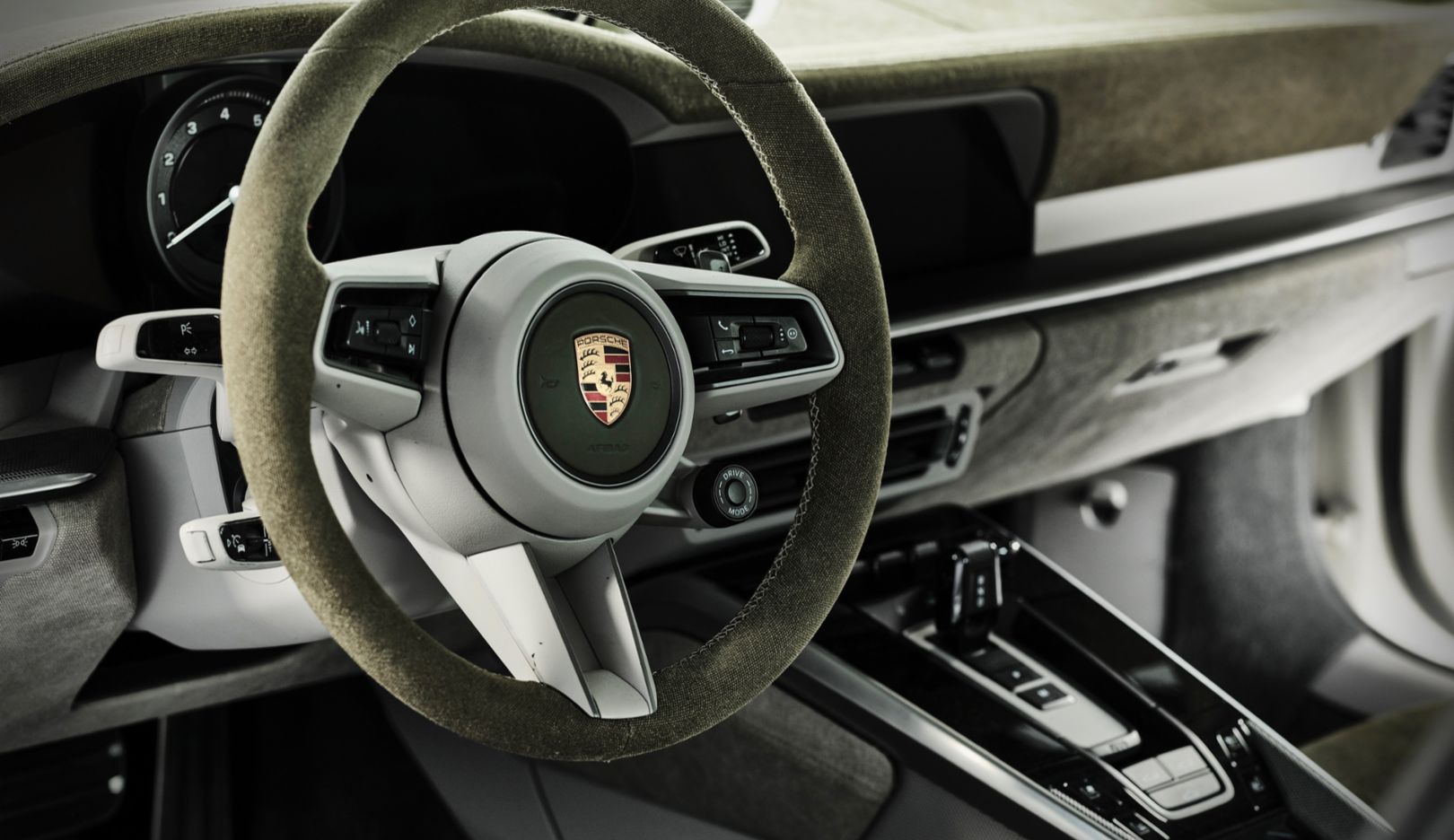 Porsche 911 Carrera 4S: Fuel consumption combined: 10.1–9.7 l/100 km, CO₂ emissions combined: 231–222 g/km (as of 06/2020)
Porsche 911 Carrera 4S: Fuel consumption combined: 10.1–9.7 l/100 km, CO₂ emissions combined: 231–222 g/km (as of 06/2020)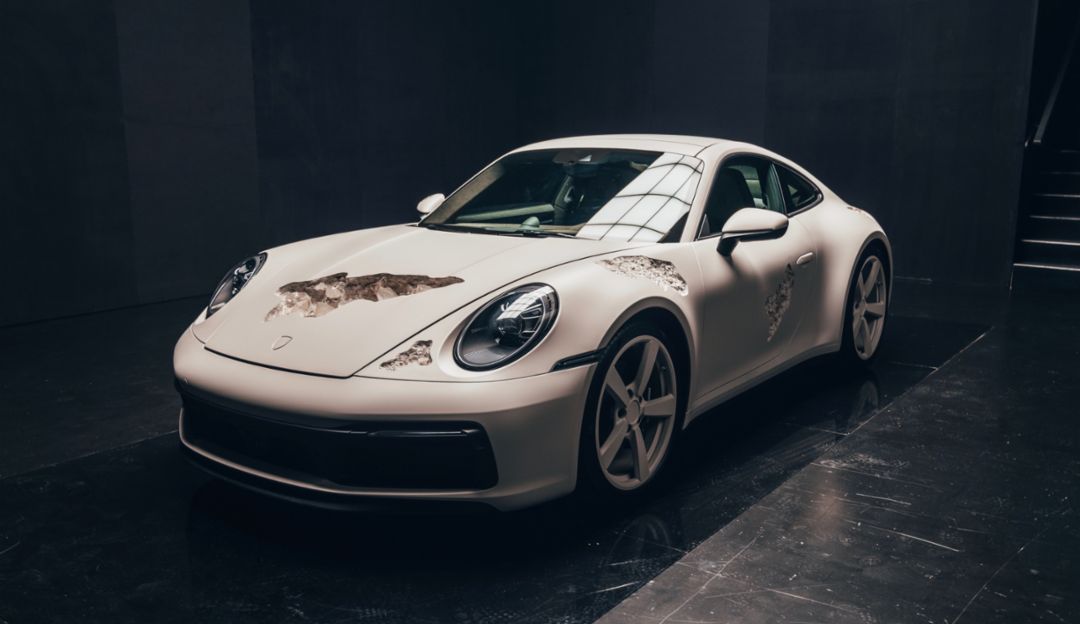 Porsche 911 Carrera 4S: Fuel consumption combined: 10.1–9.7 l/100 km, CO₂ emissions combined: 231–222 g/km (as of 06/2020)
/