The Feeling of Asphalt
More than forty years ago, a youth culture began in New York that still influences the European scene today: hip-hop—music, rapping, graffiti, break dancing, fashion. A five-thousand-kilometer journey of discovery with expert Niko Hüls—aka Niko Backspin—in the Porsche Cayenne S Coupé to the hip-hop centers of Europe, to a spiritual world full of innovative spirit, rhythm, feeling, and intelligence.
Porsche Cayenne S Coupé
Fuel consumption city: 11.5–11.4 l/100 km
Highway: 8.2–8.0 l/100 km
Combined: 9.4–9.2 l/100 km
CO2 emissions combined: 216–212 g/km (as of 06/2020)
The technical data mentioned in this issue may vary from country to country.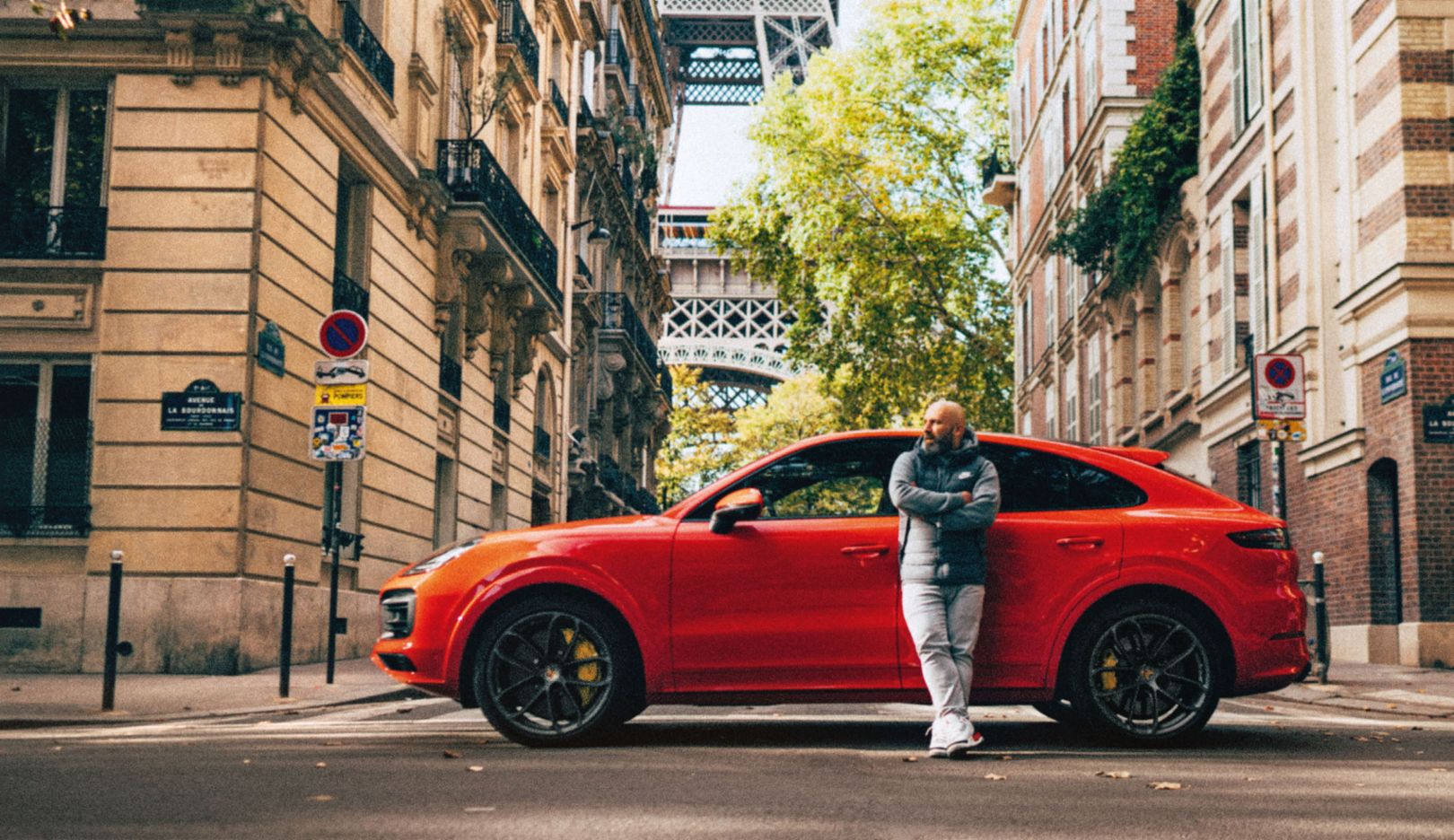 ROAD TRIP
BERLIN–AMSTERDAM–COPENHAGEN–LONDON–BARCELONA–PARIS

MOTTO
HIP-HOP IS THE MOUTHPIECE OF THE STREET
It has always been his dream to "retell the history of hip-hop," says Niko Hüls, head of the Hamburg magazine Backspin and an expert on the European hip-hop world. "Our collaboration with Porsche has made this possible." Numerous meetings with various protagonists of the scene have resulted in colorful film reports and a comprehensive documentary.
Josi Miller
CITY
BERLIN—GERMANY

MOTTO
HIP-HOP IS PASSION

As a teenager, the Leipzig native became fascinated with vinyl records. She learned how to mix, scratch, and perform other tricks with a record player. "At first, I often had the feeling that I was only being booked because I was a woman. Only a few people were really interested in what I was playing," she recalls. Miller now plays regularly in clubs and accompanies her rapper colleagues as a tour DJ. Together with Helen Fares, she has produced the podcast Deine Homegirls (your homegirls) since 2016, where the pair and their guests take a wide-angle view of music and society, based on their motto: "You're never done learning. There's always a scratch you don't know yet. Everything is in a constant state of development."
While the first part, entitled Back to Tape, only focused on the German hip-hop hot spots of Munich, Stuttgart, Heidelberg, Frankfurt am Main, Hamburg, and Berlin, the radius quickly expanded to the rest of Europe: Amsterdam, Copenhagen, London, Barcelona, and Paris.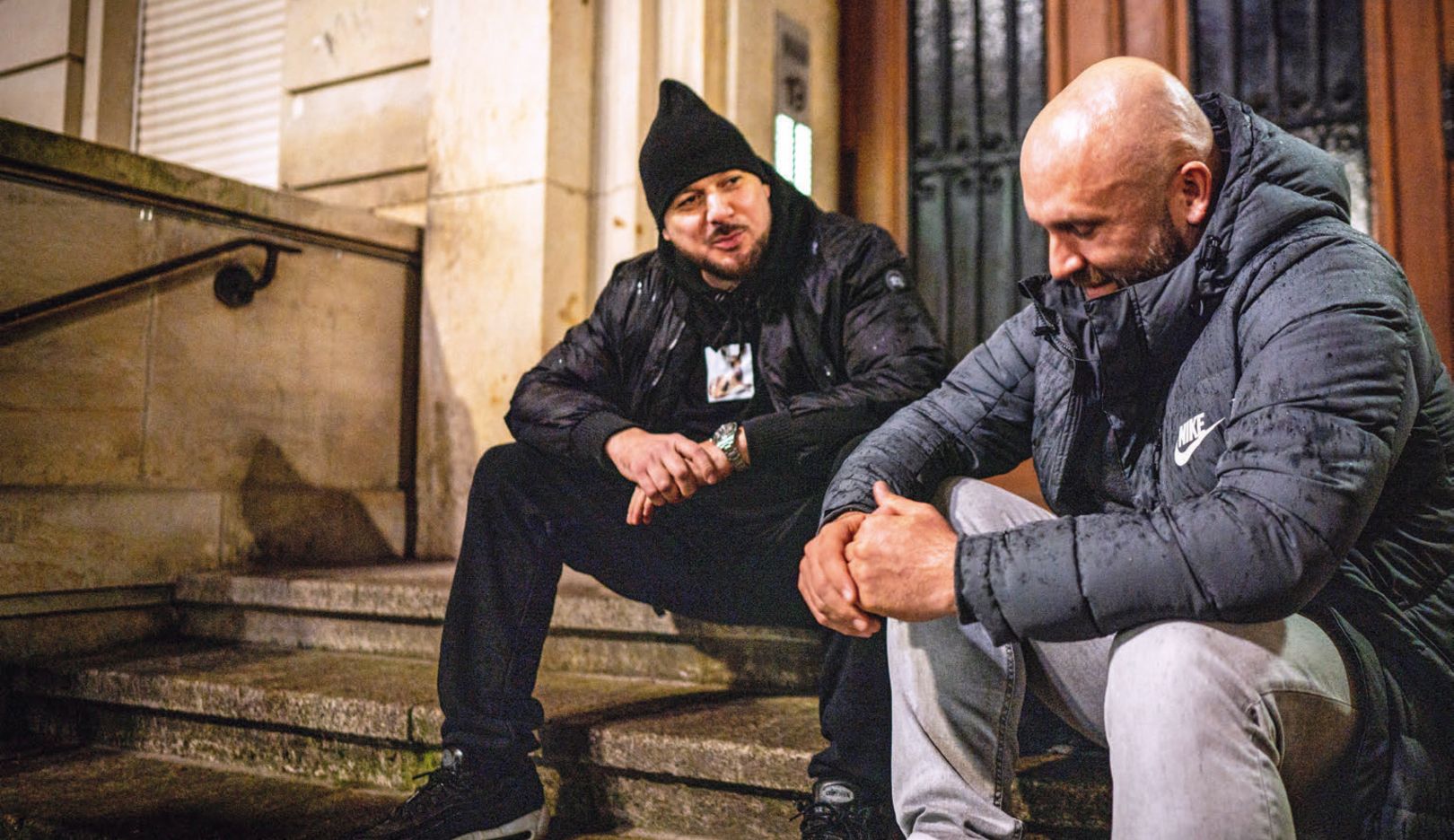 Kool Savas
CITY
BERLIN—GERMANY

MOTTO
HIP-HOP IS FAMILY

The King of Rap (on the left next to Hüls) has been on the scene for more than thirty years. As the former operator of the legendary Berlin label Optik Records, he offered a platform for many young rappers. In 2011 Aura was his first album to reach the top of the album charts. "For me, as a child refugee, hip-hop has been my home," he explains. "Hip-hop taught me values. Values for social coexistence."
"Hip-hop is home." Kool Savas
Hüls got back on the road. "We wanted to show how people in very different places are connected by a common culture," says the journalist. The network grew with each meeting. It was time for the second part to begin. Its title was Back 2 Tape, as both a quote and a punch line.
Edson Sabajo
CITY
AMSTERDAM—NETHERLANDS

MOTTO
HIP-HOP IS A LIFESTYLE AND A WAY OF LIFE

The DJ and producer (above right) is one of the founders of the Amsterdam sneaker collective Patta. For him, hip-hop began in the mid-eighties: "We were still listening to Madonna or Kool & the Gang. All of a sudden, there was this other beat. Soon a real community arose. Nothing was segmented. Whether graffiti, deejaying, break dancing, or rap—it was all there, and everybody had a go at it. Including me." In Amsterdam, Hüls also met the rapper and R&B singer Pete Philly.
Hüls knows that the perception of hip-hop is often overshadowed by the simplistic provocations of gangsta rappers. This makes him all the more eager to talk about the true character of hip-hop. Today's international youth culture originated in the mid-1970s in New York's Bronx borough. The Big Apple was broke at the time, and the Bronx was seething. The urban canyons were littered, impoverished, destroyed. Criminal gangs were in charge of everyday life. Hip-hop drew on parts of this world, while also liberating itself from it. The youth of the Bronx was creating new ways of communicating in innovative forms of expression. At first, graffiti art, rap, break dancing, and deejaying had nothing in common—except for one thing: they pitted creative competition against the destructive power of the street.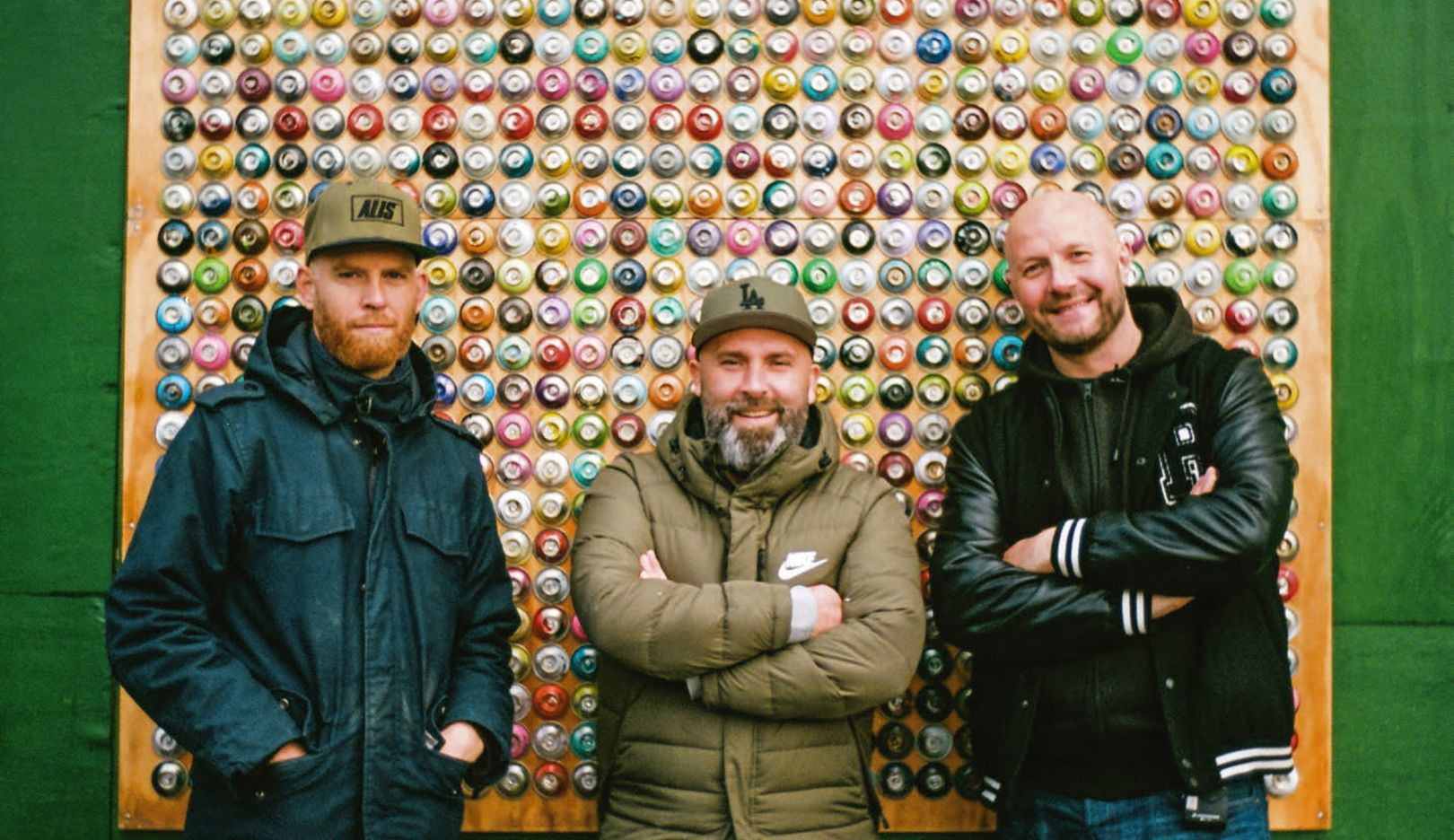 Lars Pedersen
CITY
COPENHAGEN—DENMARK

MOTTO
HIP-HOP IS RESPECT FOR THE ARCHITECT

The Dane (to the right of Hüls) is head of the Institute of Urban Art in Copenhagen and, together with his colleague Peter Skensved (to the left of Hüls), curates a project that's unique, in Europe at least: the Evolution Wall, measuring about 470 meters, has had major impact as the Danish capital's official graffiti project. It continuously documents the current styles and developments in the graffiti scene. And at another location, Back 2 Tape gets its own surprise graffiti.
The first wave of rap, known as Old School, fascinated both critics and young people around the globe. But it mostly remained confined to the USA. Only in the late eighties—as part of what was known as the New School, led by US groups like Run-DMC and Public Enemy—did Europe develop its own creative approaches. The first formations, including Advanced Chemistry from Heidelberg and the artists' collective Kolchose from Stuttgart, often had their start in juvenile homes. The practice cultivated there of achieving maximum effect with minimal equipment and good ideas is reminiscent of the garage hobbyists of the startup scene.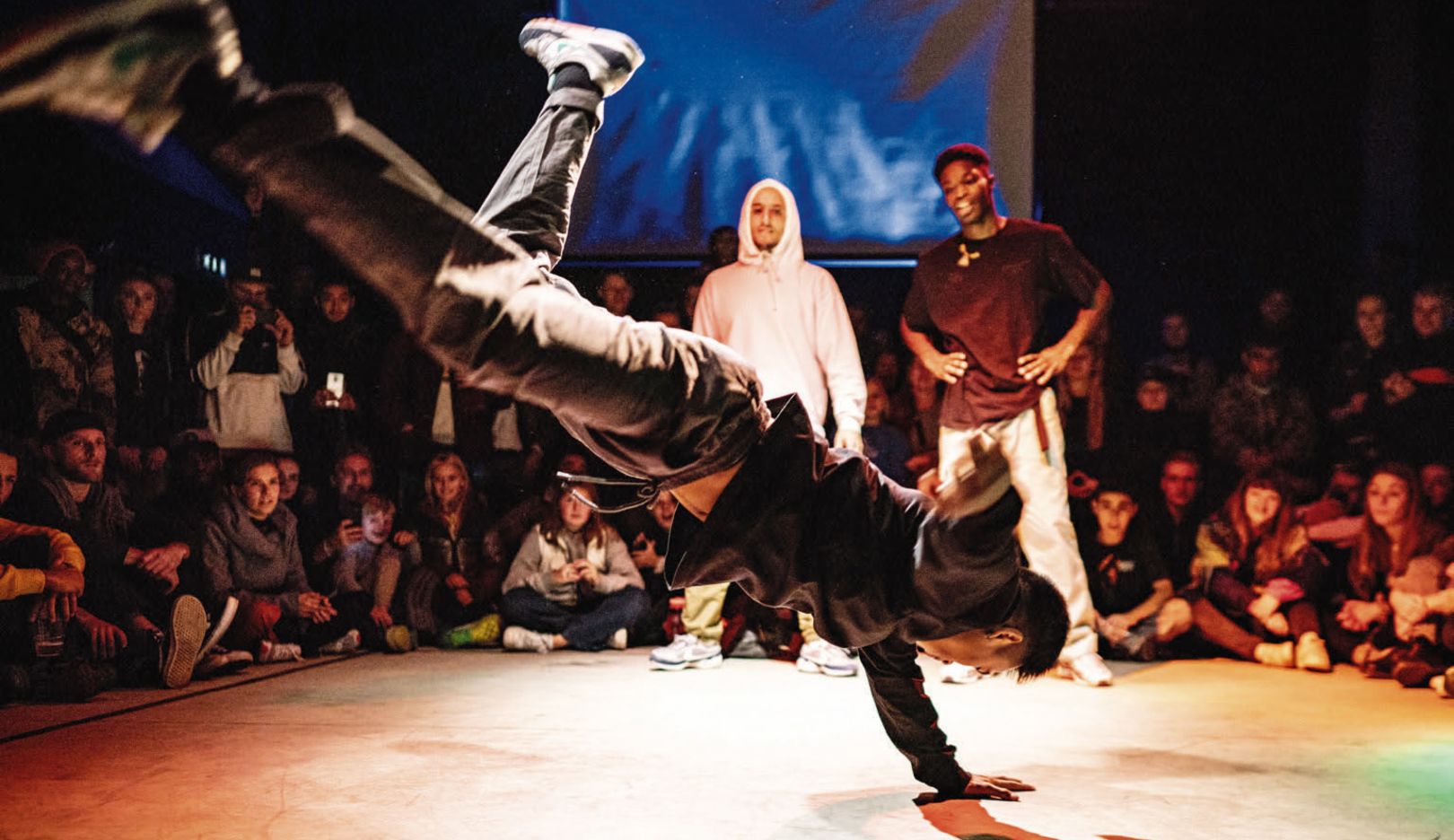 Sune Pejtersen
CITY
COPENHAGEN—DENMARK

MOTTO
HIP-HOP IS SOUL

A native of Flensburg, Germany, Pejtersen has lived for almost three decades in Christiania, an autonomous community in Copenhagen that's tolerated by the state. The dance professional organizes the break-dance competition Floor Wars. The event is an integral part of the cultural scene—not only for die-hard hip-hoppers but for families of all stripes. Meanwhile, the Flying Steps perform in Germany, even to classical music by Johann Sebastian Bach, bringing people of all ages together in their dance academy.
While European hip-hop initially tried to emulate the rigid slang of the US models, an intense engagement with its own language soon began: a multicultural mix of self-penned rhymes, sampling techniques, and the will to assert itself. Suburban reality was mirrored in rap's lyrics.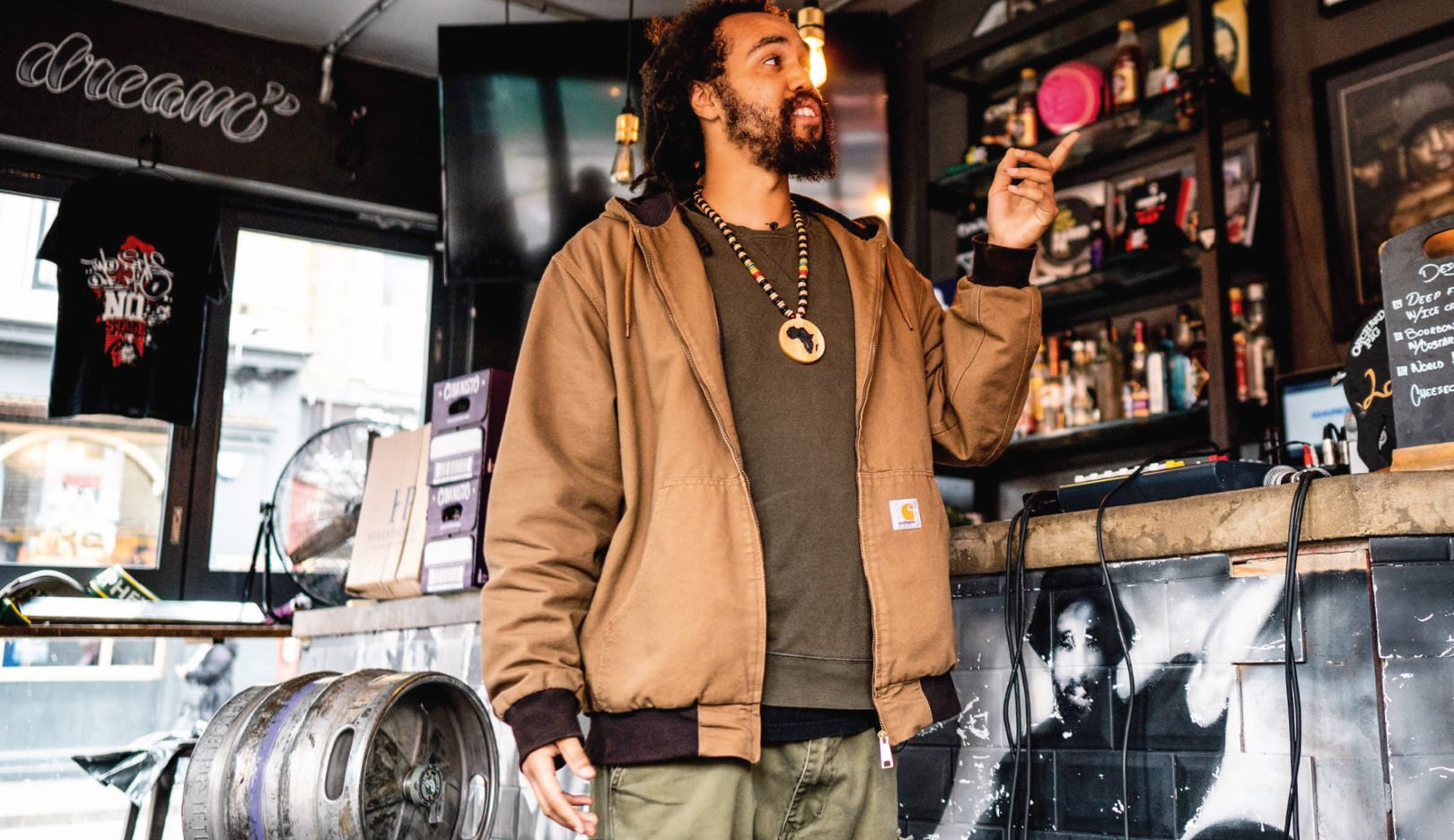 Apex Zero
CITY
LONDON—UNITED KINGDOM

MOTTO
HIP-HOP IS PHILOSOPHY

London is a special stop on our European tour. Influenced by both reggae and ska, a unique musical identity developed here very early on. Alongside Rodney P, one of the forefathers of British rap, the Caribbean-influenced district of Brixton is home to Apex Zero, publisher of the magazine I Am Hip-Hop. "It's important for hip-hop to give people a perspective. No matter where they come from," he says. "Hip-hop showed me who I am. It's a culture that connects people." For him, hip-hop has always been open and multicultural, yet also at risk from selling out culturally. "But good hip-hop will survive." Like Apex Zero, Rodney P also stresses the social obligation that has existed since the early days: "Hip-hop and all its elements connect young and old, rich and poor, black and white. Young people often ask me who the greatest rapper of all time is. But the real question should be: who's the biggest MC of all time, who's most shaped the positive rebellion in music?"
"Hip-hop showed me who I am." Apex Zero
French, Spanish, and Italian variants of hip-hop arose. The new youth culture became a universal code. The individual was no longer isolated but part of a greater whole—a global idea.
El Xupet Negre
CITY
BARCELONA—SPAIN

MOTTO
HIP-HOP IS LOVE

A black pacifier is the calling card of one of the most important street artists in Spain. In Barcelona, El Xupet tells us how he discovered painting. As an underground creative, combined with a free-spirited punk attitude that he continues to assert today. He also sees himself as connecting the dots of art history: "Today, Mozart wouldn't play the piano; he'd scratch vinyl. And Leonardo da Vinci wouldn't paint on canvas but on concrete." The group Falsalarma was also formed in Barcelona and made it to the top of the scene from difficult suburban conditions—and into Back 2 Tape.
"It doesn't matter whether you do a workshop with young people or have a global career in mind," says Mikel Rosemann from Berlin's internationally renowned break-dance formation Flying Steps. Many of the European greats in Back 2 Tape draw on US roots from the early eighties. But since then, hip-hop has reinvented itself over and over again. "As long as you've got the right vibe, age doesn't matter," according to the young Danish hip-hop duo Gebuhr. Vibe as an attitude, a conviction, and a matter of the heart. Apex Zero from London adds, "Over four decades, hip-hop has remained a culture that each new generation conquers for itself. It belongs to them alone. Even if there are quite a few gray beards among them now!"
Lord Esperanza
CITY
PARIS—FRANCE

MOTTO
HIP-HOP IS DEMOCRACY

At twenty-three years of age, Théodore Desprez (above) has already achieved success in the French music scene. He's not interested in ghetto rhymes. He'd rather work with literary references, while at the same time criticizing politics. "My father often took me to classical concerts and readings; that's what shapes my music," he explains. Nicolas Couturieux is another Parisian hip-hop star on the Back 2 Tape tour: as a curator of urban art, he brings graffiti into museums.
It's the inclusive spirit of hip-hop that can be felt on the Back 2 Tape tour through Europe. Ego may be important to one's own creative career, but without a clear commitment to "us," you'll never be successful. Long-time DJ and sneaker designer Edson Sabajo from Amsterdam is convinced of that. The successful young French rapper Lord Esperanza agrees. The same guiding principle is mentioned again and again: "Where you come from, the color of your skin, and your gender don't matter."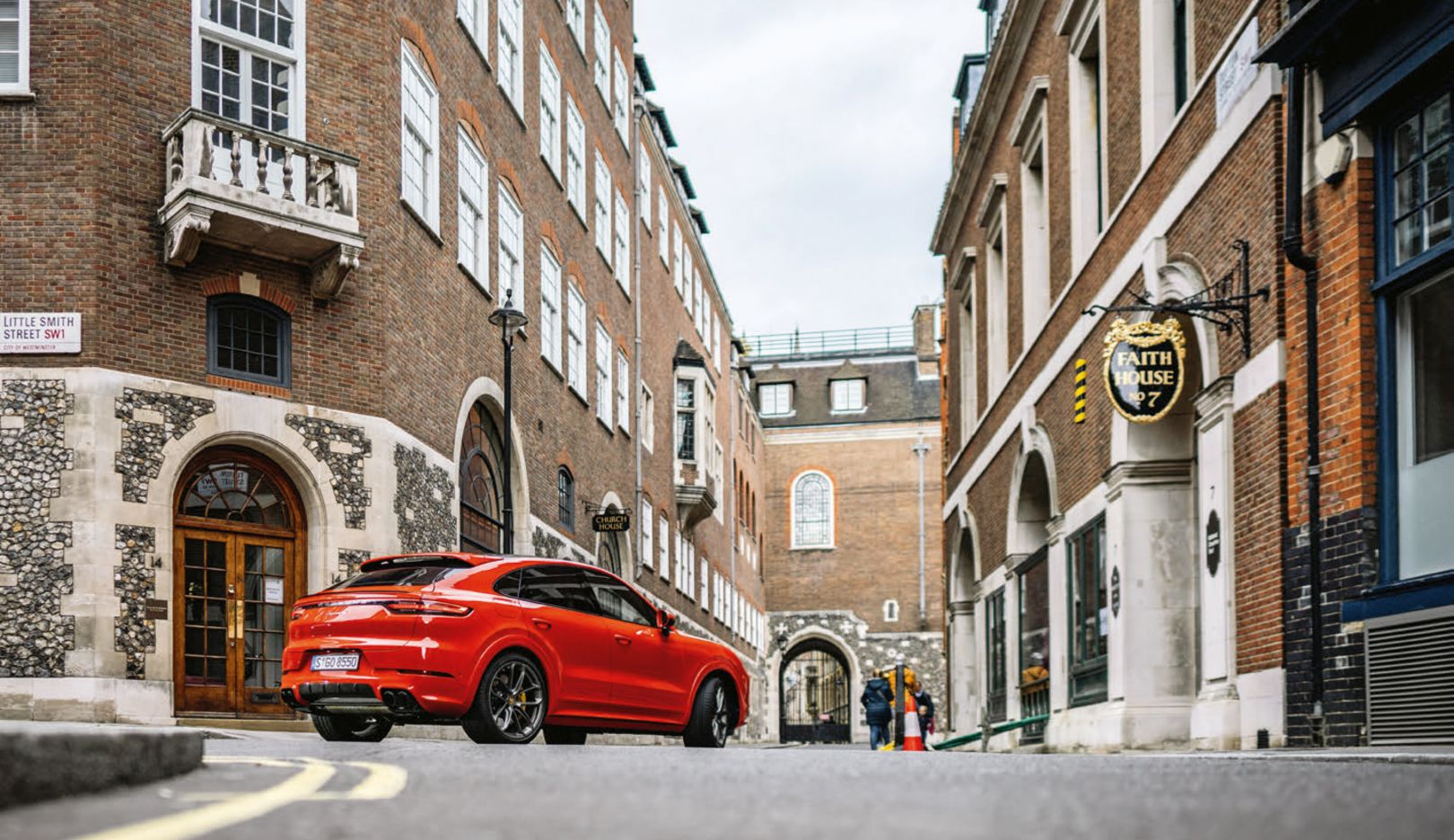 It's undisputed that hip-hop has produced outstanding female rappers since its beginnings with Roxanne Shanté, Salt-N-Pepa, and Lauryn Hill. All the same, its view of women is still under a shadow of machismo and sexism. Back 2 Tape doesn't shy away from looking at this aspect of the subculture. "Feminism and hip-hop are not mutually exclusive," says Berlin-based activist Miriam Davoudvandi, alias DJ Cashmiri. On the one hand, there are so many women active at concerts and festivals that the gender issue is no longer a particular concern, adds Josi Miller, podcaster and tour DJ for Leipzig cloud rapper Trettmann. On the other, both women agree that the status quo needs to become more widespread. Their credo is that they should "stay visible and take up positions."
Niko Hüls's journey through the hip-hop universe is over for the time being. He's dreaming of a triumphant Back 2 Tape finale with the pioneers in the USA. While he chats with Kool Savas about the merits of a Porsche, he feels reminded of the famous quote from Ferry Porsche, the company founder: "To begin with, I looked around but couldn't find the car I was dreaming of. So I decided to build it myself." Niko Hüls is pleased by the parallels: "Hip-hop is a DIY dream too. And one that's conquered the world as well!"