Empowering Enthusiasts
Porsche Australia & New Zealand: The arrival of the 718 Cayman GT4 Clubsport in Australia and New Zealand heralds new world-class motorsport opportunities for Porsche enthusiasts.
New track-focussed version of Cayman
Consumption data
718 Cayman GT4
Fuel consumption combined 10.9 l/100 km
CO2 emissions 249 g/km (as of 07/2020)
Racing legend Jim Richards has never been to the track, The Bend in South Australia, nor driven the car, the spectacularly liveried Cayman GT4 Clubsport. Yet within a very short time he is completing laps that are so smooth it's easy to miss that they are also dazzlingly fast. Being a modest man, the seven-time Bathurst 1000 winner and inaugural 2003 Australian Carrera Cup Champion gives all credit to the Clubsport. "It feels like a 911 Cup car, but it's a mid-engined GT4, so it's a little more user friendly," he explains, with a huge grin. "I'm impressed, it's terrific."
'Gentleman Jim' knows his Porsches. Aside from the Australian Porsche Carrera Cup, the softly spoken New Zealander has won Targa Tasmania outright no fewer than eight times in various Porsche 911s, his final time in a GT2 RS Clubsport. Now in his early seventies, he's no longer part of front-line motorsport, but can't resist competing in weekend sprints in his road-going Cayman GT4. This is why it's a special treat for him to try out the new race version. "It's a lot faster because it's on a better tyre, and has quite a few other advantages," he explains. The model he is driving is the one and only Clubsport in the country, imported by Porsche Cars Australia to assess interest. It's seen as a potential first race car for graduates of the Level 5 Porsche Track Experience, some of whom might then move on to participate in the Porsche Michelin GT3 Cup Challenge on their way up the Porsche Motorsport Pyramid, which ultimately could result in them joining the Porsche professional Sportscar or Formula E driving squad.
As the journalist standing trackside, I'm offered a chance to take the wheel—and jump at it. The first thing to note is that it's a pure race car, with polycarbonate side windows, slick tyres, motor sport standard downforce, and the sort of roll cage that requires quite a lot of bending to climb through.
"I'm impressed, it's terrific." Jim Richards
Fortunately, this car comes with a removable steering wheel (which is more like a half wheel for the competition version), but once in, I'm really in. The special wraparound seats seem to curve almost as far as my temples. With a full fireproof race suit, a six-point racing harness and a radio headset, I'm feeling very much the race-car driver. It's a special thrill to sit in such a performance-focussed space. But, being no Jim Richards, I opt to leave all the electronic driver assistance systems on. Just to repeat—there is only one model in the country and I don't want to be the person who reduces that number to zero. The 3.8-litre boxer six, mounted amidships, has an output of 313 kilowatts, a smidgeon more than the current Cayman GT4 road car. The Clubsport's front suspension is straight out the 911 GT3 Cup car and the all-up weight is 1,340 kilograms, a useful 120 kilograms lighter than the street-legal Cayman GT4.
The bodywork includes some panels made from an organic fibre mix that utilises agricultural by-products. Inside the carbon fibre-lined cabin are two seats (it's left-hand drive) and a hatch above the driver. This is one of many safety features; it's not there to remove someone after a smash, but to allow a neck brace to be fitted if there is an injury. There's comforting normality in the snug cockpit too: a standard Cayman PDK shifter in the centre console, for example.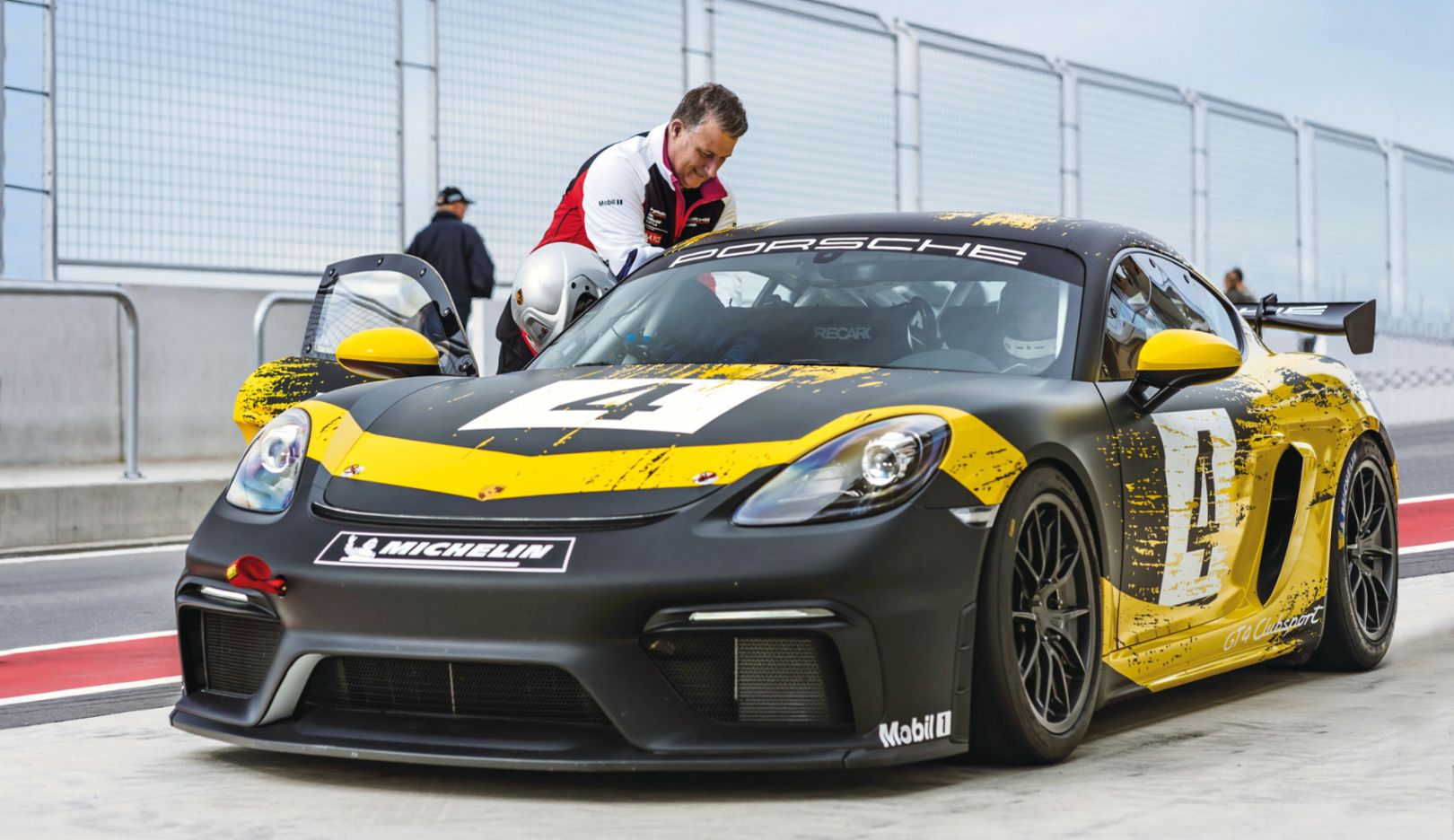 Getting going involves a simple click into gear with the paddles, rather than one of those fiddly hand-operated clutches. I snap through three gears and it becomes apparent how quickly this car can pick up speed. I'm still on coldish tyres as I turn right and negotiate a tricky double change of direction, followed by a mildly banked right hander and an uphill straight over a blind crest. Through the twists and turns the engine is producing a low, flat, burly sound quite unlike any of the 911s circulating at the same time. It's to do with longer exhaust (the Cayman being mid-engined) and the way the engine is set up to produce a broader spread of power. It is strong right through the mid and high-rev range, making it noticeably easier to drive than the average race car.
Into a low sun I make the fast, full G-force turn onto the main straight. I take it relatively easy, but in this car that's still pretty quick. With the speedo showing about 220 on the straight I hit the big steel brakes and it pulls up dramatically for the turn.
Two versions of the GT4 Clubsport are available: the Trackday, aimed at those who want to build their skills, and perhaps compete in state-based or national racing series and the Competition, with additional equipment specific to racing that enables owners to participate in long distance national and international events, including the Australian GT Championship GT4 class and the annual Bathurst 12-Hour. It also offers more possibilities for adjustment (shock absorbers, brake bias, etc.), has an air jack system for quick wheel changes, a longer range fuel tank, more data gathering capabilities, and an automated fire extinguisher. We are enjoying the latter.
Meanwhile, by lap three the slicks are biting hard, and it's a delight how stable and controllable the car is. I'm picking up speed and confidence and … oh, that's why there's an in-built helmet radio, they are bringing me in. OK, it isn't a comprehensive test, but it is enough to know I've at least sampled a truly fast, capable and charismatic car.
Further information:
Porsche has commenced sales of the 718 Cayman GT4 Clubsport, the third customer racing Porsche to be officially imported, after the 911 GT3 Cup Car (in its various iterations) and the 911 GT3 R. Contact Troy Bundy on troy.bundy@porsche.com.au