Unlike any other in the world
A look at the state-of-the-art Taycan production facility in Zuffenhausen.
Consumption data
Porsche Taycan models
Electrical consumption combined: 26.9–24.6 kWh/100 km
CO2 emissions combined: 0 g/km (as of 11/2019)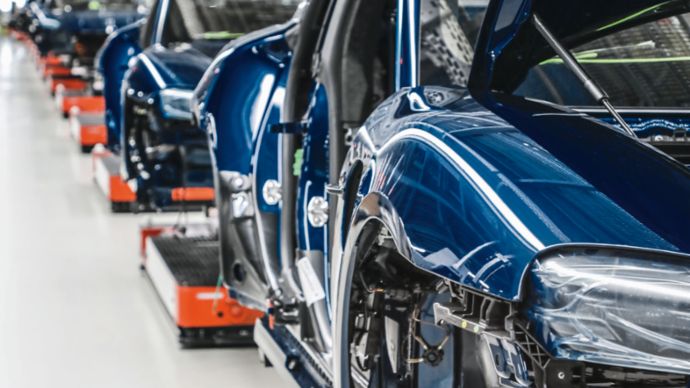 Smart, lean, and green.
Porsche Production 4.0
There are times when one senses that history is in the making. That the sun is shining when the new Taycan plant in Zuffenhausen is dedicated—in perfect synchronicity with the International Motor Show—makes it seem all the more auspicious. Zero Impact, Porsche Production 4.0, is yet another step toward manufacturing without detrimental effects on the environment—but with an unquestionably positive impact on the brand. Looking at the overall picture, the achievement is more than impressive: turning the Mission E concept car into the first series-production, all-electric Porsche in the blink of an eye. Not to mention a plant that's CO2 neutral. And a new quality of work stations—ergonomic, digital, beyond all conventional conceptions of an assembly line. Superlatives taken up a notch: the modern Taycan production facility was created within the existing main plant. It was built in the midst of production of the Porsche 911 and Porsche 718. Taking pains not to disturb the neighbors in Zuffenhausen, of course. And all without delays. A dominant performance from start to finish, as is Porsche's wont. Beyond the environmental balance of the product and plant, the new Taycan working world is equally groundbreaking. It typifies in ideal fashion how people in the industrial future will benefit from automation and digital assistance, with room to grow as well. So the new Taycan is more than just a fascinating product—it exemplifies an era of forward thinking as well as responsibility toward employees, the environment, and what may be the most fascinating brand in the world.
People are at the center of the endeavor.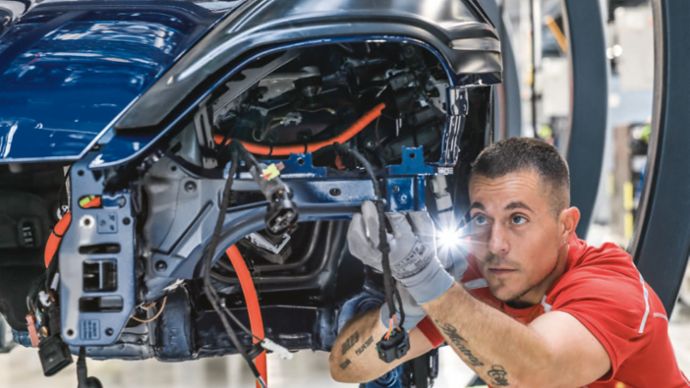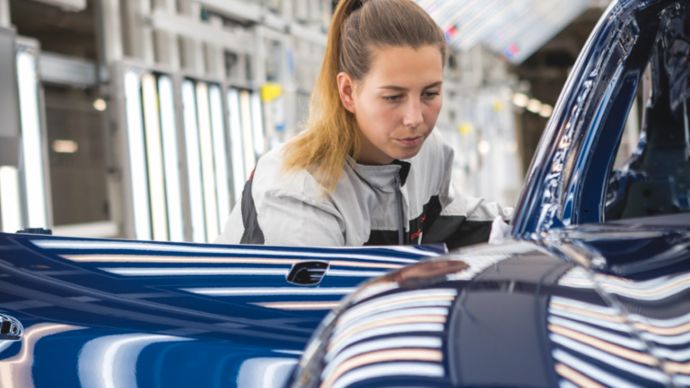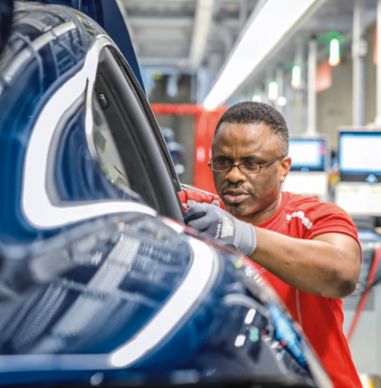 1 billion euros were invested by Porsche in the new production facilities.

0 emissions. Porsche production in Zuffenhausen is CO₂ neutral.

170,000 square meters of space are required for production of the Taycan in Zuffenhausen. That's equivalent to roughly half the size of Vatican City.