Joining the Dots …
Porsche Australia and New Zealand: Buying a Porsche is just the start of a great journey; you start by learning to drive it properly in the Porsche Precision driver training course before beginning to tap into its potential in Precision Plus.
Porsche Track Experience
Consumption data
911 Carrera S
Fuel consumption combined 10.0 – 9.6 l/100 km
CO2 emissions 227 – 220 g/km

911 Carrera 4S
Fuel consumption combined 10.1 – 9.7 l/100 km
CO2 emissions 231 – 222 g/km

718 Cayman Models
Fuel consumption combined 10.9 – 8.1 l/100 km
CO2 emissions 249 – 185 g/km

(as of 07/2020)
It is like stepping into a parallel universe; this makes ordinary things, like a trip to the shops, to work, or to nowhere in particular, something special. In the Porsche Track Experience Precision course conducted at Queensland's Mount Cotton Training Centre, experts teach participants how to bond with their Porsche: How to sit in it; how to hold the wheel; how to use the unique skill set it requires to avoid an accident—some of it quite basic knowledge that involves unlearning bad habits adopted before owning a Porsche and which you may have had all your driving life.
Then, with increasing confidence, comes the more advanced knowledge: threshold braking, cornering lines, eyes-up driving, consistency and the instinctive type of car control that saves lives. This advanced course, which connects the dots and teaches you how to enjoy your Porsche, is called 'Precision Plus'. It's an essential step in the Porsche Track Experience programme before you can progress to the next level—Performance—which involves the tantalising prospect of driving a range of Porsche sports cars, from Boxsters and Caymans to the latest 911s, on Queensland Raceway.
As an experienced club competitor, South Australian landscaping specialist Angus could easily have justified short-shifting from Precision to Performance, but valued the Precision Plus experience in between. "In driving, like any other activity, you never stop learning," he explains. "The opportunity to pick up valuable advice from a driver like Senior Instructor Luke Youlden and his team of professional instructors, including Porsche champions with more than 150 Bathurst starts amongst them, was an opportunity too good to miss.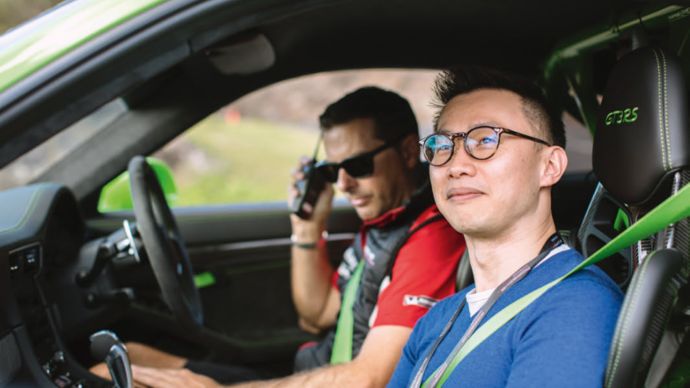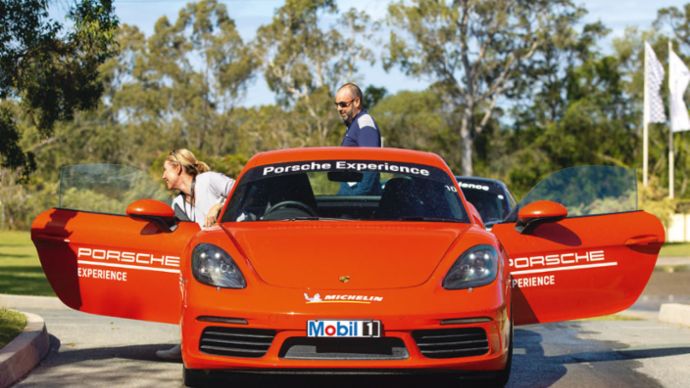 Becoming a better Porsche driver is important to participants.
"Plus, you need to complete each level of the Porsche Track Experience programme to progress to the next, and I'd love to try out a GT3 Cup car with full telemetry and my own race technician for the day!"
Angus's partner Kirsty was also participating in the Precision Plus programme after previously graduating from Precision and found it "confidence-building". "Most of us are amateurs who love to drive Porsches," she says. "There's a lot of learn to get the most from these cars, plus the lessons are a lot of fun!"
Kenny from Singapore is one of a growing number of Asian enthusiasts to take advantage of Australia's Porsche Track Experience programme. Back home, he has one of the 22 GT3s on the island—a two-year-old yellow coupe—in his garage, "but I decided it was time that I learned how to drive it properly," as he explains. Kenny planned his trip to Australia to complete the full suite of Porsche Track Experiences, from Precision to the GT3-only 'Master' programme at Queensland Raceway within the same week. "I've learnt a lot already that you just can't teach yourself in everyday driving," he said.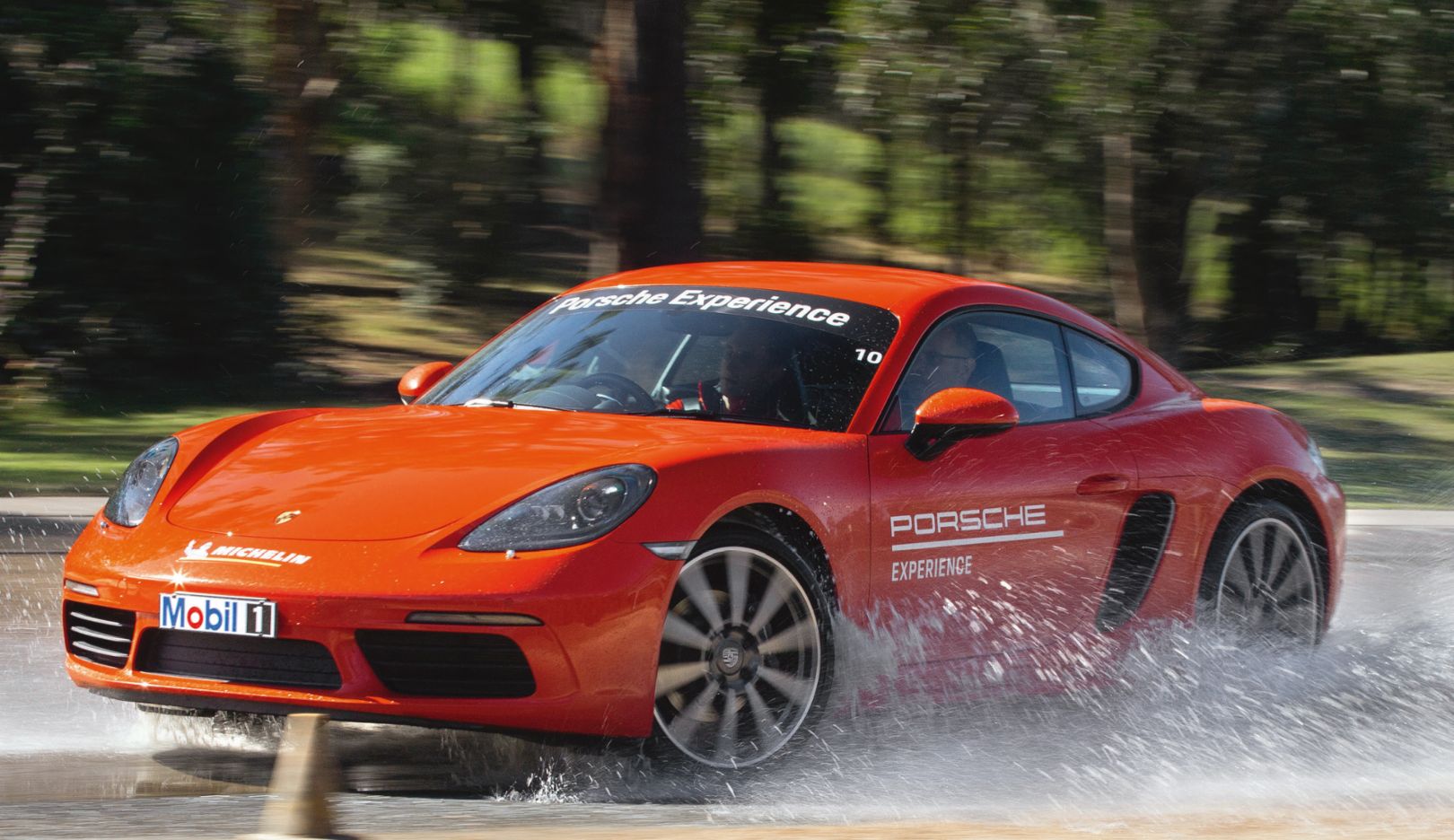 Michael, a local who brought his 996 series 911 Turbo S to the day's event at Mount Cotton, and fellow Porsche Club Queensland member Allan, who arrived in his 996 Turbo, have both previously completed Precision courses, yet still want to top up their skill levels. The chance to drive the latest Porsche road cars, from the 2.9 litre twin turbo Cayenne on the Centre's off-road track, to the latest 911 Carrera S, was an added inducement. "I can't believe the difference in the latest 911s," says Michael. "They have reached another level." Chief Instructor Luke Youden set the tone for the day: "At Mount Cotton we have the perfect environment to go beyond your comfort level in the latest Porsches," he says.
"We encourage you to do this, but we'll try to slow you down a little until we have honed your skills. The skidpan here is the best in Australia—perhaps the world—where you can experience things safely at 20–30 kmh that would be challenging at 70–80 kmh on a public road. The difference here is that you'll leave with a smile on your face rather than with your tail between your legs after having your confidence and possibly your Porsche shattered."
The other Porsche instructors all spoke a common language to participants: 'Keep your vision up'; 'Work with, not against, the new technology'; 'Squeeze the accelerator and brakes'; 'Look and steer when you brake with ABS'. Other features at Mount Cotton to try out on the day include the fast closed road circuit—"this is just like a regular country road, with many corners where participants can put all the new skills they have learned to the test together, plus an off-road circuit, winding through the trees, where participants can experience the capabilities of the latest Cayenne models." Appropriately, the clock ticked over to 9:11 as we started.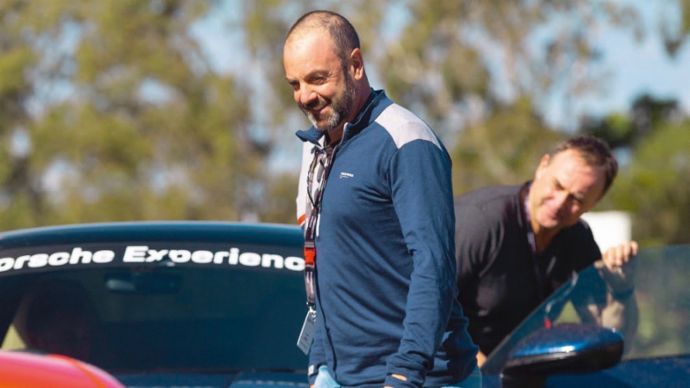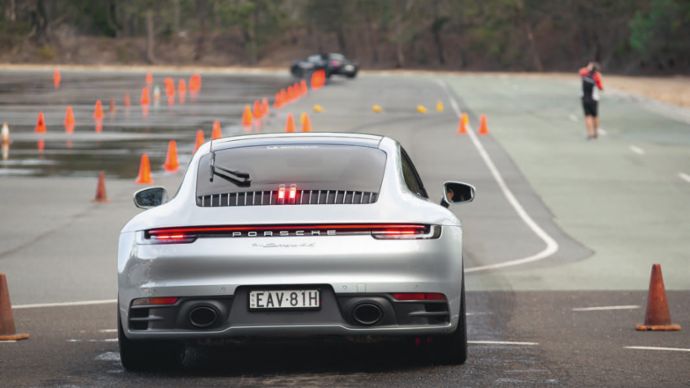 Learning to drive a Porsche fast is a challenging step-by-step process.
After splitting participants into two groups, each swapping places on the different disciplines, our group initially perfected emergency high-speed lane changes on the facility's vast, sealed Large Vehicle Manoeuvring Area (LVMA), with the Porsche Stability Management alternatively switched off and on. "PSM is often called 'Please Save Me'," as multiple Porsche Carrera Cup champion Craig Baird comments. Without it, participants spun off harmlessly at 80 kmh; but when it is switched on, they dodged the imaginary truck about to cause a head-on collision and returned to their side of the road with nothing more than an accelerated heart rate.
Then, after marvelling at the Cayennes' on and off-road abilities, the day concluded with the 'Porsche Grand Prix'—a timed driving test through traffic cones on the LVMA. "I've never driven a 4WD before," Michael confesses. "It was an eye-opener." Back on the LVMA, the pressure was on to combine all the skills and knowledge that participants had learned in the other disciplines. At the end of the day, there was a winner—experienced Porsche Club driver Angus who, true to Luke Youlden's promise, took home a brand new Porsche—a 1:43 scale model of the latest Carrera S Coupé. "I learned a lot today," said Angus. "It really was time and money well spent. The cheapest way to go faster is to become a better driver!" Perhaps more tellingly, his less experienced partner Kristy was the fourth-fastest driver, and the fastest female, on the day.
We left Mount Cotton with renewed confidence. We had all learned something.