E-nlightenment
Porsche Australia and New Zealand: Is there a Porsche for all reasons and seasons? The latest Cayenne E-Hybrid which now tows 3500 kilograms like its petrol-fuelled brothers and needs only battery power to explore less travelled country roads and 'foodie' destinations, may hold the answer.
Porsche lifestyle experience
Consumption data
Cayenne E-Hybrid
Fuel consumption combined 3.2 – 3.1 l/100 km
CO2 emissions 74 – 70 g/km
Electricity consumption (combined) 18.5 – 17.6 kWh/100 km (as of 07/2020)
During the working week, my commute with the Cayenne E-Hybrid has been completed almost exclusively without having to rely on fossil fuel for propulsion. As it is a plug-in hybrid you simply connect it to the grid when you arrive home and, when you hop in it the next day, the 14.1 kWh battery has been filled with enough charge to drive up to 44 kilometres (Cayenne E-Hybrid: Fuel consumption combined 3.2 – 3.1 l/100 km; CO2 emissions combined 74 – 70 g/km; electricity consumption (combined) 18.5 – 17.6 kWh/100 km (as of 07/2020)). I say 'almost' in admission of one particular morning of weakness when I flicked the driving mode from E Power through Hybrid to Sport to demolish a British sports car at the lights. With its electric motor and 3.0-litre turbo V6 working in unison, the Cayenne E-Hybrid puts out 340 kW and 700 Nm of torque—enough to dash to 100 km/h in 5.0 seconds dead and show a relative 'pussycat' what cutting-edge powertrain technology can do.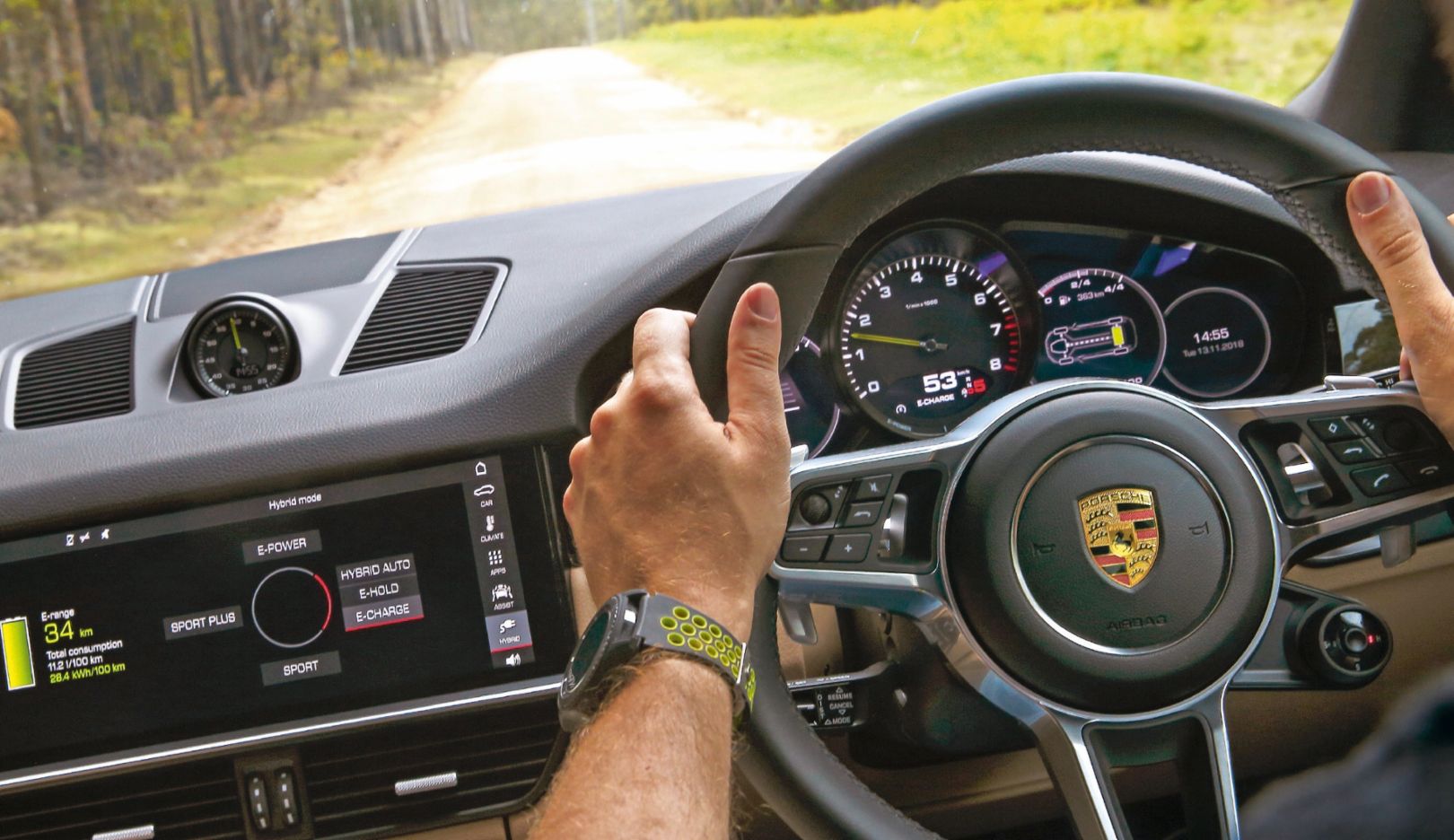 After a week of using close to 0.0 l/100 km however, the Cayenne and I left the trappings of city life behind for a weekend away in Victoria's stunning Gippsland to make use of the precious few remaining days of glorious autumn sun. I also wanted to explore why this incredible part of the world is an often-overlooked 'foodie' destination. Unlike the so-called range anxiety that is often attributed to pure electric vehicles, the only baggage I was carrying in this plug-in hybrid was an overnight duffle. Drain the E-Hybrid's battery and it seamlessly switches to petrol power. This takes a while, as the Hybrid Auto mode can actually read the road ahead. Enter a destination in the navigation and the system will calculate when it is best to use electricity or V6 power for the entire trip, maximising range and efficiency. Clever Porsche!
But as the Gippsland roads buckle and wind into increasingly pretty rural stereotypes, the other side of the E-Hybrid's faceted personality shines through. It's fast. Not just fast in a straight line, but fast everywhere. A chassis which has been compliant and comfortable until now reveals a playful side that resists roll and changes direction in a manner that defies the Cayenne's size and weight. Now it's a sports car. It's no wonder that I have visited more delightful produce suppliers and boutique farms than I thought possible in a day and, before I know it, I'm crunching over the gravel at my digs for the evening overlooking the impossibly pretty Wilsons Promontory. That evening, as I stare deep into an open fire, local wine in hand and country-grown dinner on the grill, I get my lightbulb moment thanks to the electrified Cayenne. The Porsche is not one car trying to pull many tricks, it is many cars in one complete package. And just like a single luxury car that fulfils many roles, living and working can be one and the same when you love what you do. I'll be coming back to this largely unknown culinary gem of Victoria and next time, it might even be for a holiday.