Garage: Daniel Necker
Daniel Necker, born in Germany and living in Santiago, Chile, collects blue Porsches. With one exception.

Daniel Necker would be leading a different life had it not been for Harald Wagner. During a school vacation at the age of seven or eight he visited his godfather, a nephew of Ferry Porsche and long-time head of sales for the sports-car company. The boy's eyes grew wide as saucers on a tour of the factory in Zuffenhausen. But the best part of all was when "Uncle Harald" took him for a ride in his new 911 Turbo. Daniel sat in the passenger seat and shouted with glee.
Fast-forward fifty years. A few steps around the house, over the light-colored cobblestones that reflect the blazing heat of the sun. Daniel Necker, now an independent shipping broker, stands in the garage of his cubist-style sandstone home in the Vitacura district of Santiago at the foot of the Chilean Andes. He has been living here with his wife, Paulina, and their three children for eight years. He recalls how he left Hamburg for Chile at the age of twenty-one on an internship for a Hapag-Lloyd agency. And how he returned to Germany after six years, only to pack his bags again nine months later—this time for good. Today he still recoils at the thought of the weather in northern Germany. "It rains a lot there" is the first thought that occurs to him, before mentioning a certain "Hanseatic chill." That's not his cup of tea. He far prefers the "laid-back Latin American way of dealing with things" that's typical of the people of Chile.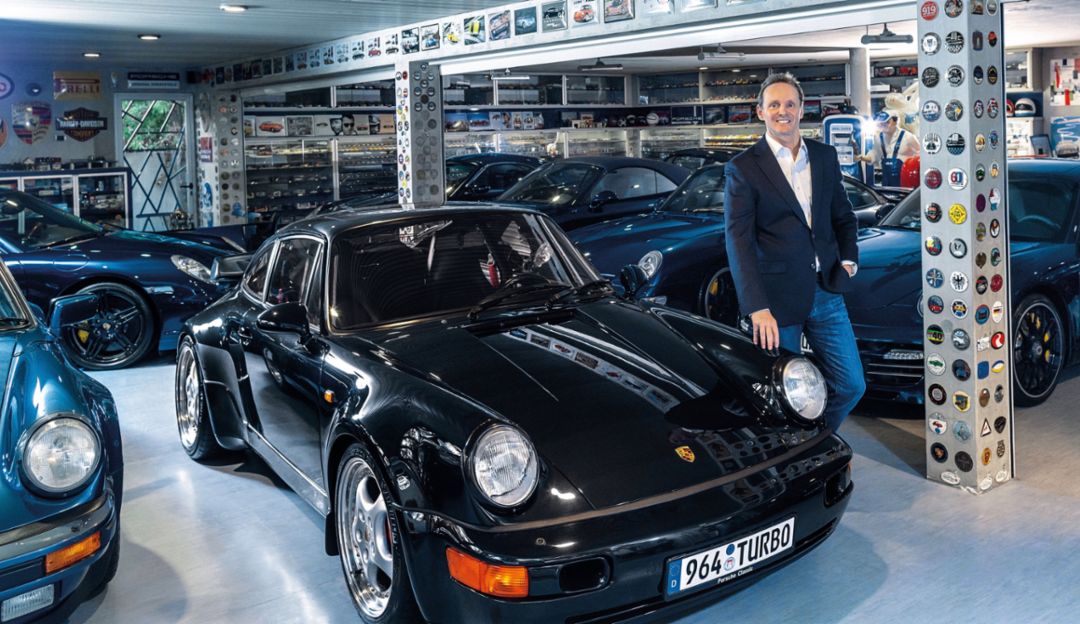 "I feel like a Chilean," says Necker. His mother lives in Hamburg and he's happy to fly there to visit, but even happier to return home. He has now spent more than half his life in Chile, and the country has brought him much joy. "The density of Porsches in the better parts of town is similar to what you'd find around the Alster in Hamburg," he notes. Demand rose sharply for high-end sports cars, particularly after the luxury tax was abolished. That was when Necker and four other enthusiasts founded Porsche Club Chile. The men remain close friends to this day.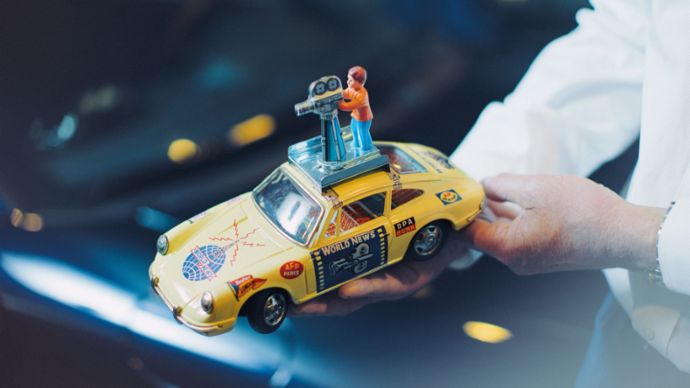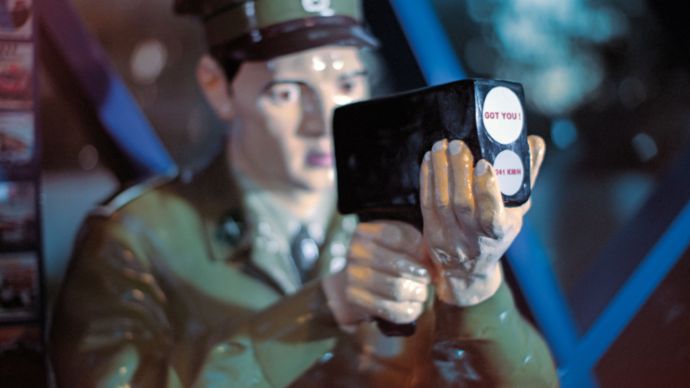 Despite Necker's love for his adopted homeland, his garage looks like a piece of Germany, with hardly a trace of his many years in Chile. Its pronounced sense of cleanliness and pristine quality are a matter of character. "My Porsches are rarely on the road," he explains, and suggests that guests see for themselves by touching the inside of an exhaust pipe. It's as clean as a whistle. Spick and span. Cleaning cars, he says, is like therapy for him. Everything about his collection of Porsches is orderly, including the choice of models and their colors: almost all are turbos and almost all are blue. Along with the fascination for Porsche, this too is likely a legacy of his godfather, who also has a fondness for dark blue cars. Necker tolerates just one black sheep in his flock: a 911 Turbo 3.6 that, along with the two 911 Turbos from 1989, has clocked far more kilometers than the other residents of the garage. These three cars each have somewhere between twenty thousand and forty thousand kilometers, which is a lot compared to the other showpieces, which have either never been driven or have well below two thousand kilometers. They include Necker's favorite, a 911 Turbo S from 1997. Only 350 of them were made, and the odometer on Necker's reads only 1,930 kilometers. The custom-made color is a special blend from Ferrari. "But Porsche accepted this type of redesign," he says.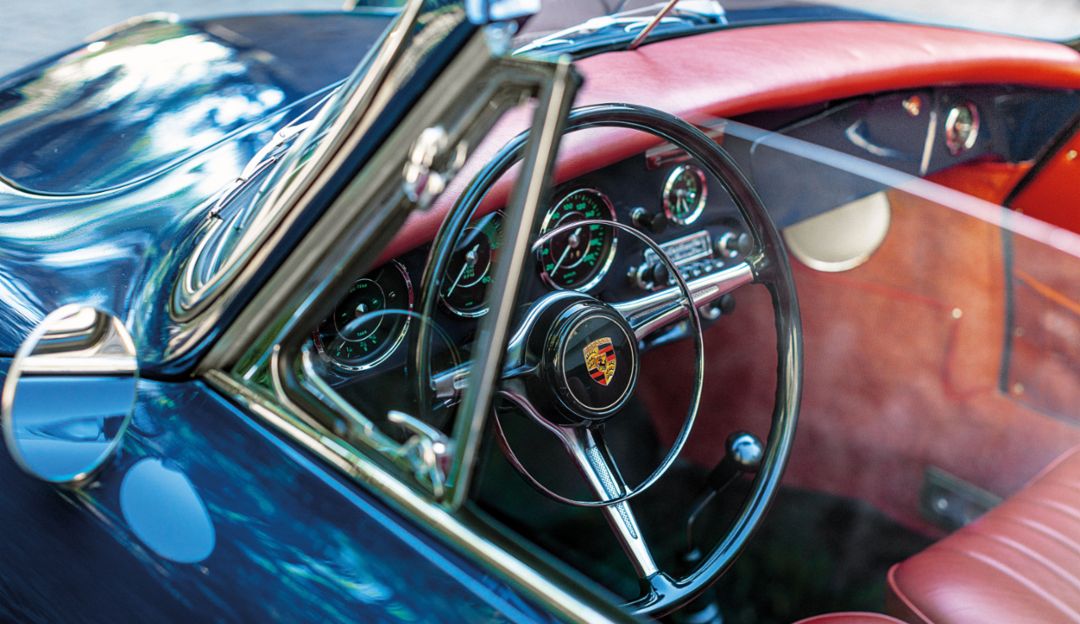 Another eccentric vehicle stands out among the group of turbos: a blue 911 GT3 RS from 2010 with crimson rims and outside mirrors, along with the characteristic brand mark on the side. It's flanked by two 356s, one a 1962 notchback that originally featured a welded hardtop. This variant was on the market for just one year. Necker has also owned a Carrera GT, but only for a brief period of time. This extraordinary car—exclusive, innovative, superlative—was ready to be shipped overseas but then Paulina pumped the brakes on what was looking like an obsession and declared, "It's me or the car!" Necker was suitably alarmed and cancelled the order immediately, but later thought, "If only I'd kept it and told the dealer to hide it until I could pick it up some other time." Today, even Paulina can laugh about that.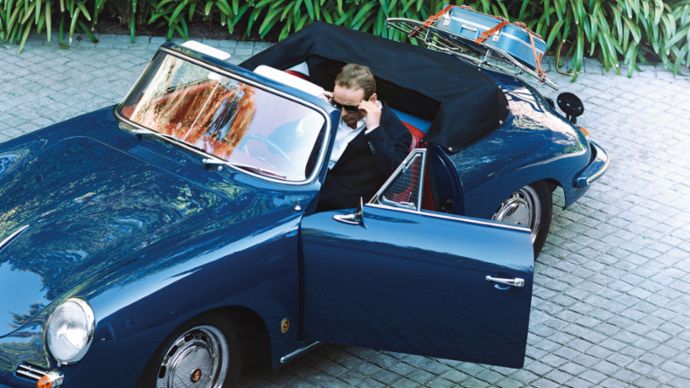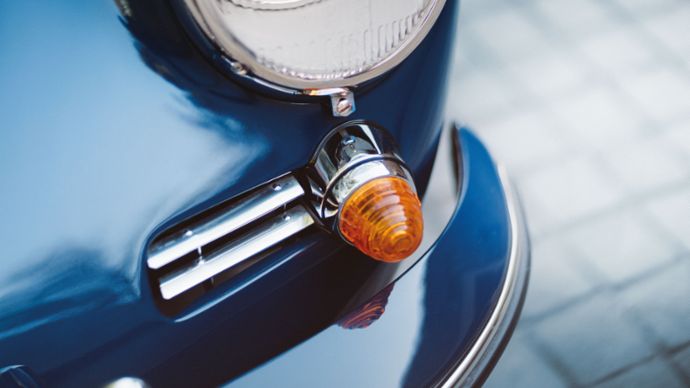 Necker also has an extremely comprehensive collection of model Porsche cars and accessories—all manner of valuable pieces from the 1950s and 1960s, handmade, not used or played with, and hardly available anymore. The garage is lined with glass cases, one right after the other. Necker strides along them with evident pleasure, enthusiastically describing their contents complete with precise historical detail. How long did it take to acquire such a collection? He doesn't want to know, nor how many hours he has spent tracking down items online. Not a day goes by in the life of Daniel Necker without a visit to an auction platform. "And when the moment comes, I close my eyes for the last five seconds and punch in an offer."
"Cleaning cars is like therapy for me." Daniel Necker
Many of the pieces are still in their original packaging, and not infrequently the outside is worth more than what's inside. Like the Gescha models from the 1950s: the Electro Six Mobil series from the Nuremberg producer of patented toys is one of Necker's favorites. Nearly everything in his collection comes from Europe. One exception proves the rule: a model Porsche 911 with a cameraman on its roof made by the T.P.S. company in Japan in 1965, one of Necker's most valuable pieces. He spent years searching for it. As he did for other rare Porsche items, such as the streamlined skibob from 1972, the carbon bicycle from 2000, and the digital Porsche flipper from 1991—all of them flawless and as good as new.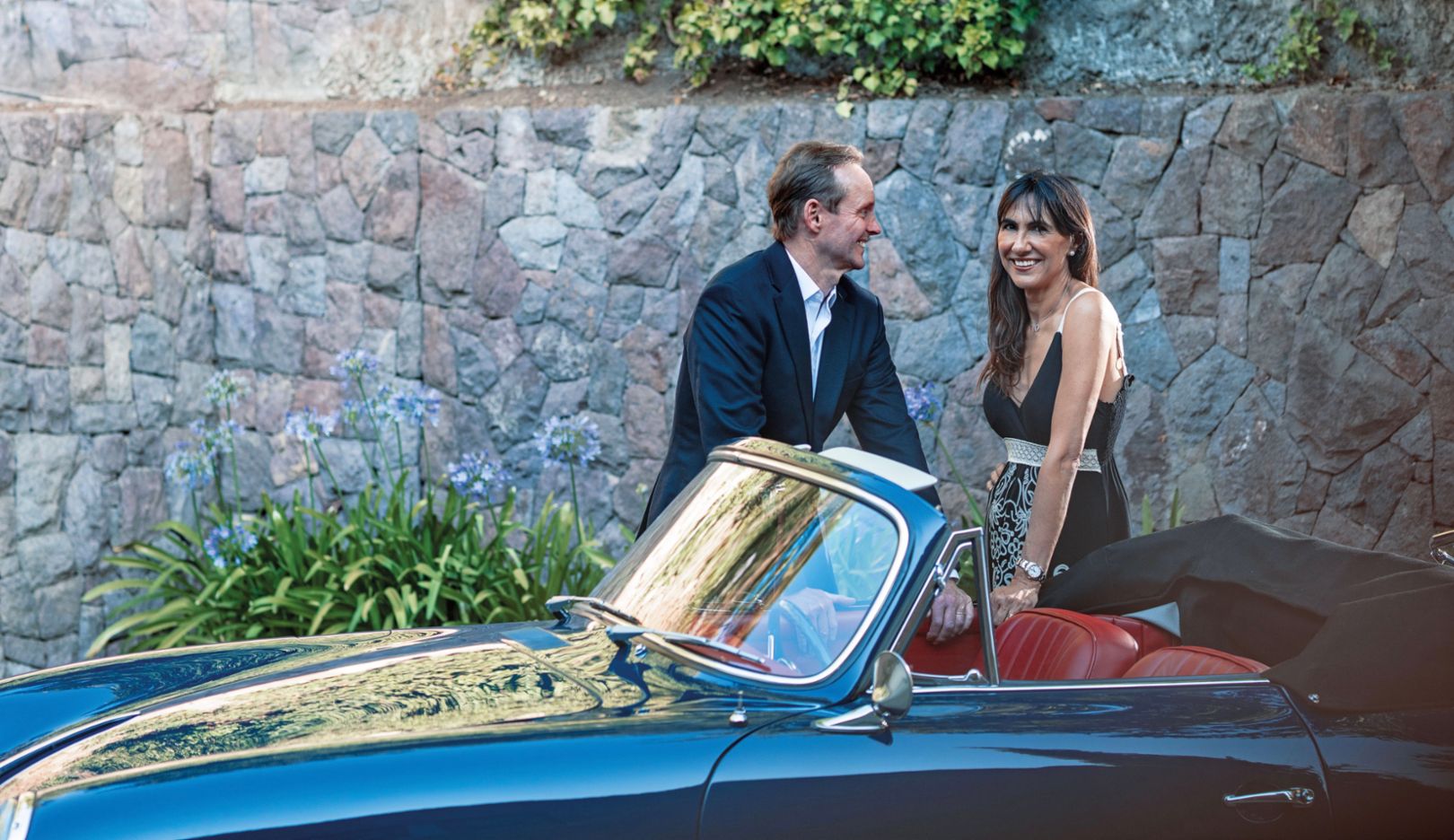 What's the next step from here? What's there to strive for when one seems to have it all? Family, prosperity, health. And, of course, a garage full of Porsches—each one a treasure. But Necker is undeterred. He'll go on collecting and pursuing the next fascinating model car online or the next blue Porsche in real life. True passion knows no bounds, especially when it's part of one's family history. The legacy of godfather Harald simply hasn't lost its grip on Daniel.
Daniel Necker
Daniel Necker was born in Hamburg on September 14, 1962, and trained as a shipping agent. He has spent the past thirty-five years in Chile and lives in a suburb of the capital Santiago with his wife, Paulina, and their three children. In 2002 he and four friends founded Porsche Club Chile. The club currently has 120 members, with Necker as its vice president.