Cayenne Coupé
Emotional, athletic, independent. With the Cayenne Coupé, Porsche is introducing new SUV variants. Detlev von Platen, Member of the Executive Board for Sales and Marketing, is convinced that these sporty off-road vehicles will delight customers around the world.
Mr. von Platen, Porsche has now presented the Cayenne Coupé, which will celebrate its debut at Auto Shanghai in April. What do you expect from these SUV models?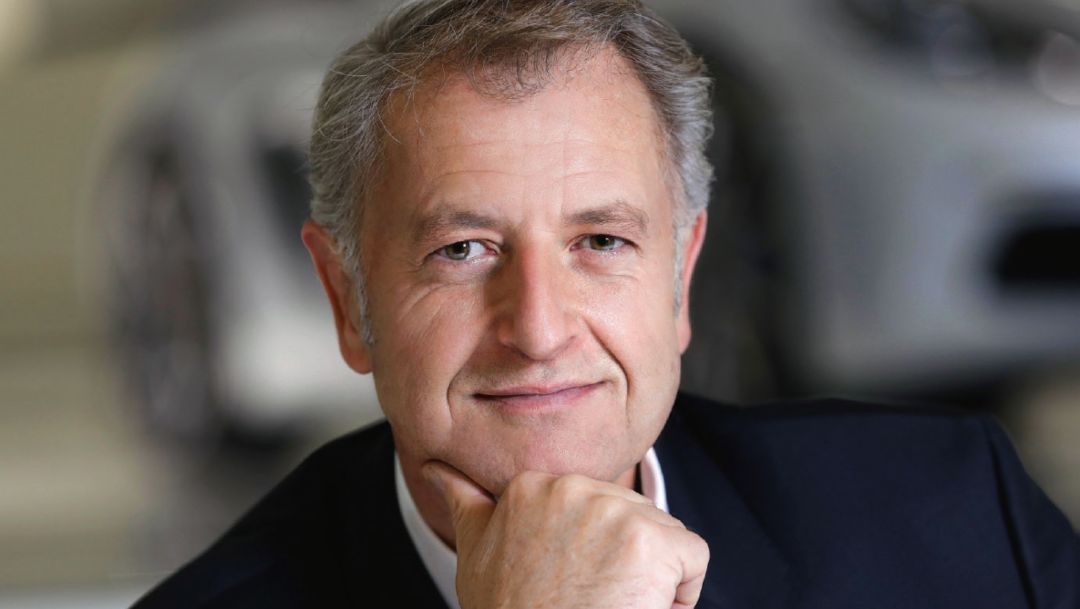 The Cayenne Coupé will benefit from all technical highlights of the successful third-generation Cayenne. This includes the drivetrain and suspension as well as the driver assistance systems and all digital networking technology. At the same time, it has a strong character of its own—very emotional, athletic, independent. More focus is placed on design and driving dynamics. All in all, it's a perfect addition to the Cayenne family. The Cayenne Coupé epitomizes performance—with its shape, but also in its specific equipment details, which include such elements as the optional carbon roof and the adaptive rear spoiler.
What regions and buyer groups does the Cayenne Coupé particularly target?
As a vehicle concept, the coupe version of the Cayenne is equally attractive for all regions. It's aimed at customers who are particularly focused on the Cayenne's sporty genes. They could be existing or new Porsche customers—people with a strong sense of identification with the brand and an expressive lifestyle. The SUV coupe segment isn't new—but we give the vehicle a very unique character with the typical Porsche design DNA. The sporty body shape is naturally a perfect fit with the Porsche brand.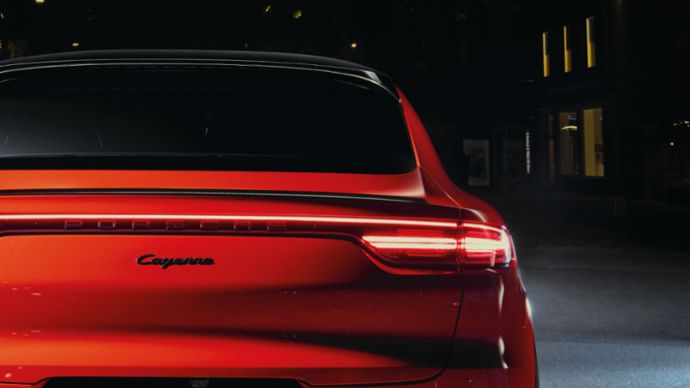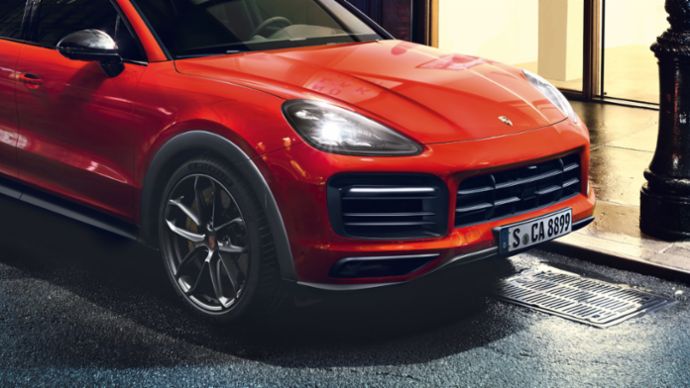 "The Coupé is aimed at customers who are particularly focused on the Cayenne's sporty genes." Detlev von Platen
From a worldwide perspective, what are the typical Porsche customer profiles?
Our customers have very individual and varied lifestyles. There's no definitive Porsche customer, and that's why it's such an important maxim for us to treat each customer individually. At the same time, there are some attributes that our customers have in common. We've learned that from our studies. Shared attributes include striving for performance, personal development, and the extraordinary, as well as the success achieved with this mindset—a certain drive, as it were. Many people also appreciate the feeling of finding a family of like-minded people with Porsche and enjoying a well-earned pleasure. Our customers have frequently driven models from other premium brands because they expect more from their automobile. Anyone who then experiences the driving pleasure of an entry-level Porsche and sees that an ever-sportier experience is possible will want to work their way up to a Turbo or GT model. In that process, personal advancement is more important than the outward image.
What distinguishes the expectations of a 911 or 718 customer from those of a Cayenne, Macan, or Panamera driver?
We know that many of our customers have multiple Porsche vehicles at the same time—with different focuses in terms of expectations: the 911 and 718 have to offer outstanding and uncompromising performance on winding roads and racetracks. Driving pleasure and weekend excursions are the clear focus here. With the Cayenne, Macan, and Panamera, the whole family has to be able to enjoy the sporty experience. The vehicles also have to be suitable for business purposes.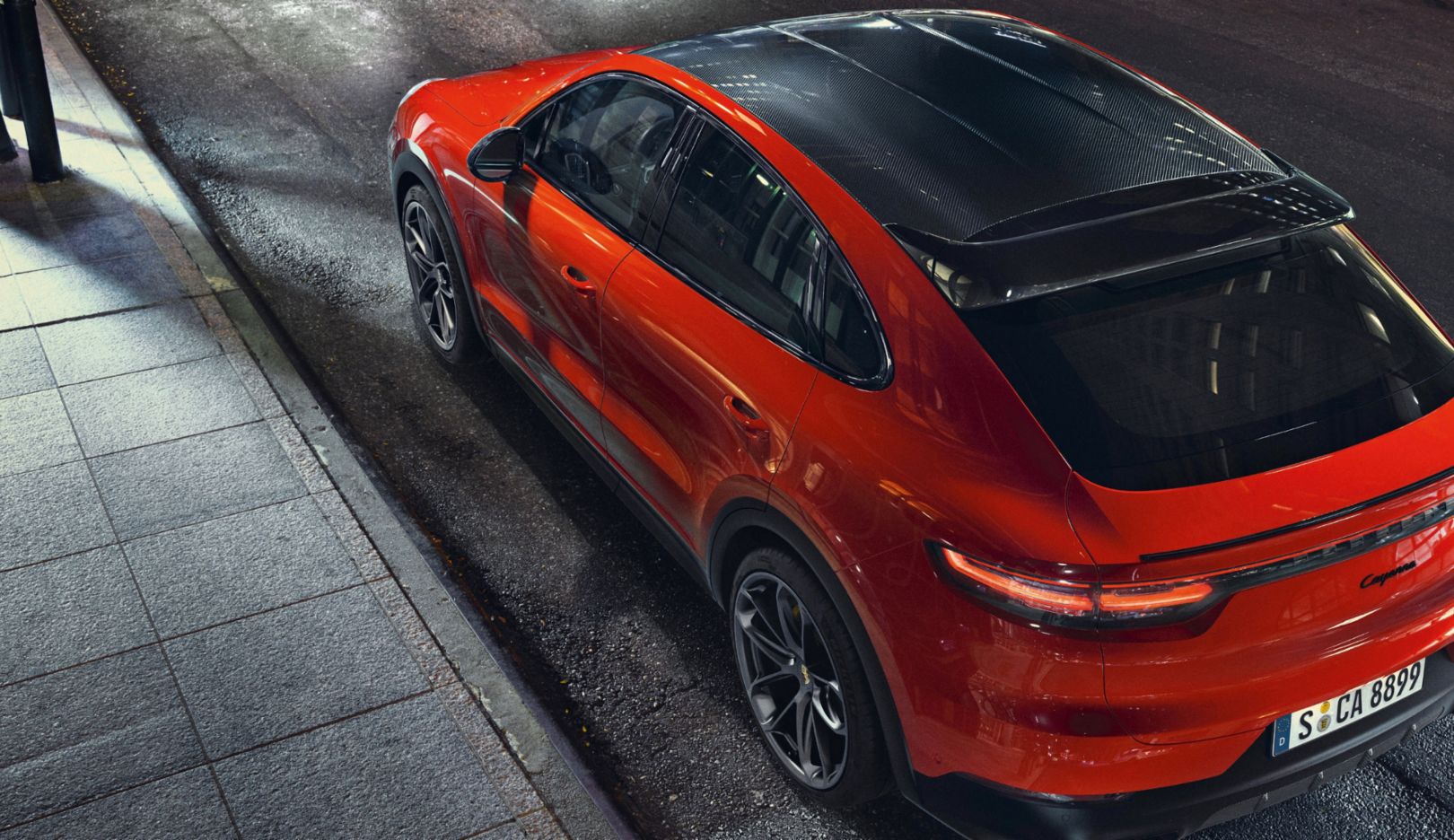 "We continually develop our product lineup in order to offer our customers worldwide what they desire." Detlev von Platen
What kind of influence do customer surveys and market studies have with respect to decisions for or against new models at Porsche?
Our customers are very involved. We receive more than three hundred thousand comments, suggestions, and requests every year. They're integrated into the development process of a new vehicle as concrete milestones. Moreover, we continually present our product ideas to existing and potential new customers. One good example is the current Cayenne: during its development, we considered a great deal of feedback from many countries concerning its predecessor. The interior in particular reflects the wishes of Porsche fans in many regions.
The Taycan will be another example of early incorporation of customer feedback into the product development process. At the beginning of the process, we asked our customers if they could imagine a purely electrically powered vehicle from Porsche and what it should look like. And now, shortly before the world premiere in the fall, we've again asked them for feedback about the final product. What can I say? The global response was overwhelming.
The Cayenne Coupé is the latest example of how the Porsche model range is becoming increasingly diverse. So even a premium manufacturer like Porsche is following the trend toward diversification?
With our comprehensive concept, our starting point isn't so much the vehicle as the brand DNA. This combination of sportiness and premium quality is shared by all Porsche models and our customers. All of our vehicles are sports cars, including the Panamera, Macan, and Cayenne. They're the sportiest vehicles in their respective segments—and they carry the genes of the Porsche 911 in them. Porsche is therefore regarded by the public very clearly as a sports-car brand. And we do our best to ensure that it stays that way. At the same time, we continually develop our product lineup in order to offer our customers worldwide what they desire. One example of this is the shift in the model mix in growth markets due to customer preferences. The demand for sporty SUVs is enormous, particularly in China, and sales for two-door sports cars have been rising as well.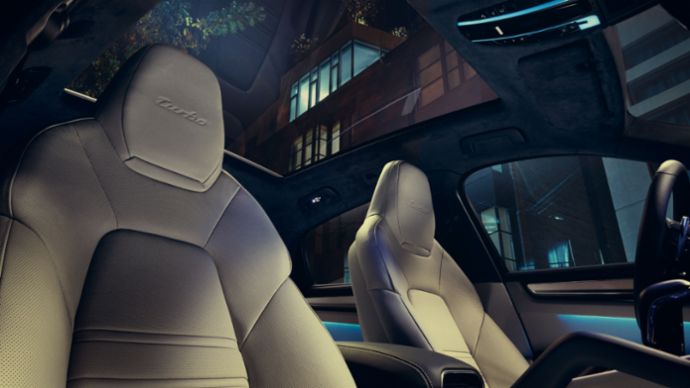 More and more manufacturers are trying to attract new customers in the SUV segment with model variants like a coupe. What, in your view, could tip the scales in favor of the Porsche brand?
Across the whole range of models, the Porsche brand captivates customers with fascinating premium sports cars, with people clearly at the center of the enterprise. A Porsche is made by people, and there's a lot of craftsmanship, love, and passion in every Porsche. And we at Porsche are united in our pursuit of the best solution, resulting in unique products characterized by the highest quality and driving pleasure.
In our communication of the Cayenne Coupé, we want to increasingly appeal to new, younger target groups. They value exclusivity and an expressive lifestyle and have a very performance-oriented mindset. The campaign therefore focuses on design, aesthetics, and a certain boldness. Online and social media are the most important communication channels in this case.
The past year was the most successful one in the company's history, with Porsche delivering more than a quarter of a million vehicles worldwide. Where do you see the upper limit of exclusivity?
Sales records are not our primary objective. We measure our performance in terms of the quality of the vehicles and the satisfaction of our customers. If that translates into more vehicles sold each year, we view that as the success of our product policy. In terms of outlook, we'll see a moderate uptick when we fully engage in the e-mobility field, which is a new segment for us. But ultimately, exclusivity is important to us: every Porsche should be something special and fulfill the customer's dream. It's the only way for the Porsche brand to retain its cachet—today and in the future.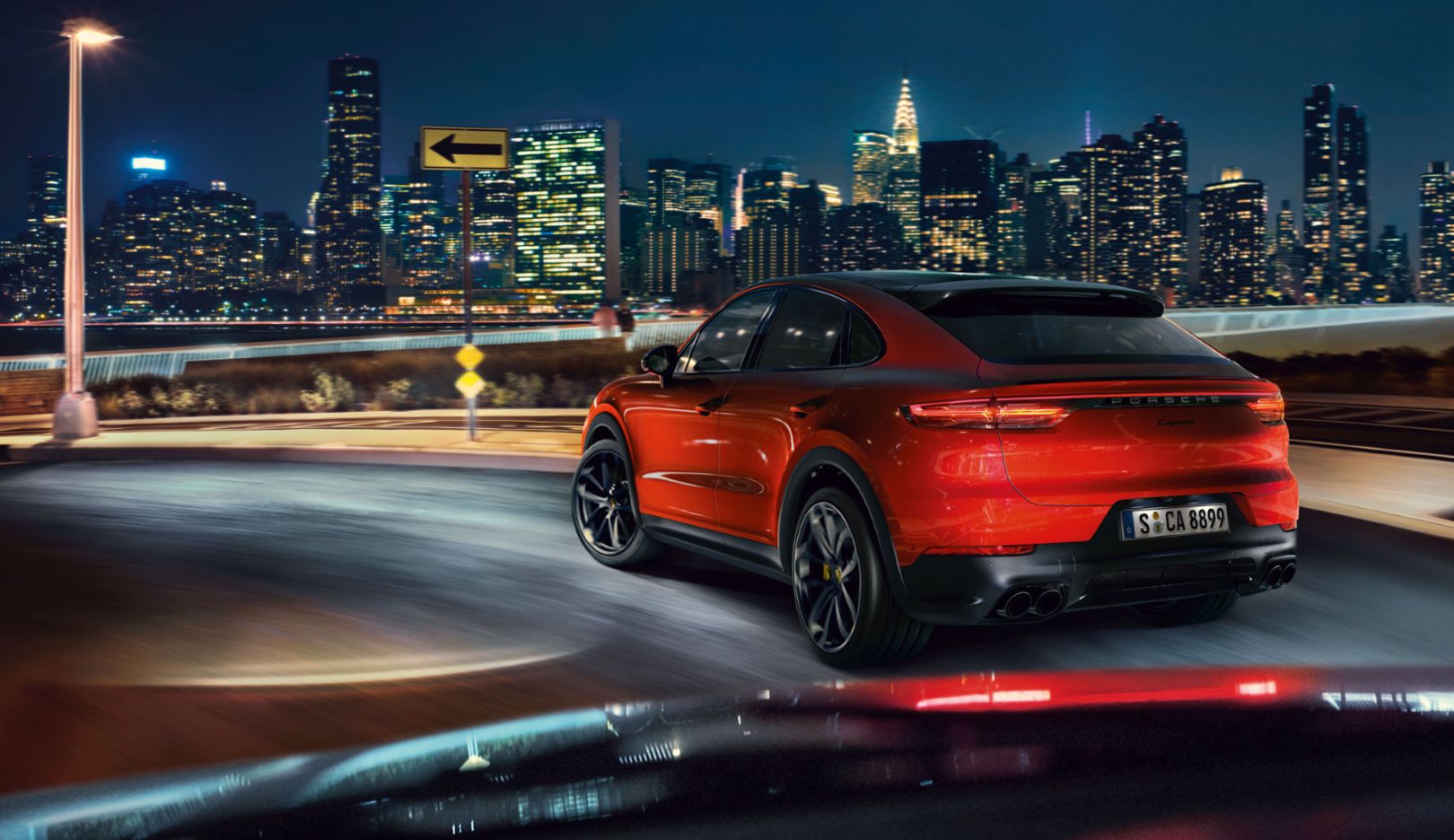 "Every Porsche should be something special and fulfill the customer's dream." Detlev von Platen
Let's conclude with a look at the future: the Taycan, the first purely electrically powered sports car from Porsche, will celebrate its world premiere this fall. How successful will it be?
With the Taycan, we're opening a new chapter in sports-car history. Our aim is to hit the market with the right model at the right time and delight our customers. And I'm firmly convinced that they'll love this electrically powered sports car. The Taycan combines exceptional driving performance with day-to-day usability. And it doesn't just drive fast—it needs a mere four minutes to charge for a range of one hundred kilometers. It'll have a typical Porsche electro-sound. From personal experience, let me assure you: driving the Taycan is extremely emotional. You feel the road at its purest. I'm absolutely certain that with this car, we'll prove just how attractive, and yet practical, e-mobility can be.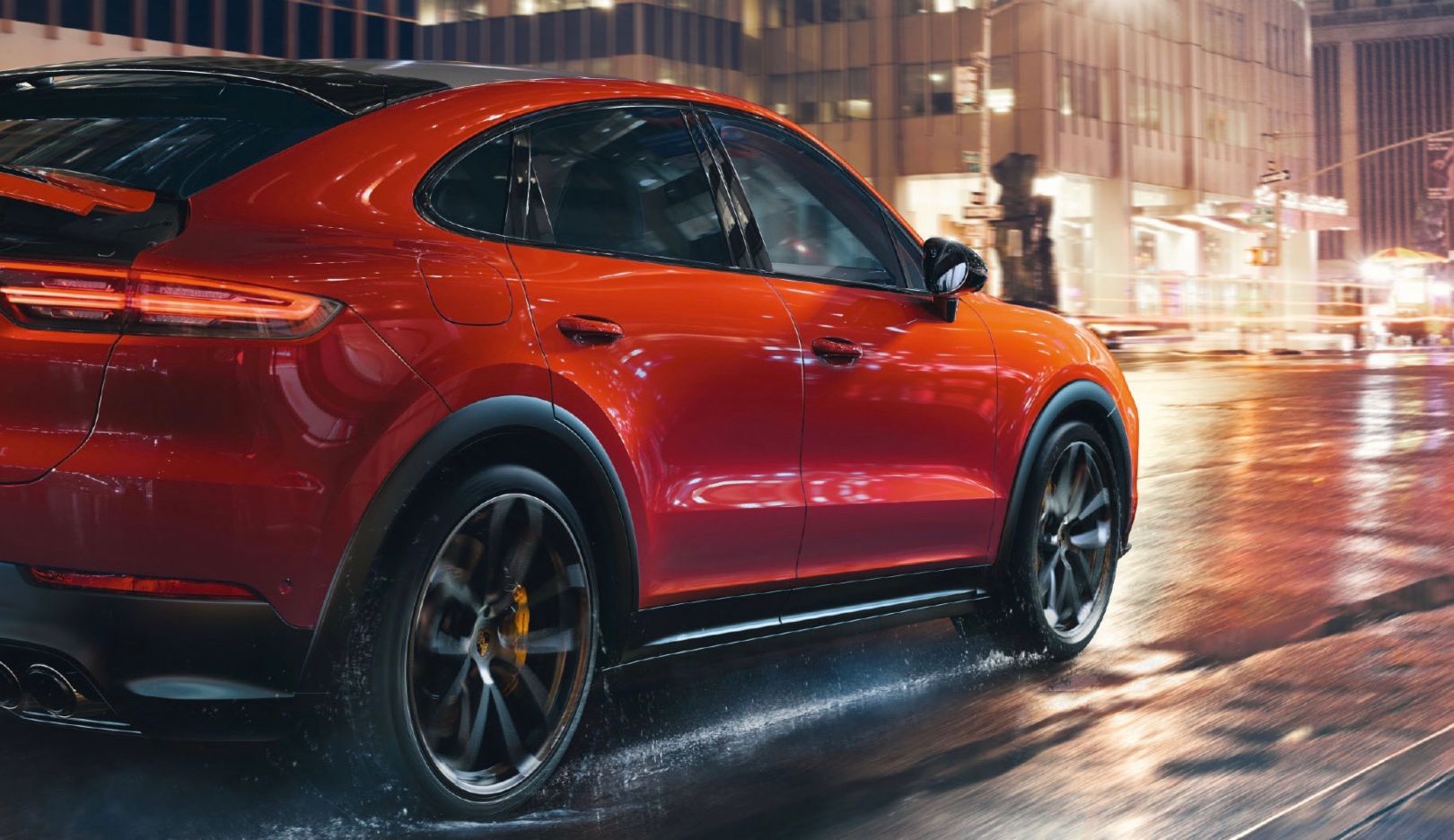 Consumption data
Porsche Cayenne Coupé
Fuel consumption
City: 11.7–11.6 l*/100 km
Highway: 8.0–7.9 l*/100 km
Combined: 9.4–9.3 l*/100 km
CO2 emissions (combined): 215–212 g*/km
Efficiency class: D

Porsche Cayenne Turbo Coupé
Fuel consumption
City: 15.3–14.8 l*/100 km
Highway: 9.4–9.0 l*/100 km
Combined: 11.4–11.3 l*/100 km
CO2 emissions (combined): 261–258 g*/km
Efficiency class: F–E

* Range dependent on tires used.