1:41.770 min.
Neel Jani is ready. The doors of the Porsche 919 Hybrid Evo are closed and the belts are securely fastened. Day three of the test-drives in Spa, Belgium.
The spring air on this ninth day of April, 2018, has warmed to 11 degrees Celsius and the asphalt to 13. The thirty-four-year-old Swiss driver, a Le Mans winner in 2016, is in his element. Total focus. Ahead of him lie the 7.004 kilometers of this legendary Grand Prix circuit, also known as the "Ardennes roller coaster."
His mission: to be faster than a Formula One car.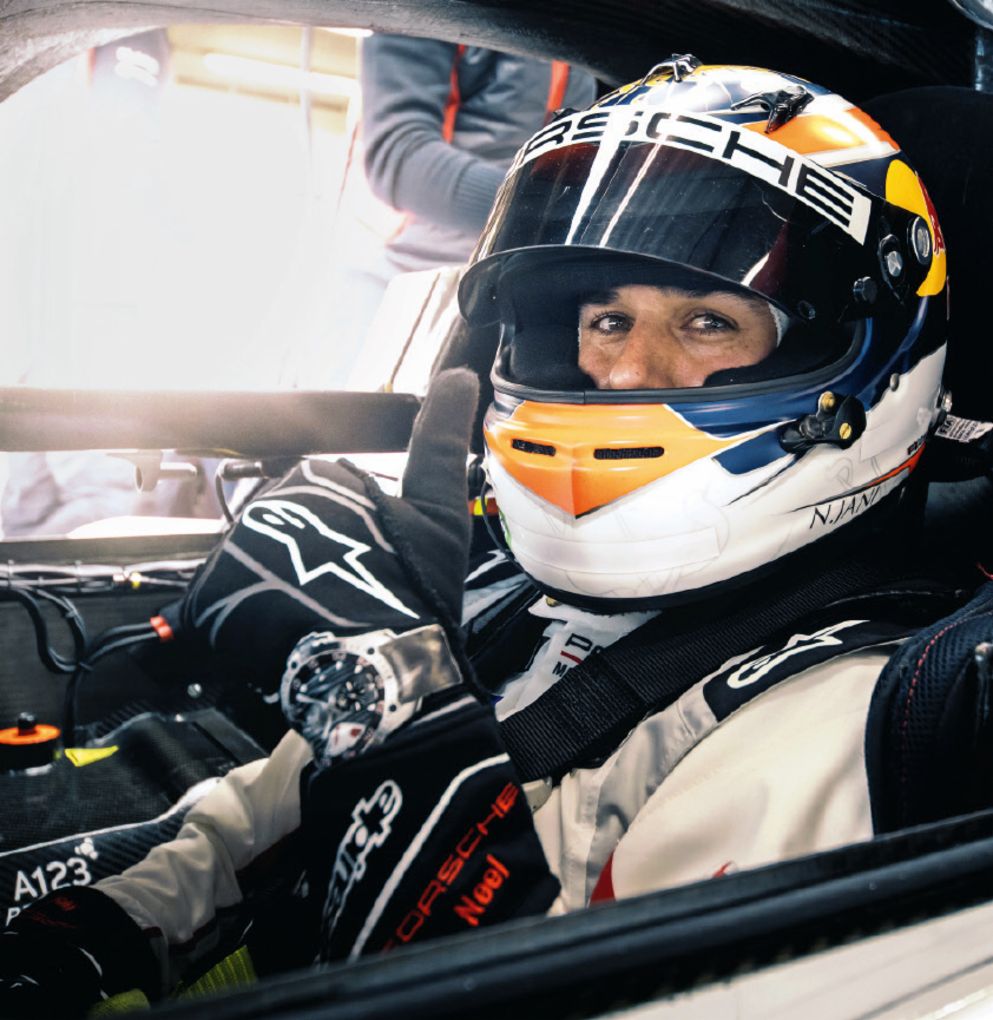 The 919 sets off almost without a sound; the warm-up lap begins with electric power alone. Once it's out of the pit lane, the two-liter turbo four-cylinder kicks into action. The hybrid race car has won the 24 Hours of Le Mans three times and scored six world championship titles. Yet it's only today, at the start of its Tribute Tour, that the car can really show what it can do—freed of the shackles of the regulations, the fuel flow meter, the restrictions on boosting with recuperated energy, aerodynamic limitations, and the prescribed minimum weight. The Evo weighs only 849 kilograms, and the turbo engine has added some
260 hp. The overall performance can reach up to 1,160 hp. Jani gets the tires up to their operating temperature. Total concentration. Everything has to fall into place right now.
And it does. Braking coming into the La Source hairpin and then catapulting out of it without losing traction control. The sprint through the Eau Rouge section and over the hidden Raidillon crest ends with a flattened rear wing in front of Les Combes at nearly 360 kmh. The controlled pass through the tight Rivage to spare the tires for later. Navigating the endless double-left at Pouhon doing 260 kmh and shouldering 5.5 g of lateral acceleration. Taking the high-speed left at Blanchimont at 333 kmh—full throttle. Shrugging off the bump to nail the braking point before the final section of track: the chicane. And flooring it down the start–finish straightaway.
"I couldn't think during the lap—a moment's hesitation can easily cost three- or four-tenths." Neel JANI
After just 1:41.770, Jani and his Porsche are back at the start, faster than any combination of man and machine ever measured on the circuit. A record. At the Belgian Formula One Grand Prix six months earlier, the time would have been more than enough to capture the pole position. "I couldn't think during the lap—a moment's hesitation can easily cost three- or four-tenths," says Jani, recapitulating his record drive. Then he adds a personal superlative to his summary: "The 919 Evo is brutally impressive. And definitely the fastest car that I've ever driven!"
04.09.2018
Record drive
Spa-Francorchamps, Belgium
Neel Jani
7.004-kilometer circuit length
Porsche 919 Hybrid Evo