Golf Courses for All Time
Robert Trent Jones Jr. has been designing golf courses around the world for more than fifty years now. His ambition is still in full swing, because he loves both the sport and the chance to be creative—a combination that has made him one of the leading lights in the field.
Consumption data
718 Boxster models
Fuel consumption combined: 10.9 – 8.1 l/100 km
CO2 emissions combined: 249 – 185 g/km (as of 07/2020)
His nickname is Bobby. His passion is golf courses. And his profession is golf course architect. Robert Trent Jones Jr., now seventy-eight, is one of the most sought-after worldwide. He has designed new courses and redesigned existing ones in more than forty countries. What goes into planning and constructing a golf course? "Each one is different," he says, and illustrates the general approach with one of his latest projects, the Hogs Head course in Waterville, Ireland. "It always depends on where you are," says Jones, who has a great fondness for poetry and painting, about his philosophy. "The light, the wind, the lakes, or the coastline—you have to recognize what's relevant." Technical aids like computer-aided designs can help, but Jones develops most of his solutions at the sites themselves.
"The light, the wind, the lakes, or the coastline—you have to recognize what's relevant." Robert Trent Jones Jr.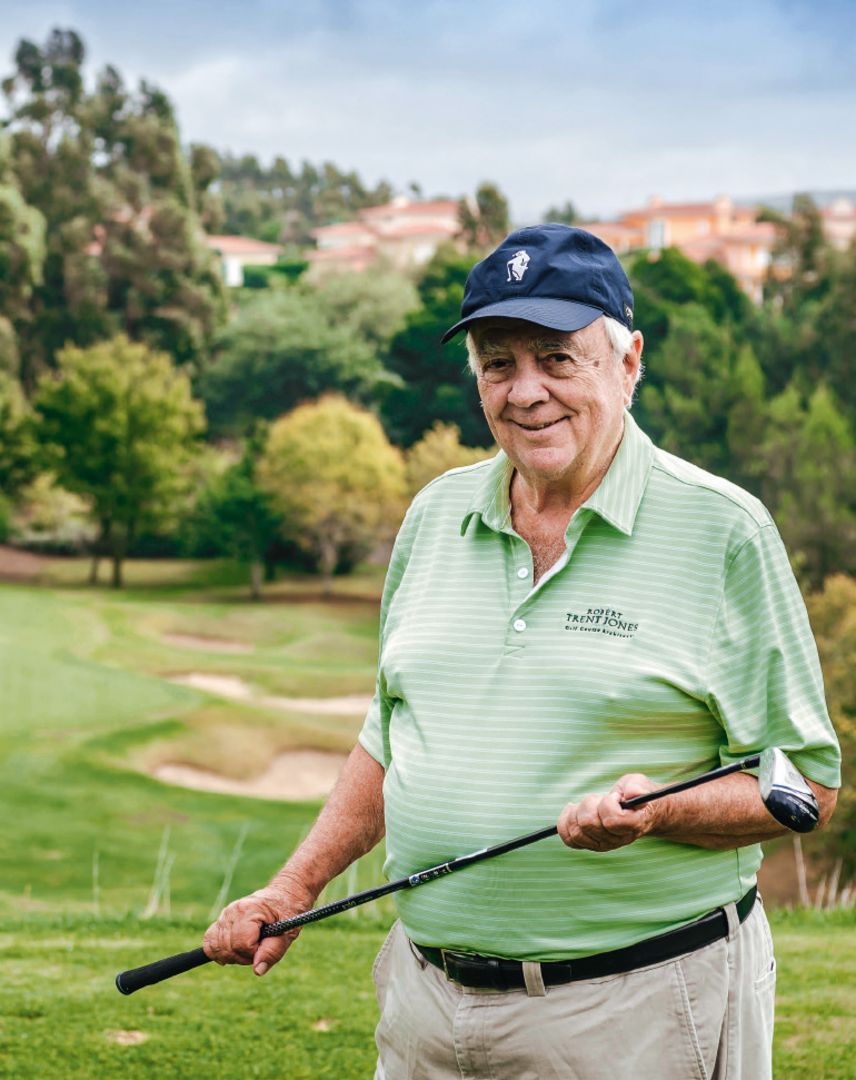 That's because nature has a way of thwarting plans. Take Hogs Head. Many projects go on for years. But this course, which is located on the windy southwestern tip of Ireland, had to be completed within a single summer. "That was the only option, because the winter brings powerful storms that would blow the freshly sown grass seeds into the sea. So we sometimes had fifty people at a time working to lay the drainage and shape the bunkers and fairways with bulldozers."
According to this American architect, the quality of a golf course derives not only from the existing landscape but also from the highly specialized work done by his employees. Shapers, for example, are responsible for building the bunkers with bulldozers. Others are charged with constructing the greens. "They work like sculptors," explains Jones, who doesn't hesitate to reference Michelangelo. "Without the right marble he wasn't able to create anything, either." It's quickly evident that each task is very specialized. And that each individual is an expert in his or her field. Jones sets everything into motion and keeps an eye on the big picture.
From studying law to designing golf courses
Obviously, Jones didn't first learn to design courses in Ireland. He was literally born into the business. His father, Robert Trent Jones Sr., was also a golf course architect. Along with being one of the major names in the industry, he was a player. So it's no surprise that his son was already playing at an impressive level in high school and was even a member of the USA Junior Golf Team.
But Jones Jr. didn't start designing golf courses right away. After graduating from Yale, he began studying law at Stanford. However, it didn't take him long to realize that his interests lay elsewhere, so he joined his father's company. "We worked together on designs for Spyglass Hill, Mauna Kea, and a course in Japan," he says. California, Hawaii, and the "Land of the Rising Sun"—Jones was working internationally from the outset.
When Robert Jones Sr. died in 2000 at nearly ninety-four years of age, Robert Junior had long since established a name for himself, having opened his own office back in 1973. Since then, he, chief designer Bruce Charlton, and his team of specialists—Jones speaks modestly of a small company with a dozen employees—have designed over 280 courses in more than forty countries. Two of Jones's creations have recently been accorded the highest honors by the United States Golf Association (USGA): Chambers Bay near Seattle was chosen for the U.S. Open in 2015, and CordeValle Golf Club, southeast of San Jose, was where the world's best female players gathered for the U.S. Women's Open in 2016.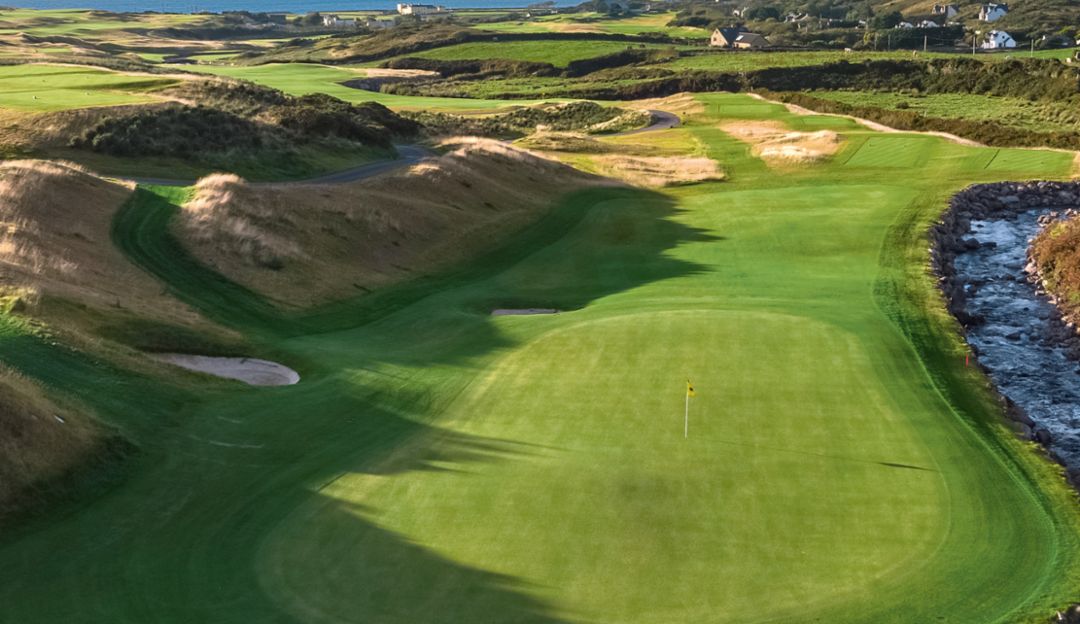 Good to know
Bunker: a sand trap in a hollow, generally at the edge of the green or within range of the teeing ground.
Fairway: the closely mown part of the course that players ideally want to hit.
Par: number of strokes that a good player should need for a particular hole. It assumes two putts.
Handicap: measure of a golfer's ability. The lower, the better.
International relations via golf
Over the approximately half a century of his career as a golf course architect, Jones has also helped to build bridges—including one through the Iron Curtain. In the 1970s the Americans and the Russians decided to foster international understanding by building a golf course together in the Soviet Union. "We traveled to Moscow for the first time in 1974, but didn't sign the contract until 1988," he recalls. And it would take another six years before balls began flying over the first fairways in Russia.
Another prestigious project is Hans-Peter Porsche's Club de Golf Alcanada in Majorca. "When you design a course that's right on the coast, you have to take the wind and tides into account, because they have a huge effect on the game," Jones observes, tracing the movements of the gusts with his hands. The goal was to design a course that's fun to play on, and also one where every par is a challenge.
"When you design a course that's right on the coast, you have to take the wind and tides into account." Robert Trent Jones Jr.
Alcanada opened its doors in 2003. Reviewed favorably by specialists in the press, the club is now considered one of the best in Spain. With a lighthouse on an offshore island, views of the sea, and a lot of variety in its holes, it's nature that designs the earth—and ensures a harmonious flow of play, which is why Alcanada has long hosted the Porsche Golf Cup World Final.
How did Jones first become a Porsche fan? "I'd already been a fan of the 911 in my student days, and in fact had often sat in one—but as a passenger with a fellow student at the wheel," he recalls. But he did ultimately acquire a 911 of his own. And golf continues to fascinate him to this day. At the height of his game, Jones played with a handicap of one, although it has now risen to twelve. But ambition is still there whenever he steps onto a course. "I'm slowly working my way up to being able to shoot my age. I recently just missed it by one." Seventy-eight strokes? Not an impossible aim for someone like Jones.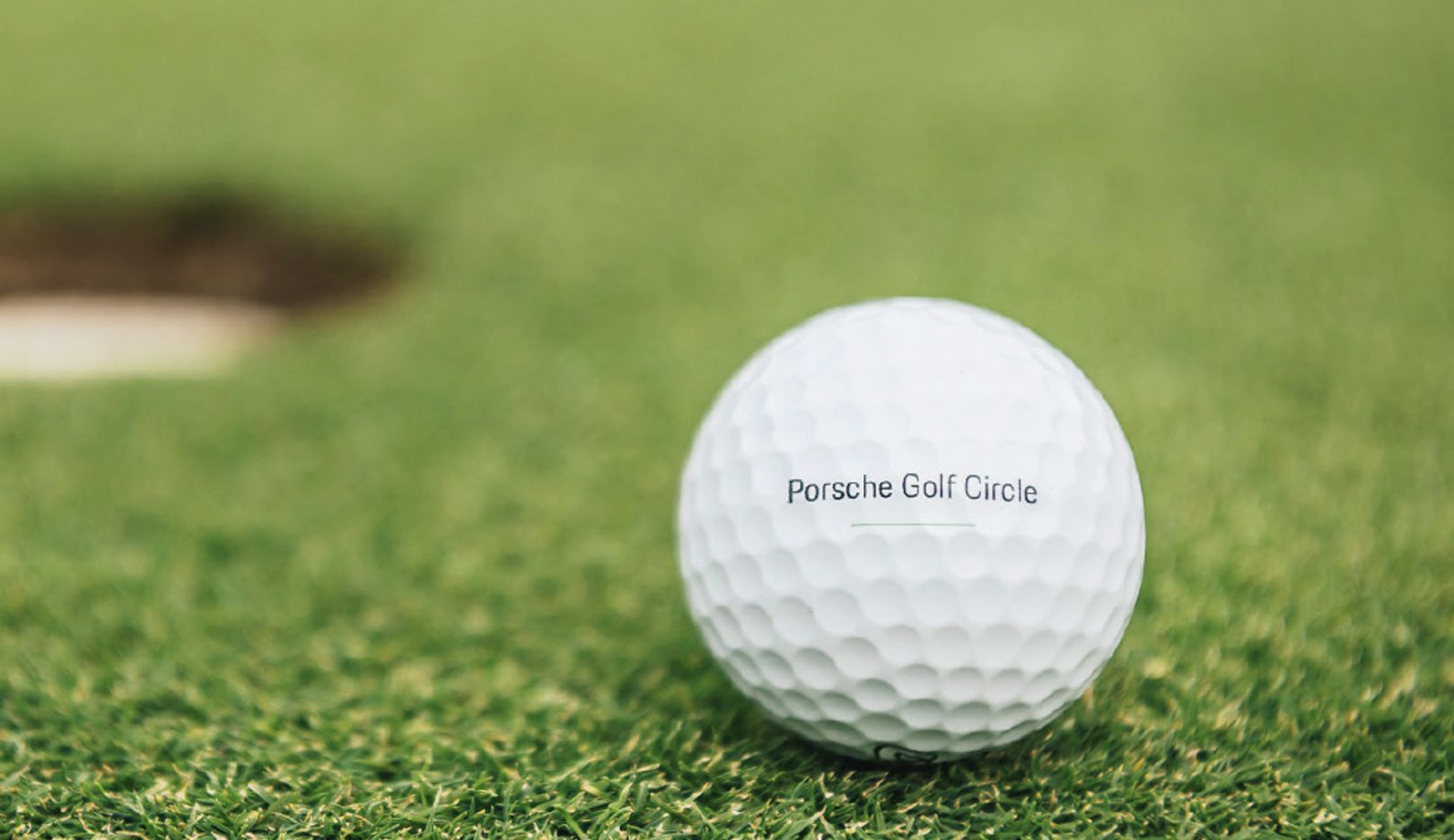 PORSCHE GOLF CIRCLE
In addition to the Porsche Golf Cup for customers and the Porsche European Open for golf pros, which will be held in Hamburg from July 25 through 29, 2018, the sports car manufacturer has launched the Porsche Golf Circle. Golf-playing Porsche customers can now contact fellow enthusiasts and meet up at international events. The founding of the Porsche Golf Circle was celebrated at the Penha Longa Resort in Portugal—which also bears Robert Jones Jr.'s signature. Interested players can use the Porsche Golf Circle app to connect with one another and retrieve information about Porsche and golf. In addition, the app offers exclusive golf-specific services to help you improve your golf game.

For more information and access to the free app for iOS and Android systems, visit porschegolfcircle.com