2:36.80 min.
Zell am See, Professor Ferdinand Porsche Memorial Race, February 12, 1956.
Zell am See, Professor Ferdinand Porsche Memorial Race, February 12, 1956. Ice racing is always good for a thrill. But today's contest on frozen Lake Zell will give the three thousand motorsport fans in attendance something to talk about for years. Otto Mathé from Austria's Ziller Valley covers the four-kilometer circuit in just 157 seconds and wins the race with a record-setting average speed of 93 kmh. He manages this feat in a "Porsche Special" of his own design—an open-wheel race car made of Porsche components that looks like a crumpled piece of silver paper. The fans call it "Fetzenflieger," which means something like "shreds on wings."
One of the most audacious and crazy racing cars of its time, its 1,500-cc racing engine, and later a Fuhrmann engine from the 356 A Carrera GT, actually made it eligible for Formula Two. With fenders, a second seat, and a spare tire, it could enter other racing series as well. It had an excellent weight distribution thanks to an extremely low center of gravity, short wheelbase, and engine located in front of the rear axle. And because it weighed just 395 kilograms, its 120 hp could catapult it to speeds high as 210 kmh.
Otto Mathé wins in a self-designed open-wheel race car that looks like a crumpled piece of silver paper and is nicknamed "Fetzenflieger" by its fans.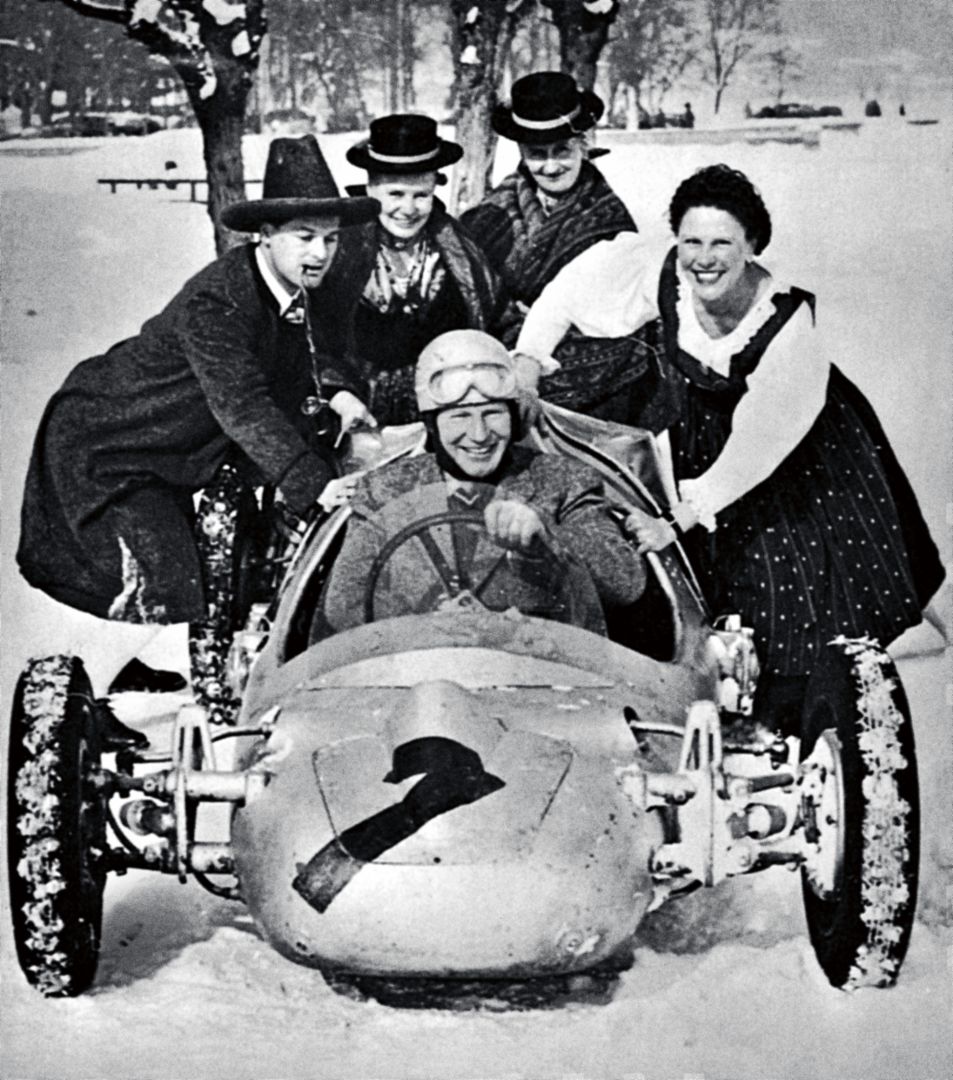 But where does the name "Fetzenflieger" come from? The air filter was a piece of white fabric stretched across the open engine compartment, which enabled the spark plugs to be changed faster. But sparks occasionally ignited the fabric, leaving a trail of singed shreds in the car's wake—a spectacular sight! Mathé was loved by the crowds at every race. Not only was his car unique, but they also loved the man from Tyrol himself. His right hand was crippled from an accident in a motorcycle race in 1934, so the gear lever was on the left. When he changed gears, he had to press his torso against the steering wheel to keep the car more or less under control. Yet despite this disadvantage, he regularly outstripped the competition. Sometimes he was less interested in winning than in setting a new record—like on this winter Sunday at Lake Zell.
Mathé wrote not only racing history, but also a piece of industrial history. He was a lubricant dealer and developed highly effective fuel additives. On top of that, the passion he showed in pursuing his racing dream despite his injury made him a hero to an entire generation of drivers. Formula One world champions like Jochen Rindt and Niki Lauda admired Mathé as boys. Mathé died in Innsbruck in 1995 at the age of eighty-eight. But his "Fetzenflieger" lives on and can be admired at the Automotive Prototype Museum in Hamburg, which also displays his racing jacket with a sewed-up right sleeve. Whenever Mathé wore it, he looked a little like Napoleon.
02.12.1956
Professor Ferdinand Porsche Memorial Race
Zell am See, Austria
Otto Mathé
approx. four-kilometer circuit length
"Porsche Special"